Invitae Set to Go After a New Market and Win

Invitae Set to Go After a New Market and Win
Date Published:
2019-01-09
Updated: 2019-02-19
Hello, all. This is Ophir writing. This is a snippet from a CML Pro dossier.

LEDE
We added Invitae to Top Picks for $7.42 on 1-Sep-16. As of this writing the stock is trading at $13.82, up 86%.

While we recently updated Number 1 Spotlight Top Pick Invitae (NVTA) with an earnings pre-announcement, today at the JP Morgan conference we got more news -- Invitae is going after a new $2.5 billion market.

STORY
Invitae announced that it will be going after the patient directed market, which sounds like the direct to consumer (DTC) genetic testing market but it's different. This testing will be initiated by the patient, but will still require a clinician to get the test. The quality and accuracy of the testing will also be substantially better.

As Inviate has pointed out many times, the DTC market is rife with poor testing. The company said out loud on its earnings conference call that the samples it received in order for a "re-test" to verify findings from the DTC players, were simply wrong more than 50% of the time. Yep, false positives, and then some.

Invitae will go after the direct to consumer market in a different manner -- accurate, diagnostic grade testing, where the consumer initiates the test request, but a clinician closes the loop. We move forward with this understanding, but loosely refer to it as DTC.

While the company has built its moat and demonstrated explosive revenue growth, going from $25 million in revenue in 2016 to $144 million in 2018, that business has come from clinicians and bio-pharma companies.

Here's how that looks: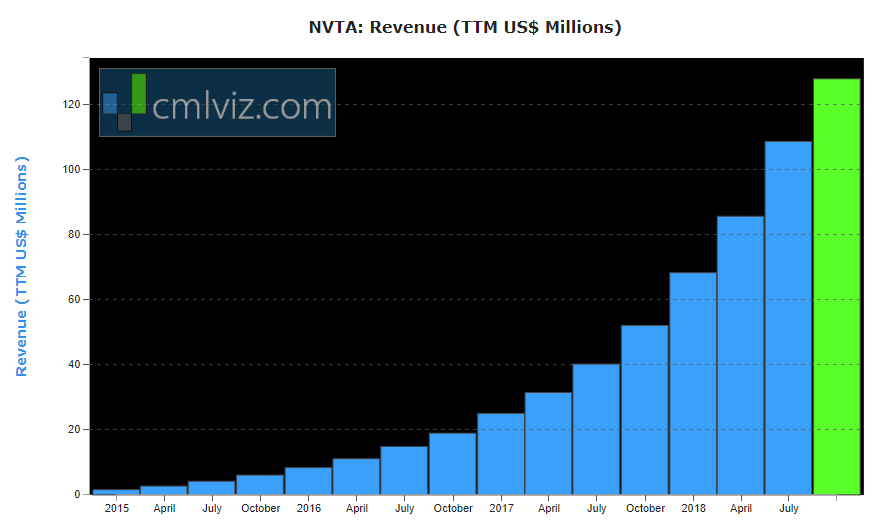 The company just announced a new bar to the right will be at $144 million, so that chart still looks impossibly good.

Invitae is in a class of its own with respect to genetic testing, and in that vein has built a foundation with the most serious practitioners of medicine. Today, however, the company is going after DTC sales.

Global Market Insights published research on the DTC genetic testing business on Dec 11, 2018. Here are a few snippets:



The U.S. direct-to-consumer genetic testing market accounted for more than 91% revenue share of total North American industry in 2017.

Direct-to-Consumer (DTC) Genetic Testing Market size was valued at USD 601.5 million in 2017 and is expected to witness more than 18.0% CAGR from 2018 to 2024.

Rising awareness among patients pertaining to early disease diagnosis will result in timely treatment and reduced mortality rate. Additionally, technological innovations in direct-to-consumer genetic testing to offer enhanced efficiency, high sensitivity and accuracy will serve to be a significant impact rendering factor.



HOW INVITAE CAN WIN
To date, much of the DTC genetic testing world has been for fun -- 23andMe.com, ancestry.com, and other various sites. But the world is shifting quickly toward health, not fun.

In fact, if we look at the totality of personalized medicine, that market is forecast to hit nearly $3 trillion dollars by 2022 and fully $340 billion for personalized medicine therapeutics and personalized medicine diagnostics.




The use of consumer genomics is inflecting. This chart comes from Illumina, the hardware maker, and also a Spotlight Top Pick.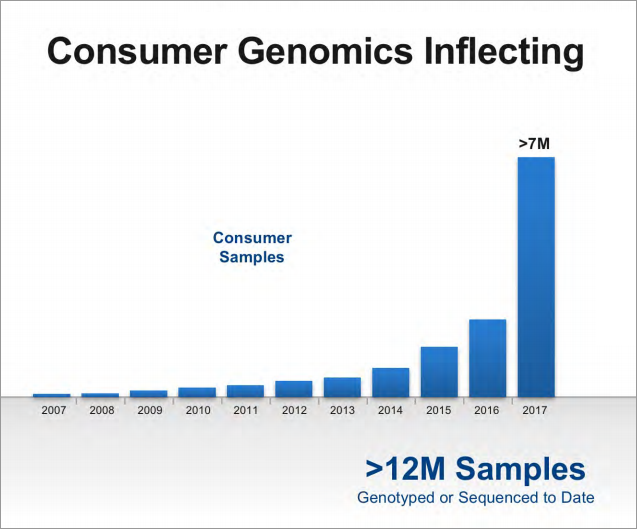 Even with that chart, this is so early, that last bar of "> 7M" is likely to look like one of those other bars before it as the new data comes out. This is rounding error, even today, with respect to what's coming.

Or, I'll say it yet clearer, I think that bar will reach near 2 billion within 10 years.

The global next generation sequencing market is forecast to grow from $4.15 billion in 2016 to $11.93 billion by 2024, or fully 187%.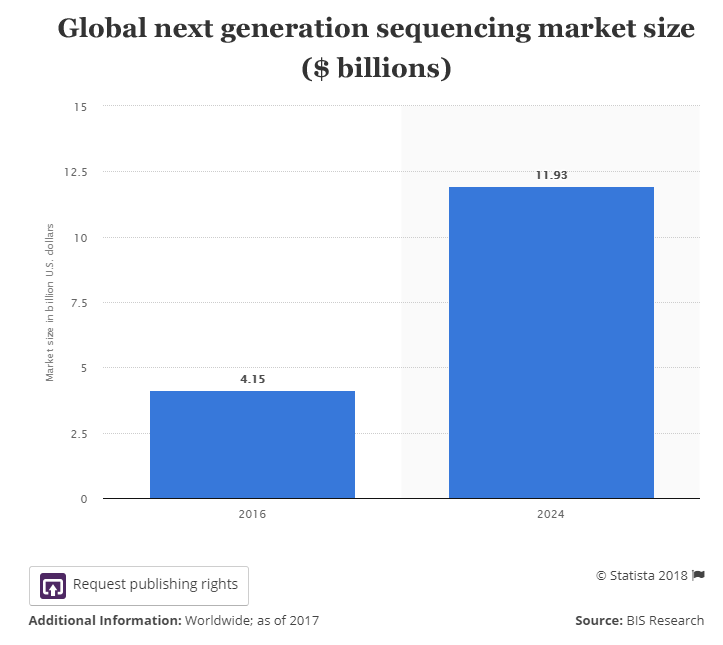 But that chart is not even half the market. In total, the global genomics market is expected to reach $27.6 billion by 2025.

While Invitae has become one of the world's leading genetic testing companies, it has also succeeded in generating strong operating leverage through the decrease in cost per test.

Here is a 3-way chart of revenue, COGS per sample and gross profit.




Note that Invitae has brought the cost to produce a 'serious' version of genetic testing down to $260 per sample. Soon Invitae will approach a new $2.5 billion market in the DTC market, but with a giant moat.

MOAT
The company has built a moat in many ways, but one of the easier to identify is the number of lives covered through insurance. This takes a couple of charts to see because the trend is so large.

First, we start with lives contracted, which is a fancy way of measuring the number of people whose insurance covers the genetics test that Invitae provides, but this is from 2016.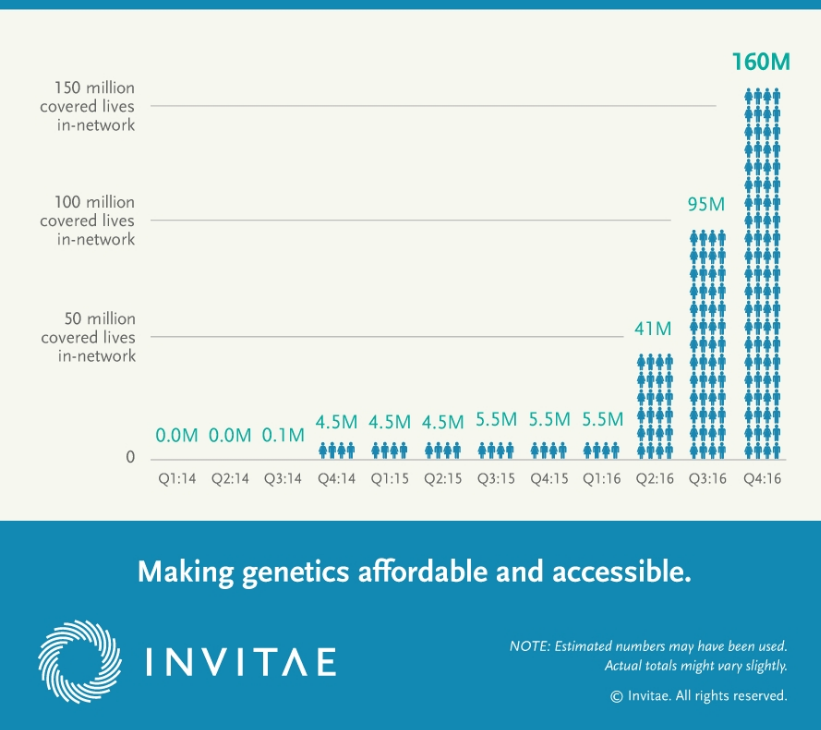 And the most recent chart I could find looks like this: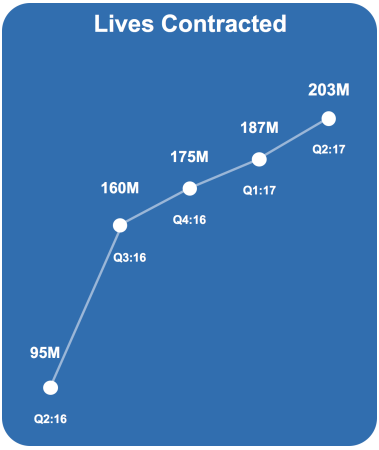 But from their financial disclosures, we get this:

"As of June 30, 2018, we have entered in to contracts for laboratory services with payers covering approximately 250 million lives."

So, Invitae has gone from zero insurance coverage in Q2 2014 to now over 250 million lives.

A further appealing part of this new DTC business is the reality of high quality medical grade genetic tests and 'the fun stuff.'

Not all genetic tests are created equal In a post from Invitae, we learned that "Genetic tests that are not comprehensive may provide a false sense of confidence or risk for patients wanting to understand their potential for developing heritable breast cancer.".

In that blog post the company details how in a study data presented at the December 2018 San Antonio Breast Cancer Symposium (SABCS) showed that an astounding 88% of patients with a variant associated with increased risk of breast cancer would not have been discovered through a DTC genetic test.



That's because DTC tests analyze just three variants associated with breast cancer-in stark contrast to the dozens of genes and thousands of variants known to be associated with breast cancer risk, and for which clinical laboratories test.



And it goes further. The second piece of data presented at SABCS examined the accuracy of DTC test reports. Invitae performed clinical confirmation testing for 102 people who had received a positive result from a DTC genetic test. 50% of these patients had received false-positive results from their DTC test.

It's simply a matter of time that DTC genetic tests are going to leap frog the novelty stage and get to life and death answers. In that realm, there is Invitae, and nearly no one else. The fact that Invitae has been able to get operating leverage to bring the price of these tests into the low hundreds is a magnificent achievement, and yet another piece of the moat.

Invitae is going to be the dominant market force in genomics and personalized medicine within that realm -- we see a very bright future.

Winner Take All
The company set a mantra several years back to become "The Amazon of Genomics." If they execute properly, Amazon's customer base will be a fraction of what Invitae has in front of it.

* In one of our many prior one-on-one talks, CEO Sean George said he believes the industry is going through "unqualifiedly the most unprecedented change in the history of our space."

And by that, he means that the old version of the test by test approach, or the "lab test," version of a business model, paid to answer specific questions at a specific time is over.

* He also said that the genetic diagnostic industry, as we know it is dead.

The future is a network, in which there will be essentially one winner, where information is used by the entire network and patients are treated throughout their lifetimes, likely, for some, from birth to death. Not to address just an one-time fear or event, but an entire life cycle.

In that vein, Sean firmly believes that:



"[The] best way to build the future, is a network of information managed on a patient in order to improve health care at a lower cost. The more patients we can get with more novel information with more industry partners to improve their outcomes."



To help illustrate this view of the world even further, Sean had some great things to say when we spoke a couple of quarters ago:



That will basically move the entire world from an one-test, one-sample, one-person, type of business which is known today as genetic testing, to a feature which is where everybody in modernized care, roughly a billion plus people, at some point and time in their life get into our sphere of influence and we get information on them and we manage information on them on behalf of and in context of their care ... and that is an incredibly valuable business that we think we can build.

And in building that new business, building that new industry, the nice thing about going through the pain of all of this is once we build it and once we hit a certain scale, there is a network effect that will be put in place, where there will be no catching us.

In fact, right now we suspect we are already there on our infrastructure because of our cost advantage of providing genetic testing and managing it, we don't see anybody gearing up to do so, and we're absolutely confident that at some scale, and the ability to demonstrate the value of that network beyond just the initial genetic testing.

It will be apparent and obvious to everybody that we have created this new industry, are a clear runaway leader in it, and by the way, there will be no close second.

This is going to be a winner take most industry. That is what the true value potential of this business is. The faster we get there, the faster that we believe we will see that value inflection point happens.



There is no other genomics company that we're aware of that has even conceived of the idea of a network, not to mention building one. Invitae is singularly focused on this, and for good reason -- it's the basis for a multi-billion dollar business. As DTC becomes another driver of volume, so the network grows.

WHAT ELSE WE NEED
In my private meeting with the three top executives (CEO, CFO, COO), we also discussed how Invitae can demonstrate the value of their network.The company should make some network metrics available to us by Q3 or Q4 of this year.

CONCLUSION
We maintain our number one Spotlight Top Pick status on Invitae (NVTA). Please be aware of the risk inherent in a company with such a small revenue base and market cap.

It's understanding technology that gets us an edge to find the "next Apple," or the "next Amazon." This is what CML Pro does. We are members of Thomson First Call -- our research sits side by side with Goldman Sachs, Morgan Stanley and the rest, but we are the anti-institution and break the information asymmetry.

The precious few thematic top picks for 2018, research dossiers, and alerts are available for a limited time at a 80% discount for $29/mo. Join Us: Discover the undiscovered companies that will power technology's future.

The author is long shares of Invitae in his personal account and call options.

Thanks for reading, friends.

Legal The information contained on this site is provided for general informational purposes, as a convenience to the readers. The materials are not a substitute for obtaining professional advice from a qualified person, firm or corporation. Consult the appropriate professional advisor for more complete and current information. Capital Market Laboratories ("The Company") does not engage in rendering any legal or professional services by placing these general informational materials on this website.

The Company specifically disclaims any liability, whether based in contract, tort, strict liability or otherwise, for any direct, indirect, incidental, consequential, or special damages arising out of or in any way connected with access to or use of the site, even if we have been advised of the possibility of such damages, including liability in connection with mistakes or omissions in, or delays in transmission of, information to or from the user, interruptions in telecommunications connections to the site or viruses.

The Company makes no representations or warranties about the accuracy or completeness of the information contained on this website. Any links provided to other server sites are offered as a matter of convenience and in no way are meant to imply that The Company endorses, sponsors, promotes or is affiliated with the owners of or participants in those sites, or endorse any information contained on those sites, unless expressly stated.