Talend (TLND) CEO Bemont Aims to Drive Growth With a 'Well-oiled Machine' to Turn Things Around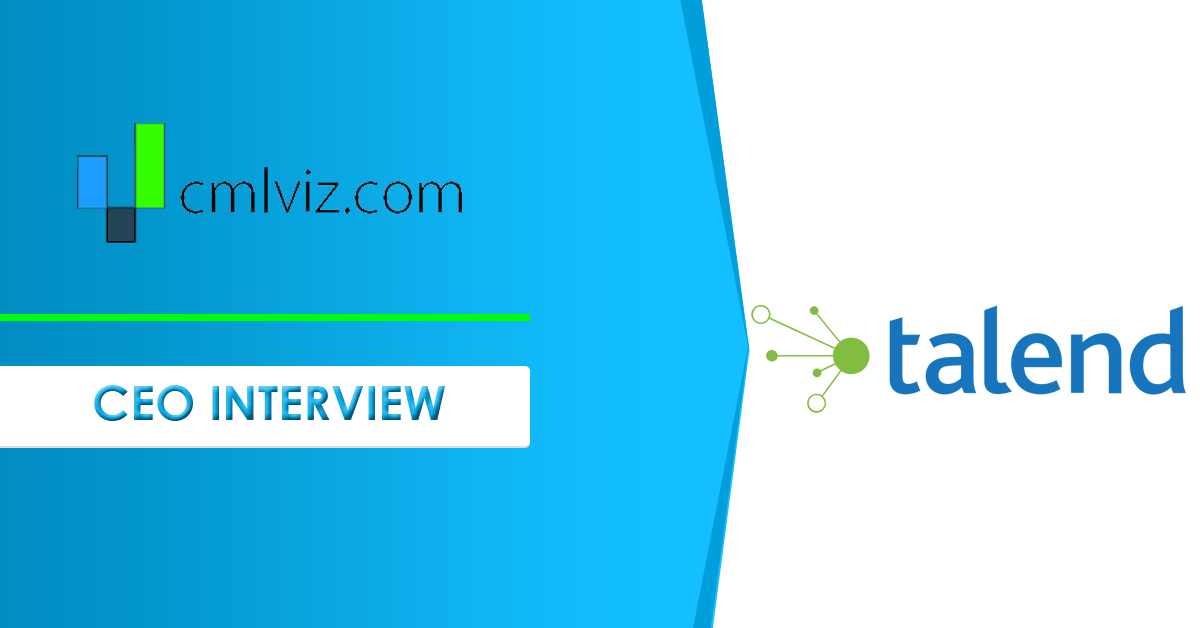 Shares of data integration specialists Talend SA (NASDAQ:TLND) are down about 2.5% at a recent $36.61 since its February 13th Q4 earnings report, recovering from the worst of a roughly 12% drop in the days following the report, which included better-than-expected revenue, but also a forecast for disappointing growth and deeper-than-expected losses this quarter and for the full year.

Newly appointed chief executive Christal Bemont, who only took over last month, is certainly in the hot seat. Bemont took time to talk with Capital Market Labs following the report, and addressed the shortfall and what she intends to do. A large of what it sounds like she's aiming for is to bring to Talend the kind of "well-oiled machine" that Bemont helped to build as chief revenue officer at cloud expense software maker Concur Systems (part of SAP).

Understandably, Bemont indicated she's still in a process of assessing the state of affairs of Talend and weighing options in the business.

There's also an urgency, enhanced by the soggy forecast, to pick up the pace in moving the company's software to the cloud-based subscriptions (from traditional on-premise license sales). Cloud software is now just under a quarter of annual recurring revenue. While moving everything to cloud had always been a top priority for former CEO Mike Tuchen, it seem a more-pressing matter for Bemont. "It's really now looking at what is the most optimized and fastest route to grow our cloud business," she said.

As a consequence, it's clear spending needs to increase, hence the worse-than-expected forecast for this year's net loss per share. How will it sit with investors? "I know everyone wants to have something where it turns on a dime," she said.

"The opportunity is massive, and we want to get it right."

Asked if the company would make any staff cuts to shave costs, Bemont replied, "I don't see that," though it may be too soon to expect her to have a definitive answer about that.

To recap the results, Talend delivered $66.9 million in revenue in the December quarter, and a 7-cent loss per share. That was above consensus for $66.5 million and a 20-cent loss.

However, for this quarter, Talend forecast revenue of $64.9 million to $65.9 million, and a net loss of 26 cents to 30 cents, both worse than consensus for $69.4 million and negative 25 cents. The year outlook is also weaker, with revenue projected in a range of $277 million to $279 million, and a net loss of $1.37 to $1.44, versus the average estimate for $297 million and negative 60 cents.

Highlights
The interiew with the CEO and CFO is below but here are a few snippets to give you sense of their focus:

* "The opportunity is massive, and we want to get it right."
* "What we care about is profitability and growth."
* "[C]loud ARR is the most important thing to measure our success and growth."

Now, on to earnings and the full interview.

Chief financial officer Adam Meister joined Bemont on the call.

Capital Market Labs: Christal, welcome aboard, thanks for taking the time to talk with us. Let's start off by talking about what things you think are most important for investors to take away from the results and outlook.

Christal Bemont: There are probably three things I would say right now that are really important.

One, establishing cloud annualized recurring revenue (ARR) is really an important guide to where all our energy and effort are going now. Establishing that number gives us some good guidance and tracking to show that kind of massive opportunity we have, and it's on fire. That would be a big takeaway.

Another thing is the things we are doing are really taking advantage of the opportunity to provide further growth for us around cloud, in lining up motions and people in the field around go-to-market around very effective, prescriptive channels, to look at how we put our sales people in the field, we are evaluating that. We have a large foothold in enterprise, and with Stitch, we also have that frictionless motion from the bottom.

The third thing is really that we have work to do, but also there are opportunities in the areas of systems and processes for our ability to scale a business of such massive opportunity.

CML: Just a check, where was cloud as a percentage of new, or incremental, ARR, something we talk about each quarter…?

Adam Meister: We ended 2019 with $53.9 million of cloud ARR, which was 179% growth, year over year, and we guided to ending 2020 with $100 million in the cloud.

We wanted to put that out there as a benchmark for investors to follow. Just as a standalone business, it is one of the most interesting today. That was half of new ARR.

CML: And as a percentage of total ARR?

AM: Cloud was 22% of total ARR at year end.

CML: And so, what do we expect that mix to be in 2020 in total?

AM: We're not going to guide to the mix. The overall guidance implies cloud is the growth driver, the rest of the business is really stable, and over time becomes a contributor to cloud, but we didn't give a forecast — we didn't give a percentage.

You will see that mix shift pretty quickly. How quickly you get there is about focusing on the go-to-market on winning, not just cloud, but also how we help customers get to the cloud.

CB: It's really, right now, we do have a number of opportunities in terms of swim lanes, up-market and down-marketplace, and also a really strong foothold across multiple theaters.

I just look at, whether it's new business logos, acquisitions, or expanding our foothold in the client base, it's really now looking at what is the most optimized and fastest route to grow our cloud business.

We are making a strong concentration on what gives us the best opportunity, and making sure we are all running after it at the same time.

CML: Christal, it sounds like you're still in the process of looking at the business, figuring out what shape different things are in, what may need to be done in each are…

CB: Yeah, 100%. You know, this opportunity to take over and step into things looks very similar to the path and conditions I saw at Concur during their evolution from on-prem to cloud.

It's about being at different ends of the market and expanding in different theaters. There are a lot of parallels.

CML: When you refer to processes, I'm assuming there you are talking about things such as perhaps improving Talend's back-office infrastructure. Is that among the kinds of things you are working on?

CB: It is, and really how to make the simplest quote-to-cash system, for example, to put things through at a velocity and a volume we need, to run a business that's a billion-ready.

CML: That sounds like it's going to entail some bigger investments on your part?

CB: I believe there does need to be, yes. One thing is, I believe that we have an incredible number of things and people here that we need to make sure we are getting the most out of.

That will require, it will require investment. We are leveraging all the technology and processes in place right now.

CML: And so, it's perhaps somewhat early for you, Christal, to talk about what you hear from investors, on that score, but you've got a situation where there is lower growth now than they were expecting, and more spending than they were expecting. How do you think that is going to be received by them?

CB: It's a journey. I know everyone wants to have something where it turns on a dime.

The opportunity is massive, and we want to get it right. I believe we have a right to win. We want to take advantage of it in the right way, to continue the speed, and take advantage of grabbing it in the right way.

It does require investment in the business. I'm just beginning those investor conversations, having more over the next few weeks — Adam you might have more perspective…

AM: People care about profitable growth, and we've got to put the structure in place for that. I've often said to investors, what we care about is profitability and growth.

We are going to make the changes we need for long-term, stable growth with cash flow that goes along with that. We have a lot of smart investors who get it.

CB: Even over the next 30 to 60 days, next quarter, and so forth, it will come together. There are certainly things that we are already working on, this team is jumping in, we are laser-focused, and the plan is solid.

CML: You had brought with you some compatriots from Concur…

CB: Yes, they are doing a full-on assessment now, there are regular updates on how we are seeing the opportunities, to take that in and to start to prioritize… We want to look for every quick win, but we also want to be thoughtful about where we show restraint, where we need to to build a solid foundation.

CML: What do you mean by that?

CB: When you come from a business like Concur, where we had a well-oiled machine, with high growth, you look at the way you look at deals, the way you forecast, and you have to tighten-up right away some things, and some others, there are more substantial things, to put processes in place, that are maybe not as near-term, where you may recalibrate.

CML: Is there any possibility of headcount reduction to get to where you want to be?

CB: I don't see that. We are going to continue to evolve in way that's consistent with the growth of the business.

We sort of pulled back at the end of last year to let the new team in, and to let them put their fingerprint on this, to put the right resources in the right place.

CML: Christal, sometimes when a company wants to pick up the pace of selling, or deals, they turn to M&A, the build-versus-buy move, to accelerate things. What's your attitude toward M&A as an option for the company? CB: We will look at every thing. What's in front of us is, we have the things in front of us that we can focus on for the near term, optimizing with additional systems and process investments. But, of course, we will continue to look at that as long-term options.

CML: Anything else you want to emphasize?

CB: I want to underscore our cloud ARR is the most important thing, in my opinion, to measure our success and growth.

We are super-proud of what the team has accomplished in that. We want to pull information through, to look for quick wins. I couldn't be more excited to be here, surrounding myself with team that's been here.

I'm very optimistic about the future we have in front of us. In fact, I'm more optimistic than the last time we spoke [in January].

CML: Christal, thank you for talking. We'll look forward to following your progress.

Risk
There is risk to Talend.

* Expenses are rising and revenue growth is slowing.

* A new CEO is always a risk — she seems like a killer (in the good way), but bringing in her own team might not work. After all, prior CEO Mike Tuchen, whom we interviewed many times, was quite capable.

* As the company moves to a cloud-based model, it will look as though revenue growth is slowing because it will have less service revenue. While recurring revenue is the kind we like to see, and moving to cloud is even better, Wall Street may not understand this trend and the stock could get punished for it.

In fact, with a market cap of just $1.1 billion, Wall Street already discounts this company's opportunity. Talend is as of this writing, by far the smallest company in Top Picks by market cap.

* Other risks come with execution. When a company moves from on premise to cloud, it's in that transition that any kind of hiccup can disrupt the entire make-up of the company.

Perhaps a better way to say it is, now would be a particularly bad time for a competitor to launch a disruptive attack. Of course, in Talend's eyes, it is they that are the disruptor, so take that risk as you may.

– Finally, the prior CEO said it out loud, Brexit is a thing… again.

Conclusion
It's finding the technology gems before they are household names, that can turn into the 'next Google,' or 'next Apple,' where we have to get ahead of the curve. This is what CML Pro does, with an auditor verified track record, because of course it's verified.
Each company in our 'Top Picks' has been selected as a future crown jewel of technology. Market correction or not, recession or not, the growth in these areas is a near certainty.
The precious few thematic top picks, research dossiers, and alerts are available for a limited time at a 30% discount.

Thanks for reading, friends.

Tiernan has no position in Talend at the time of this writing. Ophir is long shares of Talend at the time of this writing.

Please read the legal disclaimers below and as always, remember, we are not making a recommendation or soliciting a sale or purchase of any security ever. We are not licensed to do so, and we wouldn't do it even if we were. We're sharing my opinions, and provide you the power to be knowledgeable to make your own decisions.

Legal
The information contained on this site is provided for general informational purposes, as a convenience to the readers. The materials are not a substitute for obtaining professional advice from a qualified person, firm or corporation. Consult the appropriate professional advisor for more complete and current information. Capital Market Laboratories ("The Company") does not engage in rendering any legal or professional services by placing these general informational materials on this website.

The Company specifically disclaims any liability, whether based in contract, tort, strict liability or otherwise, for any direct, indirect, incidental, consequential, or special damages arising out of or in any way connected with access to or use of the site, even if we have been advised of the possibility of such damages, including liability in connection with mistakes or omissions in, or delays in transmission of, information to or from the user, interruptions in telecommunications connections to the site or viruses.

The Company makes no representations or warranties about the accuracy or completeness of the information contained on this website. Any links provided to other server sites are offered as a matter of convenience and in no way are meant to imply that The Company endorses, sponsors, promotes or is affiliated with the owners of or participants in those sites, or endorse any information contained on those sites, unless expressly stated.