Applicability of Alteryx (AYX) in down times 'even stronger' than in robust times, says CFO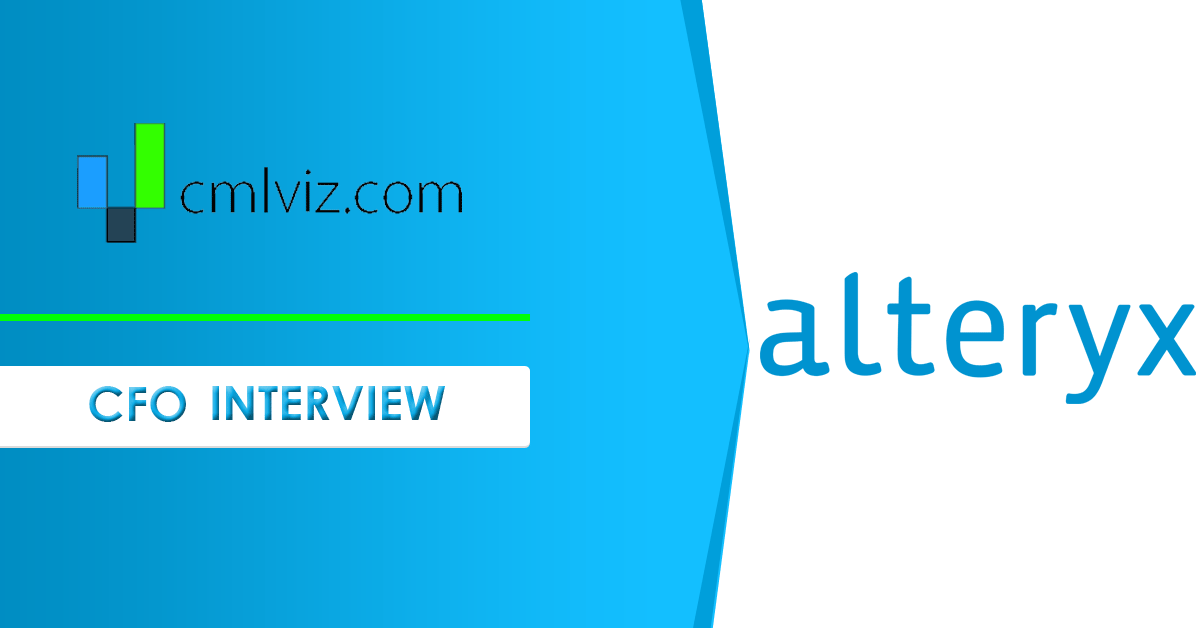 Written by: Tiernan Ray
Shares of data analysis maestros Alteryx (NYSE:AYX) are up 9% at a recent $128.40 since the company on May 6th reported Q1 revenue that topped analysts' expectations, but missed on the bottom line, and forecast results this quarter below consensus — the first time in three years as a public company that the company has ever missed with a revenue forecast.
Despite that shortfall in outlook, trends are positive, chief financial officer Kevin Rubin explained to Capital Market Labs in an interview days after the report.
"We still were able to get business done as customers were shifting to shelter-in-place, and trying to figure out on their side what that meant for their process needs, etc." Rubin told Capital Market Labs.
A lot of discussion on the call focused on the company's remarks about trends in April. Specifically, CEO Dean Stoecker told analysts in opening remarks that In April, "We saw new business activity resume, and was consistent with activity levels in April 2019. We view this as an indication that data and analytics remains critical, even in challenging times."
A number of analysts tried to parse that remark during the call. Capital Market Labs followed up with Rubin on the matter. The remark was not a prediction of revenue, more a qualitative remark indicating that sales activity continued despite disruption.
"It was not intended to suggest that that was, 40, 50, 60 percent growth rates over April by any means," Rubin told Capital Market Labs, "just that there was an abrupt change in March, and we've seen things start to to resume from an activity perspective in April."
Despite lots of uncertainty — Alteryx has no year forecast for 2020 — Rubin sounded confident that both pandemic and economic turmoil that will likely follow will present more, not fewer, opportunities for the company.
"The applicability of Alteryx in down times is probably even more, even stronger than in robust states," Rubin offered.
To recap, Alteryx reported a revenue beat, delivering revenue of $108.8 million versus $105.64 million expected, but missed on the bottom line with a net loss 10 cents per share versus 9 cents expected.
The company's forecast for the June-ending Q2 missed by a wide margin, with a forecast range of $91 million to $95 million versus the expected $108.8 million, and a projected net loss of 12 cents to 18 cents versus the consensus for negative 5 cents per share.
Capital Market Labs: Thanks for taking the time, Kevin. First of all, what things do you think are most important for investors to take away from the results and outlook?
KR: That's a great question. I mean I think it comes down to a couple of things.
First off, we had a strong Q1. You know, despite the commentary about seeing an abrupt slowdown at the end of the quarter, we still were able to get business done as customers were shifting to shelter in place and trying to figure out on their side what that meant for their process needs, etc.
I think we highlighted that a large European financial institution needed something like 16 different signers in 16 different locations. We still were able to get that transaction through.
So, first thing I would just say is I think at the end of the day, Q1 was another strong quarter.
The next thing I would just simply point to, there's a bit of resiliency and just underlying strength to the business when you think about companies now are being faced with either having to do more with their business with less resources — that could be people, that can be purchased dollars, and you think about where analytics fits into that part of an organization's strategic initiatives.
And more importantly, even digital transformation efforts. I think it really demonstrates how important not just analytics are, but platforms like ours.
And in that regard, if you saw the announcement this morning, we did announce a new category that we're basically declaring, if you will, which is Analytic Process Automation. [Alteryx will hold a live-streamed event May 21st to unveil what it calls the APA, featuring testimonials from clients such as Coca-Cola.]
And so this notion that combining data, people, and processes together to create essentially the fabric of an analytic culture within an organization, is pretty powerful.
CML: I want to come back to that in a moment, but, to your second point, Kevin, when you say there's resiliency, that companies are faced with doing more with in their businesses with fewer resources, is that conjecture based on a reasonable hypothesis of what is happening or is there something in the pipeline or with the team that you're seeing that causes you to say that?
KR: Well, it's a couple of data points.
It was part of Dean's prepared remarks in his script, and it is based on the conversations that we've had with which C-levels [C-suite executives] throughout our customer base, as well as prospective customers. So we are hearing that from customers.
We're also seeing it from the overflow and use cases, when we look at how customers are leveraging Alteryx, and where it fits within their strategic initiatives. It is reinforcing that we are thought of within digital transformation.
And then I think if you just look at our partner ecosystem and maybe specifically the efforts that we're doing with PwC, we're getting a lot of feedback from that particular area. And, again, it continues to reaffirm this notion that we are pretty critical to many customers' view of their digital transformation efforts, and how to better leverage that data for decision making.
CML: I want to come back to this very interesting point about opportunities. First I want to ask the broader question, Kevin:
This is the first time since May of 2017, the first time, ever, for you, as far as I can tell, correct me if I'm wrong, based on FactSet, this is the first outlook for quarterly sales for you that was below consensus. Is that correct?
KR: I mean, I didn't go back and look. But I believe that to be true.
I mean certainly you are. I mean if you just look at what's going on in the world, and behavioral changes within customers as a result of the macro-economic slowdown, it wouldn't surprise me that it's the first.
CML: Does it mean — how do you, in your broad history as the person who oversees finance, and oversees investment, and oversees the flow of the business, how do you take an event like that?
Does it feel significant to you in the life of a company, especially since you have generally guided fairly well above the Street consistently? How should investors think about this event? Does it mean anything?
KR: Well, I mean, first off I mean I can't imagine anybody would be surprised that companies today are seeing less activity than maybe they saw a year ago.
You know, our process for setting guidance and setting expectations with the Street doesn't change.
We obviously have our various pieces of information available to us that we use to establish guidance. We have a different business — excuse me, we have a different revenue recognition model than typical subscription companies.
And that revenue recognition model requires us to take some portion of our bookings upfront. It varies based on product mix.
And when we're in a robust buying pattern that tends to be a tailwind, if you will, to revenue growth. But when you start to see companies slowing their buying that tends to be a little bit more pronounced in our particular model. Which is evident in guidance, and to your point, coming down below consensus.
But having said that, look, we're trying to provide the best information we have so investors can understand our business.
We provided a tremendous amount of transparency on the call and through conversation to really provide an understanding to the investment community, what we're seeing in the market today.
So, you can have the same general sense that we have around the business.
CML: I wanted to ask you about one more item that came up in the outlook. Which was, I think they must have asked you and Dean this on the call like seven different ways, I'm going to ask it again, Kevin, so bear with me —
KR: No problem…
CML: You talked about April and trends in April. You made the comparison to a year ago.
Does that mean that it seems like sales or revenue in April is the same as it was a year ago in April, or that growth of revenue or sales seems like it is or might be the same as it was a year ago in April?
KR: No, the spirit of the comment, I think it was in my script originally, was just to give some insight.
We talked a lot in the prepared remarks about this abrupt slowdown in March. And one of the things I wanted to do was convey how we've seen activity resume in April.
So the intent of the comment was really more activity oriented it was not intended to be a revenue or revenue growth comment.
And it really was just to say, look, we did see an abrupt impact to the business in March, but we've seen productive conversations with the customer resume.
We talked about new logo lands in April being about the same as we saw in April of 2019. So it really was just to convey that activity resumed.
We've seen similar levels of activity in April of 2020 as we saw in April of 2019. It was not intended to suggest that that was, 40, 50, 60 percent growth rates over April by any means, just that there was an abrupt change in March, and we've seen things start to resume from an activity perspective in April.
And then I provided a series of textural comments around, how we look at the Q2 guide, where the revenue would come, again, really just to provide a little bit more color around the business.
CML: Would you say there is a long term impact on your business of COVID-19 along the lines you mentioned — digital transformation is something that may give increased focus. What puts and takes are there long-term for the business as a result of what's going on?
KR: No, no, that's a great question. Look I think long term, our conviction in the prospects of the business are as strong as ever.
I don't think that what's going on with the coronavirus or the macro economic slowdown is necessarily going to have any impact on the long term.
Obviously, on the short-term, that's a bit different. Where I think COVID-19 is going to be somewhat beneficial — and I certainly don't mean to be insensitive when I say that — is just the idea that I think it really is waking companies up to the idea that if they hadn't thought about digital transformation, if they didn't think about how they can leverage data to better their business before, they certainly are today.
So it has become an accelerant to those conversations within companies as well as companies with vendors.
So we do think that it will be net beneficial as companies try to figure out how to better leverage basically assets available to them to perform better.
I think what may have been perceived a year ago as nice to have around budgets and initiatives for digital transformation is quickly becoming a must have.
CML: Does any of that, is any of that affected, Kevin, by the fact that these people are working remote for the time being, and may be for some time to come?
KR: You know, it's interesting one of the — so, we talked about a couple of things on the call that we've done to try to help our customers around work from home.
One thing that has just always been the case, we've always allowed a home use license with any purchase license.
And so we have worked with many customers to outfit their employees and Alteryx users that may need a work-from-home license.
Interestingly enough, I mean, we've seen an uptick. But it's actually been less than I would have anticipated which simply just means that the large swath of employees that are being forced to work from home are either doing so on laptops that they're taking with them or they're able to get into their networks. Because we haven't necessarily seen any lesser of users on the platform.
And more importantly I think we even talked to the fact that we've seen a record number of participants in our community site.
And so with work from home we certainly haven't necessarily seen any indications that it's slowing use of Alteryx in that regard.
Maybe just a quick segue, but we also announced our Adapt program, which is a program that came out of our Alteryx For Good initiative, specifically designed to provide free training and licenses to those workers who are unemployed due to COVID-19.
It allows them through a free certification program, as well as participate in a nano degree with Udacity, specifically around predictive analytics.
So, while not specific to the question you asked around work from home it's just another way that we're trying to make things a little bit easier for those affected.
CML: How can I use that, Kevin, if — I'm guessing if I've been on a forklift, or tending bar, I'm not the first person that can get certification. Even free. You need a little background, right?
KR: To be candid, I mean, if you were a forklift operator and you got laid off due to COVID-19 and came to us, we'd probably allow you to participate.
I imagine if you didn't have — if you hadn't been a data worker or didn't have an understanding of data you probably wouldn't come to us. So, there's going to be an expectation that those that are coming to us probably have some understanding of working with data and this was an opportunity for them to up-skill themselves.
But really it's designed, I mean, if you're a basic analyst and you really haven't had an opportunity to get more advanced in your data work, it's about a 30 day process that would give you an opportunity to up-skill yourself.
And when you do go back into the workforce, you'll have an Alteryx course certification, you'll also have a nano-degree at Udacity, which as you think about the digital transformation initiatives, should position you much better against somebody who who hasn't really been able to improve themselves over this period of time.
CML: That's great, thank you for doing that.
KR: Yeah, no, it's, as we said on the call, we're not — it's important to us that we're maintaining our staffing levels.
We're not going through any reductions.
We think we have, if nothing else, a social responsibility to our workers to employ them through this period of time, and this is just another way that we can attempt to help make a bad situation for many better.
CML: How do you look at the second phase of things, Kevin, is everyone deals with the emergency at hand, then they deal with unlocking and opening up of societies, perhaps.
But let's assume the best, that many things are contained or completely eradicated in the coming months, quarters. We still have to potentially deal with this large unemployment situation.
How are you looking forward to economic disruption, assuming things are gradually better with COVID-19 itself?
KR: Well, I think the spirit of the comments are still the same.
So, the virus may be behind us in months or however long it takes to kind of work through testing and vaccinations, etc. But I think your point there is, there absolutely is an economic slowdown that will likely be a pretty significant recession that we're going to have to work through as a global economy.
And our contention is that data is more important in difficult times than it is in great times. And how companies navigate and make decisions.
Again, it goes back to, they're likely going to have less resources available to them to run what is arguably going to be the same business they had before.
Data doesn't go away. Questions around the business don't go away. And so some of the conversation may shift from certain types of use cases in the areas of impact to more ROI and efficiency-driven discussions.
But the applicability of Alteryx in down times is probably even more, even stronger than in robust states.
And again it goes back to companies that had only been dabbling with digital transformation or data initiatives are going to find themselves in a really difficult spot as they go through whatever this recovery looks like without being able to leverage data for decision making.
Because I can tell you their competitors are. And so when you think about a competitive advantage if you're not leveraging everything available to you to make decisions, you're going to struggle.
I was just going to mention the last thing to think about is we've talked about this ad nauseum, we have very, very low penetration, still, in what is a ginormous addressable market. Plus or minus 50 million citizen data scientists out there that we believe Alteryx addresses. We have less than 1 percent penetration today.
So as we go into whatever level of uncertainty and variability exists for the foreseeable future, there's just a massive TAM still available to us.
I would feel differently if we had 60 percent penetration into a market like this. But at less than a percent, we should be able to navigate pretty reasonably well.
CML: That sort of suggests to me an environment where let's say for example there are layoffs among analysts and there are budget constraints. You might be holding or increasing portion of what budget with clients better than other companies are, is what it sounds like you're saying.
KR: That is certainly our contention. Again, you think about a company that just went through a layoff, their business was essentially shut down. Maybe they're serving consumers or businesses in some way.
They're going to have to rationalize how they spend money and where they put investment and what provides the best impact to the business. And we think that we can help them in that decision-making process, as well as drive significant efficiencies. So, you know, just to belabor the point, we do think that there's a level of resilience in what we offer, and how we do business as we go through this recovery.
CML: Let's talk about the announcement today because what comes to mind is, is this new package, are you widening the stack, or perhaps deepening the stack beyond things like ETL and machine learning or reporting? Is the stack getting deeper or broader with this offering?
KR: Well, certainly we continue to innovate. And I think you're going to see from us a level of innovation over the next year or so that you've not seen from us before.
There's an element of the APA announcement which is really just us standing tall and declaring the market that we've played in for quite some time. You mentioned ETL and I think those that got introduced to Alteryx many years ago think of us as kind of a power data wrangling solution.
But the truth is, if you look at how Alteryx has been leveraged by our largest customers, it really is a much broader application, and it's much more critical and intertwined into the fabric of their analytic culture.
And so when you think about how the Alteryx platform is actually being used, one of the key features is automation. You know, companies are building out tens, hundreds, thousands of workflows within their organizations. And they're leveraging our server product to automate those workflows.
So once you go through the analytic modeling of what you're trying to accomplish, being able to automate that activity is a significant value proposition.
So as you should think about it today it's really, standing tall and saying, look this is the category that nobody else has addressed, but we have addressed.
And as we go forward we will see innovation and announcements that all align around this new defined category. And I would think about it in the vein of what Workday did for HCM. What ServiceNow did for ITSM. What Salesforce did for SFA.
And then, think about what NetSuite did for ERP. I mean, it's really defining what we think will be an absolute requirement pillar within organizations as they go forward.
Some of it is in the vein of digital transformation that we spoke to. But it really is, I mean, APA is truly the unification of the analytics, data science, and business practice automation. And, again, we've seen it with thousands of our customers.
PWC, that whole relationship, but with the foundation is APA. You know, Coca-Cola, Manpower, Macquarie Bank — I mean, there's a number of customers that are already leveraging us in this fashion.
And so, again, I just think you'll continue to hear more and as you think about innovations, it'll allow all align under this new category.
CML: And, just to be clear, Kevin, the category is, how do we define it?
KR: Analytic process automation?
CML: So that is an existing or a new category?
KR: We are defining, we are defining it as a new category.
CML: All right. But it has, it's akin to automation in other words in other realms that we've seen from other vendors?
KR: Well, it's different in that it really is the combination of the convergence if you will of data, process, and people. And that's not something that we've necessarily seen.
We've seen aspects of it. We've seen data and processes. You've seen some level of automation through the RPA vendors around remedial tasks.
But the concept of really the convergence of data, processes, and people is something very distinct and very differentiated.
CML: And it ultimately in a financial way adds up to a new addressable category, or addressable market for you?
KR: Well, we haven't necessarily changed how we've defined the TAM.
We think it's still broadly across the similar users, although I think over time it's going to expand the TAM. We have not, we have not defined what that looks like at this point.
But I think over time you're just going to continue to see more individuals within organizations being comfortable working with data and finding ways to leverage what they're doing and automate to spend more of their time in more important aspects of their job, right?
It still fundamentally comes back to, most data work is incredibly tedious. It's time-consuming, and we find that people are spending more time in the, I guess, I don't think ingestion, but people spend more time trying to figure out how to leverage data for decision making them than actually doing decision making.
And so we think of it that you ultimately shift that paradigm, and your incredibly talented and contextualized employees are going to spend more of their time figuring out, interpreting the data and creating outcomes than trying to create the model.
CML: Amen! Anything you want to add Kevin before we wrap up?
KR: This is actually I mean we kind of touched on quite a bit.
Look I think at the end of the day, we're going to work through whatever it is that the economy is going through for the near to mid-term.
And as we, as we think about coming out the other side, we have a very strong balance sheet, we're a very financially disciplined business.
And you know we think that we will emerge a stronger company with a much larger footprint in the future. And we'll take advantage of the opportunity here in front of us.
CML: Keep up the good work, Kevin, and good luck with it.
KR: Terrific thank you for your time and look forward to connecting next quarter.
Conclusion
It's finding the technology gems like Alteryx (AYX) before they are household names, that can turn into the 'next Google,' or 'next Apple,' where we have to get ahead of the curve. This is what CML Pro does, with an auditor verified track record, because of course it's verified.
Each company in our 'Top Picks' has been selected as a future crown jewel of technology. Market correction or not, recession or not, the growth in these areas is a near certainty.
The precious few thematic top picks, research dossiers, and executive interviews are available here:

Thanks for reading, friends.

The author has no position in Alteryx at the time of this writing.

Please read the legal disclaimers below and as always, remember, we are not making a recommendation or soliciting a sale or purchase of any security ever. We are not licensed to do so, and we wouldn't do it even if we were. We're sharing my opinions, and provide you the power to be knowledgeable to make your own decisions.

Legal
The information contained on this site is provided for general informational purposes, as a convenience to the readers. The materials are not a substitute for obtaining professional advice from a qualified person, firm or corporation. Consult the appropriate professional advisor for more complete and current information. Capital Market Laboratories ("The Company") does not engage in rendering any legal or professional services by placing these general informational materials on this website.

The Company specifically disclaims any liability, whether based in contract, tort, strict liability or otherwise, for any direct, indirect, incidental, consequential, or special damages arising out of or in any way connected with access to or use of the site, even if we have been advised of the possibility of such damages, including liability in connection with mistakes or omissions in, or delays in transmission of, information to or from the user, interruptions in telecommunications connections to the site or viruses.

The Company makes no representations or warranties about the accuracy or completeness of the information contained on this website. Any links provided to other server sites are offered as a matter of convenience and in no way are meant to imply that The Company endorses, sponsors, promotes or is affiliated with the owners of or participants in those sites, or endorse any information contained on those sites, unless expressly stated.