Applied Materials Inc Continues its Stunning Turnaround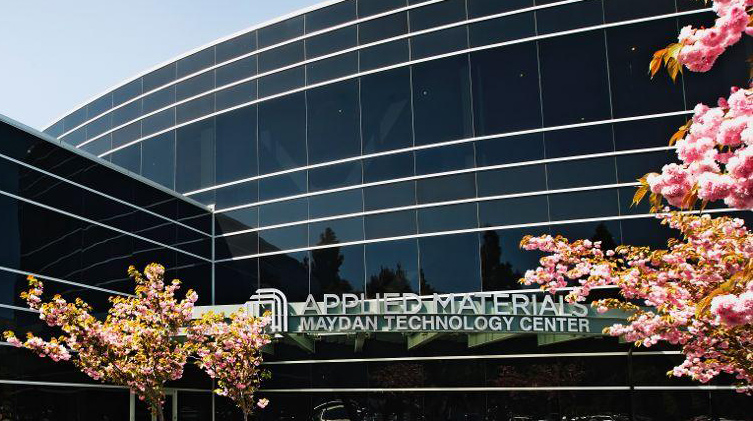 Date Published:
2017-05-25
Written by Ophir Gottlieb

* This is a snippet from a CML Pro dossier originally published on 5-21-2017.

LEDE
Applied Materials Inc (NASDAQ:AMAT) was added to Top Picks on November 15th, 2016 for $28,71. As of today it is trading at $44.08, up 53.5% in the throws a stunnig turnaround.


| | | | |
| --- | --- | --- | --- |
| Ticker | Date Added | Price Added | Return |
| AMAT | 11-15-2016 | $28.71 | 53.54% |


But, given the most recent earnings announcement and raise in guidance, we feel that the company has broken out of its one-time cyclical behavior and is now poised to make waves for the next several years in technology's booming thematic trends.

This is one of those times where we feel that an old narrative surrounding a company is dated and fails to capture the "new" narrative that is building.

We saw something similar with Apple when we added it to Top picks for $104. By the time we get to the earnings call transcript highlights, we warn you, the CEO is immensely bullish and that can sway decision making almost too much.

Having said that, Applied Materials Inc is shaping up to be a remarkable turnaround story and of the great re-inventions of an entity we have seen in decades.

STORY
Before we dive into the earnings result and the guidance, it's time to take a step back and review what Applied Materials Inc brings to Top Picks and to technology more broadly.

We partially do this because when we get to the earnings call, the CEO is so bullish in so many places, it's almost incumbent upon us to put some context around it. There's just no other way to say it, the CEO sees Applied Materials Inc growing rapidly and in an accelerating fashion.

Stock Chart
If we look at a stock chart for the last five-years, it will appear that AMAT is suddenly at all-time highs: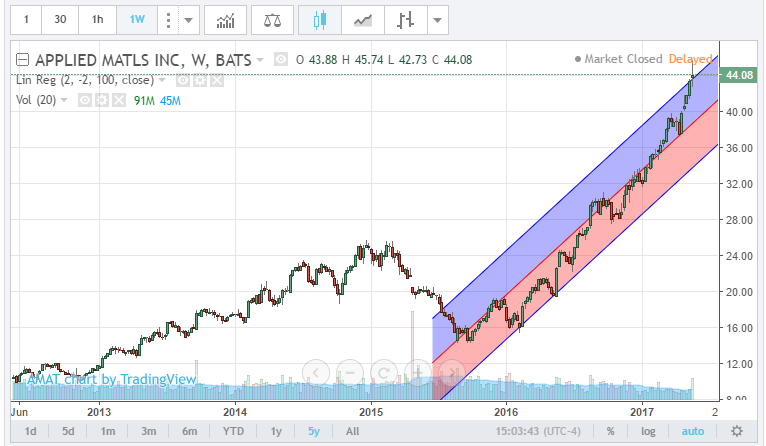 But, one of the most fascinating parts of the Applied Materials story is that this is in fact not a new all-time high. Here is a chart going back to the year 2000: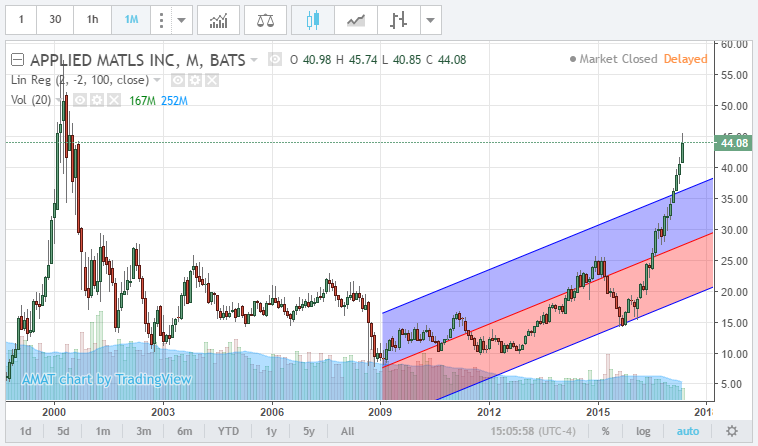 What we're really seeing here is that for the longest time, Applied Materials was stuck in a cyclical rut. It's even clearer if we look at a ten-year chart of revenue (TTM):




If we focus on the last four quarters, we can see that the cyclical pattern has broken, and it's that thesis that moved us to add the company to Top Picks last November. Now, here's why this is happening:

A New-Old Company
Applied Materials' largest business segment is semiconductor manufacturing equipment, called SME. This segment alone represents about 60% of total revenue. The company draws another 20% from Services, which is a fancy way of saying consulting to help its largest customers manufacturer, maintain and optimize its equipment.

But the nice part of the AMAT story is a diversifying product line that is showing substantial growth. The company has made a jump into the display market, which in combination with a few other segments that it calls adjacent now represents north of 10% of revenue, but is showing the fastest growth. These other segments include self-driving technologies and artificial intelligence.

OLED
There's no doubt that the semiconductor industry in general is maturing and also getting fiercely competitive so we love this pivot for AMAT. A lot of the focus here has been on OLED (organic light-emitting diodes) technology.

Here are some great charts demonstrating the potential for OLED in general. First we look at the dropping costs of production: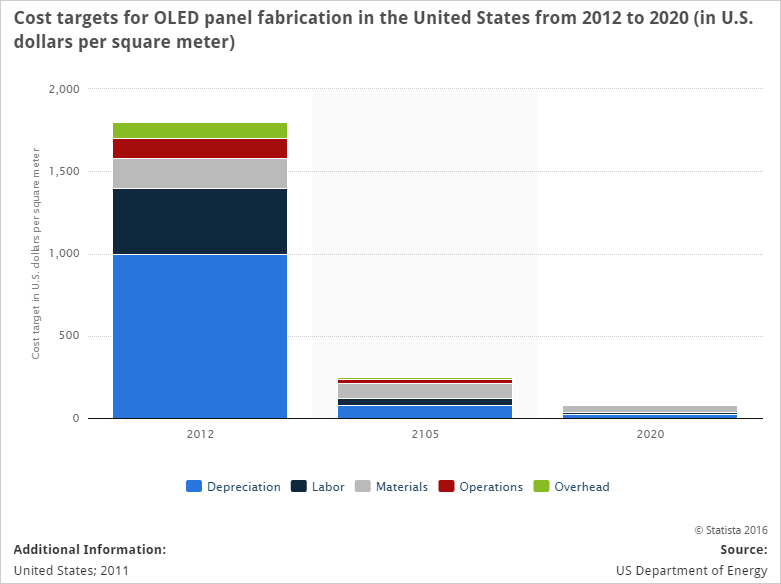 Next we look at the absurd growth in the OLED TV market: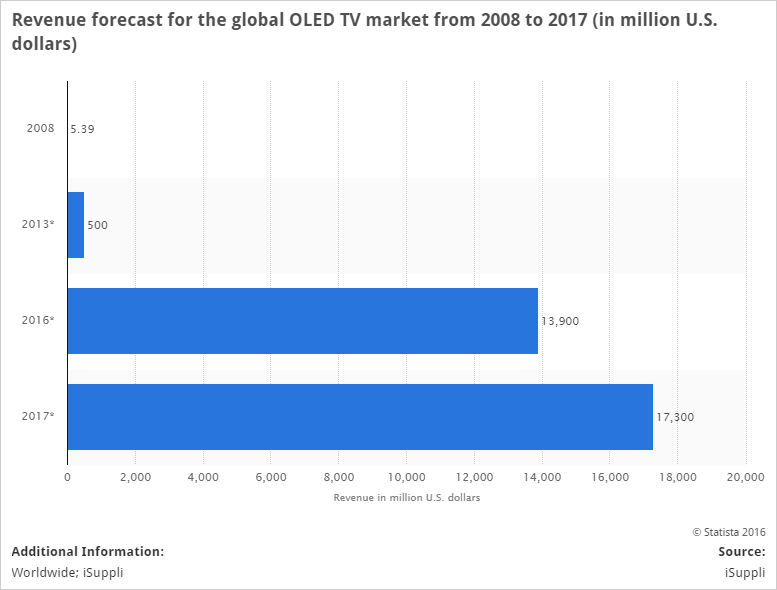 According to the company, large format TVs are expected to grow at a rate of 50%, compared to the single-digit growth of TVs overall.

And the smartphone story is also enormous. The next evolution for OLED technology is plastic and flexible displays. Here's the forecasted growth of the flexible technology for all displays: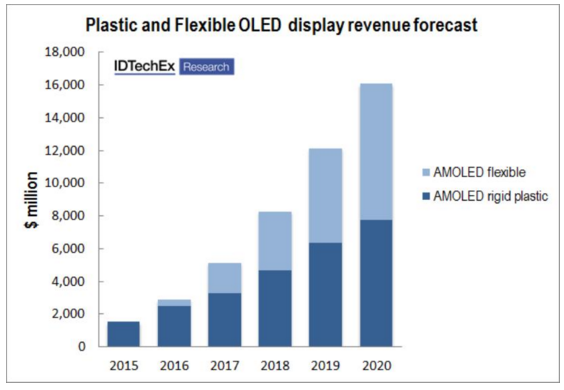 But the real secret in OLED is one that not many people are catching on to. This comes from our CML Pro dossier on the subject:



The potential driver for growth that ultimately could dwarf the display market, astoundingly, is the lighting market. OLED technology is ideal and revolutionary for lighting.

This isn't a market people think about much, but globally it is projected to be a $100+ billion market by 2020.

OLED offers many advantages over older lighting technologies: low voltage, cool to touch, long lifetime, eco-friendly, instant "on", dimmable, no glare, no noise, and perhaps most exciting of all, the novel form factor and cost.



Applied Materials' CEO has said out loud that the company is building a strong product portfolio to support its customers in transitioning to OLED displays over the next few years.

But, there's more.

Memory - Artificial Intelligence
Applied Materials Inc (NASDAQ:AMAT) has a great business in the memory segment based on another theme. Yes, the boring memory segment is actually seeing a positive shift and AMAT is ahead of the curve. The company is expected to grow further as foundries shift to 10 nm (nanometer) and 7 nm nodes and as memory manufacturers transition to 3D technology.

The customers that turn to Applied Materials are aggressively pursuing 7 nm and 10 nm process technologies to cater to the demand for leading-edge processors in computation intensive applications -- this is where we get to self-driving featured cars, Artificial Intelligence based applications, and 4K video.

Here's a take from Forbes:



Intel estimates its capital spending in FY'17 to be around $12 billion, which is above the 2016 figure of $9.6 billion, implying stronger semiconductor capital equipment demand.

Source: Forbes



There's actually more to this story, and for the full review we direct you to the Top Pick dossier:
Applied Materials is Turning into a Technology Leader.

EARNINGS RESULTS
Applied Materials reported revenue of $3.55 billion for the quarter beating estimates of $3.54 billion. The company also reported $0.79 in earnings per share (EPS) versus estimates of $0.76. But the real news was guidance.

The company guided revenue in the range of $3.6 billion - $3.75 billion, while analysts had expected $3.41 billion. Even more impressive, the company guided EPS to $0.79 - $0.87 on a non-GAAP basis, versus estimates of $0.68.

Here are the highlights we focused on, and we warn you, the CEO is very bullish.

HIGHLIGHTS
Gary Dickerson, CEO, was rather bullish on the call making a clear point that quarterly revenue and earnings were both all-time highs, and further: "We've now set earnings records for 4 quarters in a row and as I look across the company, I see tremendous momentum."

* Q2 was another record-breaking quarter and 2017 is shaping up to be an outstanding year for Applied. Our markets are becoming even more attractive.

* This is an incredibly exciting period for the electronics industry, with a broader set of drivers and a wider spectrum of companies making very large investments to advance semiconductor and display technology.

* [G]lobal adoption of smartphones, combined with social media, have created a much more pervasive consumer demand, expanding the market and making it substantially less cyclical.

* Sales of memory chips are at record levels, fueled by increasing content in smartphones to support better cameras and VR applications as well as the need for more and higher performance storage in data centers.

* Market fundamentals remain strong and as a result, we're seeing robust investment from our memory customers.

* The explosion of data storage requirements created by IoT, big data, AI and streaming video has only just begun.

* Our expectations for the display market also continue to strengthen as a result of large inflections in both TV and mobile screen technology.

* In PVD [(Physical Vapor Deposition)], we expect our available market to expand by more than 30% in 2017 as foundry customers adopt new interconnect technology for lower power devices.

* [T]he CMP market grew 40% in 2016 and is on track to grow another 20% this year, primarily driven by increasing steps in 3D NAND.

* In our high-growth businesses, we're also outperforming our competitors in markets that are growing rapidly.

* The semiconductor business unit saw revenue rise 51%, year over year, to $2.404 billion. Revenue in the display technologies market more than doubled, year over year, to $397 million.

* Service represents a stable and growing revenue stream for the company. On a year-on-year basis, we've now grown service revenues for 14 consecutive quarters and our compound rate of growth has been around 10% over the past 4 years.

* 2016 witnessed significant developments in emerging technologies such as the Internet of Things (IoT), virtual reality, augmented reality, big data, artificial intelligence, and self-driving cars. These new technologies will be key sources of growth for Applied going ahead.

* [W]e expect to see a significant and steady investment ramp [in China] in both semiconductor and display beginning in 2018.

The author has no position in Applied Materials Inc (NASDAQ:AMAT) at the time of this writing.

WHY THIS MATTERS
It's finding the technology gems that will turn into the 'next Google,' or 'next Apple,' where we have to get ahead of the curve. This is what CML Pro does.

Each company in our 'Top Picks' has been selected as a future crown jewel of technology. Market correction or not, recession or not, the growth in these areas is a near certainty.

The precious few thematic top picks for 2017, research dossiers, and alerts are available for a limited time at a 80% discount for $29/mo. Join Us: Discover the undiscovered companies that will power technology's future.

Thanks for reading, friends.

Legal
The information contained on this site is provided for general informational purposes, as a convenience to the readers. The materials are not a substitute for obtaining professional advice from a qualified person, firm or corporation. Consult the appropriate professional advisor for more complete and current information. Capital Market Laboratories ("The Company") does not engage in rendering any legal or professional services by placing these general informational materials on this website.

The Company specifically disclaims any liability, whether based in contract, tort, strict liability or otherwise, for any direct, indirect, incidental, consequential, or special damages arising out of or in any way connected with access to or use of the site, even if we have been advised of the possibility of such damages, including liability in connection with mistakes or omissions in, or delays in transmission of, information to or from the user, interruptions in telecommunications connections to the site or viruses.

The Company makes no representations or warranties about the accuracy or completeness of the information contained on this website. Any links provided to other server sites are offered as a matter of convenience and in no way are meant to imply that The Company endorses, sponsors, promotes or is affiliated with the owners of or participants in those sites, or endorse any information contained on those sites, unless expressly stated.