One on One Interview with Applied Materials' CEO Gary Dickerson and Capital Market Laboratories - a lot of opportunity as semis' old playbook has run out of gas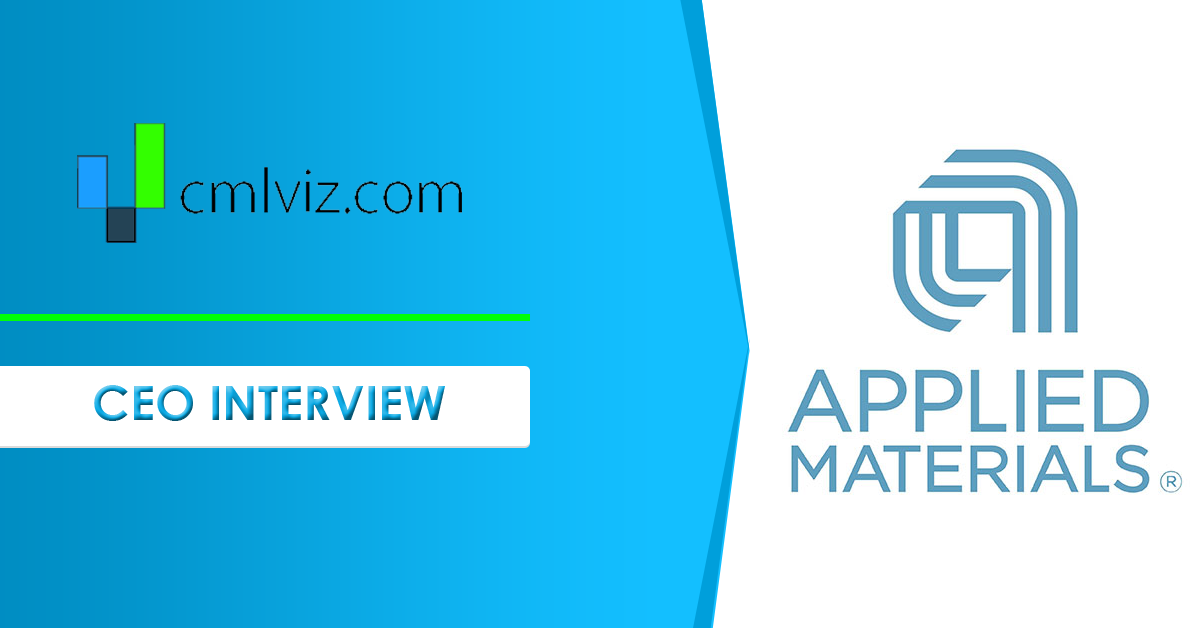 One on One Interview with Applied Materials' CEO Gary Dickerson and Capital Market Laboratories (CMLviz) - a lot of opportunity as semis' old playbook has run out of gas
Date Published:
2019-06-04

Written by Tiernan Ray

Edited by Ophir Gottlieb

Hello, all. This is Ophir writing, but most of the story to follow was written by Tiernan.

LEDE
If ever there was a Q&A session to read to better understand all of technology, this is it. Whether you follow Applied Materials or not -- reading this dossier makes you a better technology investor.

PREFACE
Applied Materials (AMAT) reported earnings and the company continues to move through the ebbs and flows of certain parts of demand. But the future remains clear -- 'Big Data' and artificial intelligence are bringing a wave of technological advances that are unlike anything the world has seen and should position Applied for tremendous opportunity.

In between the now and the long-term is a world of uncertainty that lies far outside of technology and well into the realm of global politics. But, like all true secular trends that are revolutionary, like e-commerce, for example, macro events both geopolitical and economic are simply distractions to the true trends that are coming.

We added Applied Materials (AMAT) to the CML Top Picks on 15-Nov-16 for $28.71. As of this writing it's trading at $38.78, up 35%.

The remainder of this dossier was written by Tiernan Ray covering his meeting with the incomparable CEO of Applied Materials, Gary Dickerson.

STORY
Once again, Applied Materials chief executive Gary Dickerson was kind enough to chat with CMLviz following the company's earnings report on May 16th.

The reported revenue and profit beat analysts' expectations on top and bottom line, despite continued weakness in the market for DRAM and NAND memory chips, which puts pressure on the spending by Applied's tools customers in that division. The outlook was more or less in line, which had the effect of boosting the stock by 5% the evening the report came out, though the shares have given back those gains in the two weeks since.

For the year thus far, Applied stock is up 20%.

Dickerson was as upbeat as he was back in February regarding the market for semiconductor production and displays as well, the other side of Applied's business. He repeatedly went back to his twin themes. First, Artificial Intelligence, coupled with the need to process and store more and more data, is a much bigger technological wave than past eras such as personal computing.

Second, the old ways of making chips don't work - there are now so many "pluses" and "letters" following each chip node, that it's clear there is a need for a new "playbook," as Dickerson calls it.

The fact that the market for tools - "WFE," or wafer fab equipment - will be about $10 billion higher this year than at the peak periods in other chip cycles, despite the market being in a sluggish phase, is, to Dickerson, evidence that the overall semiconductor market is on much surer footing than in the past.

Among highlights of the chat, Dickerson notes that despite the enthusiasm for ASML's "EUV" tools for lithography, EUV is only one of five ways to improve chips, with Applied having a hand in the other four.

Dickerson said of organic light-emitting diode, or OLED, displays, they will become more prevalent as suppliers expand beyond the current market leader. He said Applied is in talks with eight or nine companies that should begin expanding that supply next year.

Read the full Q&A below.

CML: Gary, what are the things you think investors should take away from the results and outlook?

Gary Dickerson: I think this year, certainly, the markets are softer, but even so, the company is delivering solid performance. I'm still very optimistic about the longer term, in semiconductors, in display. Our services business has been growing, last year it grew 20%, the previous years, it grew 15% on a compounded annual basis.

Even in software, the market was up high single-digits in services. And we have a higher percentage of agreements in services booked on a subscription basis, as a bigger percentage of our business. Longer term, nothing has changed from when you and I talked before. We are managing through this environment, but still driving investments, based on our longer-term perspective, to fuel innovation that's going to support our business and serve our customers.

If I look at semiconductor, we went from the PC as the driver, to mobile, social media, and this next wave is A.I. and Big Data. I think when we talked before about this transition from PC to mobile, social, the business, I pointed out, was meaningfully larger, and the volatility decreased [compared to] what it had been in prior cycles. You know, we've gone from waiting two to three years for an OS upgrade to this battle for leadership in mobile. The cycle in the past was a different cycle, and the size of the business now is bigger.

Already, we see the smartphone not being the major driver of things. Instead, we see Internet of Things [IoT], communications, automotive, power devices, sensors - all growing at a very high rate. Over half the foundry logic it's that kind of smart devices. Those things are generating data, they are processing the data, connecting the data.

Even though in the near-term, memory is weaker this year, semiconductor will be meaningfully higher going forward because of this powerful new driver. That builds momentum for the next two to three years, so overall, semiconductor should be very healthy.

Another big factor is the challenging tech roadmap for all our customers. You saw a week ago or so, when Intel held their investor day, the many "pluses." It's no longer about "tick-tock" anymore, it's all the pluses driving their roadmap. Taiwan Semiconductor Manufacturing, you know, they have 7 [nanometer], and 7 plus, and now 6.

Again, I think there's an indication that at the same time that we have this big wave in tech that is a lot more demanding, the old playbook has run out of gas. The industry needs a new playbook, new ways to connect devices together, new architectures. All that is fantastic for Applied.

Customers are adding letters to the ends of numbers. It's getting harder to scale vertically with 3-D NAND. The cost per bit of scaling is very difficult. All our customers are showing presentations where that scaling is tough. That's really a sweet spot for Applied, that combination of structure and innovation, that materials innovation that's now required.

With this new driver, this new wave, we are in just the first inning. That's a big driver. In display, three-fourths of production this year is TV, based on Gen 10.5 factories. But we think going forward, mobile will be a larger part of the business as more companies are able to build OLED, either in rigid or in flexible forms.

I also think that the market will pick up in a meaningful way in the next two years. It's the same driver there, relative to capital intensity, and technology based on materials innovation. So, going to flexible displays, our opportunity goes up through a factor of two in terms of more materials dependence.

So, semiconductor, with A.I. and Big Data, that big wave of challenging technology, driven by a new playbook, and display also meaningfully stronger over the next two years, and beyond. And the technology challenges where Applied plays a big role.

You combine that with our services business that continues to grow, where over half is subscription-type revenue, that strategy we have been driving the last couple of years. And new products in the pipeline, with new materials and new products.

So, we are optimistic. The bigger thing for us is to stay focused on our strong belief that the markets are going to be stronger, and our position in them is going to be better. We are investing more in R&D, you know. R&D is going up, while we continue to control other operating expenses.

CML: In the first quarter of the year, people said that "extreme ultra-violet," or EUV, lithography finally became real, with the shipment of wafers by TSMC and [the industry leader]. What does that mean for Applied?

GD: There are five different ways to scale in semiconductors. There is new architecture, new materials, new structures, new ways to connect things, and fifth, there is device shrinking, and that's multi-patterning and EUV.

EUV is not significant in memory. In 3-D, they stopped going to shrinking and went vertical. Then you look at the areas that are growing, such as IoT, sensors - that's another big part of the market where it [shrinking transistors] has no impact, and that's one of the fastest growing parts of the market.

Even in leading-edge logic, if you look at the five ways to scale, and the power efficiency and performance, and if you think about A.I. and Big Data going forward, there is tremendous demand for improvements in power efficiency and performance, mostly driven by the five things I talked about. And only one of those is EUV.

My own perspective is that things such as "Gate-all-around," with 35% improvement in performance and 50% improvement in power, that's about new materials, that's about new structures. Truthfully, I think the opportunity is, you have to drive a new playbook to enable this data economy, whether generating data with smart devices, storing data, processing data, or connecting data.

CML: On the call, your CFO, Dan Durn, said the correction in memory chips will "profile into 2020," meaning, continue into next year. Is there anything that could accelerate things, lead to a faster correction?

GD: What I would say is that, you know, we are in constant engagements with all of our customers, even as of two nights ago. I had discussions with one of the biggest memory producers just two nights ago. We have a lot of visibility.

There are a number of facilities being built, if you look at all shells that are out there. I think what our customers see is that the consumption of data will continue to increase, and that's going to drive the business meaningfully stronger over the next two years, and into the future.

Again, I don't remember a time when I've seen so many fabs ready for equipment as today. We have visibility, but what Dan said, I agree 100% with. Next year, our perception is, next year will be better, and business will continue to grow based on this new wave I've been talking about.

CML: Last time we spoke, you said, "For me, what is really driving our business is that if you look at technology, and the impact it will have on our lives in future, we've never been in a better position." Would you say that's still true? Especially given the uncertainty that's again cropping up with the trade war?

GD: I don't think - that would be like me saying, when mobile social was emerging, is that major change in all our lives going to happen or not? I think whether it's transportation, healthcare, retail, education - you see all these inflections that are happening.

I think those changes are going to be faster and bigger. From PCs to social media, being much and more pervasive, we are in the first inning with A.I and Big Data, which are transforming our industry.

The data economy, and the ability to create value across multiple industries, is significant. I don't see a change relative to that inflection.

This is the biggest inflection of our lifetimes, and we are going to get ready for that. Last time, I told you that the two biggest drivers of our lifetime are Big Data and A.I.. And the foundation of that are semiconductors.

CML: What if, in a hypothetical dystopia, China were to decide to make their own chips, and so in 3-5 years, they are no longer using anyone else's hardware. Does that change Applied's position as the tools supplier to the industry?

GD: What I would say is, I don't really see any change in behavior with our customers in the region. We believe in fair trade, we think it's important for the overall ecosystem to have constructive relationships.

There is lots of connectivity in semiconductors; how it goes into the whole electronics ecosystem. There's a lot of connectivity there across many industries. It's best for everyone to have constructive relationships. It's important for us to have a constructive platform for collaboration. So, I don't see any impact today.

I can't speculate - maybe you can give me your thoughts. We are certainly monitoring it, but relative to anything that's happened so far, I don't see a change to any of my customers. I can't speculate on what could happen. We are going to manage through the near term.

Our overall results in a soft market are very good. The level of volatility now is much less than in the past, the level of spending, even in a soft market - the overall results are very good. But the main thing for us is positioning ourselves.

Now, Dan [Durn] also mentioned, we are talking about wafer fab [equipment sales] of mid-$40 billion this year. That's about ten billion higher than all the peaks of all the other cycles despite the memory correction, and despite foundry being in re-use mode.

You know, demand is relatively flat, with somewhat soft smartphones, and GPUs and crypto not loading up the way they would be in a big growth year. It feels like quite base levels right now, but we're still ten billion higher [in capital equipment market revenue] than the peaks of all other cycles.

Now, again, the new drivers, things like IoT, automotive, sensors, smart everything, data generation - I think that data economy is transforming many industries. We already see an increasing part of our business in those kinds of devices. You have this year where you have the memory correction. But you think out a couple years from now, we think semiconductors are going to be much stronger, displays are going to be much stronger.

The other aspect of this, it's very clear that the tech roadmaps are challenged. The old playbooks don't work. I have a really strong belief, based on constantly engaging with all of our leading customers, and how we are enabling this new playbook, this new roadmap, that the opportunity for us has never been better.

I don't see any change in behavior now, and based on engagements with customers, I don't really anticipate any major changes. I can't speculate 10 years from now, 15 years, but I don't see any significant changes among customers.

CML: OLED is supposed to be an enormous new technology, but it seems to have stalled a bit. When is the OLED revolution coming? Has it been put on hold? Is it something we should expect happens three to five years into the future, rather than right now?

GD: I don't think it's that far into the future. What's driving OLED right now is these Gen 10.5 displays. If you think about the TV business, you get eight of the 65-inch TVs on a 10.5, and three of them on 8.5. And so that's driving a pretty significant percentage of display business this year.

We grew 25%, compounded annually, over the last several years through last year. This year, it's down, but our growth in that business was pretty strong, we have been expending our opportunities. And then, we think that mobile, which is also OLED, will become stronger, especially over the next two years.

So, I don't think it's a three- to five-year time frame. As the number of customers who can produce that type of technology expand, there's an opportunity there. Because as you think about performance, power, and features, we think there's a lot of people pursuing all that. As you said, it's one company pursuing it today. We haven't yet said anything publicly, but we think the display business is meaningfully larger over the next couple of years.

We said on the call that the TV and mobile parts of the business will become balanced going forward. We have been delivering OLED in smartphones to one customer primarily. But we have engagement on the technology side with eight or nine additional customers who would like to be there but haven't been able to get to that maturity yet. But that happens next year.

CML: Will Applied be a tech leader in 5G [wireless networking]? How should we think about what that technology development means for you?

GD: I kind of see that as the art of enabling the wave, especially these edge devices that are connected, all these sensors and smart devices that are becoming a bigger part of our business.

You know, foundry will be up this year, in terms of total investment, and that particular segment is growing faster. So, when you think about the data economy, and devices connecting together, 5G enables new applications and better experiences.

So, we think it's an accelerator, one of the building blocks of the data economy. If 5G is adopted, there's certainly an opportunity for us as those devices are being created, but certainly the bigger thing is this data economy I've been talking about.

CML: On the technical front, I've heard from makers of new kinds of devices in medical technology, in healthcare, that there is a need for ultra-low-power embedded circuitry, things that have on the order of less than a watt of power consumption, maybe it's just pico-joules or femto-joules. Do you see a path to get us to such ultra-low-power devices with process technology?

GD: When we talk about these edge devices, power needs to improve by two orders of magnitude or more. There's certainly power consumption with different types of technology for storage, connectivity, and processing of data.

Now, there's memory in all these embedded devices, there's DRAM and SRAM, and they are all consuming power as you do calculations. And there are new memories that are coming, that, you put that in a chip, and you will not need to do all that active power.

The next thing is a new type of memory, a "ReRAM," that will mean you can go without needing DRAM or SRAM. And that is just a materials engineering problem now.

CML: Anything else you'd like to mention?

GD: No, just, come to our A.I. Design Forum, July 9th, in San Francisco. This is the second year we'll be running the event. Last year, it was standing room only.

This is the only event in the industry that tries to figure out the future of computing from materials to systems, through the chip design, and hardware and software and cloud data center - all that together in one room!

CML: It sounds like a blast, Gary! Thank you.

THE FUTURE
It's understanding technology that gets us an edge to find the "next Apple," or the "next Amazon."

This is what CML Pro does. We are members of Thomson First Call -- our research sits side by side with Goldman Sachs, Morgan Stanley and the rest, but we are the anti-institution and break the information asymmetry.

The precious few thematic top picks, research dossiers, and alerts are available for a limited time at a 80% discount for $29/mo. Join Us: Discover the undiscovered companies that will power technology's future.

Thanks for reading, friends. Neither Tiernan nor Ophir have a position in Applied Materials as of the time of this writing.

Legal
The information contained on this site is provided for general informational purposes, as a convenience to the readers. The materials are not a substitute for obtaining professional advice from a qualified person, firm or corporation. Consult the appropriate professional advisor for more complete and current information. Capital Market Laboratories ("The Company") does not engage in rendering any legal or professional services by placing these general informational materials on this website.

The Company specifically disclaims any liability, whether based in contract, tort, strict liability or otherwise, for any direct, indirect, incidental, consequential, or special damages arising out of or in any way connected with access to or use of the site, even if we have been advised of the possibility of such damages, including liability in connection with mistakes or omissions in, or delays in transmission of, information to or from the user, interruptions in telecommunications connections to the site or viruses.

The Company makes no representations or warranties about the accuracy or completeness of the information contained on this website. Any links provided to other server sites are offered as a matter of convenience and in no way are meant to imply that The Company endorses, sponsors, promotes or is affiliated with the owners of or participants in those sites, or endorse any information contained on those sites, unless expressly stated.