Why Ambarella May Suddenly be a Buy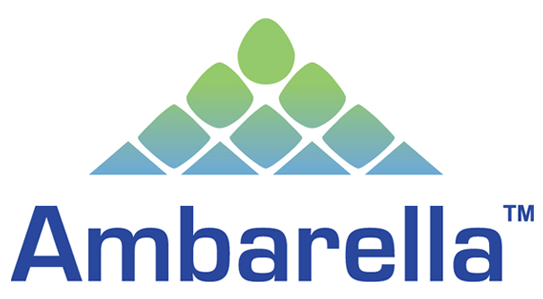 Fundamentals

Written by Ophir Gottlieb, 12-10-2015
Follow @OphirGottlieb
PREFACE
Ambarella (AMBA) is one of the most interesting and perhaps still one of the most contentious stories in all of financial markets. It may also be one of the most compelling investments in all of technology right now.
STORY
AMBA is a maker of high-definition video chipset and compression software which means it spans all of technology from AAPL and GOOGL to TSLA, INTC, QCOM and NVDA. The stock is down 55% since its highs in summer. Here's the one-year stock chart.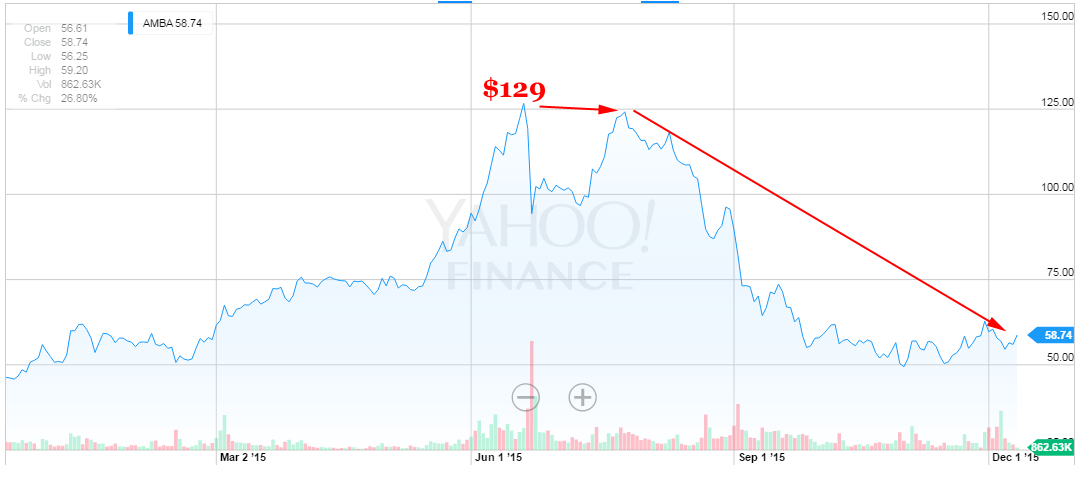 The company leans heavily on GoPro (GPRO) as a customer (30% of its revenue) and as GPRO stock has plummeted 80%, so has AMBA's stock fallen 55%. But oh how we may be missing the forest for the trees. Let's start with a chart of revenue(TTM) for all-time.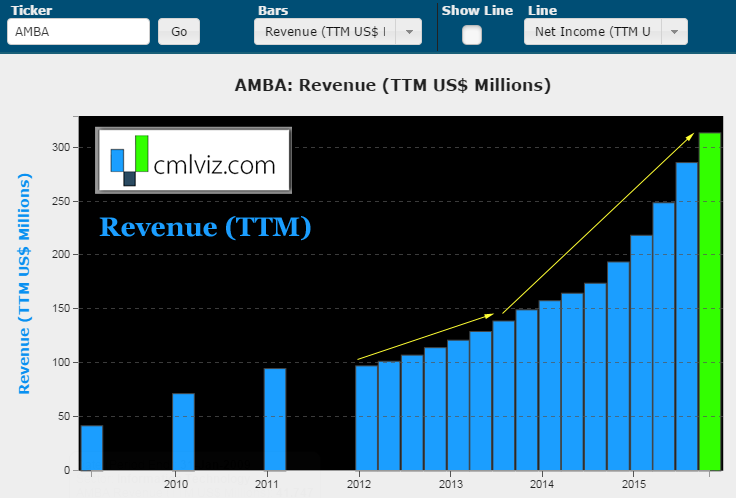 Do you enjoy discovering new companies and opportunities and really understanding them?
Get Our Free News Alerts Twice a Week.
Ambarella's revenue is up 62% year-over-year to now over $300 million in the trailing-twelve-months. For the year end of Jan 2012, the company reported just $97 million. This is a growth company, no doubt about it.
In the most recent earnings report the quarterly results were excellent, driven mostly by emerging markets. Revenue came in at over $93 million for the quarter, above consensus estimates of $89.9 million and earnings per share (EPS) came in at $1.08 beating estimates of $0.86. But, the company disappointed on forecasts, taking down next quarter's revenue numbers to a range between $65 million and $67.5 million, versus estimates of $76.3 million (Source:
TheStreet
.)
The concern for AMBA is customer and product diversification and CEO Fermi Wang addressed that on the earnings call:
We break news everyday. Discover the Undiscovered.
Get Our (Free) News Alerts Once a Day.
Our strong third quarter results reflect our success in expanding revenues in new markets such as flying cameras and home security monitoring, as well as existing markets for professional IP security cameras and automotive after-market dash cameras.
But, in the same breath the company's CFO warned of rising inventories in the wearable sports camera market (aka GPRO) that will have a "substantial effect" on fiscal 2017. The company is now forecasting full year revenue growth of 15%-20%, below AMBA's stated target of 20-25% growth. A lot of this is bad news for GoPro, but AMBA is still looking very strong.
Here's a chart of the company's net income (aka after tax profit) . The bars represent numbers rolled up into trailing twelve-month (TTM) figures and the orange line represents the quarterly numbers.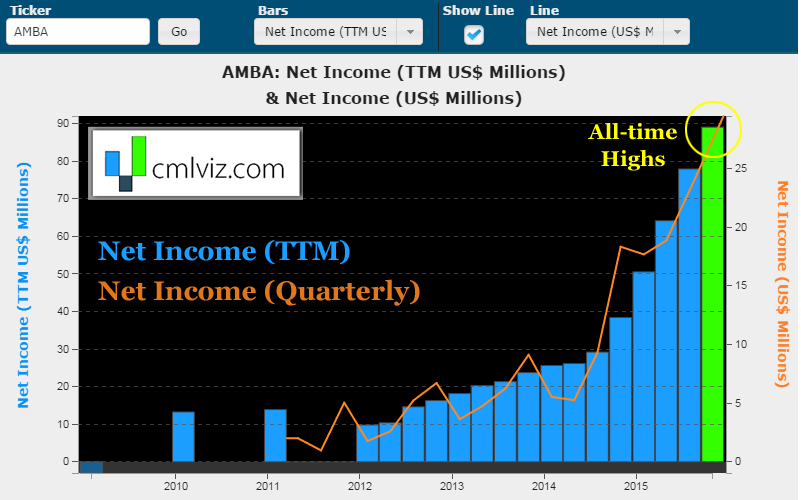 We write one story a day using visuals to break critical news.
Join Us: Get Our (Free) News Alerts Once a Day.
We can see that both the TTM number and the quarterly number are at all-time highs. AMBA also dominates both the connected cameras segment and the drones segment of technology. A step back from the weakness in one segment and the realization that the company is diversifying into the other reminds us that a stock down 55% but still growing quite quickly is very compelling.
Here's the company's cash from operations (TTM).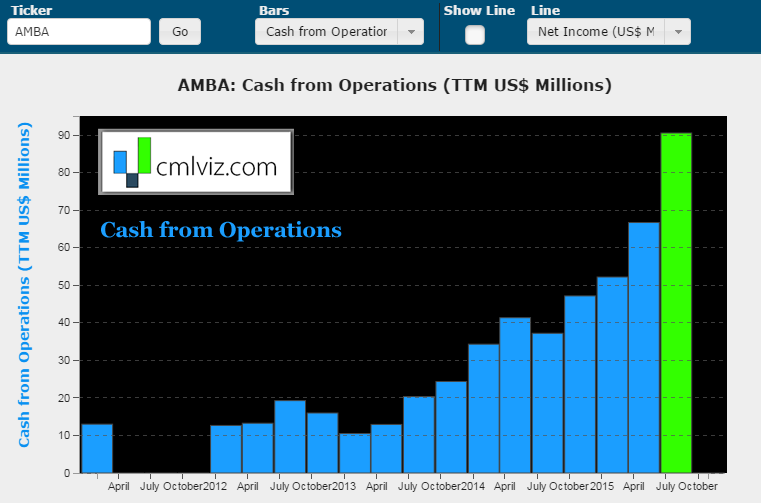 Do you thrive on seeing data that goes way beyond headlines and turns you into an expert?
Try CML Pro. No credit Card. No Payment Info. Just the Power.
The point here is that AMBA is not just a small (ish) technology company growing revenue, it has legitimate earnings and cash from operations growth. At a market cap of $1.87 billion, the company has room to grow and is also quite possibly a takeover candidate for other (larger) companies moving into the drone realm.
Further, worry not about the future innovation, AMBA continues to grow its expenditures in research and development (R&D) rapidly. Here's an all time R&D chart.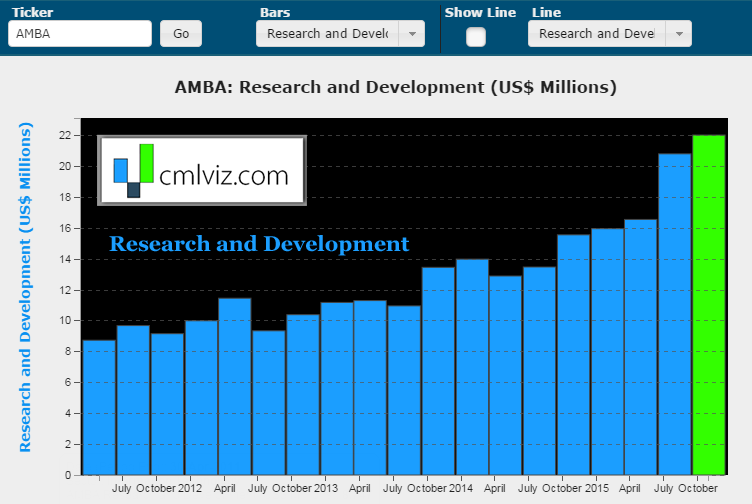 R&D is up over 40% year-over-year and over 60% over the last two-years.
Get one stock gem a day:
Get Our (Free) News Alerts.
CONCLUSION
Ambarella is growing revenue, earnings and cash from operations while still spending heavily on R&D. The company is diversifying away from GPRO and even with the slowing segment of its business, still sees healthy double digit revenue growth for 2017. With a stock price down 55% and a price to sales now down to about 6:1, we might have found a growing tech stock that actually has some "value"to it.
In fact, here's the all-time price to sales chart.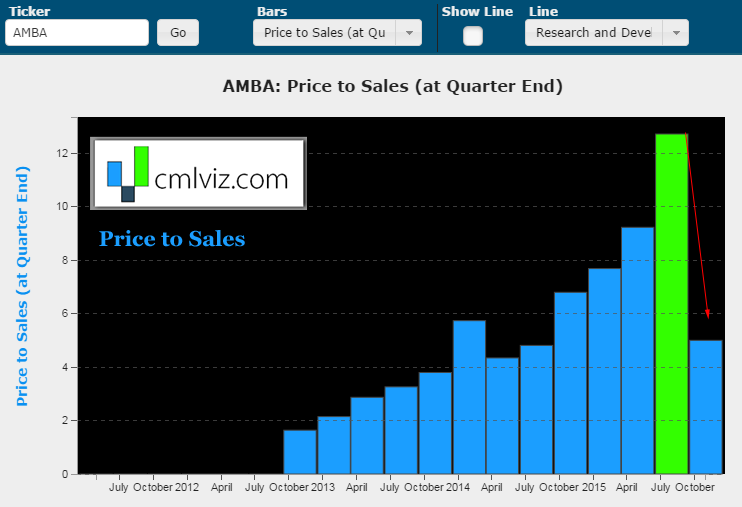 This is a compelling, growing, innovative technology company with a stock price that has been hammered.
As of this writing, I am long Ambarella shares.
This is just a part of the full AMBA research write up and just one of the several fantastic reports CML Pro members receive weekly.
Join Us: Get the Most Advanced Visual Tools, Data and Stock Research.