Ambarella Inc (NASDAQ:AMBA) Could Lead the Drone Revolution
Ambarella's "eyes" of technology
Date Published:
2017-02-01
Written by Ophir Gottlieb

This article originally appeared in CML Pro research -- this is a snippet of the full dossier.

Preface
There is a revolution coming with the introduction of drones into our daily lives and Ambarella Inc (NASDAQ:AMBA) may be the key to all of it. Let's first look at the drone market in general, and then Ambarella Inc (NASDAQ:AMBA) specifically.

DRONES
We have all heard of drones, and most of us likely know that the market for them is growing, but if we settle in and actually examine the projected growth, it starts to feel a little bit like Alice tumbling down the rabbit hole in Wonderland. This is a radical technology that is coming and it is one of those themes that hits every part of the world: consumer, commercial and military.

Let's start with a chart of projections for consumer drone shipments from our friends at Statista.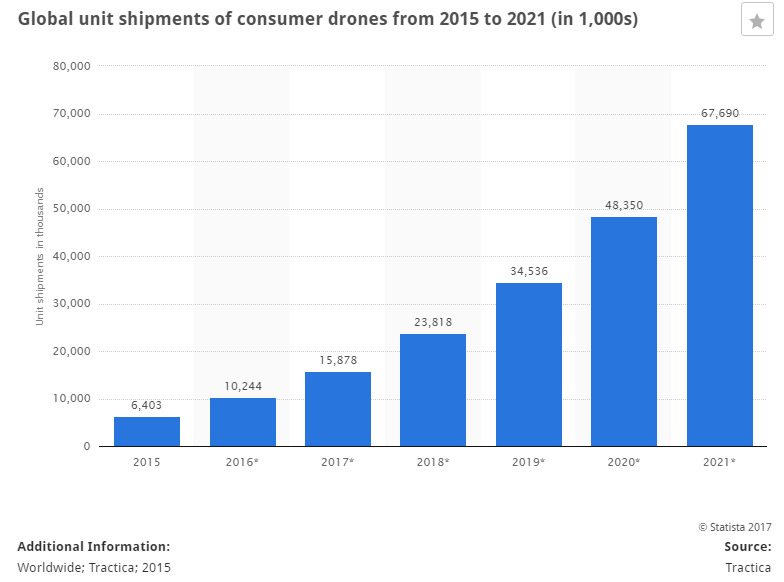 There are two incredible phenomena surrounding consumer drone shipments. The first is this chart, which shows shipments growing 570% from 2016 to 2021, ultimately hitting nearly 68 million in that year alone totaling over $5 billion in sales. The second incredible phenomenon is that consumer drones are the smallest segment when compared to commercial and military.

Let's turn to the commercial market -- there is where companies like Amazon.com Inc (NASDAQ:AMZN) would fit in.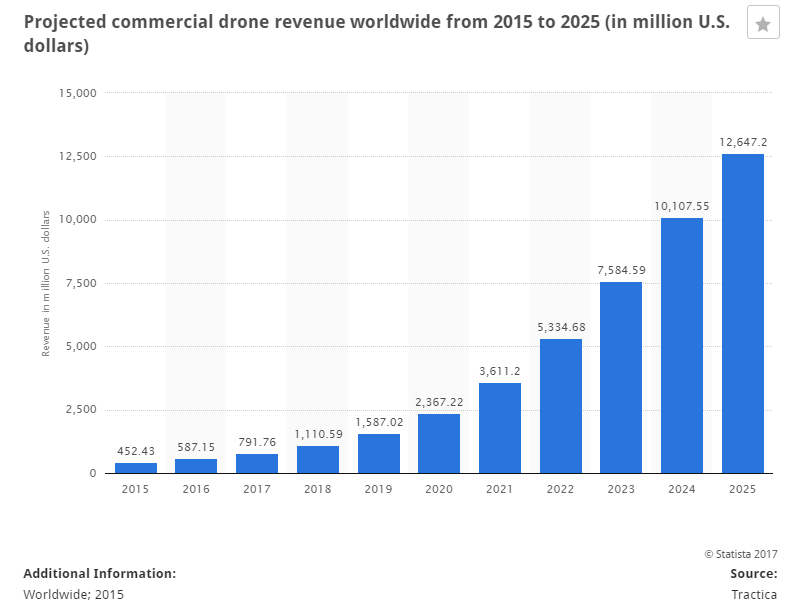 Much like the consumer segment, this market is set to lift-off (no pun intended) right now. We're looking at a $587 million market growing to over $12 billion, or a 20 fold increase. Yes, while consumer is set to grow nearly 6x to $5 billion, this commercial market is set to grow by 20x and to $12 billion.

As enormous as those growth figures are, check out the size of military compared to everything else, labeled as 'civil' in the chart below: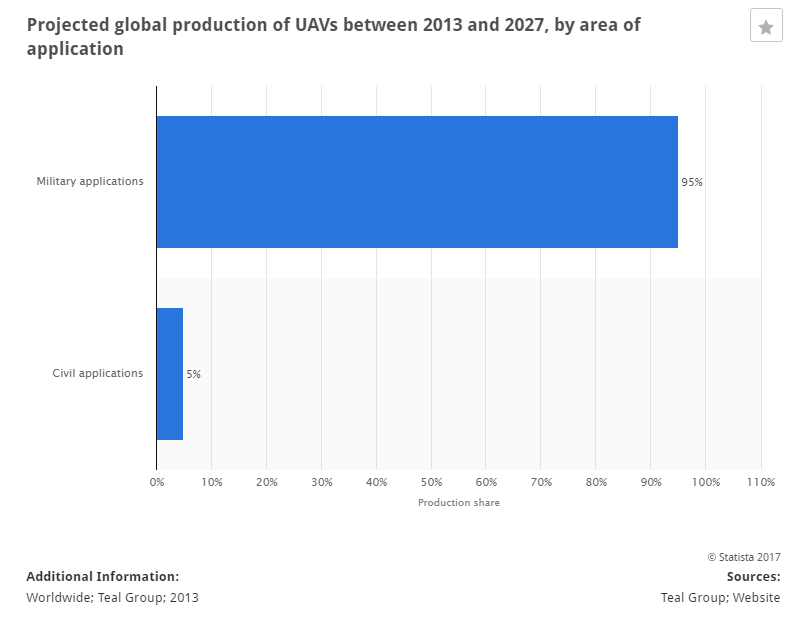 Even further we get these projections from "Commercial and Military Drone Market Assessment and Forecasts 2016 - 2025" (note: UAV is short for "unmanned aerial vehicle").

* By 2018, UAVs will be used by nearly every major manufacturing company to control logistics.

* By 2021, UAVs will be used by nearly every automobile manufacturer in metropolitan areas and along major highways to provide ubiquitous wireless coverage based on a combination of LTE, 5G, and satellite communications.

Suffice it to say, the drone market is set to become a gigantic part of technology across all customer types and the demand is expected to keep growing significantly through 2027.

Now, let's turn to Ambarella.

WHY AMBARELLA?
Ambarella Inc (NASDAQ:AMBA) has a unique technology with its system on a chip (SoC) that focuses on video -- that's high definition, fast compression, data enabled, and low light capabilities. These "eyes" work in drones, video surveillance, self-driving cars, wearable cameras, and more. It's certainly not the only one, but it has a product which has set itself apart.

These "eyes" are used for video surveillance, self-driving cars and of course drones. But the question is, "why Ambarella?" Here's the answer:

First, in AMBA's 10-K filing in January of 2016 the company noted:



"

As of January 31, 2016, we had 640 employees worldwide, approximately 72% of whom are in research and development.

"

Source: Ambarella Inc 10-K



This is a science and technology company and the commitment to R&D is paying off, and should continue to pay off in a serious way.

Second, the company's chips have properties the competition has been unable to match, many of which are protected by a growing portfolio of patents, and that technological lead has created a moat and therefore high margins. Ambarella Inc (NASDAQ:AMBA) is turning into the single-source supplier to many customers.

Check out Ambarella's gross margin trend: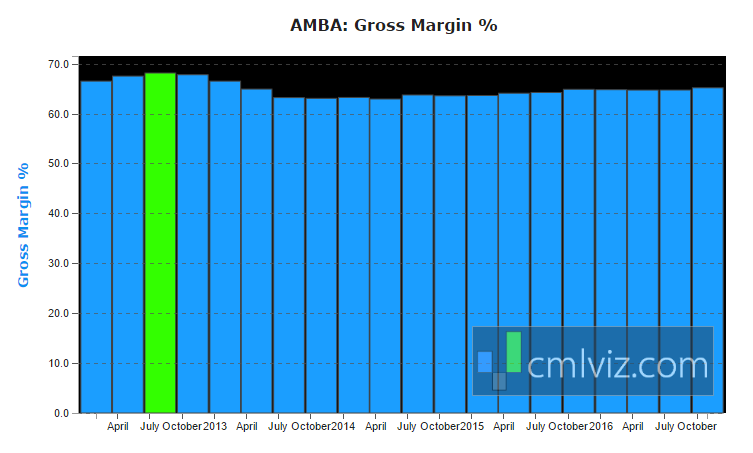 This is the actual proof of a superior technology -- not tech reviews, not CEOs pounding their chests, not press releases -- it's always in the realized margins, and that's it.

MORE
Just to dot all of the 'i's' and cross all of the 't's' we note that the video surveillance market is also taking flight.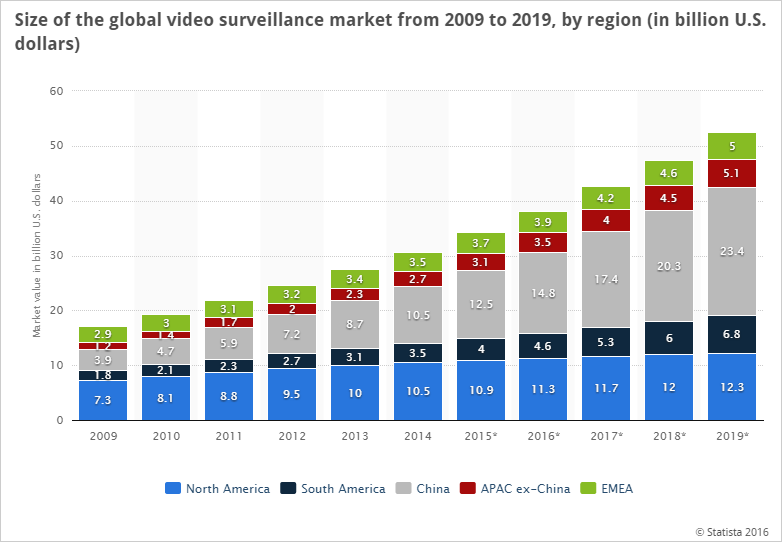 Gone are the days of the black and white, grainy convenience store surveillance cameras. We now live in a world where surveillance is not an afterthought - it's the thought. This goes to the commercial side as well as the enormous government surveillance programs.

And even further, Ambarella has started to dip its toes into the world of self-driving cars.

The author is long shares of Ambarella Inc (NASDAQ:AMBA) in his personal account.

WHY THIS MATTERS
If this kind of research interests you then what we offer may be up your alley: Our research sits side-by-side with Goldman Sachs, Morgan Stanley, Barclays, JP Morgan, and the rest on professional terminals as a part of the famed Thomson First Call group. We do this research several times a week and we also have a list of spotlight companies -- Ambarella is one of them and we added it for $35.

Each company in our 'Top Picks' portfolio is the winner in an exploding thematic shift like self-driving cars, mobile data and connectivity, health care tech, artificial intelligence, Internet of Things, drones, biotech and more. For a limited time we are offering CML Pro for $19/mo. with a lifetime guaranteed rate. Get the most advanced premium research along with access to visual tools and data that until now has only been made available to the top 1%.