The $500B Market Amazon is Winning While Apple, Microsoft and Google Attack



Written by Ophir Gottlieb and Jason Hitchings
Our purpose is to provide institutional research to all investors and break the information monopoly held by the top .1%.
PREFACE
JP Morgan analysts issued a 50-page note to clients arguing that the cloud computing "wars" are "entering a new phase" (Source:
Barron's
). Much of the focus surrounded what was a bullish thesis for Amazon and its AWS cloud business.
Here's a quick review of that note, then the real guts of why the cloud is in fact an open war.
AN EPIC SHIFT
The cloud will impact almost everything. It is one of the fundamental shifts coming in the very near future that will change how our smartphones, cars, businesses and the entirety of the Internet will function.
We're moving out of the Ice Age, the Iron Age, the Industrial Age, the Information Age, to the age of the Cloud.
Forbes
THE PRIZE
The market for Cloud Computing will be absolutely explosive. Projections see the market growing from $80 billion last year, to half a
trillion
within a decade, according to a study by
Wikibon
: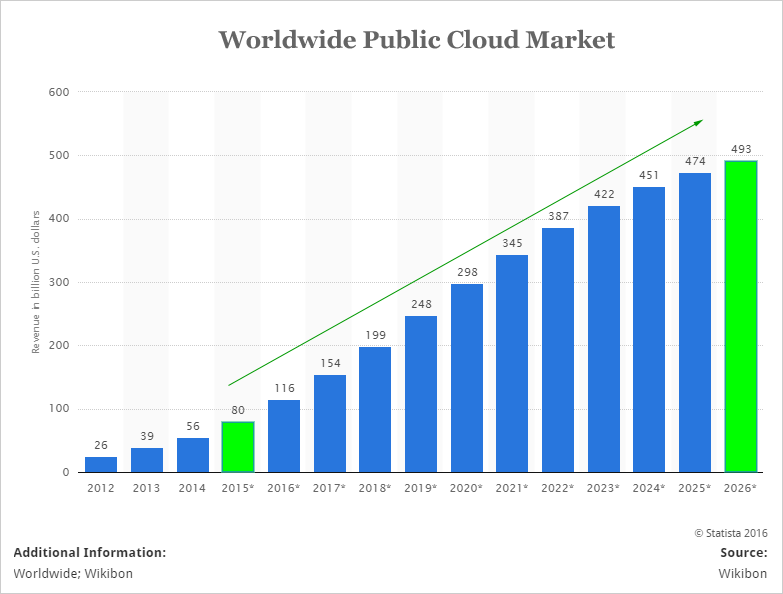 The JPM analysts based their work on a survey they conducted of 207 chief information officers at companies with a budget of $600 million or more annually. So, these are indeed legitimately large players that will shape the purchasing power of the near future.
In our view, a near- tripling of the public-Cloud-based workload mix represents a monumental architectural shift, which shows no signs of abating and is likely to create a major ripple effect across the entire technology landscape.
To understand this trend, we must understand the players. And once we know the players, we can find who is best positioned to win.
AMAZON IS KING
The JPM note did focus on several companies but it highlighted Amazon as a winner. Here are some takeaways before we get deeper into the story (emphasis added):
CIOs describe AWS as "a transformative power whose impacts will be felt in technology, process, development, etc."

They comment on a "Paradigm shift – AWS enabled everything to be hosted in the cloud."
Now we go deeper with CML Pro's analysis: Amazon Web Services (AWS) already drives fully 50% of operating profit while making up just 8% of revenue for the company. It's famously known for hosting Netflix's (NASDAQ:NFLX) video streaming, which at peak hours accounts for 30% of the entire United States bandwidth.
Here is the chart of revenue growth for Amazon Web Services (AWS) from our friends at Statista: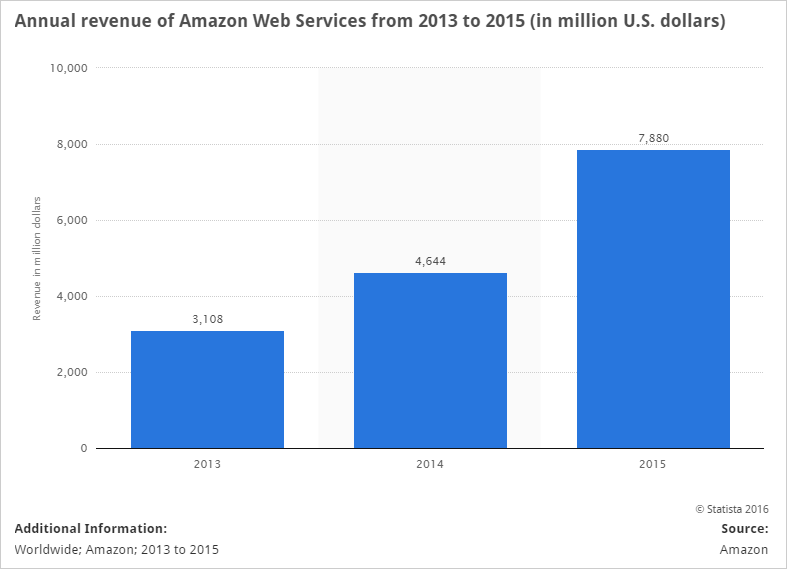 But, if we slice that down to what Goldman Sachs calls cloud "platform" market share, we get this: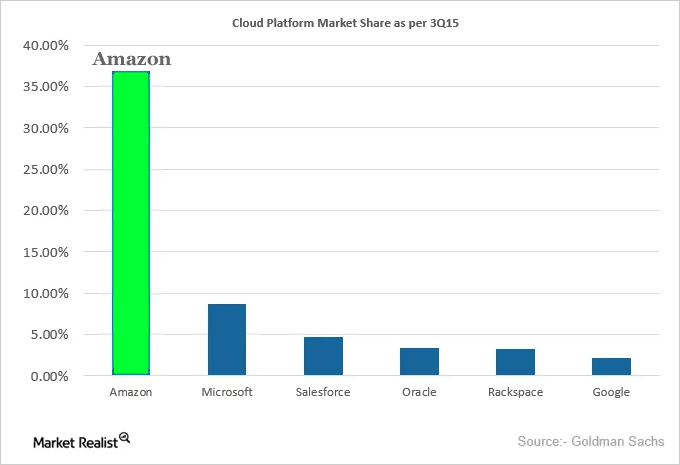 If Amazon simply tracks segment growth, its AWS business will grow to $30 billion by 2020.
MICROSOFT'S THRONE
When asked "which IT mega-vendor will be most critical and indispensable to your organization's IT environment in the future, and why," the poll revealed these results: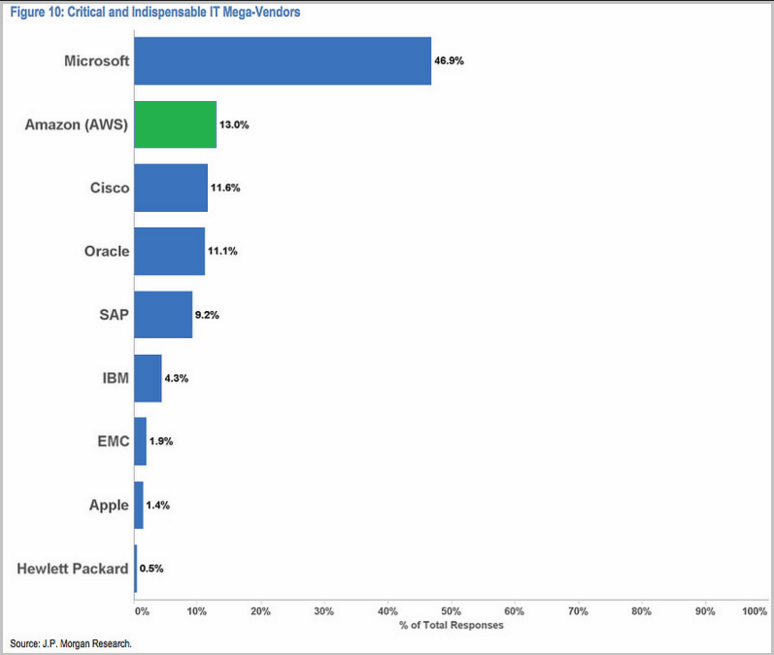 With the full suite of products that Microsoft provides that include the cloud and beyond, we can see why the company has seen its stock price rage higher and why it's still one of the five largest companies in the world.
Microsoft's "Azure" cloud product also stands to be a huge winner here. The survey went on to speak about the firms that would likely lose share and they included International Business Machines (NYSE:IBM) at the top, Hewlett-Packard Enterprise (NYSE:HPE) as number two and finally Oracle (NASDAQ:ORCL) at number three (more firms were mentioned).
The summary delivered by Barron's did not make note of some other huge players that we see making substantial waves:
HERE COMES APPLE
Apple is sitting atop the technology throne, making an almost unfathomable sum from its domination of the devices space. Now, as of 2014, Apple's iCloud had 500 million accounts. On January 26th, 2016, we learned that Apple has
one billion
active device as its install base.
This trend gives Apple the golden opportunity to reinforce the iPhone's dominant position while simultaneously opening up massive new revenue streams. Apple actually moved half a billion dollars of business out of the Amazon cloud to Google in what we must assume was a competitive move from a threatening Amazon.
Rumors have it that Apple will open its own cloud to the public, and of all the rumors we hear in technology, this one has the perhaps the greatest truth to it. We can't say it any more clearly: Watch. Out. For. Apple's. Cloud.
FACEBOOK'S CLOUD SERVES 2 BILLION PEOPLE
Back in 2006, Facebook faced an existential threat because it was growing so quickly -- just its 10 million users almost brought the company down.
Here's a chart of Facebook's users which goes back to 2008. Remember, 10 million almost brought the company down, today we are looking at nearly
2 billion
.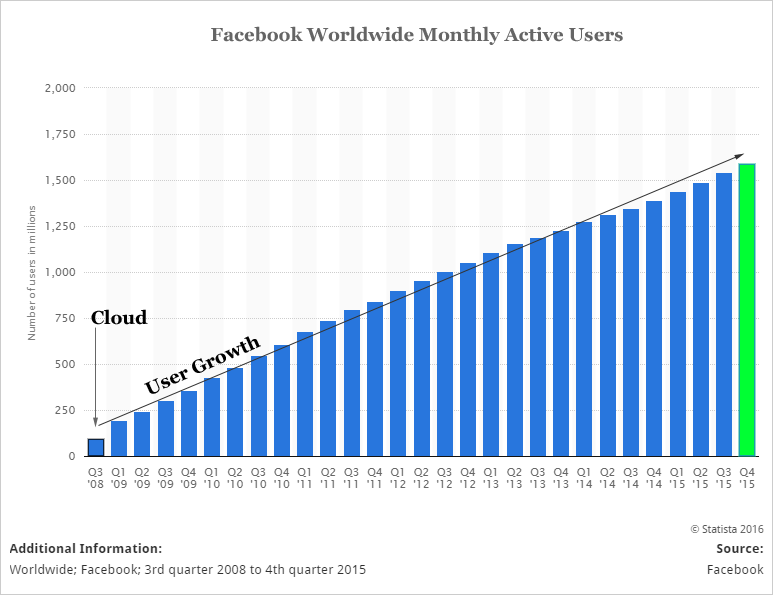 The success wasn't an accident -- Zuckerberg and Facebook were early to grasp the potential and need of Cloud Computing space.
"Now with one billion profiles and counting, Facebook has finally resolved this headache by entirely moving its myriad of operations to the cloud"
Whether Facebook will open a public cloud service or not is unknown, but we wouldn't turn a blind eye.
GOOGLE IS ENORMOUS
Google recently reported that it now has six distinct properties with over one billion users: YouTube, Android, Search, Maps, Chrome, and Google Play. All of this is powered by its cloud.
But Google has gone even further. While placing its cloud data centers to sit on water creates a source of cooling and possibly even a source of power, Google has a patent for the project.
Google may be taking the technology behind cloud computing to the absolute ends of human knowledge.
WHY THIS MATTERS
Cloud computing will change everything about the way we use data. But, to find the 'next Apple,' 'next Amazon,' or 'next Google' we have to get ahead of the curve. This is what CML Pro does. Our research sits side-by-side with Goldman Sachs, Morgan Stanley and the rest on professional terminals, but we are the anti-institution and break the information advantage the top .1% have.
Each company in our 'Top Picks' is
the single winner
in an exploding thematic shift like artificial intelligence, Internet of Things, drones, biotech and more. In fact, here are just two of the trends that will radically affect the future that we are ahead of: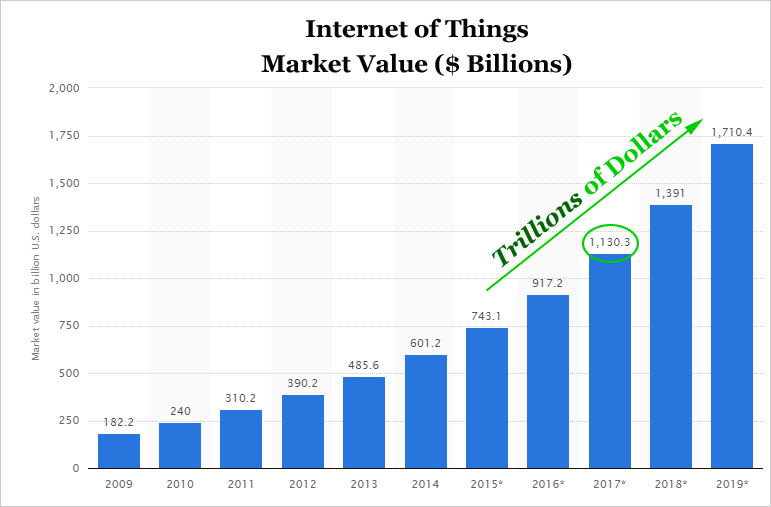 The Internet of Things (IoT) market will be measured in
trillions
of dollars as of next year. CML Pro has named the
top two companies
that will benefit. Then there's cyber security: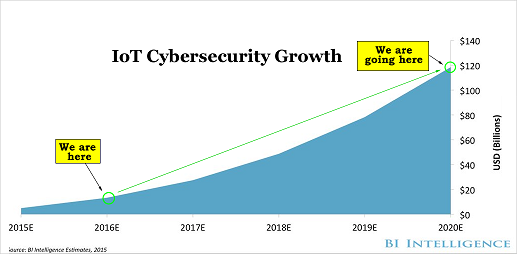 Market correction or not, recession or not, the growth in this area is a near certainty, even if projections come down, this is happening. CML Pro has named
the single best
cyber security stock to benefit from this theme.
These are just two of the themes we have identified and this is just one of the fantastic reports CML Pro members get along with all the visual tools, the precious few
thematic top picks for 2016
, research dossiers and alerts. For a limited time we are offering CML Pro at a 90% discount for $10/mo. with a lifetime guaranteed rate.
Join Us: Get the most advanced premium research delivered to your inbox along with access to visual tools and data that until now has only been made available to the top 1%.
Thanks for reading, friends.