Amazon: Six Stunning Facts to Know Before Earnings


Fundamentals

Written by Ophir Gottlieb and Jason Hitchings
PREFACE
Amazon is part of an elite group creating a new era in business, but there are six stunning facts surrounding the firm that could not only affect this earnings release, but much more importantly, drive the future yet higher for the stock.
FACT 1: RESEARCH & DEVELOPMENT
Here is a chart of the largest firms in the world and the amount they spend on Research & Development ( R & D):
It's the secret hidden in plain day light -- Amazon spends more on R&D than
every company
in the world in
every sector
. We have highlighted Alphabet / Google (NASDAQ:GOOGL), Apple (NASDAQ:AAPL) and Facebook (NASDAQ:FB) as well.
Amazon's R&D allows them to blaze a trail toward a fundamentally different economy. But this fact is trumped by the next four.
FACT 2: E-COMMERCE
By now we all know that Amazon dominates the e-commerce world. Here's the size of that segment from our friends at Statista:
E-COMMERCE MARKET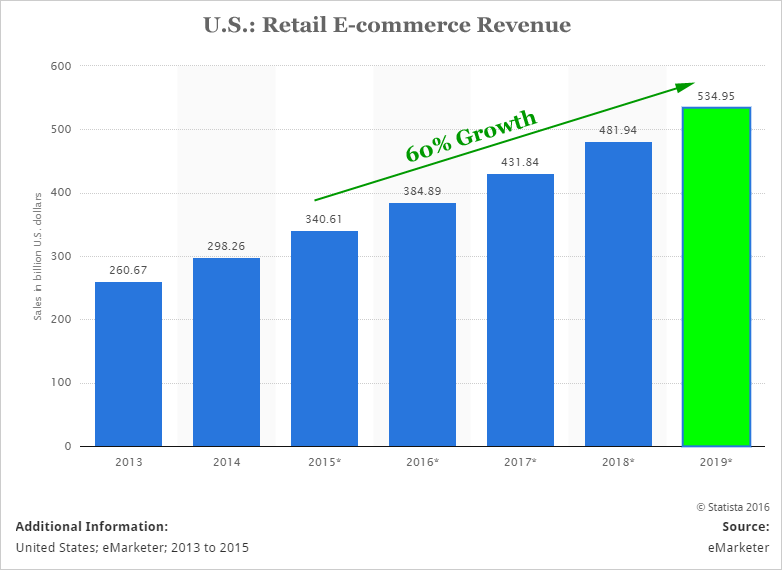 Retail e-commerce in the United States will rise to $534 billion in 2019. That's 60% growth from last year. Now, here are some facts that are mind bending:
Macquarie Research reported via the NY Times:
"Of every additional $1 Americans spent for items online this year, Amazon captured 51 cents."
Source:
NY Times
But there's an even more staggering result: In
the entire United States
, for
all of retail sales both online and off-line
, there was a total of $94 billion in growth. Of that $94 billion, Amazon accounted for $22 billion. Yes,
Amazon accounted for 25% of US retail growth from every store, resource and platform available to mankind
.
So, as retail sales in the US putter along at a 1.7% growth-year-over-year, Amazon revenue is growing several times that level. It turns out the at Amazon's Prime service customers are the real river, when if accounted for properly may drive nearly $70 billion a year in e-commerce sales.
Robbie Schwietzer, vice-president of Amazon Prime said way back in 2010:
"In all my years here, I don't remember anything that has been as successful at getting customers to shop in new product lines."
Source:
Time
FACT 3: TEENAGERS
Whike Facebook is openly struggling with relevancy as engagement rates are plummeting, two techgiants haveneverbeen more relevant. The first is Apple, which has seen its market share of teenager smartphone power users rise to an almost absurd 70%. But, here's another incredible fact: Teenagers overwhelmingly prefer to shop on Amazon. Check out this chart from the
Business Insider
:
TEENAGERS PREFERRED SHOPPING
According to Piper Jaffray and
Business Insider
that 41% market share has grown from 31% in Spring 2014 and 35% in Spring 2015 "and crushes the two sites tied for second place, Nike and Forever 21 at 5% apiece."
This is just piece of the future growth for Amazon.
FACT 4: THE CLOUD
While many Wall Street analysts would have you believe that the cloud business is a race to the bottom (in pricing), so far, they've been dead wrong. Here is a chart of the cloud computing market moving forward:
CLOUD MARKET GROWTH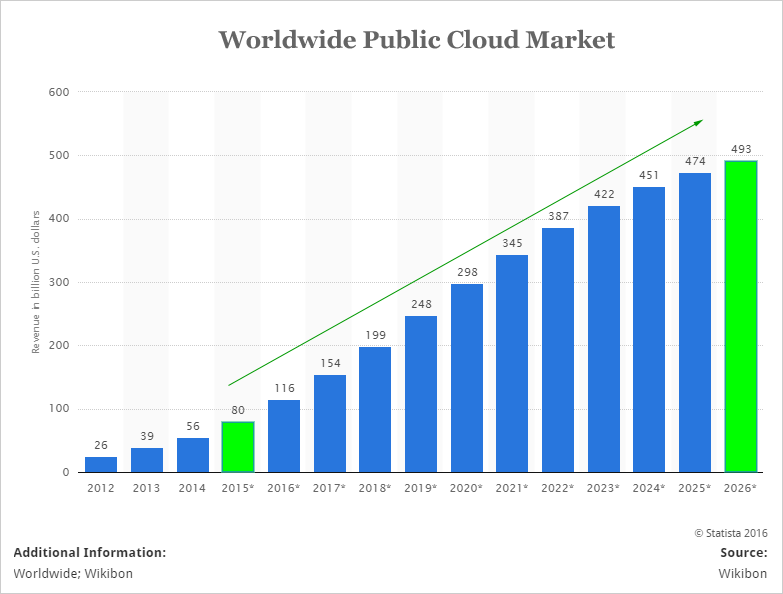 Now to Amazon: JPMorgan (NYSE:JPM) analysts conducted a survey of 207 chief information officers at companies with a budget of $600 million or more annually. So, these are indeed legitimately large players that will shape the purchasing power of the near future. Here's what they said:
CIOs describe AWS as "a transformative power whose impacts will be felt in technology, process, development, etc."

They comment on a "Paradigm shift – AWS enabled everything to be hosted in the cloud."
Amazon Web Services (AWS) already drives fully
50% of operating profit
while making up just 8% of revenue for the company. It's famously known for hosting Netflix's (NASDAQ:NFLX) video streaming, which at peak hours accounts for 30% of the entire United States bandwidth. And of course, now Amazon is competing with Netflix for that very streaming video on demand (SVOD) segment.
FACT 5: ADVERTISING
Facebook generates 97% of its revenue from online advertising and Google drives about 80% from it. These are the two giants at a nearly unprecedented level. The value proposition to either advertise to people on Facebook using all of their personal (and friends') information to create the perfect ad for the perfect person, or to use Google's search engine results to immediately place an ad of perfect relevance has created an unbreakable wall to the segment formed by the two mega caps.
That was the conventional thinking until Amazon had a brilliant thought: "How valuable is an advertisement placed
at the very moment a purchase is going to be made
?" For those that know Amazon, they going to find out, here's what the firm is doing:
We learned from
Bloomberg
that Amazon is now getting into web advertising surrounding Prime Now.
Amazon is trying to sell advertising space to major brands [] promising them visibility with tens of millions of Amazon shoppers. The premium "Launch Hero Package" would cost $500,000 for about two weeks of placement on Amazon's website associated with the rollout [of Prime Now].
The article goes on to read: The Web rollout tied to an ad campaign suggests Amazon is getting more aggressive in charging brands for access to its customers. This is similar to how supermarkets charge for more-visible shelf space in physical stores."
It's the quiet secret that has Facebook and Google so shaken that the two firms have now shot back by opening up an ecosystem for shopping on their sites. Now that is a battle for the ages.
FACT 6: ARE YOU SERIOUS?
Now this one may make you throw something at your monitor, or if you're reading this on mobile, perhaps you'll just throw your phone or tablet on the ground. Here we go:
"Amazon.com and Microsoft are in talks about taking a minority stake in HERE, a digital mapping business controlled by Germany's luxury car makers to help develop self-driving cars".
Source:
Reuters
While this surrounds the cloud in order to store data, given Amazon's appetite for R&D, innovation and competition, it seems possible if not likely that Amazon at least enters the advanced driver-assistance systems (ADAS) world, if not a step further. Here's the motivation:
CARS WITH SELF-DRIVING FEATURES MARKET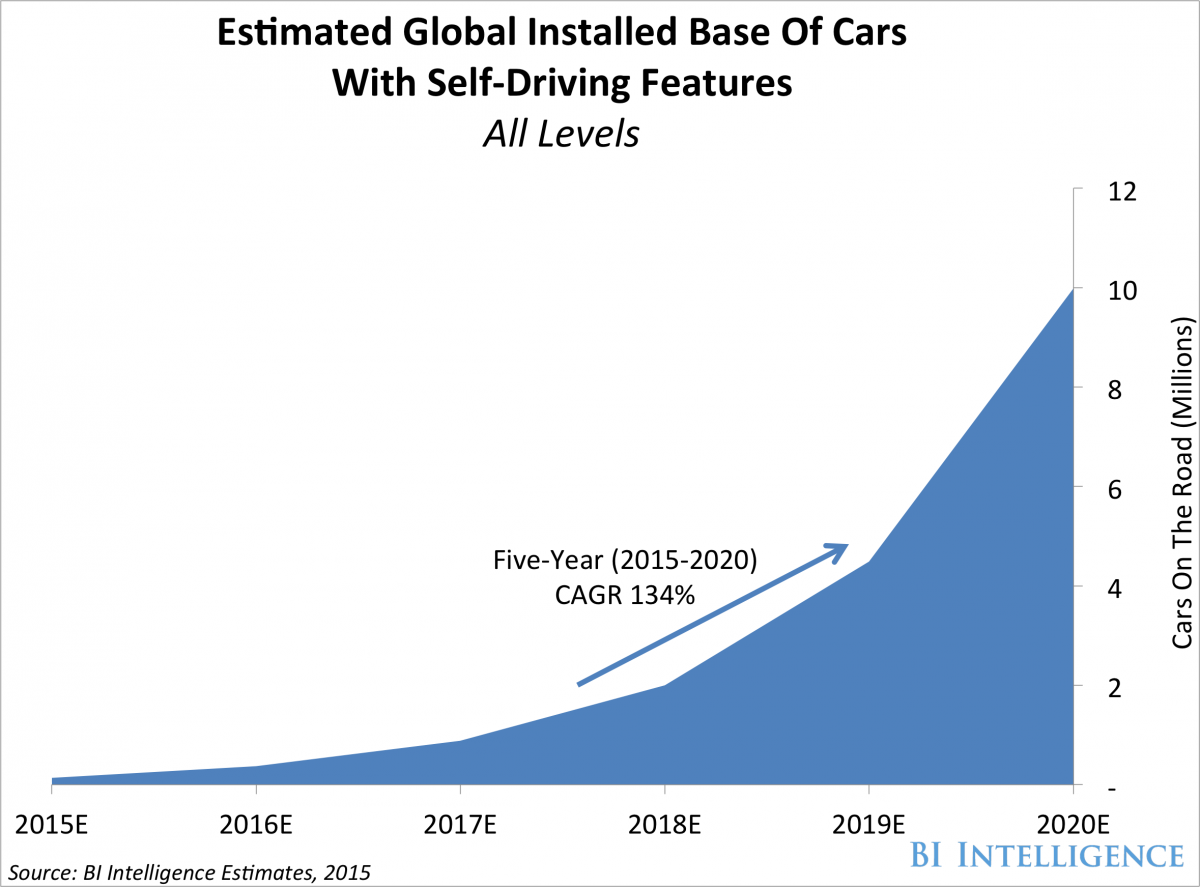 With 134% compounded-annual-growth rate for the next five years ending at 10 million cars by 2020 and projections after 2020 that are absurdly large -- there's just no way Amazon doesn't step in here. Amazon has now bumped into some new competitors: Tesla (NASDAQ:TSLA), General Motors (NYSE:GM), Toyota (NYSE:TM), Apple, Google and BMW, not to mention Mobileye (NASDAQ:MBLY) and perhaps even Nvidia (NASDAQ:NVDA).
WHY THIS MATTERS
We have really just started the analysis. There's so much going on with Amazon it's impossible to cover in one report but
to truly understand it
we must span almost all of technology's transformative themes. Then a step further, to find the 'next Amazon' or 'next Apple,' we have to get ahead of the curve. This is what CML Pro does. Our research sits side-by-side with Goldman Sachs, Morgan Stanley and the rest on professional terminals, but we are the anti-institution and break the information advantage the top .1% have.
Each company in our 'Top Picks' is
the single winner
in an exploding thematic shift like artificial intelligence, Internet of Things, drones, biotech and more. In fact, here are just two of the trends that will radically affect the future that we are ahead of: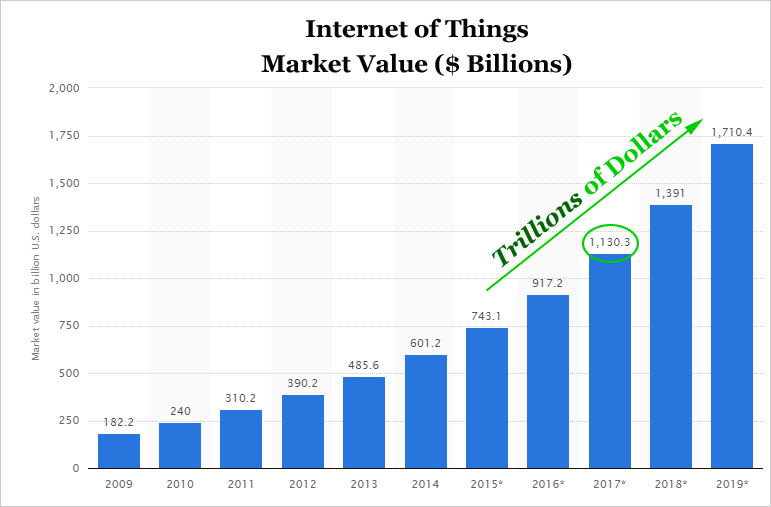 The Internet of Things (IoT) market will be measured in
trillions
of dollars as of next year. CML Pro has named the
top two companies
that will benefit. Then there's cyber security: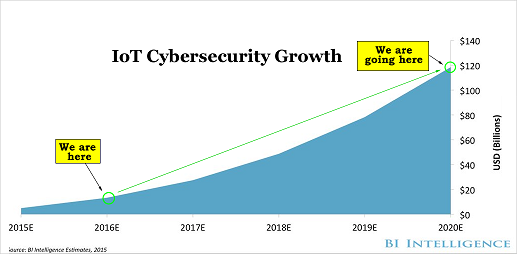 Market correction or not, recession or not, the growth in this area is a near certainty, even if projections come down, this is happening. CML Pro has named
the single best
cyber security stock to benefit from this theme.
These are just two of the themes we have identified and this is just one of the fantastic reports CML Pro members get along with all the visual tools, the precious few
thematic top picks for 2016
, research dossiers and alerts. For a limited time we are offering CML Pro at a 90% discount for $10/mo. with a lifetime guaranteed rate.
Join Us: Get the most advanced premium research delivered to your inbox along with access to visual tools and data that until now has only been made available to the top 1%.
Thanks for reading, friends.