The Catastrophic Risk to Amazon's Cloud Business and Stock Price


Fundamentals

Written by Ophir Gottlieb
PREFACE
Amazon.com Inc. (NASDAQ:AMZN) has now over taken Facebook as the fourth largest technology company in the world behind Apple, Alphabet Inc. (NASDAQ:GOOGL) and Microsoft. Revenue is ripping higher even at a scale of over $100 billion a year. The cloud business has pushed operating margins, earnings and free cash flow are each to all-time highs.
Everything the company tries is working, and it's working better than even the most bullish analysts have forecast. But there's a massive risk looming that impacts more than 50% of Amazon.com, Inc.'s operating profits.
AMAZON.COM, INC.
The headlines have read that Amazon.com crushed revenue and EPS estimates in its latest earnings release, and that's true. The headlines further read that the cloud business, Amazon Web Services (AWS) drove more than 50% of operating profit although it produced just 9% of revenue. That's a high margin business, to say the least.
We go further with the headlines and we read that the AWS business segment grew revenue by 64% year-over-year and it continues to dominate the competitive landscape:
CLOUD INFRASTRUCTURE MARKET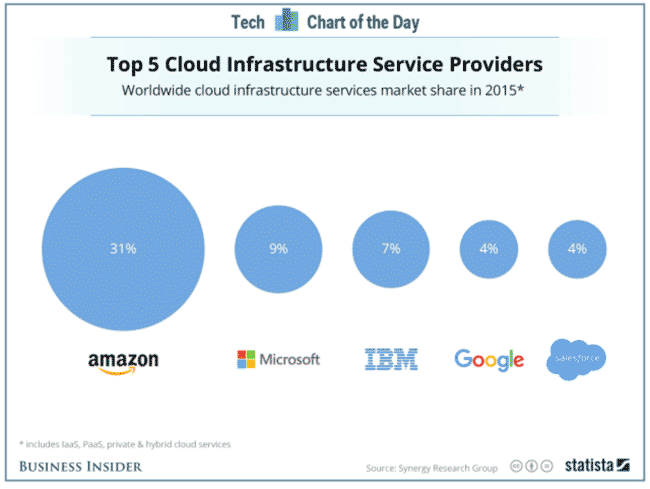 Amazon is crushing it -- even Microsoft has yet to crack 10% penetration. But, here's where the massive risk lies, and there is just no way to overlook it. Let's start simple and look at AWS revenue per quarter in all-time from our friends at Statista: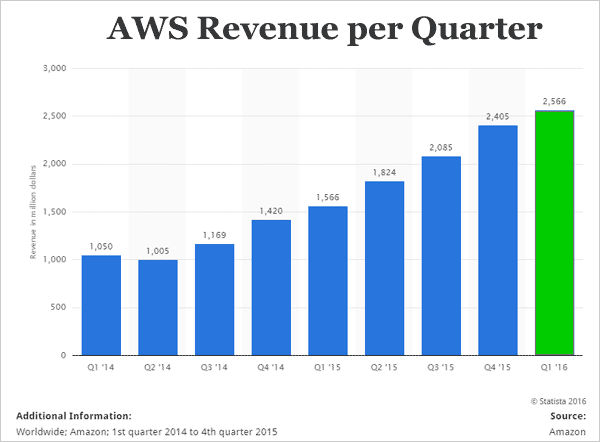 It looks pretty good, but then we do a little analysis and realize, there's a massive risk to its cloud business, here. In this next chart we simply put each quarter of revenue growth from AWS side-by-side with its corresponding quarter from the prior year.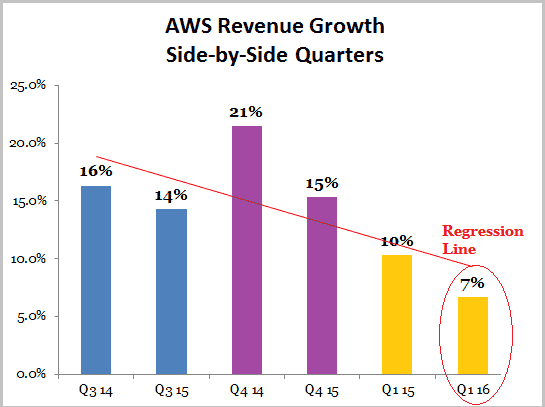 That trend line is a regression line. We can see that down trend, and more specifically, Q1 growth year-over-year dipped from 10% to 7%.
No matter how profitable the cloud business is, growth is slowing rapidly. If the cloud is the growth engine for Amazon.com, Inc. (NASDAQ:AMZN) that has turned it into a $350 billion company, then it's time to focus on the massive risk -- rapidly declining growth in a business that really is not that big.
ALPHABET INC. (NASDAQ:GOOGL)
Of all the company's involved, Alphabet Inc. (NASDAQ:GOOGL) may be the most focused on innovating the cloud. We know that Google just took a $500 million chunk of Apple's iCloud business away from the two leaders, Amazon and Microsoft.
But Google has recently opened declared its commitment to taking the cloud business lead with its competitive advantage being, simply, greater innovation. Alphabet Inc. has placed its cloud data centers on water to create a source of cooling and power. Alphabet Inc. has a patent for the project. Here's a rendering from the U.S. Patent and Trademark Office:
ALPHABET INC. CLOUD PATENT IMAGE
Alphabet Inc. is innovating faster than any other company when it comes to artificial intelligence, which is also a major focal point of its cloud. Apple's $500 million imprimatur doesn't hurt. In sum, it points to yet another massive risk to Amazon.com, which relies on the cloud business for more than half of its profits.
WHY THIS MATTERS
To take this analysis a step further and to find the company that will power
every cloud
, regardless of which platform wins we have to get ahead of the curve. This is what CML Pro does. Our research sits side-by-side with Goldman Sachs, Morgan Stanley and the rest on professional terminals, but we are the anti-institution and break the information monopoly that the top .1% have.
Each company in our 'Top Picks' is
the single winner
in an exploding thematic shift like artificial intelligence, Internet of Things, drones, biotech and more. In fact, here are just two of the trends that will radically affect the future that we are ahead of: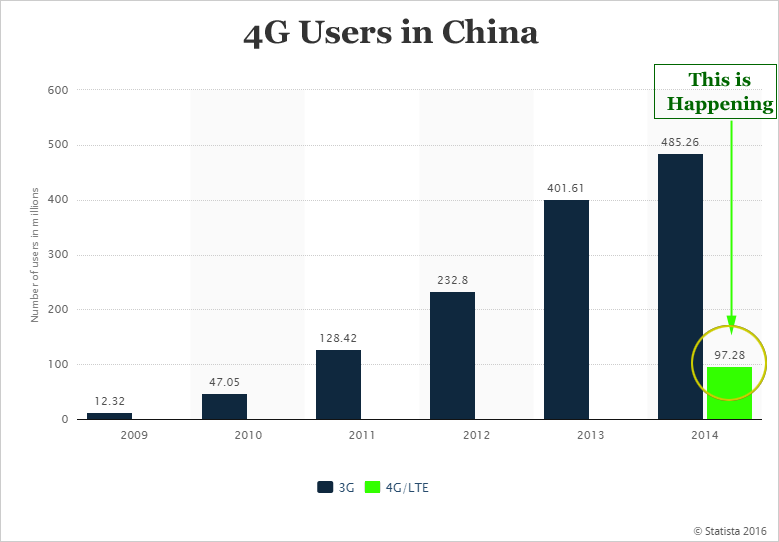 That light green colored bar (4G) is soon going to be larger than the dark colored bar (3G). 4G usage will grow from 330 million people today to nearly 2 billion in five years. CML Pro has named
the single winner
that will power this transformation. Then there's cyber security: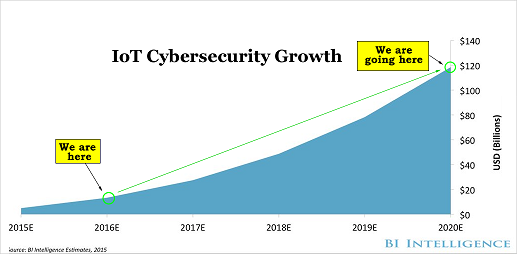 Market correction or not, recession or not, the growth in this area is a near certainty, even if projections come down, this is happening. CML Pro has named
the single best
cyber security stock to benefit from this theme.
These are just two of the themes we have identified and this is just one of the fantastic reports CML Pro members get along with all the visual tools, the precious few
thematic top picks for 2016
, research dossiers and alerts. For a limited time we are offering CML Pro at a 90% discount for $10/mo. with a lifetime guaranteed rate.
Join Us: Get the most advanced premium research delivered to your inbox along with access to visual tools and data that until now has only been made available to the top 1%.
Thanks for reading, friends.