It's Not Amazon, Google, Apple or Facebook: This is the Tech Gem Powering the Cloud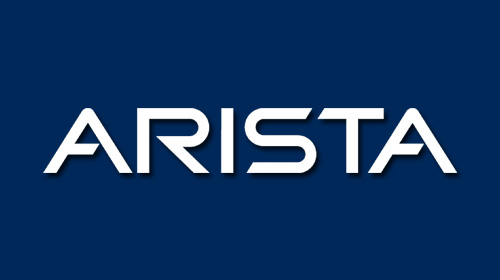 Fundamentals

PREFACE
The move to cloud computing is one of the largest transformative themes technology will experience in the next decade. Here is the projected revenue growth in the public cloud via Statista: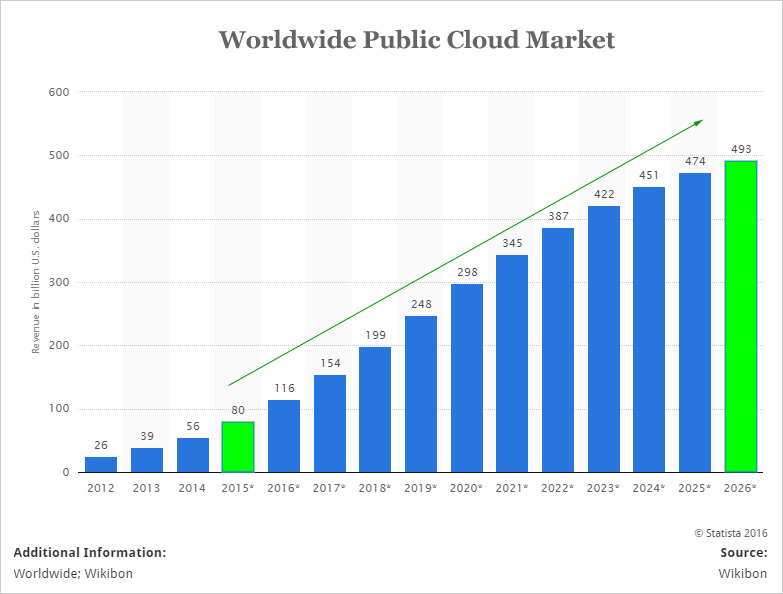 We're looking at market growth from $80 billion in 2015 to nearly half a trillion dollars in 2026. It will nearly triple from last year to 2020.
Amazon.com (NASDAQ:AMZN) cloud platform (AWS) drove fully 56% of the firm's operating income even though it represented just 9% of revenue. Microsoft's (NASDAQ:MSFT) Azure is the second largest player and Alphabet (NASDAQ:GOOGL) announced that it is now getting serious about its own cloud offering -- winning a $500 million contract with Apple (NASDAQ:AAPL) after the iPhone maker switched from Amazon to Google.
There is going to be a war to win this segment, but in sticking with CML Pro's investment approach, we don't really care who wins the cloud war, we want to own the companies that will power every cloud, regardless of vendor.
ARISTA NETWORKS
Arista Networks (NYSE:ANET) supplies cloud networking solutions consisting of extensible operating systems, a set of network applications, and gigabit Ethernet switches.
Arista has a five star rating from CML Pro and for good reason: revenue, operating margins, net income, levered free cash flow and research and development are all rising, with a remarkable trend in revenue and net income to be noted. Further, the company beat earnings in the most recent report on May 6th and raised guidance yet higher.
Here is ANET's revenue chart: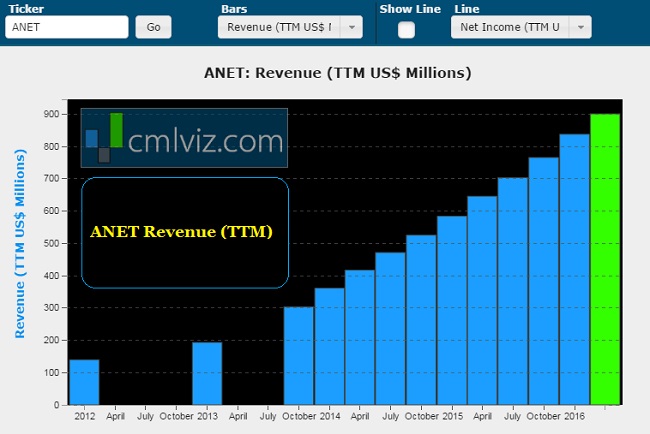 ANET revenue (TTM) hit an all-time high, up nearly 40% year-over-year and 115% over the last two-years. Further, in the latest earnings call the company delivered $242.2 million in revenue beating estimates of $238 million. On the guidance front, Arista forecast revenue between $259 million and $265 million, well above the $253 million revenue forecasts.
Earnings also didn't disappoint. ANET reported $0.68 earnings per share (EPS) versus estimates of $0.61. Here is the company's net income (TTM) chart: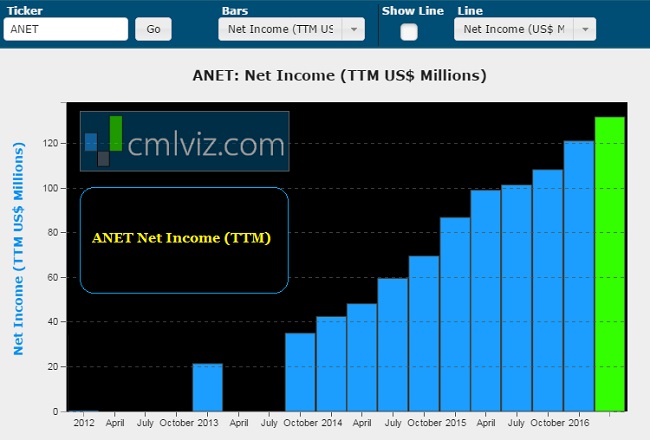 Net Income (after tax profit) over the trailing twelve months rose 33% year-over-year to an all-time high.
On the earnings call, CEO Jayshree Ullal talked at length about how the company is tailoring its offerings to suit different kinds of cloud computing customers, noting that smaller operators may have different needs from Microsoft (MSFT), historically one of Arista's larger customers. She went on to say:
"
[The] cloud titans [such as Microsoft and Facebook (FB) are] increasing their spend in the cloud and therefore with Arista.
We continue to experience increased relevance and acceptance from our customers in the ongoing shift to cloud networking.
"
Source: Barron's
We note that Ullal called out tech giants Microsoft and Facebook as customers.
DIVING DEPPER
When we take a dive into the earnings transcript, we get a clearer picture of the business. The CEO reported the following to investors:
We now have in excess of 3,850 cumulative customers, and we have increased our market share in 2015 for our relevant 10-gigabit, 40-gigabit, 100-gigabit Ethernet TAM to 12% in ports and 10% in revenue.
Ullal was glowing over Arista's new 7500R Series. Here are some snippets:
"
Defying the traditional definitions of router and switch functions, the flagship 7500R blends the best of both with uncompromised Cloud Scale performance
The 7500R is inherently designed for investment protection across generations, a really rare feat in our industry.
"
She also noted some new partnerships, namely the integration with Checkpoint (NASDAQ:CHKP) and with Palo Alto Networks (NASDAQ:PANW). These are two of the titans in the cyber security realm -- a massively disruptive force pushing technology forward.
COMPETITION AND THE BEARISH CASE
Arista doesn't operate in a vacuum and perhaps its largest competitor is none other than Cisco Systems (NASDAQ:CSCO). UBS, a bull on Cisco Systems wrote a note specifically about the 7500R Series entitled "Cisco quietly pre-empts Arista with Jericho-based router."
In that report Steve Milunovich of UBS wrote that he has spoken with Cisco and that although Arista claims the 7500R is the first product from any vendor to use the "Jericho" chip from Broadcom (NASDAQ:AVGO), in fact:
"
Cisco told us it has been shipping the NCS 5000 router with Jericho silicon since November targeting similar use-cases as the 7500R.
"
Source: Barron's
We do note that the UBS analysis was written a month before ANET's most recent earnings report, which appear to fly in the face of some of that criticism.
THE BULLISH RESPONSE
The Open Compute Project includes a contribution from Microsoft called "software for open networking in the cloud," or SONiC for short. SONiC makes Cisco's high-speed switches less needed. It turns out that Arista is part of Microsoft's team that created SONiC and the growth potential is actually not bearish, but bullish. Here's what Alex Henderson of Needham wrote:
"
We like to think we are pretty technology savvy, but we always feel humbled when we go into Arista.
[We] particularly punctuated the Microsoft contribution of [] SONiC to the Open Compute Foundation. We come away convinced that ANET has multiple avenues of growth, and we expect continuing share gains.
We expect ANET to continue to outperform Cisco.
"
OUR TAKE
When dealing with the deepest most complex parts of technology there will always be arguments as to which provider will win. The arguments almost always boil down to an incumbent mega cap, like Cisco in this case, and a smaller fast growing company, like Arista in this case.
While both sides must be heard, the evidence is simple: Look at revenue and earnings trends along with guidance. The bottom line is that Arista has now realized all-time highs in revenue, earnings and free cash flow and has raised guidance again, well above Wall Street estimates.
WHY THIS MATTERS
This is just the surface analysis. There's so much going on with technology it's impossible to cover in one report. But, to take it a step further and to actually find the 'next Apple' or 'next FANG stock' we have to get ahead of the curve. This is what CML Pro does. Our research sits side-by-side with Goldman Sachs, Morgan Stanley and the rest on professional terminals, but we are the anti-institution and break the information monopoly that the top .1% have.
Each company in our 'Top Picks' is
the single winner
in an exploding thematic shift like artificial intelligence, Internet of Things, drones, biotech and more. In fact, here are just two of the trends that will radically affect the future that we are ahead of: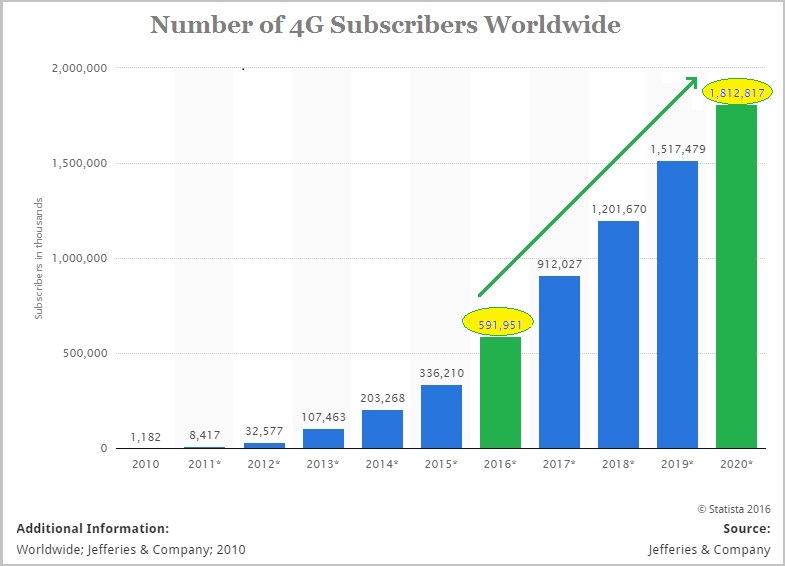 That chart plots the growth in 4G usage worldwide and how it will grow from 330 million people today to nearly 2 billion in five years. This is the lifeblood fueling every IoT and mobile device on the planet and CML Pro has named the single winner that will power this transformation. Then there's cyber security: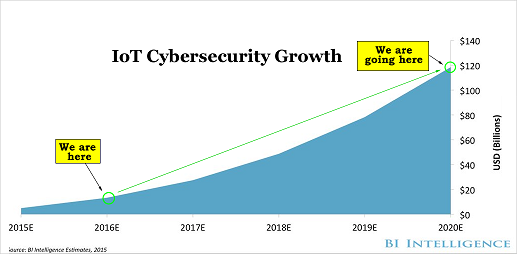 Market correction or not, recession or not, the growth in this area is a near certainty, even if projections come down, this is happening. CML Pro has named
the single best
cyber security stock to benefit from this theme.
These are just two of the themes we have identified and this is just one of the fantastic reports CML Pro members get along with all the visual tools, the precious few
thematic top picks for 2016
, research dossiers and alerts. For a limited time we are offering CML Pro at a 90% discount for $10/mo. with a lifetime guaranteed rate.
Join Us: Get the most advanced premium research delivered to your inbox along with access to visual tools and data that until now has only been made available to the top 1%.
Thanks for reading, friends.