Arista Networks Inc (NYSE:ANET) is the Pick-axe to the Cloud Gold Rush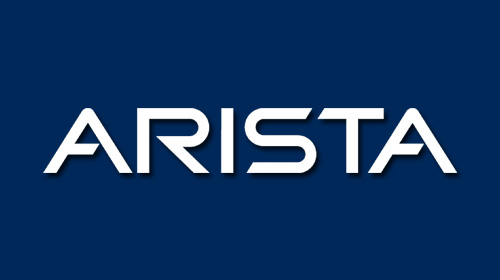 Arista Networks Inc (NYSE:ANET) is the Pick-axe to the Cloud Gold Rush
Date Published:
2016-11-25
Written by Ophir Gottlieb

PREFACE
The cloud computing movement is well upon us, even though it's just in the beginning stages of its huge potential. But, while we can search for the top cloud providers, perhaps pick a winner like Amazon.com Inc. (NASDAQ:AMZN) or Microsoft Corporation (NASDAQ:MSFT), there's another way to invest in this theme through Arista Networks Inc (NYSE:ANET).

We do believe this could be one of those opportunities so many investors say they welcome – say they search for. The opportunity to find the "Next Apple," or the "next Google" before the investing public has discovered it. It's risky, and it's early, but here are the facts, and they are not disputed.

STORY
Much like the gold rush boom in 1849, while some individual gold miners struck it rich, most didn't. But the real winners, those were the clever families that decided to sell the shovels and pick-axes to the gold miners. Friends, today I want to discuss a smaller company that may very well be the pick-axe to the cloud computing revolution.

Let's start broad and then focus more myopically on the opportunity that Arista Networks Inc (NYSE:ANET) represents.

The move to cloud computing is one of the largest transformative themes technology will experience in the next decade. Here is the projected revenue growth in the public cloud via Statista: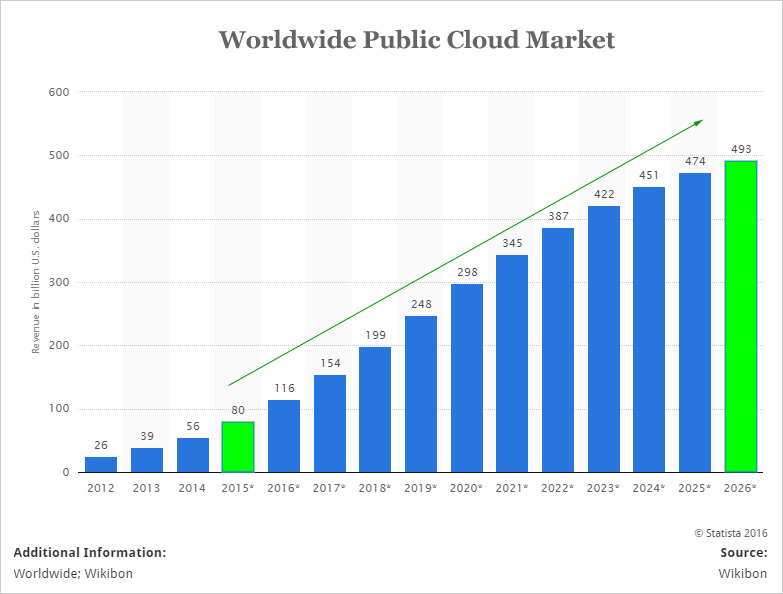 We're looking at market growth from $80 billion in 2015 to nearly half a trillion dollars in 2026. It will nearly triple from last year to 2020.

There is going to be a war to win this segment between Amazon, Microsoft, Apple and Google, but in sticking with our investment approach, we don't really care who wins the cloud war, we want to own the companies that will power every cloud, regardless of vendor. While Nvidia's (NASDAQ:NVDA) rip roaring GPU and AI focused offerings are going to be one winner, we are focused on a second company that too could benefit from this dramatic technological shift.

ARISTA NETWORKS
Arista Networks Inc (NYSE:ANET) supplies cloud networking solutions consisting of extensible operating systems, a set of network applications, and gigabit Ethernet switches. It's here, in the nooks and crannies of technology that we can find the winners that will power the future. Companies with little fanfare, but growing businesses.

Arista focuses in part on the network switch and routing side -- not sexy, but very profitable. This is Cisco's bread and butter, but Arista is starting to make waves.



"

Arista, Infinera, and Applied Optoelectronics have the greatest percent of sales coming from web scale operators within our coverage universe.

"

Source: Barron's



Here is a chart Raymond James provided, examining the exposure various companies have to "web scale."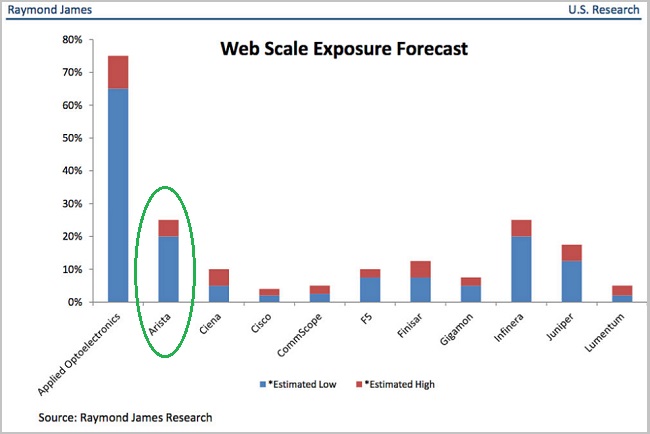 We note that AAOI is an interesting investment for those looking at a very small technology company with potentially large upside. But, we will focus this report on ANET due to its overwhelmingly positive execution.

EXECUTION
Arista Networks Inc (NYSE:ANET) has a five star rating from CML Pro and for good reason: revenue, operating margins, net income, levered free cash flow and research and development are all rising, with a remarkable trend in revenue and net income to be noted.

Here is ANET's revenue chart: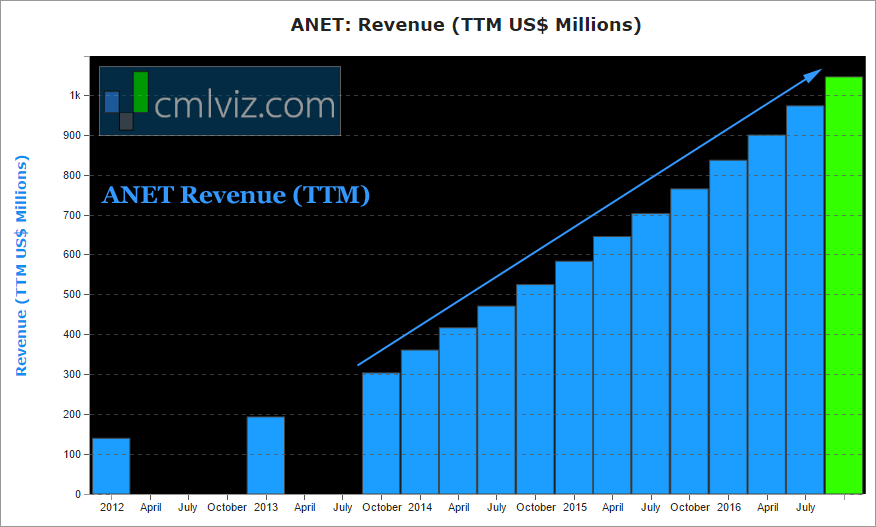 ANET revenue (TTM) hit an all-time high, up nearly 37% year-over-year. But this isn't a small cap where we have to be on future earnings -- not at all. Here is the company's net income (TTM) chart: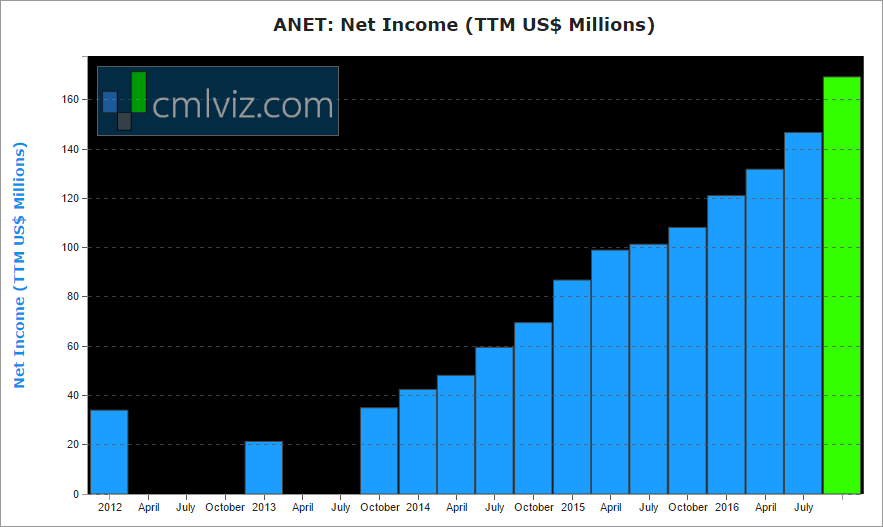 Net Income over the trailing-twelve-months for ANET is $169 million, up 56.5% year-over-year and at a new all-time high.

On an earnings call in May of 2016, CEO Jayshree Ullal talked at length about how the company is tailoring its offerings to suit different kinds of cloud computing customers, noting that smaller operators may have different needs from Microsoft (MSFT), historically one of Arista's larger customers. She went on to say:




"

[The] cloud titans [such as Microsoft and Facebook (FB) are] increasing their spend in the cloud and therefore with Arista.

We continue to experience increased relevance and acceptance from our customers in the ongoing shift to cloud networking.

"

Source: Barron's



We note that Ullal called out tech giants Microsoft and Facebook as customers. The company's CFO, Ita Brennan, said:




"

[The company is] pleased with our execution across all financial metrics in the first quarter and with our outlook for Q2 reflecting strong customer adoption of our new products.

"



THE REASON IT'S NOW A TOP PICK
Most of the stuff above was included in the prior dossier, but this is where we are now, and why Arista is now a Top Pick. First, two images from the company's earnings deck: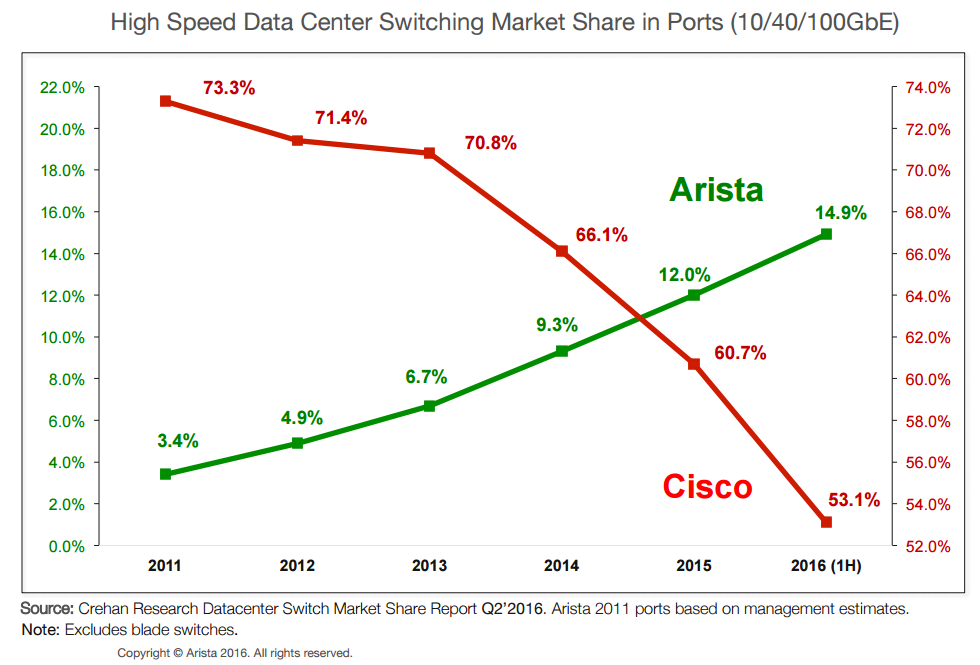 Now, we have to be careful with the two axis scales on each side, but the bottom line is, ANET is taking business from CSCO, and it's doing it at a rather quick pace. And why is that? Check out this amazing chart:




And just in case we get the feeling that management is being a little bit overly bullish, we get this great commentary from BMO (emphasis added):



"

[T]he company is poised to take share from Cisco in switch products, and to expand into the routing market.

We believe Arista is well positioned to

take more share

. Cisco's dominance in L2-L3 switching is

waning

.

Arista's market share is also

highest in the parts of the data center that are growing the fastest.

"



Then we go to routers:



"

While plenty of room remains for Arista to grow within that market, the introduction of the 7500R Universal Spine platform will help open up

the router market as a new opportunity.

While Arista has offered some routing capabilities for some time, the 7500R represents a

more meaningful foray into the router market.

At a high level, Arista's entry into the routing market adds more than

$13 billion to its addressable market.

"



With Arista's move into switches and routers we have found our pick-axe -- our shovel -- and we believe this company has substantial upside potential for the next 3-10 years.

COMPETITION AND THE BEARISH CASE
Arista doesn't operate in a vacuum and its largest competitor is none other than Cisco Systems (NASDAQ:CSCO). For the full CML Pro research dossier on Arista Networks Inc (NYSE:ANET) we direct you to CML Pro.

OUR TAKE
When dealing with the deepest most complex parts of technology there will always be arguments as to which provider will win. The arguments almost always boil down to an incumbent mega cap, like Cisco in this case, and a smaller fast growing company, like Arista in this case.

While both sides must be heard, the evidence is simple: Look at revenue and earnings trends along with guidance and market share numbers. The bottom line is that Arista has now realized all-time highs in revenue, earnings and free cash flow and has raised guidance again, well above Wall Street estimates and is ripping market share away from CSCO.

If we're looking for empirical evidence, we have it. Arista is winning and while there will always be risk as long as tech mega caps are out there looking for fresh hunting grounds, it's often times the smaller, more nimble and highly focused companies that do the best.

RISK
Arista carries some risk based on a filing by Cisco in the International Trade Commission (ITC). We cover these details and the breaking news surrounding the lawsuit in CML Pro.

The author has no position in Arista Networks Inc (NYSE:ANET).
WHY THIS MATTERS
Did you enjoy learning about this company? If so, this may be up your alley: Our research sits side-by-side with Goldman Sachs, Morgan Stanley and the rest on professional terminals. Of our Top Picks, Nvidia is up 180% since we added it. Ambarella is up 80% since we added it. Relypsa was taken over for a 60% gain and we are already up on Twitter when we added it to Top Picks for $15.60.
To become a CML Pro member it's just $19 a month with no contract. It's that easy -- you cancel at any time, instantly.
Each company in our 'Top Picks' portfolio is the single winner in an exploding thematic shift like self-driving cars, health care tech, artificial intelligence, Internet of Things, drones, biotech and more. For a limited time we are offering CML Pro for $19/mo. with a lifetime guaranteed rate.
Get the most advanced premium research along with access to visual tools and data that until now has only been made available to the top 1%.