CEO Interview: Arista Beats, Raises, Rises, Sees a 'Surge' in 400-Gig, 'Refutes' a Slowdown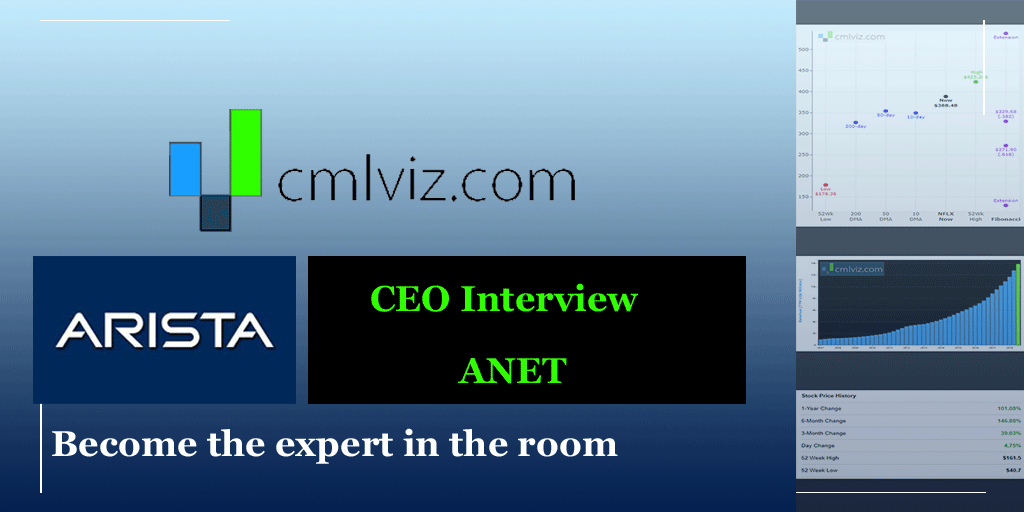 CEO Interview: Arista Beats, Raises, Rises, Sees a 'Surge' in 400-Gig, 'Refutes' a Slowdown
Date Published:
2018-11-05

Written by Tiernan Ray and Ophir Gottlieb



This is a snippet from a CML Pro dossier.

Hello, all. This is Ophir writing. In the middle of this dossier is a rather lengthy discussion with Arista's CEO, and that was done by the great Tiernan Ray -- my favorite financial journalist and now a contributing member to CML. I will let you know when his interview starts and my commentary stops.

This is a long dossier -- but now more than ever is the time to be the expert -- and that means listening to CEOs, carefully, and reading mindfully. I hope you enjoy this one, it's a barn burner.

Please say hello to him on Twitter @TiernanRayTech.


LEDE
Spotlight Top Pick Arista Networks beat earnings estimates for revenue and EPS, reported accelerating revenue growth, and raised guidance. Further, CEO Jayshree Ullal said quite plainly in our interview with respect to fresh demand for the 400-gigabyte per second networking and how it will look relative to the 100-gig surge that created this marvel, "we expect the equivalent surge to happen -- we expect a lot of activity sooner, maybe in 2019 -- but the real surge to happen in 2020 and beyond."

She also said, with respect to slowing demand, "there was a lot of predictions of concerns on cloud cap-ex coming down, and a lot of gloom and doom scenarios that we just don't see, and we refute it."

That, friends, is as bullish as can be.


EARNINGS
We added Arista to Top Picks on 22-Nov-16 for $94.5. As of this writing the stock is trading at $257.77, up 172.77%. Let's look at the earnings results quickly, then get to the interview and finally, the bullish thesis.

The results were simply stunning:

* Revenue: $563.3 million versus estimates of $548.71 million. We note that this was a 29% rise YoY, accelerating from the 28% rise YoY last quarter.

Here is Arista's revenue chart, before this latest quarter.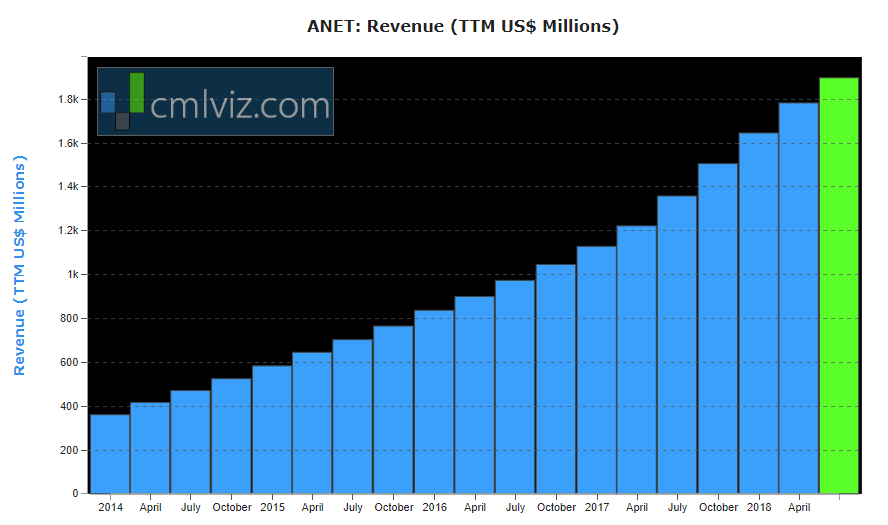 This chart is available on CMLviz.com:

Here



* EPS: $2.11 versus estimates of $1.85. That's a 30% rise YoY.

* Guidance: The company said it expects revenue of $588 million in the December quarter, just above estimates of $586 million.


COMMENTARY
Arista actually works in one of the most complex spaces we cover in technology and we are always blown away at their grasp of this world. A simple statement could be that Arista sells network switches that speed up communications among racks of computer servers packed into high-performance, "hyperscale" data centers.

It supplies cloud networking solutions consisting of extensible operating systems, a set of network applications, and gigabit Ethernet switches. It's largest customers include Facebook, Amazon, and Microsoft.

Let's get to some Q&A.


JAYSHREE ULLAL INTERVIEW WITH TIERNAN
Tariffs and trade are very much in the news these days, and having some impact on profit margins, but chief executive Jayshree Ullal was unfazed by the need to absorb tariff costs, and the need to shift manufacturing and assembly of Arista products to new geographies.

"In the short term, it's causing some gross margin perturbation. In the long term, I believe we will mitigate it." said Ullal in an interview this morning.

"We're basically diversifying both our contract manufacturing and our component sources to be as much non-China as possible," she said.

Ullal notes Arista has a manufacturing facility in Penang, Malaysia, and could relocate to both other locations in Asia as well as other continents.

"We're comfortable with that transition, but it takes time."

Arista benefitted during its legal battle with Cisco Systems in having to transfer manufacturing quickly from overseas locations to the US.

"The way we look at this is, if we could build whole new manufacturing facility in US, in less than a year, this should be, I won't say a piece of cake, but somewhat lesser."

As for the quarter, Ullal said investors are "seeing and believing what we said we would do," and have become comfortable with the company's rate of growth. Investors' expectations can get out of hand from time to time, either up or down, she said, and Ullal has to "course-correct" those expectations.

"Last year at this time, there was a little bit of euphoria because we'd had two amazing quarters at 40%-plus [revenue] growth, and we spent last three quarters bringing them back to reality."

The company is on course for 30% growth for the year with its outlook, something Ullal feels investors are now in sync with.

There's some concern on the Street that Arista is up against "tough comps" for the first half of 2019 in its international business. Ullal is optimistic, however.

"Yes, we worry about it [tough comps], but we don't worry about it."

"At the end of the day, we are making the right investments, and the organic business in international is going very well."

Those investments will continue because Arista doesn't want to presume it's sales model in the US will automatically apply overseas. "We will apply the right model in some countries," she said, "We don't want to peanut-butter ourselves in sales and investment, and assume the model in the US will work."

Ullal is looking forward, as well, to a probable surge in 400-gigabyte-per-second networking, similar to what happened the last couple of years with 100-gigs. Said Ullal, "we expect the equivalent surge to happen -- we expect a lot of activity sooner, maybe in 2019 -- but the real surge to happen in 2020 and beyond" (our emphasis added).

Ullal had much more to say about enterprise sales, its campus networking strategy, its emerging software story, and about artificial intelligence and machine learning as a driver of networking. Read the entire Q&A below (our emphasis is added).

CMLviz: What should investors take away from the results and outlook?

Jayshree Ullal: That Arista does what they say, and says what they do. After four years as a public company has, and coming up on five years of being a public company, one thing we take very seriously as a responsibility, both to our investors and shareholders, is the predictability of our results.

Sometimes investors get ahead of us and we have to course correct them, and other times, they think of doom and gloom scenarios, and we have to correct them too. The company's philosophy to do the right thing, whether investors are hearing what they want to or not, is I think a very important and cultural and fundamental philosophy of the company and I think serves us well.

Q: Where are we in that expectations cycle now?

A: Last year at this time, there was a little bit of euphoria because we'd had two amazing quarters at 40%-plus [revenue] growth, and we spent last three quarters bringing them back to reality, because that was an unusual growth cycle because of certain examples. And we expect the business to be more in mid-20s [percentage revenue growth.]

And initially people didn't want to believe us, and it took telling them multiple times. And I think now we have proven that indeed the business target, and market positions, are growing at 10% to 15%, and Arista was growing ahead of it. So I think now investors are seeing that and believing what we said we would do. And we've said we will end the year, if we achieve our midpoint at 30%, is a nice surprise.

Q: There's a disconnect between the general industry commentary of slowing capital expenditures by cloud companies, and the continued strong demand you've been seeing. Why is that?

A: I think there was the pleasant surprise. Going into the quarter, there was a lot of predictions of concerns on cloud cap-ex coming down, and a lot of gloom and doom scenarios that we just don't see, and we refute it.

The cloud is both an architectural shift, for all our customers, and particularly for the cloud customers. They're doing so well that they have to invest, and their success and their investment is translating into our performance. I've said this before: first of all, we don't correlate one-to-one with the cap-ex. Look at cap-ex of these [cloud] titans. They're in the tens of billions [of dollars].

Arista is not getting tens of billions or even billion dollars from any one of them. But the second part is I think there is a greater correlation to the server and storage than to the network. The network is so mission critical, and it's usually less than 10% of their spend. So, they're not going to be sub-optimal there, they're going to really focus on getting that right. And make strategic decisions. Because it's a small spend but a high impact if it goes down.

I think for that reason we don't correlate one-to-one. And often when they make these decisions, the way this thing goes is they think about investments they're going to make in data center, is it small or large, is 100-megawatt, is it 20-megawatt? And then they're going to outfit the building itself, with the right cooling, power, the cabling, the optics, the building itself. And that has lead times. And then they actually ignite and activate the equipment.

The storage and equipment ends up being a large part of the spend, but network is the most strategic and mission critical. That decision can lag sometimes by 12 to 24 months from when you guys see a cap-ex spend. For a new build. Which is still -- there's multiple innings in the cloud deployments. One is new build, which has many innings, but the other is incremental adds, which we are doing on a regular basis for the last three to five years already, and we'll continue.

Q: How much is the enterprise market now a growth driver for you?

A: We don't break down the verticals but I said on the call the cloud vertical is still our largest and fastest growing, both the titans and specialty providers.

Enterprise was our largest in Q4 of last year. But it's now consistently the second largest vertical after cloud. And I think that's the case for two or three reasons.

Every enterprise is not taking all their workloads to the cloud, but they want to apply cloud principals to their enterprise. Data centers in the enterprise are getting a resurgence, and a re-design, to get a more modern, cloud-like design. And then, the second reason is our strategic intent to enter the campus, which we announced this year, is becoming very important.

Because you can be in the enterprise data center, or you can be inside the building. That isn't material this year, but it's a very strategic network design issue that they have to plan for, from once again, going from their current three-tier design to a two- or one-tier design, getting the fiber plant ready, the power ready, getting all their devices -- it's a much more device-driven decision, what IoT do you have, what PCs, laptops do you have.

So, getting all that ready to consider our portfolio gives us a lot of conversation and planning with the enterprise customer. There's a third vector, it hasn't yet shown up our in earnings stream, but I think it will be important, which is the hybrid cloud.

The reason IBM (IBM) bought Red Hat (RHT). The reason data center and campus discussions are going on, you know, it's never that binary: some workloads may be on AWS or Google and Azure. And some will be on the premise. Arista's approach to that, with CloudVision and our AWS Router, has been very well received. And, again, as an example of enterprise customer.

Q: How does that show up in the results?

A: It shows up today -- thinking of us as not just a box provider, but as one who can plan their combination design, as they decide to move the workloads, how do you build a mission-critical network that can work across both -- manage the latency, manage the usage models.

The biggest issue in going entirely to the cloud is that your usage models can make it very expensive. So, and some of your security models also become very important. So how do you see that? As I said you don't quite see it in our numbers yet, it's hidden in deferred software subscriptions for CloudVision, which is doing well, and our virtual AWS Router.

An example I would say is an example of a new market that doesn't have any prior comparables. There aren't any prior examples of how it's exactly like this product or that product.

Q: Does it become material at some point?

A: At some point, I hope it becomes so. It's already becoming strategic for the enterprise customers that we talk to, as a different approach. Software being material? I think it will probably show up as more material, I think it's an one- to three-year phenomenon. But the first phase of it is winning the customer, the second phase is winning the software, which will help our margins, the third phase is material. That's how to look at it.

Q: How bad does the tariff hit get? It's limiting your ability to outperform relative to the 63-65% gross profit margin target. You have passed a long a little bit of tariff cost to customers, but you're also absorbing some. Could there be a greater impact in quarters to come?

A: A little bit of a pass along, and a little bit of an absorption, yes. Both. We took some. We didn't pass it entirely along to the customers. I wouldn't call [tariffs] a serious issue because Arista is very adept at dealing with supply chain changes.

We got some experience during the lawsuit [with Cisco Systems]. We never dreamed we would do it again! What we are really working on right now, to mitigate the seriousness, is to reducing our dependency on China-sourced components. And moving our contract manufacturing out of the US into non-China locations.

The US has taken a hit as well. It's not China, but you still have tariffs if you're using China-based components. So, I believe we will solve this problem. It will take us some time, but our goal is to definitely address this and mitigate this in 2019. But I think in the short-term, meaning the next quarter or two, there are some perturbations on gross margin, because we will prioritize customer satisfaction over anything else.

And the fact that we have charged only a nominal fee means we're absorbing some of the cost and passing some of the cost. And our real worry is not the 10% tariff fees, it's the 25% in January that is expected. So, how serious? I think, in the short term, it's causing some gross margin perturbation. In the long term, I believe we will mitigate it.

Q: What are you doing to move the supply chain, any particular geographies you aim to move to?

A: We're basically diversifying both our contract manufacturing and our component sources to be as much non-China as possible. You realize how dependent we are on the China-produced products when you actually have to look at every line item, everything from sheet metal to printed circuit boards to components.

There are many locations, and Arista is quite well versed in working them. We have sites in Penang, Malaysia, as an example. It could be sites in Asia, it could be sites in other continents. We're comfortable with that transition, but it takes time. The way we look at this is, if we could build whole new manufacturing facility in US, in less than a year, this should be I won't say a piece of cake, but somewhat lesser.

Q: Looking forward to the first part of 2019, you will likely have some "tough comps" to go up against in the international market, which was 28% of your revenue last quarter. Any concerns about those comps?

A: Yes, we worry about it but we don't worry about it. At the end of the day, we are making the right investments, and the organic business in international is going very well.

Tough comps become a factor because you win some deals, and then you move into a country that creates comps. Our 70-30 split [in revenue, US to international] is because we focused on the US a lot longer. We had a ten-year focus in the US, and we've had only a two-year focus on international.

We believe we have a lot of room to grow there [internationally]. We are barely scratching the surface. I think we have the financial muscle to not only invest as aggressively as we have in R&D, but also, we are praised for our extremely leveraged sales and marketing model.

But, I think because of campus and enterprise and the higher cost of international, we will apply the right model in some countries. We don't want to peanut-butter ourselves in sales and investment, and assume the model in the US will work. Especially with the campus, it's an important and unique opportunity. It's also much more channel-dependent.

Q: Is it possible we could see the kind of surge at some point for 400G that we saw in 2015-2016 for 100G?

A: I think particularly with the cloud customers, that's very possible. To play that history out, the real surge has been happening in 2017 and 2018, and maybe 2019. There's lots of conversation right now on 400-gig, and we expect the equivalent surge to happen -- we expect a lot of activity sooner, maybe in 2019 -- but the real surge to happen in 2020 and beyond.

We'll be pragmatic and realistic about it. Meaning, even when the 100-gig surge was happening, there was a lot of 40-gig and low-speed activity going on in enterprise. So I don't expect the enterprise to rush to 400-gig. But the cloud providers, who are are building the highest bandwidth, will absolutely surge there first, before the others follow.

We will see a high performance cycle for both 100-gig and 400-gig. 400-gig more be more preferred by the cloud operators, and 100-gig will be the gold standard for all enterprises.

Q: There's a lot of cloud data centers still on 40-gig for their "leaf" to "spine" connections. Do you see that moving to 400-gig?

A: I think it goes, in the enterprise, from 40-gig to 100-gig, because 100-gig is a very nice baseline and foundation. You can split it into four 25s, ten 10s, two 40s. And the the optics are more cost-effective.

I don't see enterprises rushing to 400-gig anytime soon because the ecosystem is not well developed, the optics are very expensive. And their traffic patterns don't give them enough reason to pay that kind of premium.

I think the Web-scale guys, again, some will jump faster and some will milk 100-gig more. But they have more use cases. Even For 400-gig, they can take it and break it into four pipes. So I think 2019 will be the year of trials and use cases, and 2020 the year of more production and capabilities in the Web-scale, what we call "Cloud Titans."

Q: What can you tell now about the speeds and feeds of your 400G vs Cisco? Vs Juniper?

A: I think clearly we have established our product for 100-gig speeds and feeds, and now we are doing the same once again for 400-gig. But others can as well, we all have access to the same merchant silicon.

Arista has embraced [Broadcom's] Tomahawk very well. It's not just that we can get performance out of it; we have been able to get the right features and predictability out of it for our experience. We know the chip almost as well as Broadcom does.

We have used others as well, we have used Cavium and Barefoot Networks, we don't exclude that. But building an ASIC is not in our DNA. Some competitors bring products with half our capacity and density, especially for a high-performance platform like 400-gig, it feels like a trade-off to rush a product to market rather than to serve a customer need.

The second thing is, Andy [Bechtolsheim] emphasized that it's easy to talk about speeds and feeds, but the reason Arista is embraced is also for the single binary image of EOS software, the tremendous features we have put in for automation, analytics, high availability, buffer management, traffic management, and the ease of qualifying that for both 100-gig and 400-gig. In a way, we win the beauty contest on speeds and feeds, but the soul of the machine is EOS.

Q: How much faster can Arista get through the qualification process with with its systems compared to Cisco with their new Leaba chip?

A: Leaba would compete with Broadcom's Jericho line, and we are very confident that -- we are on our 3rd or 4th cycle of Jericho chips. We can definitely meet and exceed customer expectations in how we deliver product there next year.

Q: Any thought about the surge in artificial intelligence use, and machine learning especially in cloud, how that creates new opportunities?

A: It's a very deep question. Andy spends a lot of his time looking at it. At a broad level, we look at AI as very critical use case to improve cycle times, right? Imagine if you're able to do an experiment every hour rather than 12 experiments every year?

The compute and the storage associated with that is the first order of business, for that type of massive data crunching and data sets. And so some of the things we've done already is bring that kind of AI and ML into our UX and CloudVision. As these data sets come to us, through the chips, through Nvidia graphics controllers and storage, that we can not only process it but correlate it and provide some anomaly migration, and behavioral analysis.

You have to detect the false positives and false negatives. And with our software architecture, we have enhanced it with a lot of sensing, and streaming telemetry. And while it is fashionable to call it AI now, we have been doing it for some time now. That's the first area.

The other thing we have done is realize we are only solving the network problems. How do you really do this with the compute and storage guys? We built a reference design with Nvidia and Pure Storage, which is called Airi. Which is, how do you give your customers an AI-ready infrastructure?

So that they can go do all these really cool, real-time scientific experiments and crunching, on a converged platform that gives them all three fundamentals to look at. So that's been -- it's obviously more in research applications than in general-purpose data centers, but it's an example of things to come.

It kind of reminds me of high-performance computing in the old days, when we used Infiniband. So Airi is an example of how we are taking the right building blocks and putting it together for real-time performance and application crunching capabilities.


CONTEXT AND TAKEAWAYS
This is Ophir, again.

The takeaways are simple -- and bullish. The CEO said clearly: "there was a lot of predictions of concerns on cloud cap-ex coming down, and a lot of gloom and doom scenarios that we just don't see, and we refute it."

She refutes it. She delivered. Her opinion wins.

Then she spoke about the surge in 400 gig. This company became a reality on the 40 gig and 100g surges -- if she says 400 gig is going to be on the same scale and growth will grow out several years, then we believe it. It's going to happen.

When she spoke about artificial intelligence and machine learning, she is speaking exactly about what CML Pro discuss, ad nauseum. In fact, if we have an entire dossier dedicated to that.

It's Happening: The Opportunity in Artificial Intelligence.

When she talks about the cloud, we have written about that so many times, it just seems likes it's an obligatory part of every dossier. Here is the chart -- from cloud platforms to data usage to the number of connected devices (which then pushes cloud platforms higher).

OK, first, the cloud market in general: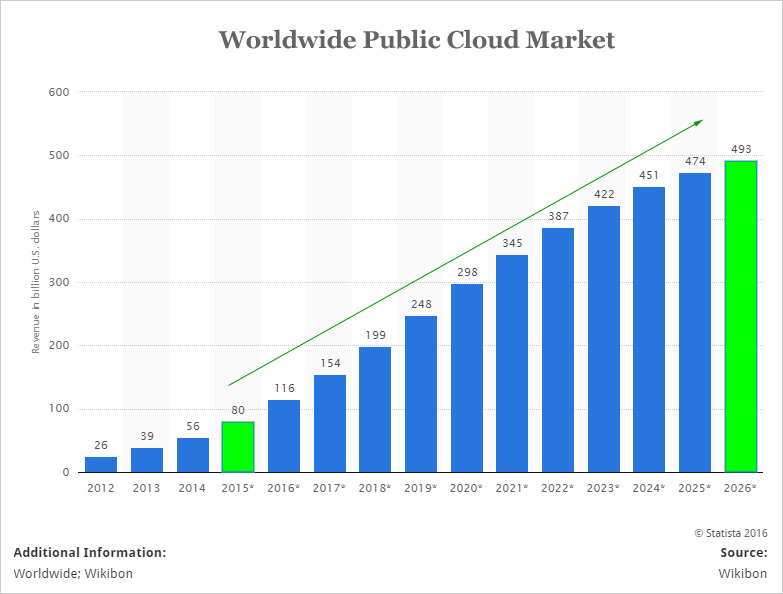 We're looking at market growth from $80 billion in 2015 to nearly half a trillion dollars in 2026. It will nearly triple from last year to 2020.

Here's what we know about connected devices: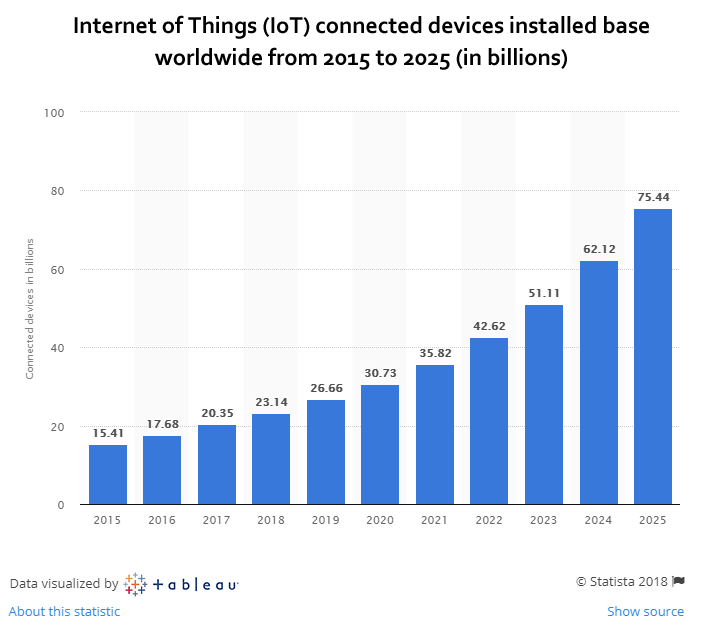 And the image for data creation -- this is just mobile: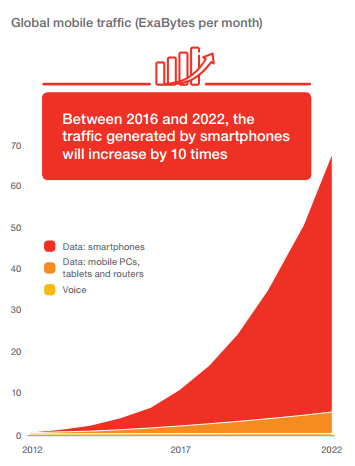 We repeat these themes because the best CEOs in the wold are repeating them.


WHAT HAPPENED
You can guess, or you can speak with top level executives.

We see the future of technology, by simply listening to the companies themselves and applying our own expertise. In technology, that research is bullish for Arista -- maybe not for next week, or even next year, but in 3-10 years, yes, we see a huge shift higher in technology.

And in that group of technology companies we have Top Picks. And in that group of Top Picks, we have Spotlight Top Picks.

It's understanding technology that gets us an edge to find the "next Apple," or the "next Amazon." This is what CML Pro does. We are members of Thomson First Call -- our research sits side by side with Goldman Sachs, Morgan Stanley and the rest, but we are the anti-institution and break the information asymmetry.

The precious few thematic top picks for 2018, research dossiers, and alerts are available for a limited time at a 80% discount for $29/mo. Join Us: Discover the undiscovered companies that will power technology's future.

Thanks for reading, friends.

Ophir is long shares of Lam Research, Nvidia, Arista, and Applied Materials at the time of this writing. Tiernan has no position in any of the names discussed.

Please read the legal disclaimers below and as always, remember, we are not making a recommendation or soliciting a sale or purchase of any security ever. We are not licensed to do so, and we wouldn't do it even if we were. We're sharing my opinions, and provide you the power to be knowledgeable to make your own decisions.

Legal
The information contained on this site is provided for general informational purposes, as a convenience to the readers. The materials are not a substitute for obtaining professional advice from a qualified person, firm or corporation. Consult the appropriate professional advisor for more complete and current information. Capital Market Laboratories ("The Company") does not engage in rendering any legal or professional services by placing these general informational materials on this website.

The Company specifically disclaims any liability, whether based in contract, tort, strict liability or otherwise, for any direct, indirect, incidental, consequential, or special damages arising out of or in any way connected with access to or use of the site, even if we have been advised of the possibility of such damages, including liability in connection with mistakes or omissions in, or delays in transmission of, information to or from the user, interruptions in telecommunications connections to the site or viruses.

The Company makes no representations or warranties about the accuracy or completeness of the information contained on this website. Any links provided to other server sites are offered as a matter of convenience and in no way are meant to imply that The Company endorses, sponsors, promotes or is affiliated with the owners of or participants in those sites, or endorse any information contained on those sites, unless expressly stated.