Alteryx One on One With the CFO - The Pick-axe to the Data Chaos Revolution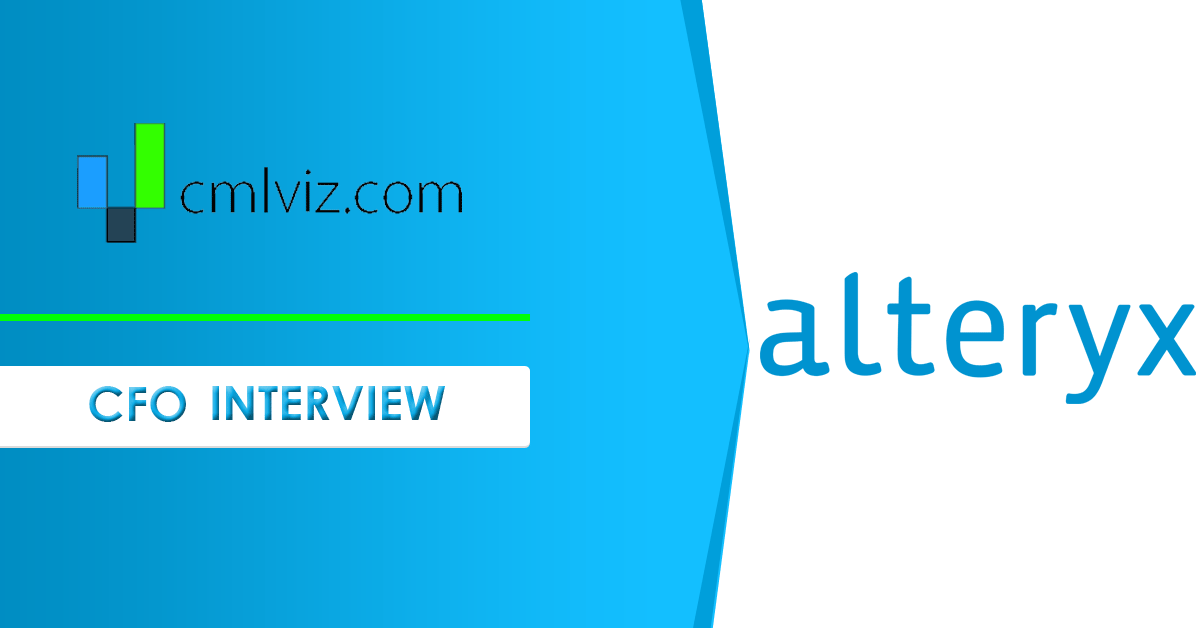 Lede
The CFO of Spotlight Top Alteryx (NYSE:AYX) sat down for a one-on-one interview with us and we have shared the transcription below.
Prior Talks
We have enjoyed two prior private conversations with the executive team, which you can find listed on the Top Pick dossier (pay wall).
Preface
For those unfamiliar with Alteryx, we suggest reading the Top Pick dossier from 11-1-2019 before reading the transcription.
Alteryx Leads a Mind-bending Revolution (pay wall).
Highlights
* With regard to its latest earnings results, revenue and earnings numbers are very strong given how fast the company has been raising estimates every quarter. The fact that the company is doing this while maintaining profitability and growing that faster than estimates is quite impressive.
* In the hyper growth software world, the 'rule of 40' looks for revenue growth % + net income % to be greater than 40. With Alteryx we have 65% revenue growth and positive net income % of 9% (yes, it turns a profit in the trailing twelve months). This gives it a 74, nearly double the magically assigned target of 40.
* There is a palpable and materially impactful problem when it comes to enabling the right people to build the models that will power a company forward and Alteryx has solved it, and that's why it has beaten all of Wall Street's estimates.
* The explosion of data has led to data chaos. The chaos must be organized, without losing the value of that chaos itself. This is loosely called 'data transformation' or 'DX.'
* Worldwide spending on the technologies and services that enable the digital transformation (DX) of business practices, products, and organizations is forecast to reach $1.97 trillion in 2022. This is not the total addressable market (TAM) for Alteryx, but it's a good representation of the thematic tailwind.
* Alteryx sits largely in the middle of the digital transformation effort. The aspects of what it does, automation and efficiency-generation, in terms of priority of spend, if there is any sort of weakness from IT spend, there is some insulation in that high priority of what the firm offers.
* Product sales continue to start with analysts and to spread virally internally from there.
Tiernan's Overview and One-on-One Interview

As he did back in August, Kevin Rubin, chief financial officer of data analysis software specialists Alteryx sat down with Capital Market Labs to discuss the company's quarterly earnings results on Halloween, which had the effect of boosting the stock almost 9% the next day.

The stock is now up 63% for the year, at a recent $96.77.

The report was well above both the company's own forecast and the Street consensus at the time, leading CML to ask Rubin if he's been sandbagging analysts. No, that's not the case, he indicated, rather, a lot of Wall Street tries to "pattern recognize" what's going on with the company, but the mechanics of the business aren't necessarily the same as every other software maker, so the Street is sometimes off when it obsesses over trying to estimate "billings" as a leading indicator of things for Alteryx.

The message from Rubin is to focus on revenue as the best indicator. That, and "net expansion rate," which continues to be above 130% per quarter. It may cool over time — 120% is the long-term projected rate — but the fact that it's been strong is an indicator to Rubin that "we are a very sticky product."

CML asked Rubin if maybe the estimate for the company's total addressable market, which CEO Dean Stoecker has said amounts to $49 billion, is too low.

Rubin concurred, saying there are perhaps some "hard-core" users of the product that may consistute some incremental demand. Still, $49 billion is a pretty great market for a young company, and Rubin emphasizes that as part of "digital transformation," Alteryx is one product that is "high priority" for the company's customers, meaning, insulated from any pressure on IT budgets, he believes.

To recap, the company reported Q3 revenue of $103.4 million, and earnings per share, excluding some costs, of 24 cents, both of which well ahead of consensus for $90.4 million and 9 cents per share. Revenue was also way above management's forecast for $88 million to $91 million.

For the current quarter, Rubin and team forecast revenue of $128 million to $131 million, and earnings per share of 27 cents to 30 cents, compared to consensus for $126 million and 33 cents per share.

One-on-One Interview
The following is a transcription of Tiernan's interview with Alteryx's CFO.
Capital Market Labs: Congratulations on a nice quarter, substantially above what your outlook was and what the Street was looking for. What are the most important items you think investors should take away from the results and outlook?
Kevin Rubin: So, to your point, we were very pleased with the quarter. Certainly, strong revenue growth, we beat our guidance and expectations, which was great. Net retention — or, expansion, actually, continuing to be north of 130%, representing, in our view, one of the most important metrics, and just goes to how important Alteryx is to our customers, and they are willing to expand their internal use of Alteryx and commitment to the platform.
When I think about the quality of the customer base we have, going forward, as in the last several quarters, there's our continued focus on the Global 2000, we believe one of the biggest opportunities exists for us, they have the largest population of data workers where we ultimately land and expand, good to see the strength in that. Just under 700 of Global 2000 today.
So, a meaningful percentage have come onto the platform in the last 12 months. And I expect we should see a nice expansion from them going forward. We typically see customers expanding in four to six quarters after the initial land, so we have come into the sweet spot of the Global 2000 who have adopted our platform.
CML: The results from both top and bottom line were pretty striking. About ten million dollars above your forecast for revenue and profit better by fifteen cents per share versus what the Street was expecting. Are you sandbagging the quarter?
KR: I can't comment on whether the analysts had— we certainly provide guidance based on what we see in the business and what we expect to do. We are pleased with the outperformance, and the analysts come up with their own views of where we will land.
CML: Perhaps a less snarky way to put the question is, what things did you do in the quarter to produce that outperformance relative to your own expectations?
KR: There are three fundamental dynamics in revenue. First is execution, and I would just call out that we continue to see go-to-market efforts performing incredibly well. Our customer conversations have moved from talking about features and functionality to very strategic, thoughtful discussions about, how do I, as an organization, best capture the data that's available to me to make the best decisions.
Just seeing this continuous shift in dialogue at customers from one use case to much broader discussion around global enterprise, how do I leverage analytics. The first aspect, then, is just purely sales execution.
And the second two pieces are, our revenue is impacted based on the mix of products we sell, and the duration of subscription agreements. And my comment on the call was that both of those were favorable in the quarter.
The Designer products [the software program that provides the desktop UI for creating data "workflows] have a lower up-front portion [of revenue], whereas our Server products skew to the higher-range, higher up-front portion, which we attribute to more of an enterprise SKU of products. And while the average contract duration continues to be two years, we saw moderate improvement in that duration. It was slightly longer last quarter, on a sequential basis. But it still averaged about two years. If you blur your eyes you can see it! But we have been very consistent with contract duration.
CML: There was a lot of discussion on the call about those individual elements of what goes into results, the mix and contract curation. A lot of back and forth about that in the discussion. Do you feel that you've now gotten the message across to investors about how to think about those elements?
KR: I think what investors are trying to focus on is, What is the best metric to use in terms of the growth? They are trying to — in some respects, they try to pattern-recognize our model to other models that may not have the same natural comparison.
We feel strongly that revenue is the most relevant metric of growth for us. Some are looking at an analog for a billing calculation for a potential measure. We provided commentary that the calculations they are doing are only an estimate of billing, not actually our billing number, and there is noise and variability in that number given the timing of our customer billing.
Revenue is revenue, and it's certainly indicative of the momentum of our business.
CML: Does gaining all these new Global 2000 customers change the land-and-expand dynamic of the business, does it change any of the details of that cycle?
KR: The Land part of our business whether large enterpriser or global 2000 is not dramatically different — 2 to 3 seats of designer — we are solving pretty identifiable challenges that particular operational department has. There isn't a big difference if it's Global 2000 or other customers.
But where the Global 2000 has an effect is it's a better logo in the expansion pipeline. At our recent Inspire conference [the company's annual user conference, also the site of its analyst day, took place in mid-June in Nashville, and is scheduled to take place next summer in New Orleans], we said that the net expansion rate for the Global 2000 was ten points higher than the average.
So, they have the propensity to expand at a faster rate. There's a lag in there, you won't see the benefit of that cohort group for four quarters, but as long as we see a similar level of expansion as we have, it's a benefit.
CML: Do you forecast your expansion rate out into the future?
KR: Internally, as we think about the growth of the business, net expansion, we certainly think about it. We don't forecast it publicly, but we have talked publicly about our confidence about the fact that net expansion may remain at a high level for a reasonable period of time.
We said during IPO [in March of 2017] that we will continue to expand at north of 120% for a while. That view still holds. We've seen north of 130% for quite some time, actually, but over the long term, the law of large numbers creates some gravity.
Over time, you always have a balance between the ability to expand within your customer group, there are always competing forces. Just in terms of natural churn, companies that merge and go out of business. We are fortunate that our net expansion rate is best in class. We are a very sticky product on a gross retention basis.
CML: Is it possible your TAM is larger than you've presented it, larger than $49 billion, if you also get some of the more hard-core Python developers, the more technical types, not just the users who live in Excel?
KR: It certainly is. How we thought about the TAM, just as a reminder, is, we commissioned IDC to do a study to identify who we consider the advanced spreadsheet workers, and that was roughly 50 million users around the world.
We know a there are a couple million trained statisticians and data scientists to add to that, but let's call it 50 million for easy math. We apply $500 per user per seat per year, and that gives you $25 billion in annual spend. And then there's another $25 billion in existing spend that is largely in IT for tooling that sits within the analytics stack that we think we disrupt overt time.
So, where these hard-core Python, Scala and R programmers sit — there is probably a portion of that we don't capture in how we think about it, so to say the TAM is larger, I wouldn't dispute that. But they may be somewhere in that grouping of TAM. So, I don't want to say there is another $25 billion. My sense is there is some overlap in that spend, but it may be north of a $49 billion opportunity.
CML: What's your outlook for IT spending generally?
KR: It's interesting, we used as kind-of the analog, both at our Nashville conference, and at our London conference in October, at least the sense we got from the dialogue in both of those was, you know, incredibly bullish.
We didn't get the sense from any customers that there was any concern around their ability to expand use of Alteryx. The conversations were around how do we better leverage the platform for better outcomes. It was no different in Europe versus the U.S.
We sit largely in the middle of this digital transformation effort. The aspects of what we do that are automation and efficiency-generation, in terms of priority of spend, if there is any sort of weakness from IT spend, there is some insulation in that high priority of what we offer.
CML: Dean [Stoecker, CEO] had a lot to say on the call about automation. Tell us more about that, what's the significance to the company of this push for automation?
KR: One differentiator that's key for us is automation. For analysts, manual efforts took them weeks and months to perform, and they are doing it in minutes and seconds with Alteryx, and the reason is, through the capabilities of the platform to automate their workflows.
A lot of the effort is building out your model, and then being able to just automate your repetition of that exercise with ease. Take just a basic sales operation use case around customer churn. The old-school way of modeling churn, they are pulling data from ERP, from CRM, maybe looking at some internal data sets, licensing data, telemetry, and that is highly manual. And they have to do that every month.
You could build that once in Alteryx, and schedule it to run once on the third day of every month. So, a significant portion of the value chain for us is in being able to automate that.
CML: Does that change the sales pattern for Designer?
KR: Yes and no. Designer has an ability to automatically run your model. There are aspects that you can do in there. The pure fact that you have the model built by its nature, it's somewhat automating. But we see this desire to create automation, and to remove the human element, in the adoption of Server [the Server software products], to publish your workflows to Server, and schedule it to run, with no human intervention. That's one of the drivers to Server adoption.
In addition to governance and sharing your models, that capability has been there since the introduction of Server, and it has been one of the factors in its expansion, and we see it just continuing to improve demand for Server as customers more and more recognize the value of automation. That value prop has existed, we only feel it stronger today than in 2016. It hasn't changed the seat license for us.
Sales continue to start with analysts and to spread virally internally from there.
CML: You did two convertible bond offerings earlier this year, are you planning on doing any new financing?
KR: Well, I couldn't tell you that! We haven't done anything since the two converts. I can't comment on whether we would do more.
Our intent, from a capital perspective, is to ensure we have dry powder to be able to take advantage of opportunities in the market to either expand our IT footprint, or our technical expertise. That has not changed.
The only thing that's changed is that we made another acquisition since we spoke, Feature Labs [purchased October 4th for undisclosed terms]. They essentially do the automation of feature engineering, which is a critical piece in things such as machine learning experiments.
CML: Kevin, do you have anything you want to add, anything that we haven't gone over?
KR: I would just convey that we really were pleased with the quarter, really pleased with the levels and types of conversations we are having with customers, and that is evident in our outlook.
CML: Thanks for taking the time, Kevin.
Conclusion
Again, we highly encourage a read of the current Top Pick dossier on Alteryx:
Alteryx Leads a Mind-bending Revolution
THE FUTURE
It's understanding technology that gets us an edge to find the "next Apple," or the "next Amazon."


This is what CML Pro does. We are members of Thomson First Call (Refinitiv) -- our research sits side by side with Goldman Sachs, Morgan Stanley and the rest, but we are the anti-institution and break the information asymmetry. We have a third party audited performance track record.


Thanks for reading, friends. Neither author has a postion in Alteryx (AYX) on the date of publication.

Legal
The information contained on this site is provided for general informational purposes, as a convenience to the readers. The materials are not a substitute for obtaining professional advice from a qualified person, firm or corporation. Consult the appropriate professional advisor for more complete and current information. Capital Market Laboratories ("The Company") does not engage in rendering any legal or professional services by placing these general informational materials on this website.

The Company specifically disclaims any liability, whether based in contract, tort, strict liability or otherwise, for any direct, indirect, incidental, consequential, or special damages arising out of or in any way connected with access to or use of the site, even if we have been advised of the possibility of such damages, including liability in connection with mistakes or omissions in, or delays in transmission of, information to or from the user, interruptions in telecommunications connections to the site or viruses.

The Company makes no representations or warranties about the accuracy or completeness of the information contained on this website. Any links provided to other server sites are offered as a matter of convenience and in no way are meant to imply that The Company endorses, sponsors, promotes or is affiliated with the owners of or participants in those sites, or endorse any information contained on those sites, unless expressly stated.