baozun, china, commerce, alibaba, growth, revenue
Baozun Inc (ADR)(NASDAQ:BZUN) Beats, Explodes Higher

Baozun Inc (ADR)(NASDAQ:BZUN) Beats, Explodes Higher
Date Published:
2018-03-06

Written by Ophir Gottlieb

This is a snippet from a CML Pro dossier published on 3-6-2018.

LEDE
Hello, all. This is Ophir writing.

We added Baozun (BZUN) to Top Picks on 15-Jan-18 for $36.87 and it is already trading 31% higher as of this writing. The catalyst in such a short-period, well that's easy -- earnings.

STORY
BZUN is our first and only Chinese ADR in Top Picks, and the thematics behind it are as powerful as our North American Top Picks. Since this is only the second time we have written about it, I'm going to allow us some leeway to spill a little extra ink this time that repeats some of the prior dossier.

WHAT IT IS
Baozun Inc (ADR) is a brand e-commerce solutions company based in China. This company is partially owned by Alibaba Group Holding Ltd (NYSE:BABA) - 9.5% of the votes and 16.5% of the common stock.

From our original Top Pick dossier, The Small Tech Darling of China's E-Commerce, I stated rather bluntly, with respect to the Alibaba stake:

"That's critical, because if we are going to talk about any kind of bullish narrative on e-commerce in China, if it does not include Alibaba, skip it - it's not going to happen. The way China works is different than the United States - there is a faux competition, which is to say, the state itself has a vested interest in its giants, and if it the state is behind something, it will have legs."

The relationship with Alibaba gives Baozun a natural moat - and a growing one at that, protected from competition. It also, perhaps most importantly, reduces (or eliminates) the risk that Alibaba will all of a sudden launch its own competitor.

Softbank owns another 13% of Baozun, which is one of the cash richest and most powerful investors in all of the world, not to speak of China.

So, broadly speaking, we're looking at about 30% of the stock owned by the most powerful holders in Asia.

THEMATICS
According to McKinsey & Company China has an internet penetration rate of 52%, compared to a 89% penetration rate in the US. China also has a rapidly growing middle class, with 76% of its urban population set to reach that status by 2022.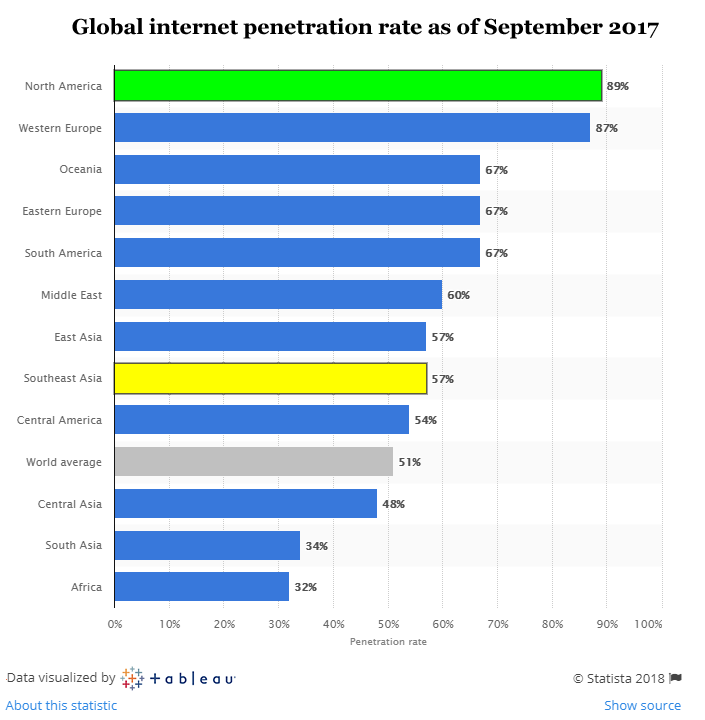 Source:

Statista



McKinsey also estimates that e-commerce sales will account for 23.1% of all retail sales in China this year, but that figure will jump to 40.8% by 2021. This is one of those perfect growth trajectories we look for -- a growing market with growing market share (note that these are projections, so nothing is guaranteed).

Here is a chart of China's e-commerce sales, and projections from Statista: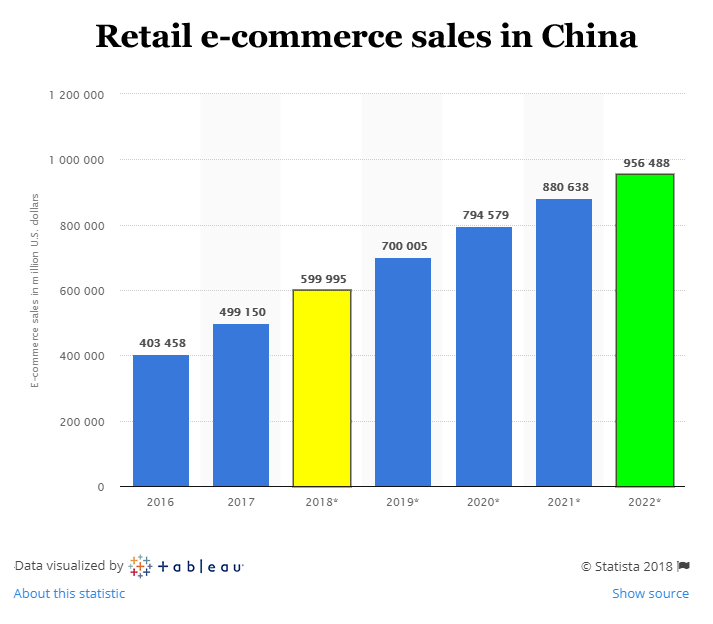 This timeline shows the B2C e-commerce sales figures in China from 2016 to 2022. In 2022, B2C e-commerce sales are set to surpass $956B in revenues, up from $403B in 2016.

WHAT IT DOES
As we alluded to, Baozun handles the behind-the-scenes work for retailers to set up shop for e-commerce sales. That includes managing inventory, handling logistics, setting up online storefronts, and using artificial intelligence to optimize performance.

And while we're at it, it's not just Alibaba that is tied to it, but also JD.com, the other e-commerce giant in China -- which gives its customers, including Microsoft and Nike, access to more than 700 million internet users.

SHIFTING FOCUS
If we look at revenue growth, we will see that Shopify towers above Baozun, at over 70% y-o-y growth, while Baozun sits in the rather modest 17% area. But, Baozun is shifting its focus away from some of the lower margin areas of e-commerce (like distribution) and toward the crown jewel -- the platform. In fact, the company saw services revenue growth of 55%.

Baozun is shifting from a distribution to a service fee business model, which means it's prioritizing profits over top-line growth. It recently reported a 71% increase in gross merchandise volume and a 15% increase in customer count.

A high percentage of big brands -- like Starbucks and Nike -- used Baozun's services. But the new SaaS platform, called Nebula, is aimed at providing medium-sized brands with more omnichannel options. That expansion could widen Baozun's customer base and provide it with more data for analytics purposes.

EARNINGS
Let's turn to the earnings results and the massive gap higher -- fully 31% in a single day.

* Revenue: $240.6 million vs estimates of $245.2 million; but total revenue rose 23%, while services revenue surged 56%.

* Adjusted EPS: $0.42 up 133% versus estimates of $0.31.

* Guidance: The company gave upbeat first-quarter revenue guidance as sees services revenue up 50% in 2018.

Baozun's brand partners rose to 152 vs. 133 a year earlier.

The company helps Western brands such as Coach (COH), Fiat Chrysler (FCAU), Nike (NKE) and Starbucks (SBUX) with their China e-commerce strategies, from website design and hosting to logistics and digital marketing.

Baozun leans on the Alibaba relationship to position itself as a powerhouse for the brands noted above -- which is quite a feat considering that even after the meteoric rise off of earnings, it still carries a market cap less than $2.7 billion.

For context, Alibaba has a market cap near $500 billion, and even our other Spotlight Top Pick in this space, Shopify, has a market cap of $14 billion.

EARNINGS DETAILS
BZUN reported positive income from operations of $27 million, which was a 179% rise from the same quarter a year ago.

For those playing at home, Non-GAAP income from operations topped $29 million, and hit a 163% rise, again for the same quarter a year ago.

Like Shopify, one important metric to lean on for the success and growth of a platform company is the gross merchandise volume (GMV) and it is spiking. Here is what the CFO said:



We delivered another strong quarter of growth with GMV (gross merchandise volume) increasing by 75.5% year-over-year.

We remain confident in our strategy and the effectiveness of our operations and services, and expect GMV to grow to over RMB30 billion and total net revenues to increase to over RMB5.1 billion during fiscal year 2018,



Services revenue grew by 56% compared to the year-ago quarter, and this was a major part of our underpinning bullish thesis for the company in the original Top Pick dossier.

China is such a difficult and different world for many US companies, the logistics portion of the BZUN business is still of critical importance and is in fact a part of its moat.

We're saying it out loud, the revenue growth numbers won't quite look as absurd as Shopify, but there is good reason for that -- we like that logistics niche as well.

While the entire earnings call has yet to be transcribed, here are our highlights from the prior one that are relevant:

* Technology creates a significant barrier to entry, presence of competitive advantage, and has been the key for success since our founding.

* Our focus remains on growing our non-distribution business, which saw GMV increase.

* We will continue to optimize our business model mix towards the non-distribution model going forward.

RISK
This is also from the original Top Pick dossier -- we will repeat a bit for this second ever article, and it's worthy of a second read:

There is risk here to Baozun. First, e-commerce, or any commerce, is driven by economic stability and growth. When there is a recession, consumer spending drops - that's just it.

So, companies like Shopify and Baozun sit right there - right at the front line of risk of a slowing world economy, or for Baozun, a slowing Chinese economy.

Second, there is a bit of Sinophobia (a sentiment against China, its people, overseas Chinese, or Chinese culture.) worldwide - there just is. It's unfortunate, but that doesn't mean we shouldn't say it out loud. There is an actual documentary, "China Hustle," dedicated to accusations of fraud, in particular focused on Alibaba. Here is a quote from Variety.



"The China Hustle," a feature documentary that premiered at the Toronto Intl. Film Festival on Friday, suggests that e-commerce and entertainment giant Alibaba is ripe for investigation alongside smaller Chinese companies accused of deceiving investors and regulators.



So, if there is fraud, that would be a catastrophe, but there is a further reaching reality. Any kind of hints of perhaps a missed quarter, or whatever normal business operations occur with bad news could be jumped on, angrily and aggressively by U.S. investors that could simply crush these stocks -- in a way far more abrupt than a company missing earnings in the United States.

We just have to know it -- it's ugly, but there is prejudice out there and in the financial markets that prejudice is aimed at China. It's unfortunate but real.

SEEING THE FUTURE
It's understanding technology that gets us an edge on finding the gems lime BZUN that can turn into the 'next Apple,' or 'next Amazon,' where we must get ahead of the curve. This is what CML Pro does.

The precious few thematic top picks for 2018, research dossiers, and alerts are available for a limited time at a 80% discount for $29/mo. Join Us: Discover the undiscovered companies that will power technology's future.

As always, control risk, size appropriately and use your own judgement, aside from anyone else's subjective views, including my own.

Thanks for reading, friends.

The author is long shares of Baozun Inc (ADR)(NASDAQ:BZUN) at the time of this writing.

Legal
The information contained on this site is provided for general informational purposes, as a convenience to the readers. The materials are not a substitute for obtaining professional advice from a qualified person, firm or corporation. Consult the appropriate professional advisor for more complete and current information. Capital Market Laboratories ("The Company") does not engage in rendering any legal or professional services by placing these general informational materials on this website.

The Company specifically disclaims any liability, whether based in contract, tort, strict liability or otherwise, for any direct, indirect, incidental, consequential, or special damages arising out of or in any way connected with access to or use of the site, even if we have been advised of the possibility of such damages, including liability in connection with mistakes or omissions in, or delays in transmission of, information to or from the user, interruptions in telecommunications connections to the site or viruses.

The Company make no representations or warranties about the accuracy or completeness of the information contained on this website. Any links provided to other server sites are offered as a matter of convenience and in no way are meant to imply that The Company endorses, sponsors, promotes or is affiliated with the owners of or participants in those sites, or endorse any information contained on those sites, unless expressly stated.