The Richest Biotech Pipelines in the World


Biotech's Future
Written by Ophir Gottlieb
A lot of the information we're about to cover might feel like a surprise. In many ways it is. That's because our purpose is to provide institutional research to all investors and break the information monopoly held by the top .1%.
PREFACE
Drug pipelines and research & development (R&D) are the life blood of biotechs and pharmaceuticals companies. Let's examine the large caps and rank them on the number of Phase III and Phase II trials in progress and finally, look which companies have dedicated the most to R&D.
PHASE III
A Phase III trial occurs when a drug or treatment is given to large groups of people to confirm its effectiveness, monitor side effects, compare it to commonly used treatments, and collect information that will allow the drug or treatment to be used safely.
After these trials companies move to the formal step called New Drug Application (NDA)
. In this step a drug sponsor takes the results to ask that the FDA to consider approving a new drug for marketing in the United States.
Here we chart all of the biotech and pharma companies with market caps above $5 billion and rank them by the number of Phase III trials they have in progress: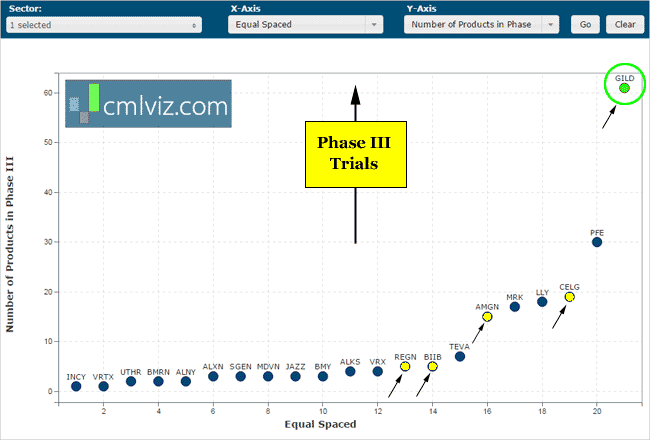 The narrative has been for a long time now that Gilead Sciences Inc. (NASDAQ:GILD) is out of ideas, out of products and holding onto a few blockbuster drugs with no growth. Perhaps that narrative has missed the more than sixty Phase III trials the company has in place.
We have also highlighted Celgene Corporation (NASDAQ:CELG), Amgen Inc., (NASDAQ:AMGN), Biogen Inc. (NASDAQ:BIIB) and Regeneron Pharmaceuticals, Inc. (NASDAQ:REGN) -- the rest of the "big five" biotechs.
PHASE II
A Phase II trial occurs when the drug or treatment is given to a larger group of people to see if it is effective and to further evaluate its safety. It's usually the step before a Phase III trial.
Next we chart all of the biotech and pharma companies with market caps above $5 billion and rank them by the number of Phase II trials they have in progress:
Here we see that Pfizer (NYSE:PFE), a mega cap pharmaceutical company, and Celgene (NASDAQ:CELG), a large cap biotech, have the most Phase II trials. Again, for convenience we have highlighted Amgen, Biogen and Regeneron.
RESEARCH AND DEVELOPMENT
Finally, we can turn to R&D and see which of these companies spends the most on innovation for every dollar of total operating expense. Here is the chart:
Incredibly, Alnylam Pharmaceuticals (NASDAQ:ALNY) spends $0.82 out of every dollar on R&D. While we have highlighted the super stars of the biotech world again in this chart, we also highlight one of the most incredible companies in the world -- Illumina, Inc. (NASDAQ:ILMN). This is the company that is single handedly leading the genomics revolution.
According to
next BIG Future
, "in the 13 years since the conclusion of the Human Genome Project, [Illumina] pushed the cost and time of sequencing a full human genome from $3 billion and 10 years to $1,000 and mere hours.
Illumina is a marvel.
SEEING THE FUTURE
There's so much going on with biotech surrounding cancer treatments, the genomics revolution and the intricacies of rare disease treatments it's almost impossible to find the best of breed. But this is what CML Pro does. Our research sits side-by-side with Goldman Sachs, Morgan Stanley and the rest on professional terminals, but we are the anti-institution and break the information advantage the top .1% have.
Each company in our 'Top Picks' is
the single winner
in an exploding thematic shift like artificial intelligence, Internet of Things, drones, biotech, virtual reality, the cloud and more. In fact, here are just two of the trends that will radically affect the future that we are ahead of: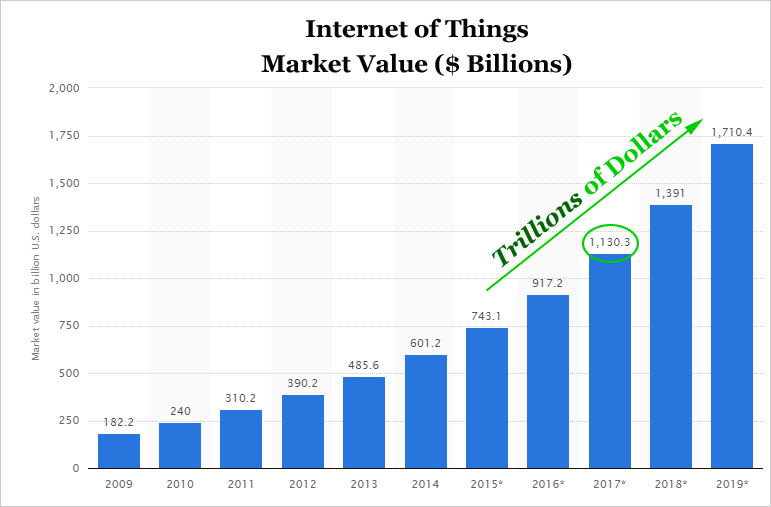 The Internet of Things (IoT) market will be measured in
trillions
of dollars as of next year. CML Pro has named the
top three companies
that will benefit. Then there's cyber security: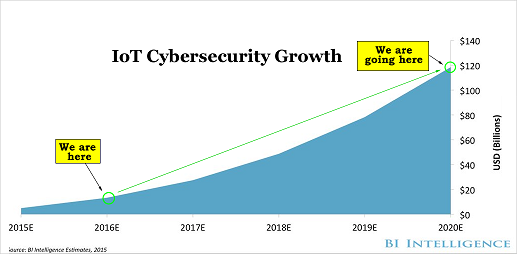 Market correction or not, recession or not, the growth in this area is a near certainty, even if projections come down, this is happening. CML Pro has named
the single best
cyber security stock to benefit from this theme.
These are just two of the themes we have identified and this is just one of the fantastic reports CML Pro members get along with all the visual tools, the precious few
thematic top picks for 2016
, research dossiers and alerts. For a limited time we are offering CML Pro at a 90% discount for $10/mo. with a lifetime guaranteed rate.
Join Us: Get the most advanced premium research delivered to your inbox along with access to visual tools and data that until now has only been made available to the top 1%.
The author is long Celgene and Illumina shares. Thanks for reading, friends.
Please read the legal disclaimers below and as always, remember, we are not making a recommendation or soliciting a sale or purchase of any security ever. We are not licensed to do so, and we wouldn't do it even if we were. We're sharing my opinions, and provide you the power to be knowledgeable to make your own decisions.
Legal
The information contained on this site is provided for general informational purposes, as a convenience to the readers. The materials are not a substitute for obtaining professional advice from a qualified person, firm or corporation. Consult the appropriate professional advisor for more complete and current information. Capital Market Laboratories ("The Company") does not engage in rendering any legal or professional services by placing these general informational materials on this website.
The Company specifically disclaims any liability, whether based in contract, tort, strict liability or otherwise, for any direct, indirect, incidental, consequential, or special damages arising out of or in any way connected with access to or use of the site, even if we have been advised of the possibility of such damages, including liability in connection with mistakes or omissions in, or delays in transmission of, information to or from the user, interruptions in telecommunications connections to the site or viruses.
The Company makes no representations or warranties about the accuracy or completeness of the information contained on this website. Any links provided to other server sites are offered as a matter of convenience and in no way are meant to imply that The Company endorses, sponsors, promotes or is affiliated with the owners of or participants in those sites, or endorse any information contained on those sites, unless expressly stated.