The Secret's Out: This Tech Marvel is Crushing It



Fundamentals

PREFACE
Technology does not have to be complicated. In fact, it is usually at its best and most effective when applied to create new solutions to ubiquitous, long standing problems. Enter Ellie Mae (ELLI), the company transforming the not so sexy world of mortgage originations.
WINNER
Ellie Mae (ELLI) was one of the very few companies to enjoy the month of January, as it shares rose 16% while the market overall was crushed. The stock is up 63% in the last year and nearly 200% in the last two-years.
Further, ELLI is really just scratching the surface of its market. Though they sport 135,000 active users, this represents less than 25% of their potential lender customers, and there are lots of big fish left out there as well. Market penetration of the top 25 potential customers is just 28%.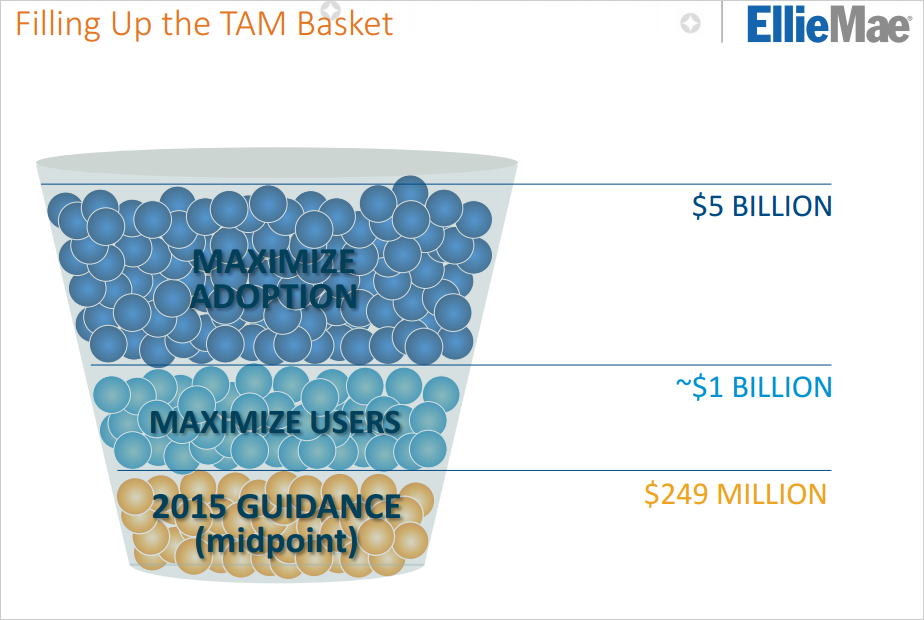 This graphic is from their investor presentation and shows current revenue as
just 5% of the total available market
. In other words, there is plenty of room for this company to run. The upside here is enormous.
We break news every day. Discover the Undiscovered.
Get Our (Free) News Alerts Once a Day.
STORY
ELLI is "a leading provider of innovative on-demand software solutions and services for the residential mortgage industry. Ellie Mae's all-in-one Encompass® mortgage management solution provides one system of record that allows banks, credit unions and mortgage lenders to originate and fund mortgages and improve compliance, loan quality and efficiency."
The solution they offer the mortgage industry is quite compelling, with their SAAS model they not only handle the burden of compliance for clients, but they save them money as well, big money, almost $600 per loan, or nearly 9% of the average origination expense.

We publish research that uncovers new opportunities everyday.
Try CML Pro. No credit Card. No Payment Info. Just the Power.
STRENGTH
First, let's look at ELLI vs its Application Software peers when it comes both Sales growth and growth in Cash from Operations. ELLI is a standout performer growing faster than bigger, sexier names like Splunk (SPLK), Mobileye (MBLY), Workday (WDAY) and Salesforce.com (CRM).
ELLI is simply a standout. Next, let's look at the firm's revenue (TTM) throughout time:
That green bar represents an all-time high with revenue up 62% year-over-year. Now we can turn to cash from operations (bars) and net income (orange line):
Cash from operations is up an astounding 145% year-over-year, while net income is up 69% year-over-year.
WHY THIS MATTERS
If any of the information we just covered feels like a surprise, in many ways it is. The mainstream media doesn't have the vocabulary to understand breaking technology and the top analysts that represent the wealthiest 1% of Americans have no interest in sharing the data they are
keenly
aware of.
The solution ELLI offers the mortgage industry is quite compelling, with their Software as a Service (SaaS) model that can not only handle the burden of compliance for clients, but save them money as well: almost $600 per loan, or nearly 9% of the average origination expense.
The firm's revenue, cash from operations and net income are all at all-time highs with growth numbers the envy of
any
technology company.
This is just one of the fantastic reports CML Pro members get along with all the charting tools,
top picks for 2016
, research dossiers and alerts. For a (very) limited time we are offering CML
Pro
at a 90% discount for $10/mo. with a lifetime guaranteed rate.
Join Us: Get the most advanced premium research delivered to your inbox along with access to visual tools and data that until now has only been made available to the top 1%.
Thanks for reading, friends.