Facebook Goes for the Jugular of Snapchat and Twitter


Fundamentals

Written by Ophir Gottlieb and Jason Hitchings, 01-12-2016
PREFACE
Market dominance is never secure in this era of disruptive innovation, no matter how many bloody battles were fought to win it. None know this better than the current techno-rulers at Facebook (FB) and Google (GOOGL) who have maintained their dominance through stop-at-nothing acquisition strategies culminating in Facebook's purchase of WhatsApp for a record $19 Billion in cash and stock.
THE WAR
Facebook has bold plans to "connect the world", building drone fleets to provide internet to remote locations and for CEO Zuckerberg to attempt to build an artificially intelligent personal assistant (source: Facebook).
These things don't come cheap. To fund bold initiatives like these, Facebook's future is critically dependent on the market continuing to give highly favorable valuations of its stock, and those valuations are life-and-death dependent on Facebook remaining the unquestioned, dominant social platform. Want to see what we mean? This chart from CML Pro makes it crystal clear: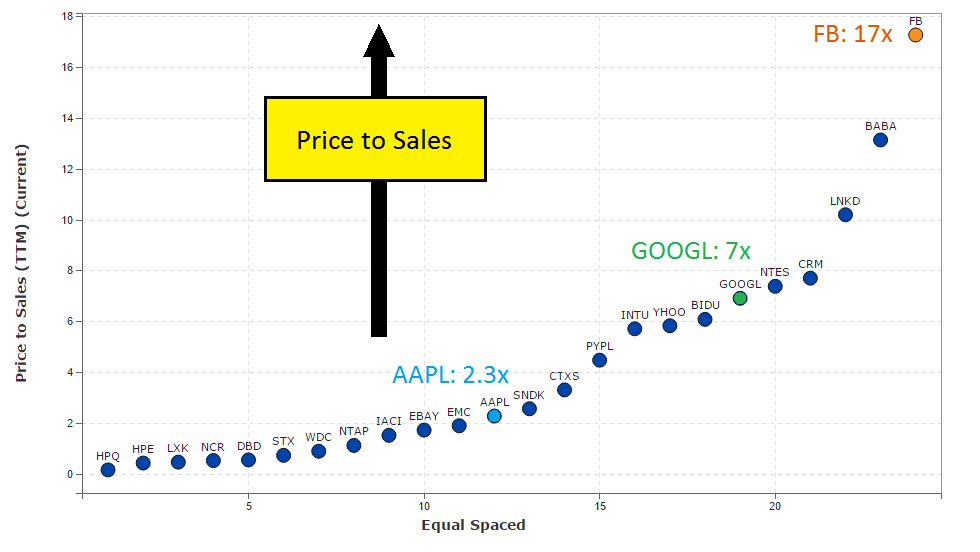 Facebook stock has a price to sales 2.5x higher than Google's parent Alphabet Holdings. This valuation multiple gives Facebook huge advantages in everything it does: every acquisition involving stock, any cash needed to fund investments, Facebook dips into the public market at huge multiples.
We're in a winner-takes-all economy, and Facebook can't afford to be tied for first. What could threaten Facebook's dominance? Answer: A hot social media platform that outperforms Facebook in users or total engagement.
Instagram was a growing threat Facebook took down in Apr 2012. WhatsApp began exploding not long after, building a user base of 700 million+ users. In response, Facebook finally sliced off $19 Billion in cash and stock to capture WhatsApp in February 2014, putting an end to the potentially existential threat.
We break news everyday. Discover the Undiscovered.
Get Our (Free) News Alerts Once a Day.
NEW COMBATANT
Enter Snapchat. 100 Million users, mostly young, extremely engaged. How engaged? Let's look at total daily video views we compiled from multiple sources comparing the world leader in social media, Facebook, to the young upstart, Snapchat: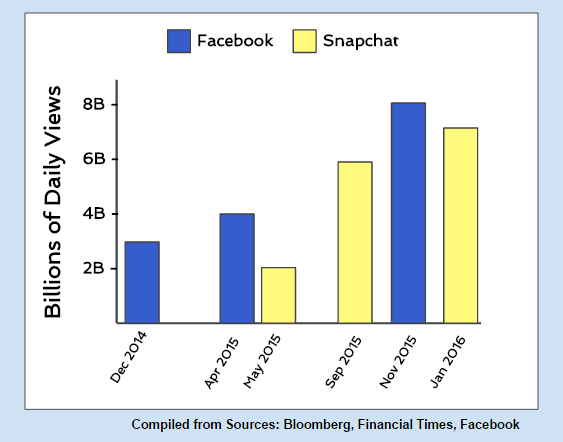 Snapchat users watch 7 billion videos every day, and it's just below Facebook's 8 billion. If you're Mark Zuckerberg, this is not the type of trajectory you can afford to ignore. You have to respond decisively, attempting to go after your opponent's core strength.
THE COUNTER ATTACK
Snapchat's video has been exploding because of its Live Stories feature that allows users to post messages that last for 24 hours. Twitter's 'Moments' and recently announced inclusion of Periscope into the Twitter timelines do the same.
This isn't the first salvo aimed at Snapchat. We'll see if it will work.
THE BIGGER NEWS
While Facebook is going for the jugular with its move to video, the real story is much bigger. In fact, it's one which defines why Forbes just wrote that its breaking technology customer base looks "increasingly like all of humanity."
The secret behind why Facebook could become a trillion dollar company lies in the full CML Pro Facebook Research Dossier.
WHY THIS MATTERS
Headlines miss everything and the real top analysts, the ones that rarely speak publicly and serve the top 1%, are keenly aware of the deep data that will move markets and they know
exactly
when retail traders are selling everything they own. This is how they pick their stocks even if the market goes sideways or down.
The information asymmetry that exists between pros and non-pros has transferred massive wealth to the top 1%. That information asymmetry is no longer acceptable to us. In fact, it infuriates us.
CML Pro has a research dossier on Facebook that goes deeper than anything the main stream media can produce and walks
exactly
the line of when, how and why to buy Facebook stock. It's just one of the fantastic reports CML Pro members get along with all the charting tools,
top picks for 2016
, research dossiers and alerts. For a limited time we are offering CML
Pro
at a 90% discount for $10/mo. with a lifetime guaranteed rate.
Join Us: Get the most advanced premium research delivered to your inbox along with access to visual tools and data that until now has only been made available to the top 1%.
Thanks for reading, friends.