Facebook's Impossible Growth and Colossal Risk


Fundamentals

PREFACE
Facebook has developed a collection of technologies whose consumer base looks "increasingly like all of humanity." But, it also faces, perhaps for the first time ever, a true risk from the largest competitor in the world.
STORY
Facebook Proper has over 1.5 billion monthly active users (MAUs). WhatsApp has over 1 billion MAUs, Facebook Messenger has over 800 million MAUs and Instagram has over 400 million MAUs. Each of those numbers is larger than all of Twitter (320 million MAUs).
Facebook has more "customers" than any company has ever had, and friends, this is all
without any access to China
.
WHAT WE KNOW: REVENUE
The street expects revenue growth, and at a rather torrid pace. Thomson First call estimates come in at $25.53B for 2016 and $33.83B. We are finally getting to levels that are in fact deserving of a mega cap valuation. Here is the company's all-time revenue chart.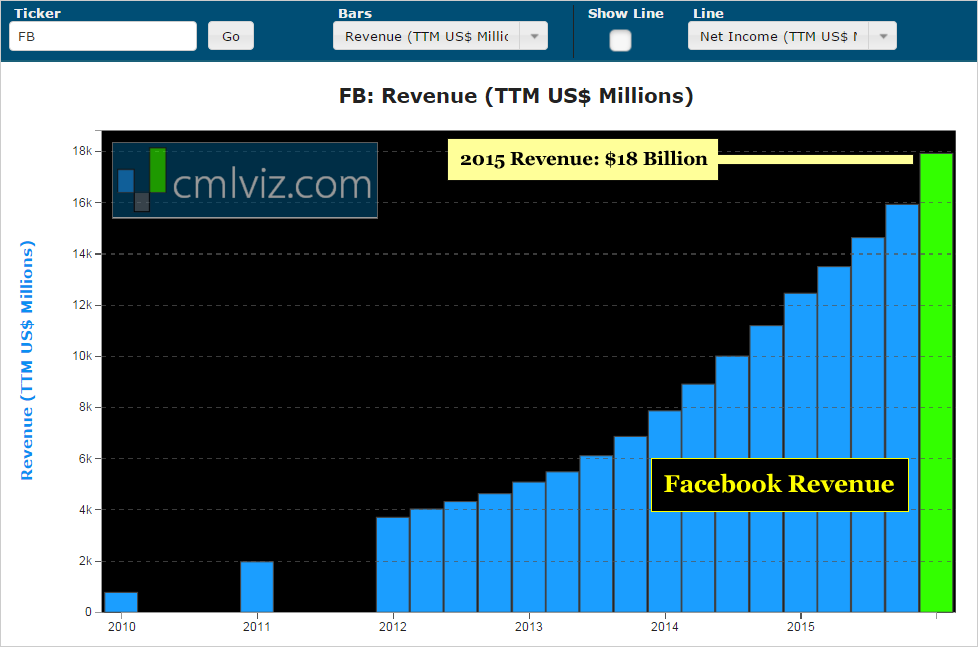 We see 43.8% year-over-year revenue growth. If the company hits 2016 estimates, we'll see another 42% growth and if it hits 2017 projections, that would be 87% growth. These are astonishing numbers. But don't take our word for it, here's how it looks relative to every other mega cap in the market: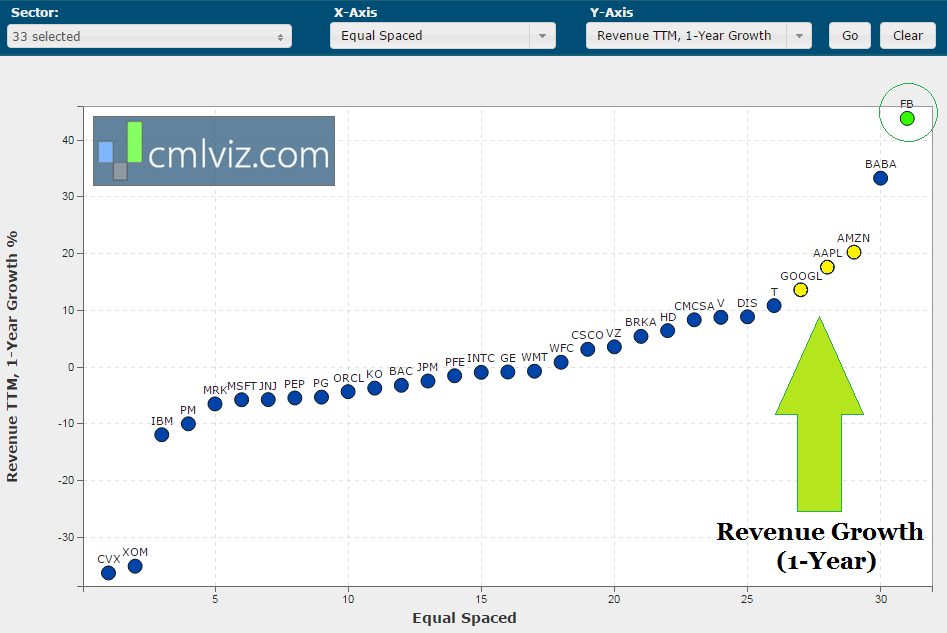 That's a chart of every company in every sector over $125 billion in market cap and we can see that FB sits on an island by itself.
WHAT WE KNOW: EARNINGS
Facebook is well beyond the phase of young start-up, where companies sacrifice earnings for revenue growth. Here is a chart of the firm's net income through time.
For the most recent trailing-twelve-months (TTM) the company reported net income of $3.688 billion for a 25% year-over-year rise.
EPS estimates call for $3.14 for calendar 2016 and $4.13 for calendar 2017. Further, in the last 30-days, there have been two upward revisions to the EPS projections for the current quarter from Thomson First Call analysts, which now stands at $0.62.
WHERE IS THE MONEY COMING FROM?
Facebook sells ads to generate revenue -- pure and simple. Nearly 97% of its revenue in the last year came from online advertisements and 80% of its revenue came from mobile ads. Here is the thematic trend Facebook is dominating: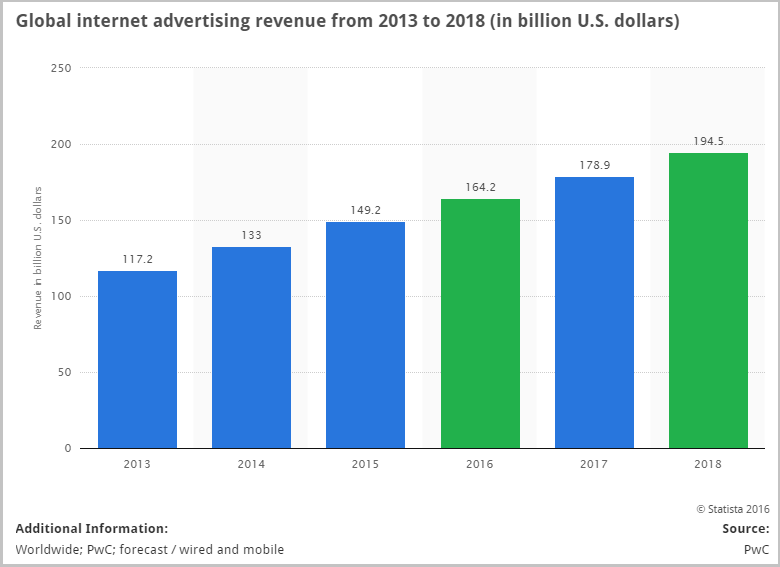 But the real battlefield is now in video. Here are the top online video sites by visits via Statista.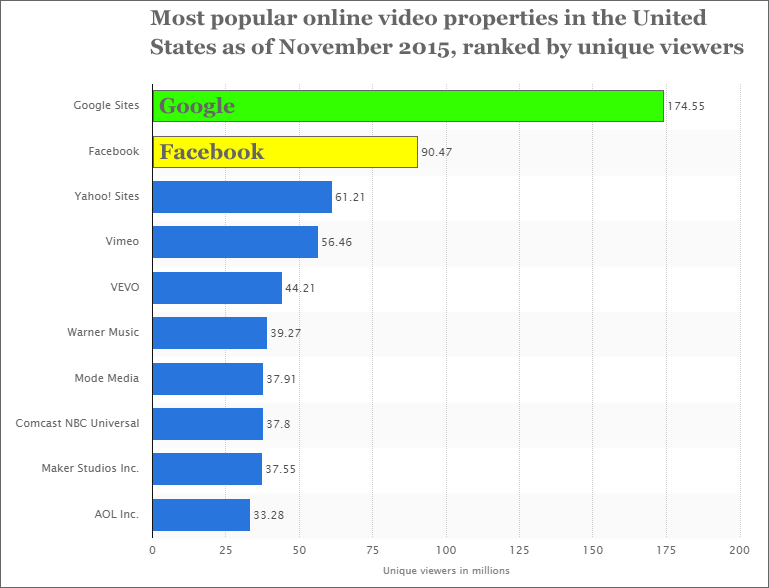 If we've ever wondered why Facebook and Google are pitted as arch rivals even though one is a social media company and the other is built on a search ecosystem, this is a part of the answer. The other part of the answer is that Google also generates 80% of its revenue from online advertising. And Google too is scraping at the online video realm. Here is the market, again from our friends at Statista: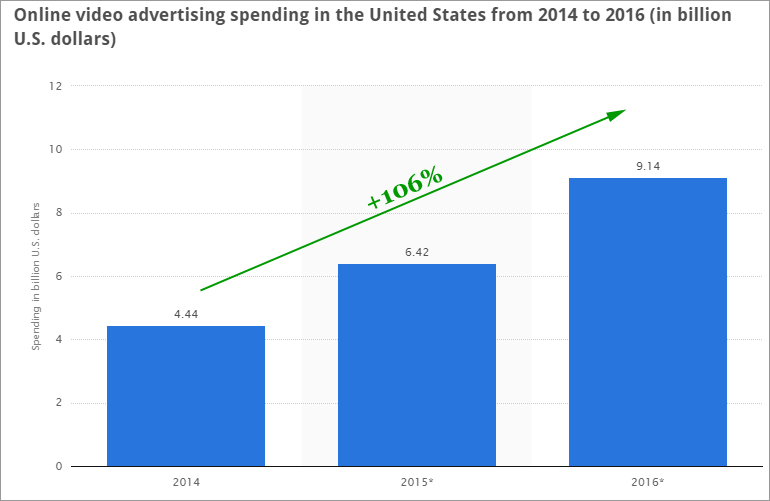 We're looking at nearly 50% growth from 2015 to this year, and over 100% growth from 2014 through 2016. But it goes deeper. Check out these ridiculous statistics that remind us of how big the world really is:
Both Facebook and Snapchat have disclosed that they each receive
8 billion videos views a day
. And, not to be out done, Google claimed nearly a year ago that YouTube had more viewers aged 18-49 on mobile alone than any U.S. cable network.
That just sounds like a lie -- but of course it isn't. The mobile online video advertising world is going to get totally out of control and that's nothing but good news for Facebook -- the firm which dominates mobile ads.
HOW IS IT GROWING
Facebook has clearly monetized Facebook Proper already. Now it is starting to monetize Instagram. In a stunning proclamation, Sheryl Sandberg said that 98 of Facebook's top 100 advertisers also advertised on Instagram in Q4.
Now Facebook is working to monetize Facebook Messenger, and in particular it's looking to turn the app into a mobile pay powerhouse. Here's the chart of global mobile payment transaction volume from Statista, forecasting out to 2017. This is in billions of dollars.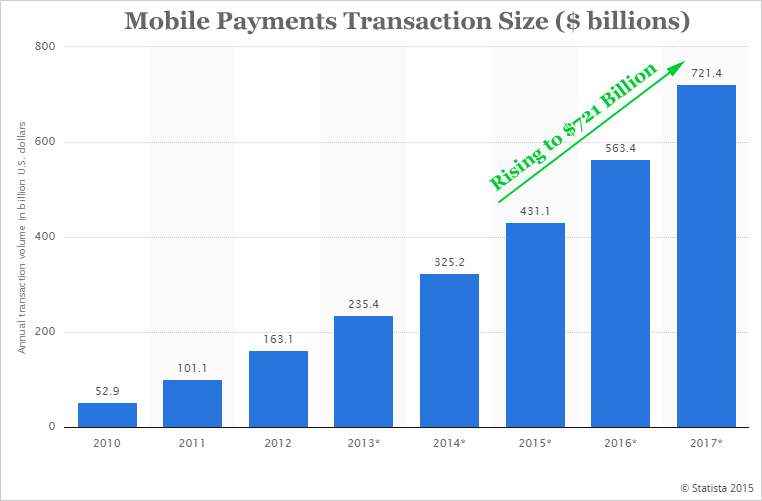 This may be the only part of Facebook's path that isn't working. It actually saw a decline in Mobile Pay through Messenger as Apple Pay is starting to dominate. Our most recent data suggests that between the iPad and the iPhone, Apple control 65% of the mobile pay market in North America, and Apple has just now entered China. Remember, Facebook is locked out of China, as is Google -- for now.
NEW SEXY STUFF
Advertising has created the two monoliths Facebook and Google, but it's not that sexy. Facebook's foray into Virtual and Augmented reality -- now that's sexy. Here's the impossibly large market Facebook is competing in with its Oculus product: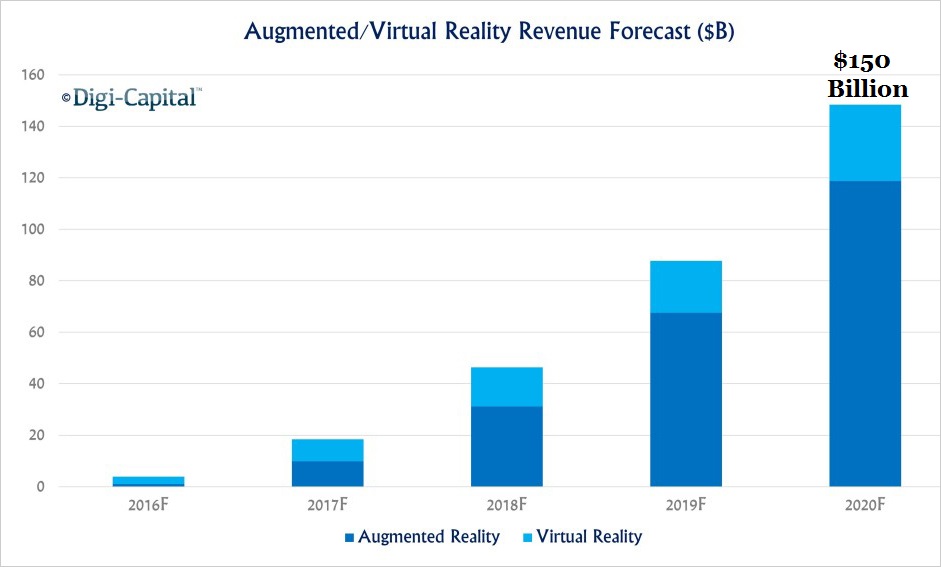 This technology is truly world changing. The idea that two people in different nations, even continents, can sit next to each other on the couch and have a meal, watch a movie or just have a conversation sounds like pure science fiction. But it isn't — it's here.
Facebook will face stiff competition from Google and Apple here. In fact, it's such a big thematic shift, we dedicated an entire CML Pro research dossier to it: "Apple, Google, Microsoft, Netflix Clash in Fight for $150 Billion Market."
INNOVATION
The risk with any high tech company that must stay on the bleeding edge to keep growth moving forward is lack of innovation. We can't say if Facebook will be successful in its efforts, but we can say that the company pours more money in research and development per dollar of operating expense than any other company in the market. Here's the chart: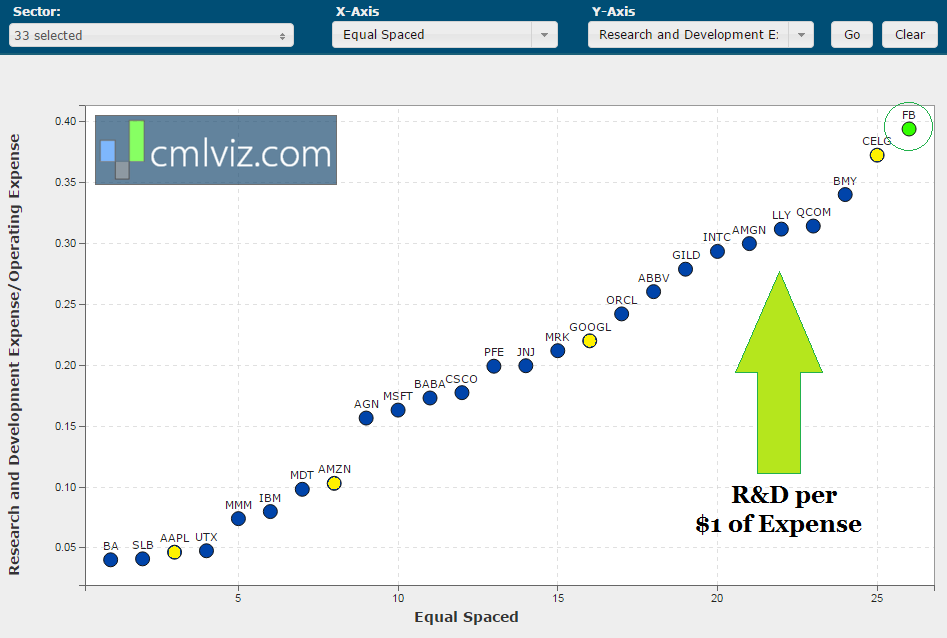 As for the trend through time, here's the chart: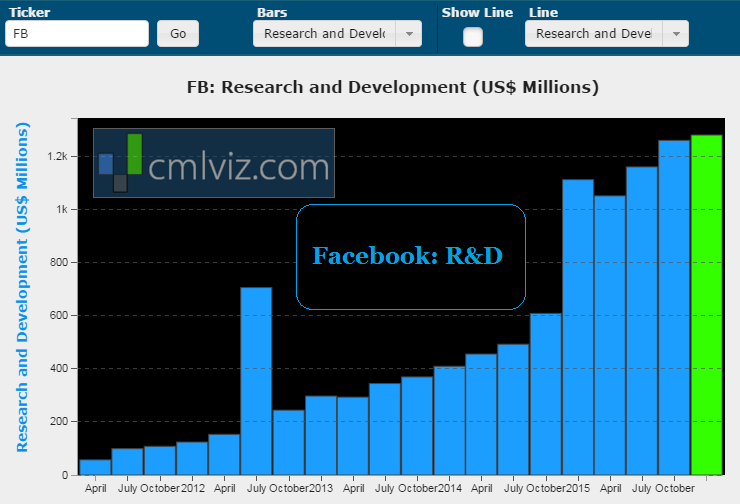 Research and Development in the most recent
quarter
for Facebook was $1.3 billion, up 15% from last year's value and 213% from two-years ago.
THE INVESTMENT THESIS
An investment in Facebook is a bet on the thematic trends of social media, mobile advertising, video advertising and virtual and augmented reality. It's also a bet on continued success in innovation and competitive defense. Snapchat is a worry and n fact TechCrunch
noted
that Snapchat briefly took the number one spot on US App Stores for the first time. Google is a direct competitor. But Apple, of all of them, may bring the greatest risk.
Apple brings two tremendous risks to Facebook. The first, Mark Zuckerberg openly stated on the last earnings call -- the risk of ad blocking apps. According to a report published by
PageFair and Adobe
, ad blocking software worldwide has increased 41% year-on-year to 198 million monthly active users and is expected to cost publishers more than $21.8 billion in 2015 in lost revenue (
BusinessInsider
).
Here's the incredible chart:
The second risk Apple brings to Facebook is yet more direct. CML Pro broke news of a filing that Apple submitted to the US Trademark and Patent Office for a new social media network, loosely referred to "Social Groups." It's too big of a report to go over here, but if you want to see the filing broken down, including renderings from Apple, you can read it as a member of
CML Pro
.
SEEING THE FUTURE
Facebook, Apple, Google -- these giants will war for decades to come over some immense markets. But, to find the 'next Apple' or the 'next Google' we must get ahead of the curve. This is what CML Pro does. Our research sits side-by-side with Goldman Sachs, Morgan Stanley and the rest on professional terminals, but we are the anti-institution and break the information advantage the top .1% have.
Each company we identify on our 'Top Picks' list is
the single winner
in an exploding thematic shift like artificial intelligence, the cloud, self-driving cars, Internet of Things, drones, biotech and more. In fact, here are just two of the trends that will radically affect the future that we are ahead of: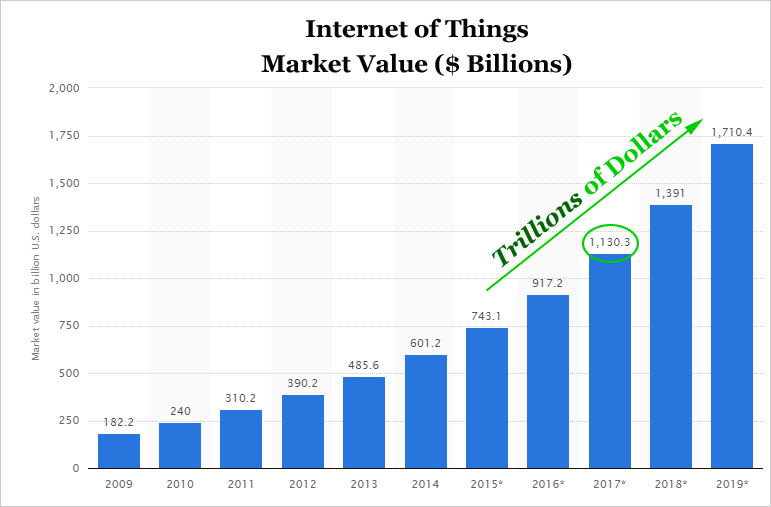 The Internet of Things (IoT) market will be measured in
trillions
of dollars as of next year. CML Pro has named the
top two companies
that will benefit.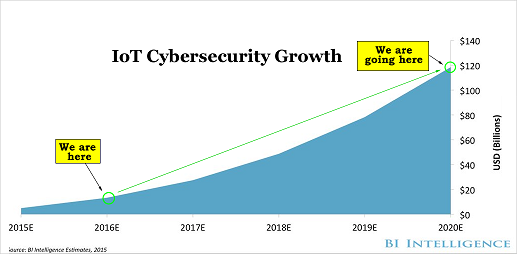 Market correction or not, recession or not, the growth in this area is a near certainty, even if projections come down, this is happening. CML Pro has named
the single best
cyber security stock to benefit from this theme.
These are just two of the themes we have identified and this is just one of the fantastic reports CML Pro members get along with all the visual tools, the precious few
thematic top picks for 2016
, research dossiers and alerts. For a limited time we are offering CML Pro at a 90% discount for $10/mo. with a lifetime guaranteed rate.
Join Us: Get the most advanced premium research delivered to your inbox along with access to visual tools and data that until now has only been made available to the top 1%.
Thanks for reading, friends.