Facebook versus Google: The Better Buy Right Now


Facebook versus Google
Our purpose is to provide institutional research to all investors and break the information monopoly held by the top .1%.
PREFACE
Google now has six services with over a billion users: YouTube, Android, Search, Maps, Chrome, and Google Play.
As for Facebook: Facebook proper has 1.6 billion monthly average users (MAUs), WhatsApp has 1 billion MAUs, Facebook Messenger has 800 million MAUs and Instagram has 400 million MAUs.
Both companies are monoliths in the world of technology -- so which stock has more upside potential?
THE BATTLEFIELD
When it comes down to it, Facebook and Google are in a war for advertising dollars. While Facebook generates 97% of its revenue from ads, Google generates 80%. Facebook is the dominant
mobile
advertiser while Google is the absolute king of desktop ads with its search engine and ad words platform.
But now it's online
video
that has become the hottest battlefield. While Facebook claims it receives 8 billion video views
a day
, we know that Google's You Tube has more viewers aged 18-49 on mobile alone than any U.S. cable network. In fact, we can rank the top used video sites from our friends at Statista: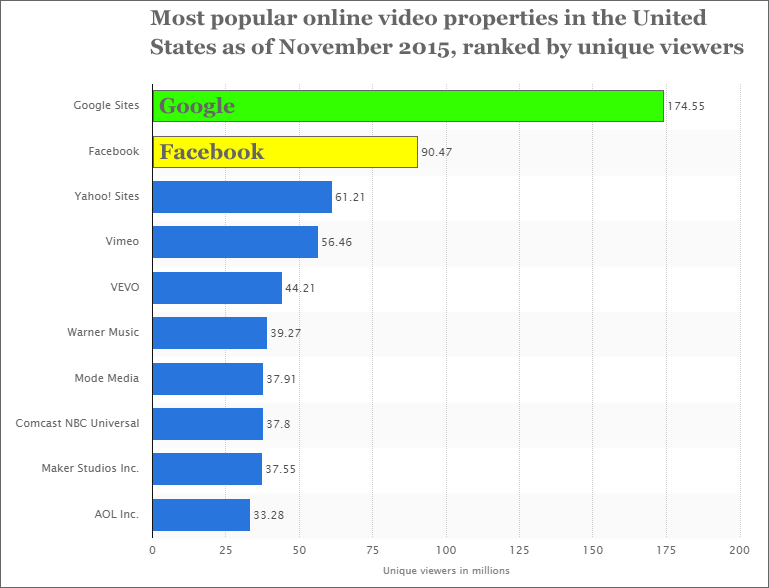 And here is the revenue growth that's being generated: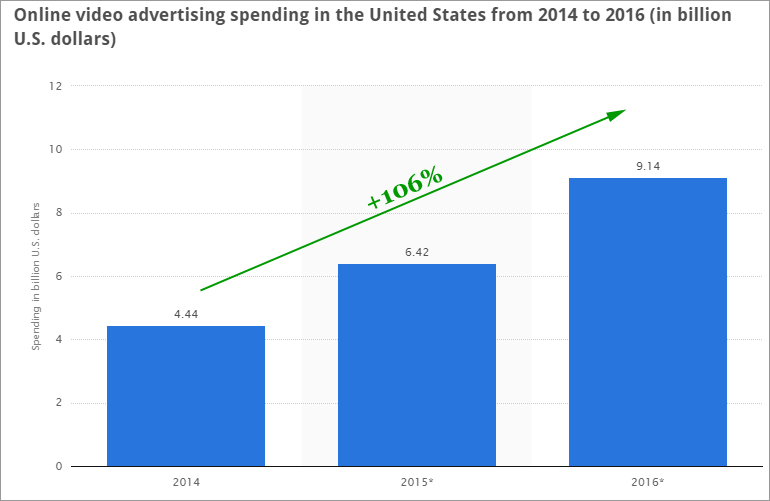 Now, let's put Facebook and Google in a head-to-head comparison of financials:
HEAD-TO-HEAD
➤ Income Statement
* Earnings: Both FB and GOOGL show positive earnings over the last year with the edge to GOOGL.
* Revenue per Employee: FB generates larger revenue per employee ($1.4 million) than GOOGL ($1.2 million), but not enough to affect the comparison rating. Here's the chart: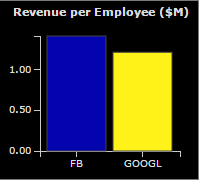 That revenue per employee number is critical. But it's the margins and growth where we see Facebook's real strength and differentiation.
➤ Margins
* Operating Margin: FB generates $1.80 in revenue for every $1 of expense, substantially higher than GOOGL's $1.34. Here's the side-by-side chart:
* Free Cash Flow: FB generates $0.32 in levered free cash flow for every $1 of revenue, substantially higher than GOOGL's $0.16.
➤ Growth
* Revenue Growth: Both companies are growing revenue but FB is growing revenue at 44% year-over-year which is massively faster than GOOGL's 14%. Here's the side-by-side chart:
* Net Income Growth: Both companies are also growing net income (after tax earnings), but again, FB is growing earnings at 25% year-over-year, considerably faster than GOOGL's 16%. Here's the side-by-side chart: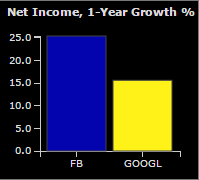 Ultimately, while both of these companies are colossal winners, we see Facebook with greater upside right now based on stronger margins, better free cash flow yield and greater growth in both revenue and earnings.
WHY ANY OF THIS MATTERS
Of course, this is just the start of analysis, not the end. There's so much going on with Facebook and Google we can't cover it all in one report - they span four different thematic shifts in technology and will battle each other for decades. But, to find the 'next Facebook' or 'next Google,' we have to get ahead of the curve. This is what CML Pro does. Our research sits side-by-side with Goldman Sachs, Morgan Stanley and the rest on professional terminals, but we are the anti-institution and break the information advantage the top .1% have.
Each company in our 'Top Picks' is
the single winner
in an exploding thematic shift like artificial intelligence, Internet of Things, drones, biotech and more. In fact, here are just two of the trends that will radically affect the future that we are ahead of: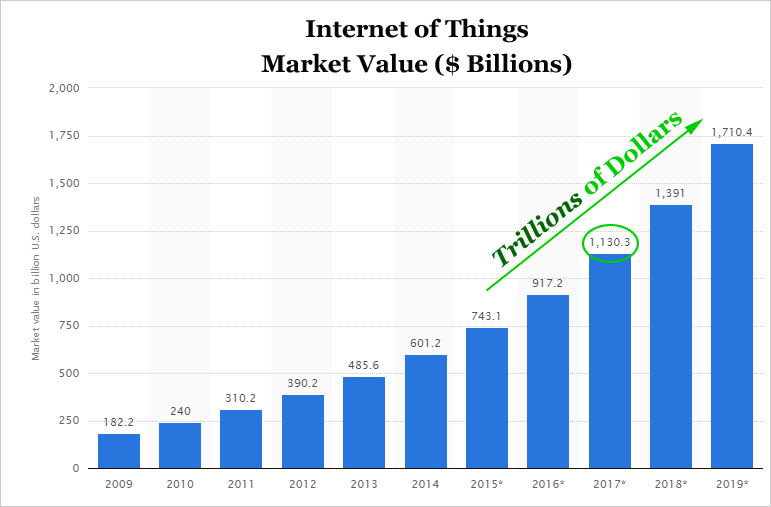 The Internet of Things (IoT) market will be measured in
trillions
of dollars as of next year. CML Pro has named the
top two companies
that will benefit. Then there's cyber security: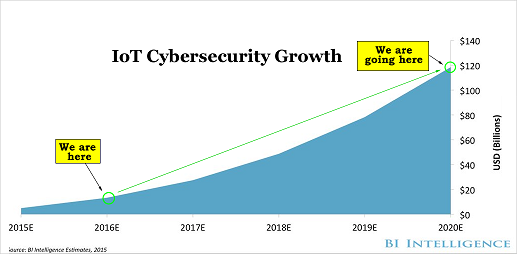 Market correction or not, recession or not, the growth in this area is a near certainty, even if projections come down, this is happening. CML Pro has named
the single best
cyber security stock to benefit from this theme.
These are just two of the themes we have identified and this is just one of the fantastic reports CML Pro members get along with all the visual tools, the precious few
thematic top picks for 2016
, research dossiers and alerts. For a limited time we are offering CML Pro at a 90% discount for $10/mo. with a lifetime guaranteed rate.
Join Us: Get the most advanced premium research delivered to your inbox along with access to visual tools and data that until now has only been made available to the top 1%.
Thanks for reading, friends.