Facebook and Google Face Massive Threat from Ad Blocking


The Future
PREFACE
Ad blocking software does exactly what it sounds like -- it blocks web ads from appearing on pages, whether they be mobile or desktop. To understand the significance of web advertising, keep in mind that 97% of Facebook Inc. (NASDAQ:FB) revenue comes from ads. As for Alphabet Inc. (NASDAQ:GOOG), we're looking at 80% of revenue. Just those two firms together generate more than $75 billion a year in advertising revenue.
So, when the media world starts showing us the data we are about to present to you, it matters, and it poses existential risk to the largest companies in the world. We'll start with the data, and then the implications.
AD BLOCKING IS EXPLODING
The Business Insider just posted an article entitled "There are now more people blocking ads on mobile than on desktop." It noted that Mobile ad blocking is up 90% year-on-year, according to PageFair. PageFair is the source of almost all the data surrounding this phenomenon, so we will use that source moving forward.
"
The most common way of blocking ads on smartphones is through browsers which block ads by default, according to PageFair, which estimates 408 million people used an ad blocking browser in March 2016.
"
Source: BUSINESS INSIDER
That 408 million number represents more than 20% of the world's smartphone users and it's growing by leaps and bounds. Here is a chart from PageFair back in 2015: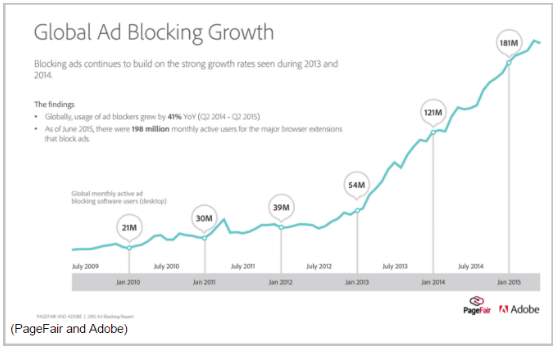 According to
PageFair
, US ad blocking grew by 48% in 12 months up to June 2015, while UK ad blocking grew by 82% in the same time period. Here's a great worldwide chart, with the darker colored red representing greater ad blocking penetration.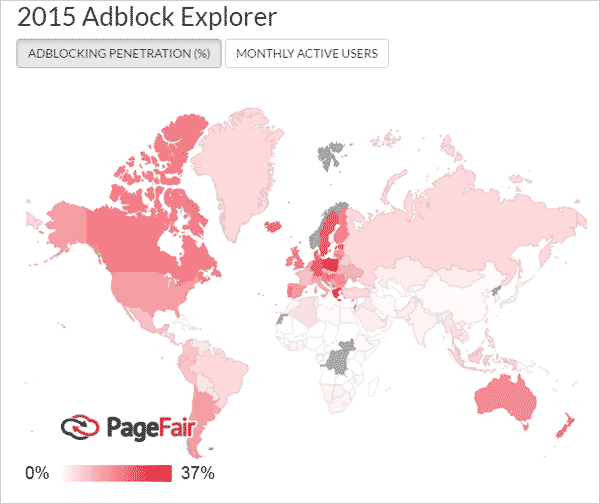 IMPLICATIONS
This is where it gets a little weird. Right now, Alphabet Inc. (NASDAQ:GOOG) is at the greatest risk because a fair amount of its advertising revenue comes from Google Search on mobile phones through a browser. That part of the business will get crushed. On the other hand, Facebook Inc. (NASDAQ:FB) generates nearly all of its revenue from ads inside its app family. That family of apps is owned by Facebook so they can protect their ecosystem. That's the story we have right now.
But, that reality is going to shift. As ad blocking apps proliferate, it's just a matter of time before developers create ad blocking software for apps, and then Facebook is in trouble.
PROOF OF FEAR
Anytime we talk about large existential threats, there's a natural inclination for us to be cynical, or at least resistant to the idea in some way. But here's the proof that the largest advertiser the world has ever known, Alphabet Inc., is very afraid.
Alphabet has looked into creating an "acceptable ads policy." We can think of this as an attempt to form a sort of consensus, an industry-wide standard for advertising formats. With that standard would come an agreement that any advertisement of that source would be illegal to block. But we don't even have to get that fancy about it. Here's what Alphabet Google's SVP of advertising said:
APPLE
Apple set the world on fire for a few months when it introduced iOS9 with a focus on ad blocking. Since that initial release, the company has toned down the rhetoric and does seem to, for now, have turned its attention elsewhere. But for anyone that's a member of Apple News, know that Apple will sell ads for you and give you 70% of the revenue. It's not a leap of faith to believe the iPhone maker will at some point simply block ads that aren't a part of their ecosystem.
WHY THIS MATTERS
There is one technology firm that could side step this entire debacle through its video advertising technology. It already calls Facebook a customer and while it sounds ambitious, the company's goal is to be the "next Google." It's one of our "Top Picks." This is what CML Pro does. Our research sits side-by-side with Goldman Sachs, Morgan Stanley and the rest on professional terminals, but we are the anti-institution and break the information monopoly that the top .1% have.
Each company in our 'Top Picks' is the single winner in an exploding thematic shift like artificial intelligence, Internet of Things, drones, biotech and more. In fact, here are just two of the trends that will radically affect the future that we are ahead of: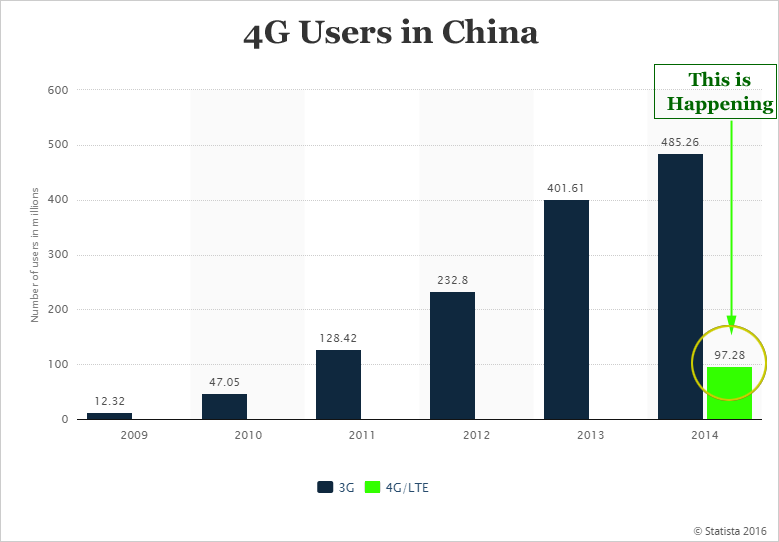 That light green colored bar (4G) is soon going to be larger than the dark colored bar (3G). 4G usage will grow from 330 million people today to nearly 2 billion in five years. CML Pro has named
the single winner
that will power this transformation. Then there's cyber security: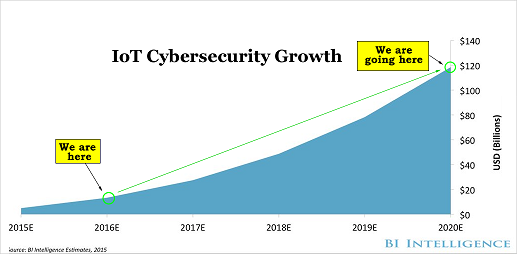 Market correction or not, recession or not, the growth in this area is a near certainty, even if projections come down, this is happening. CML Pro has named
the single best
cyber security stock to benefit from this theme.
These are just two of the themes we have identified and this is just one of the fantastic reports CML Pro members get along with all the visual tools, the precious few
thematic top picks for 2016
, research dossiers and alerts. For a limited time we are offering CML Pro at a 90% discount for $10/mo. with a lifetime guaranteed rate.
Join Us: Get the most advanced premium research delivered to your inbox along with access to visual tools and data that until now has only been made available to the top 1%.
Thanks for reading, friends.