Facebook's Quiet Move into Hardware May Be A Huge Deal
Facebook Inc. (NASDAQ:FB) May Be Getting into Hardware
Preface

Yesterday, July 5th, we penned an article "Facebook: The Unbelievable New Data on Growth." That article focused on new data surrounding usage for Generation Z on Facebook Inc. (NASDAQ:FB) properties Instagram and Facebook proper. The critical takeaway as that Facebook, not Snapchat, was the number one destination for the youngest generation. That data, together with data surrounding Facebook's popularity with older generations, has made it the dominant force across all age groups.

Having said all of that, Facebook Inc. (NASDAQ:FB) does face that lingering risk of falling relevance. Nobody really knows if a surprise new social media could abruptly turn Facebook into a shrinking business rather than one that has huge growth, and as long as Facebook is "just a collection of apps," that risk will remain.

But, breaking news today has turned that narrative upside down.

FACEBOOK (FB): BREAKING
If we look at Facebook Inc. (NASDAQ:FB) and its revenue growth, we see a staggering result.



Facebook Inc. (NASDAQ:FB) Revenue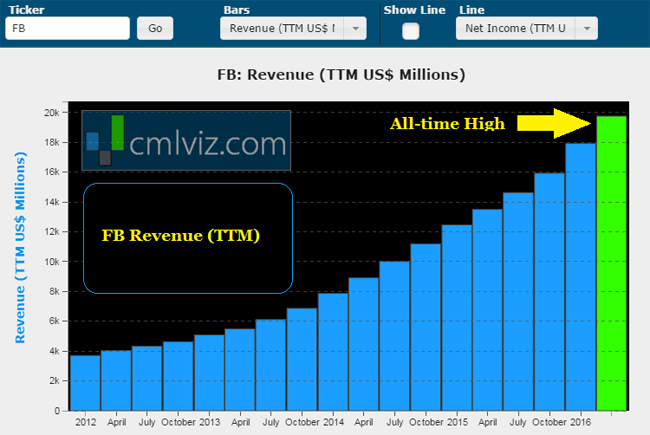 The twenty billion dollars in sales in the last year is projected to hit just under thirty five billion dollars by 2017, or fully a 75% rise. But, Facebook revenue comes almost entirely from advertising -- over 95%. That's the only real bearish narrative surrounding the company -- a lack of a diversified revenue stream. But news today may have shaken that narrative loose.

Bloomberg reported a subtle story today where a man named Rich Heley has joined Facebook's famed and super secretive "Building 8."

Mr. Heley's last two positions were vice president of product technology at Tesla Motors (NASDAQ:TSLA), which is a hardware position, and mechanical engineer at Apple Inc. (NASDAQ:AAPL), also a hardware job. Now here's why that matters.

FACEBOOK (FB): HARDWARE
Facebook's founder and CEO, Mark Zuckerberg, set out a long-term plan for the firm stating that Facebook will be committing:



"

hundreds of people and hundreds of millions of dollars [into Building 8 efforts over the next few years with a] "focus on building new hardware products to advance our mission of connecting the world."

"

Source: IBD


Stop right there. That single word, "hardware" is enormous. Facebook is already focusing on hardware with its virtual reality device Oculus, but the firm appears to be going further.

Facebook has always faced the challenge that access to its family of social media are always enabled on someone else's hardware. It's either an Apple Inc. (AAPL) desktop, MacBook, iPhone or Pad, or a Microsoft PC or a phone powered by Google's operating system, Android (and perhaps on the Google chrome browser).

With the truly frightening threat of ad blocking proliferation, the market has always had to brace for the potential, albeit a small probability, of some rather catastrophic ad blocking software infiltrating the world of mobile apps driving a stake into Facebook's sole revenue driver in heart. In fact, here is the chart of ad blocking software proliferation.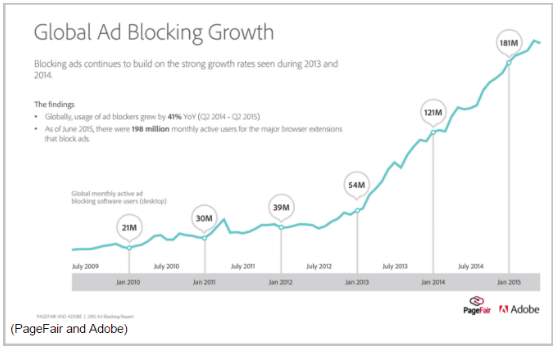 But, if Facebook enters the fray of hardware, whether that be a mobile device, phone, tablet or a different version of hardware that acts in a similar way, all of a sudden that risk to Facebook's heart and soul could be eliminated. It also gives Facebook a more diversified revenue stream. The news today surrounding the new hire is much more than a quick headline across a terminal screen, it's the beginning of what could be a seismic shift by Facebook Inc. (NASDAQ:FB) to dominate yet further.

WHY THIS MATTERS
Facebook's monstrous revenue growth is going to come from the largest disruption in the advertising world since the advent of the television -- online video. There is one firm that is aiming to be "the Google of online video." At Capital Market Laboratories we see these trends – the ones that will create the "next Google" or the "next Facebook." Our research sits side-by-side with Goldman Sachs, Morgan Stanley and the rest on professional terminals, but we are the anti-institution. Our purpose is to break the information monopoly held by the top .1%.

Each company in our 'Top Picks' is the single winner in an exploding thematic shift like artificial intelligence, Internet of Things, drones, biotech and more. In fact, here are just two of the trends that will radically affect the future that we are ahead of: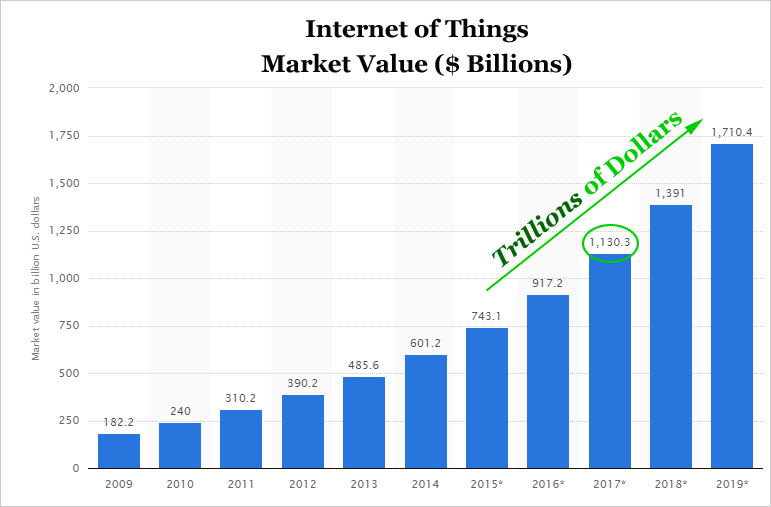 The Internet of Things (IoT) market will be measured in trillions of dollars as of next year. CML Pro has named the top two companies that will benefit. Then there's cyber security: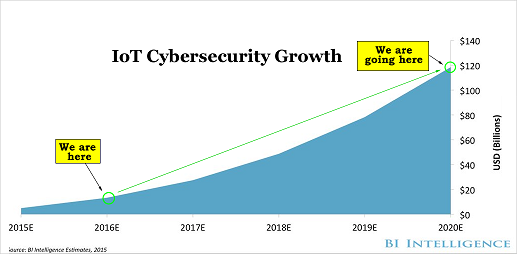 Market correction or not, recession or not, the growth in this area is a near certainty, even if projections come down, this is happening. CML Pro has named the single best cyber security stock to benefit from this theme.

These are just two of the themes we have identified and this is just one of the fantastic reports CML Pro members get along with all the visual tools, the precious few thematic top picks for 2016, research dossiers and alerts. For a limited time we are offering CML Pro at a 90% discount for $10/mo. with a lifetime guaranteed rate. Join Us: Get the most advanced premium research delivered to your inbox along with access to visual tools and data that until now has only been made available to the top 1%.