Facebook Inc. (NASDAQ:FB) Could Beat Earnings Because of Instagram
Facebook Inc. (NASDAQ:FB) Could Beat Earnings Because of Instagram
Date Published:
7-21-2016

BREAKING
A thorough analyst report from UBS reveals that Instagram advertising is growing faster than expected and the net result could be that Facebook Inc. (NASDAQ:FB) beats earnings.

STORY
Facebook Inc. owns four distinct social media properties: Facebook Proper (1.66 billion MAUs), Facebook Messenger (900 million MAUs), and WhatsApp (1 billion MAUs) ad Instagram with now 500 million monthly average users.

While Facebook Inc. has monetized the big app to the tune of nearly $20 billion in annual revenue, it has just begun the process of monetizing the rest. The first big step forward has been Instagram, and while it's pretty hard to doubt anything that Facebook Inc. CEO Mark Zuckerberg undertakes, even the optimists appear to have missed how quickly Instagram could grow.

First, here is an all-time revenue chart for Facebook Inc. (NASDAQ:FB).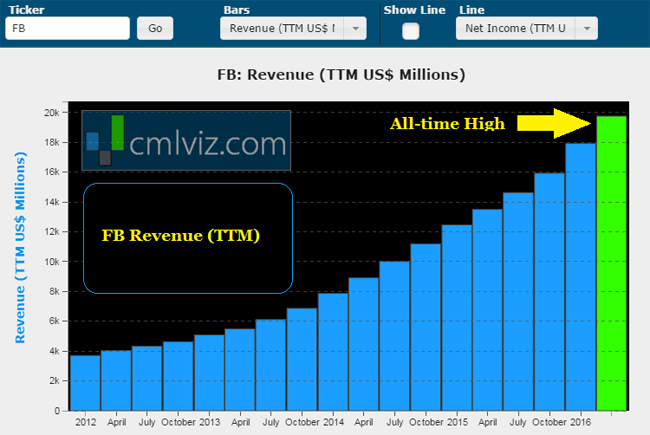 For purposes of comparison, here is the revenue chart for Alphabet Inc. (NASDAQ:GOOGL).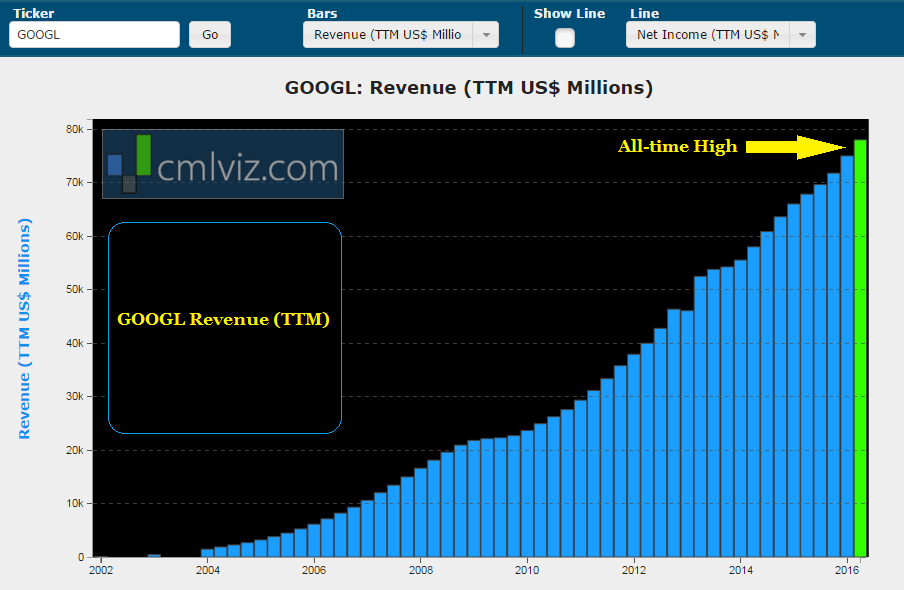 Google's revenue comes in at a towering $77 billion, and it too is largely based on advertsing, but Facebook has a secret weapon in its back pocket.
Facebook generates about 97% of its revenue from advertising, so that's the bread and butter, and while Oculus is coming soon, sales from that product aren't likely to hit even 10% of Facebook's total revenue anytime soon, if ever. But, here comes Instagram.

FACEBOOK'S INSTAGRAM
Back in February, CML Pro noted the push Facebook Inc. was making toward monetizing Instagram. Here's a snippet of our prior report:



"

In a stunning proclamation, Sheryl Sandberg said that 98 of Facebook's top 100 advertisers also advertised on Instagram in Q4.

Sandberg also said that the Sutterfly campaign which spans across Facebook and Instagram and is targeted specifically to women with specific interests saw a 6.4x return on ad spend.

"

Source: CML Pro


Earlier in Axiom Capital projected $4 billion in revenue by 2020. A very smart resource for information, but this time they happened to be very low in their estimates and the impact for Facebook Inc. Here's what just came out from UBS analyst Eric Sheridan.

The analyst now expects $550 million in revenue from Instagram for just the second quarter alone. The bank has raised estimates to $2.27 billion in revenue from Facebook's Instagram for 2016. While UBS estimates are higher than almost all the rest on Wall Street, this is one time where the outlier is quite possibly correct.

SUPPORTING DATA
Sheridan noted that "Our conversations would suggest Instagram ad loads are rising faster than our initial expectations." Further we have data on monthly average users. Here's a snippet from Re/code after Facebook Inc. (NASDAQ:FB) announced it had crossed 500 million MAUs for Instagram in June of this year.



"

That's 100 million new users in roughly nine months — the same nine-month window it took to grow from 200 million to 300 million users, and 300 million to 400 million. That's a pretty steady clip. Roughly 80 percent of those accounts are from outside the U.S., up from 75 percent last fall.

"

Source: Re/code


UBS forecast over 850 million MAUs for Instagram by 2020 and a staggering $7.6 billion in revenue, up from an estimated $300 million in 2015.

WHAT THIS MEANS FOR FACEBOOK INC. (NASDAQ:FB) STOCK
The consensus estimates for Facebook revenue this quarter come in at $6.01 billion. If UBS is right, there could be fully $200 million in upside just from Facebook's Instagram. The high estimate for revenue comes in at $6.22 billion, meaning that if Facebook hits the numbers that UBS is forecasting for Instagram, it will beat that top number if the other business lines generate their own expected revenue.

For the record, Facebook Inc. earnings are also growing at staggering levels. Here's an all-time net income chart.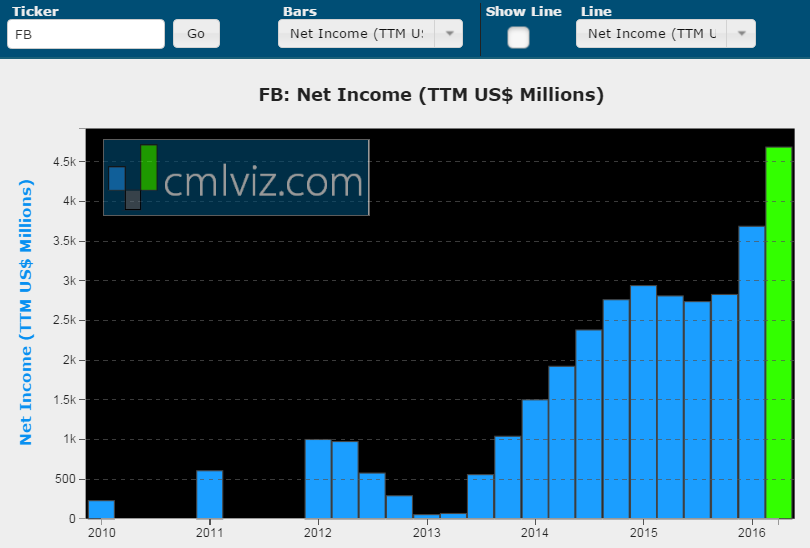 Facebook Inc. (NASDAQ:FB) is due to report earnings on July 27th, after the market closes.
WHY THIS MATTERS
Facebook generates nearly all of its business from advertising and it is leading the way in the revolutionary new ad format that is online video. The online video format is growing so quickly that it will someday over take standard linear Television ads, and that makes it one of the largest thematic forces coming to the world. It turns out that there is one technology company that will power this revolution, regardless of whether it's Facebook, Google, Twitter, or whomever that will end up with the largest audience.
It's identifying trends and companies like this this that allows us to find the 'next Apple' or the 'next Google.' This is what CML Pro does. Our research sits side-by-side with Goldman Sachs, Morgan Stanley and the rest on professional terminals, but we are the anti-institution and break the information advantage the top .1% have.
Each company in our 'Top Picks' is
the single winner
in an exploding thematic shift like artificial intelligence, Internet of Things, drones, biotech and more. In fact, here are just two of the trends that will radically affect the future that we are ahead of: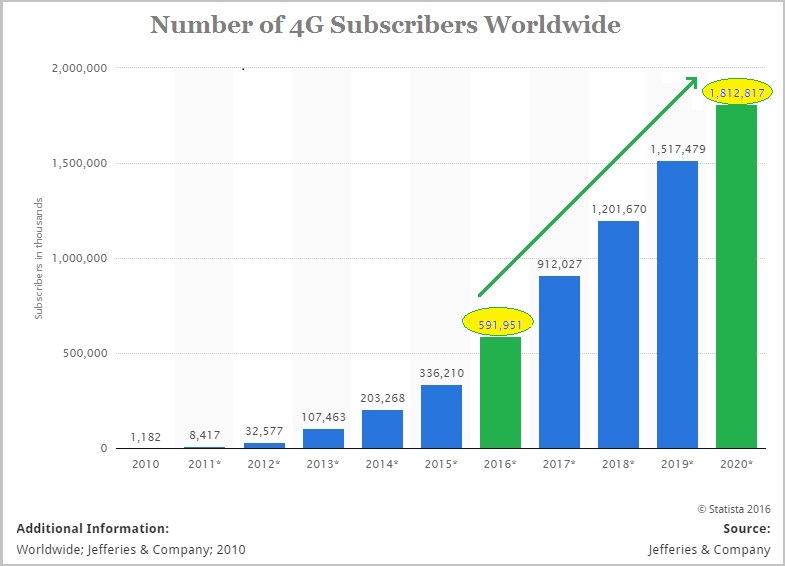 That chart plots the growth in 4G usages worldwide and how it will grow from 330 million people today to nearly 2 billion in five years. This is the lifeblood fueling every IoT and mobile device on the planet and CML Pro has named the single winner that will power this transformation. Then there's cyber security: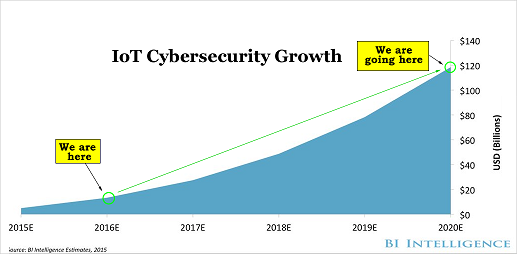 Market correction or not, recession or not, the growth in this area is a near certainty, even if projections come down, this is happening. CML Pro has named
the single best
cyber security stock to benefit from this theme.
These are just two of the themes we have identified and this is just one of the fantastic reports CML Pro members get along with all the visual tools, the precious few
thematic top picks for 2016
, research dossiers and alerts. For a limited time we are offering CML Pro at a 90% discount for $10/mo. with a lifetime guaranteed rate.
Join Us: Get the most advanced premium research delivered to your inbox along with access to visual tools and data that until now has only been made available to the top 1%.