Facebook is Beating Snapchat
Facebook
7-25-2016
Preface

Morgan Stanley analyst Brian Nowak has come out with data and analysis that reveals the much feared Facebook (NASDAQ:FB) rivalry with Snapchat appears to be no rivalry at all. Facebook is beating Snapchat even inthe coveted 18-24 age group.

STORY
Nowak did his own homework and what he found was rather staggering for both Facebook and Snapchat. here's a snippet:



"

Analysis of Facebook daily user growth shows strong — and inflecting — second quarter engagement, despite Snapchat concerns.

We don't believe Snapchat is having a material impact on Facebook's engagement or daily active user (DAU) growth.

"

Source: Yahoo! Finance


The threat from Snapchat to Facebook has always been in the younger users, generally lumped into a category of 18-24 year olds. While Facebook boasts over a billion daily average users (DAUs), Snapchat has quickly grown its user base to 150 million DAUs. Further, both Facebook and Snapchat claim over 10 billion video views a day on their apps.

With video fast becoming the revolutionary new adverting medium, Wall Street rightly has questioned the risk that Snapchat poses to Facebook (NASDAQ:FB). But, here's a chart that shows perhaps that risk is less than previously believed.



Ages 18-24
Source:

Bloomberg



Focus on the green curve that charts the Facebook daily average user to monthly average user ratio. A higher number implies greater usage and engagement. We can see that Facebook is the only one of the group showing two consecutive quarters of growth, while Snapchat is the only other one to show growth of any kind.

And, not to be outdone, that chart looks eerily similar if we plot the 25-34 year olds as well.



Ages 25-34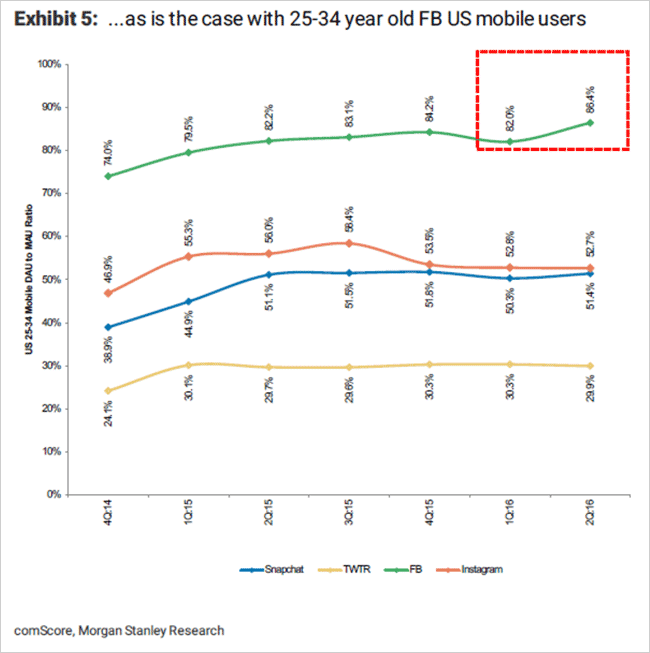 In an article CML Pro published last week entitled "Facebook Could Beat Earnings Because of Instagram," we noted that the Facebook property Instagram appears to be growing revenue substantially faster than was forecast and that boost could in fact be a tailwind into the earnings this cycle.

WHY THIS MATTERS
Facebook and Snapchat generate nearly all of their business from advertising and they are both leading the way in the revolutionary new ad format that is online video which is growing so quickly that it will someday over take standard linear Television ads. It turns out that there is one technology company that will power this revolution, regardless of whether it's Facebook, Google, Twitter, Snapchat or whomever that will end up with the largest audience.

It's identifying trends and companies like this this that allows us to find the 'next Apple' or the 'next Google.' This is what CML Pro does. Our research sits side-by-side with Goldman Sachs, Morgan Stanley and the rest on professional terminals, but we are the anti-institution and break the information advantage the top .1% have.

Each company in our 'Top Picks' is the single winner in an exploding thematic shift like artificial intelligence, Internet of Things, drones, biotech and more. In fact, here are just two of the trends that will radically affect the future that we are ahead of: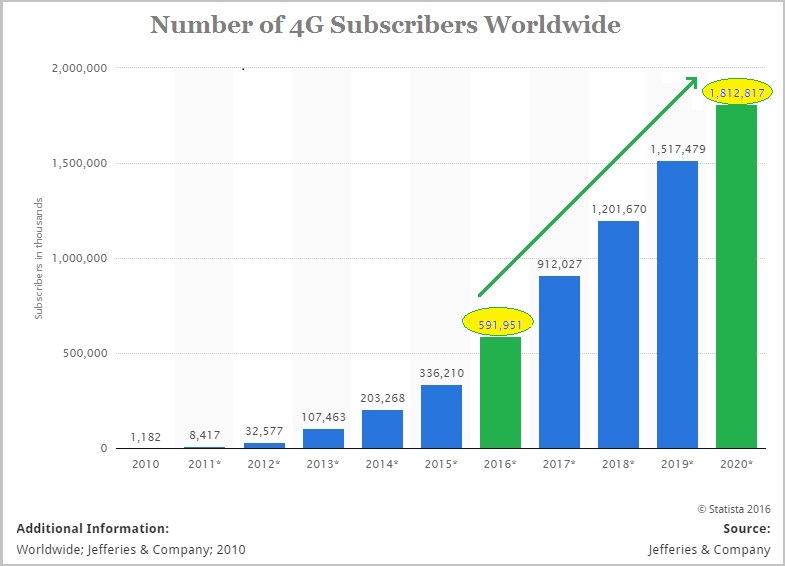 That chart plots the growth in 4G usages worldwide and how it will grow from 330 million people today to nearly 2 billion in five years. This is the lifeblood fueling every IoT and mobile device on the planet and CML Pro has named the single winner that will power this transformation. Then there's cyber security: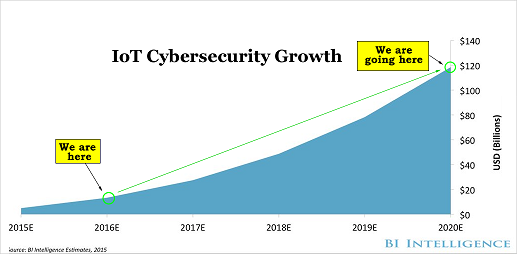 Market correction or not, recession or not, the growth in this area is a near certainty, even if projections come down, this is happening. CML Pro has named the single best cyber security stock to benefit from this theme.

These are just two of the themes we have identified and this is just one of the fantastic reports CML Pro members get along with all the visual tools, the precious few thematic top picks for 2016, research dossiers and alerts. For a limited time we are offering CML Pro at a 90% discount for $10/mo. with a lifetime guaranteed rate. Join Us: Get the most advanced premium research delivered to your inbox along with access to visual tools and data that until now has only been made available to the top 1%.