Facebook Inc. (NASDAQ:FB) To Monetize WhatsApp
Facebook Inc. to Monetize WhatsApp
Date Published:
2016-08-26

Preface
The opportunities for Facebook Inc. (NASDAQ:FB) seem endless, as the company has now announced plans to monetize its 1 billion users messaging segment, WhatsApp.

STORY
Facebook Inc. (NASDAQ:FB) proper has 1.7 billion monthly average users, while its Instagram app has nearly 500 million. Facebook Messenger will top 1 billion monthly average users this year and WhatsApp has over a billion already.

The incredible thing for Facebook is that only Facebook proper has been fully monetized, while Instagram is just getting started. Said differently, the company has a ton of room to grow with its other properties. Check out this all-time revenue chart.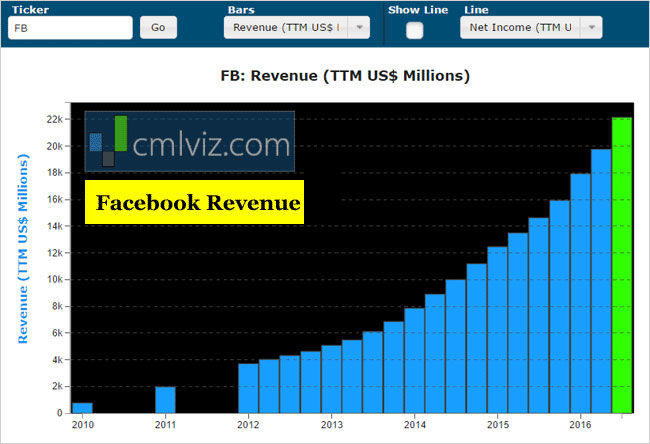 That preposterous growth is really just the beginning. Instagram is now finding its run, quickly turning into a revenue driver and a powerful defense for Facebook against Snapchat. In fact, when the data over the Olympics was divulged, the engagement rate on Instagram was higher than on Facebook Proper.

Here is how that revenue growth looks relative to every other company with a market cap above $150 billion.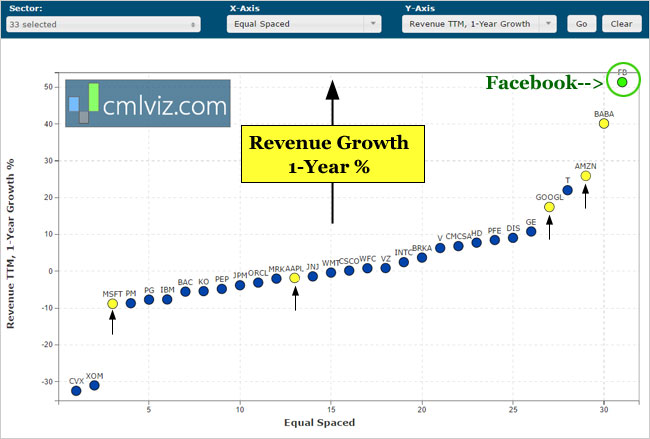 We have highlighted Alibaba (BABA), Amazon.com (AMZN), Alphabet (GOOGL), Apple (AAPL) and Microsoft (MSFT) for context.

In what can only be called an embarrassment of riches, Facebook Inc. is now turning to WhatsApp for yet more growth. Here's a snippet from a Bloomberg report.



"

Facebook Inc. is laying the groundwork for its free messaging service WhatsApp to begin making money, easing its privacy rules so data can be used for Facebook advertising and allowing businesses to message its more than one billion users.

It's the first step toward monetizing the platform [].

"


THE PROBLEM
While this is the obvious next move for Facebook Inc., it turns out there may actually be a bit of a problem. This change in user data policy does actually fly in the face of the original founder's idea of WhatsApp and that means, its users as well.

WhatsApp users are supposed to feel safe that their data is not shared with outside parties. A tricky little bit and a fair question -- is Facebook "an outside party." The reality will likely be that the shared data and policy change will work, very few, if any, users will actually abandon WhatsApp and now Facebook Inc. has new real estate to sell ads in Asia, where WhatsApp is most popular.

The author has no position in Facebook Inc. (NASDAQ:FB) shares.

WHY THIS MATTERS
There's so much going on with Apple, Google and Facebook that it's nearly impossible to keep up with. But the real gems are the smaller companies that will power the technological revolutions that these three giants will get behind. It's identifying trends and companies like this this that allows us to find the 'next Apple' or the 'next Google.'

This is what CML Pro does. Our research sits side-by-side with Goldman Sachs, Morgan Stanley and the rest on professional terminals, but we are the anti-institution and break the information advantage the top .1% have.

Each company in our 'Top Picks' is the single winner in an exploding thematic shift like artificial intelligence, Internet of Things, drones, biotech and more. For a limited time we are offering CML Pro at a 90% discount for $10/mo. with a lifetime guaranteed rate. Join Us: Get the most advanced premium research delivered to your inbox along with access to visual tools and data that until now has only been made available to the top 1%.