Five9 (FIVN) CEO Rowan Trollope to Capital Market Laboratories: This technology is going to double our addressable market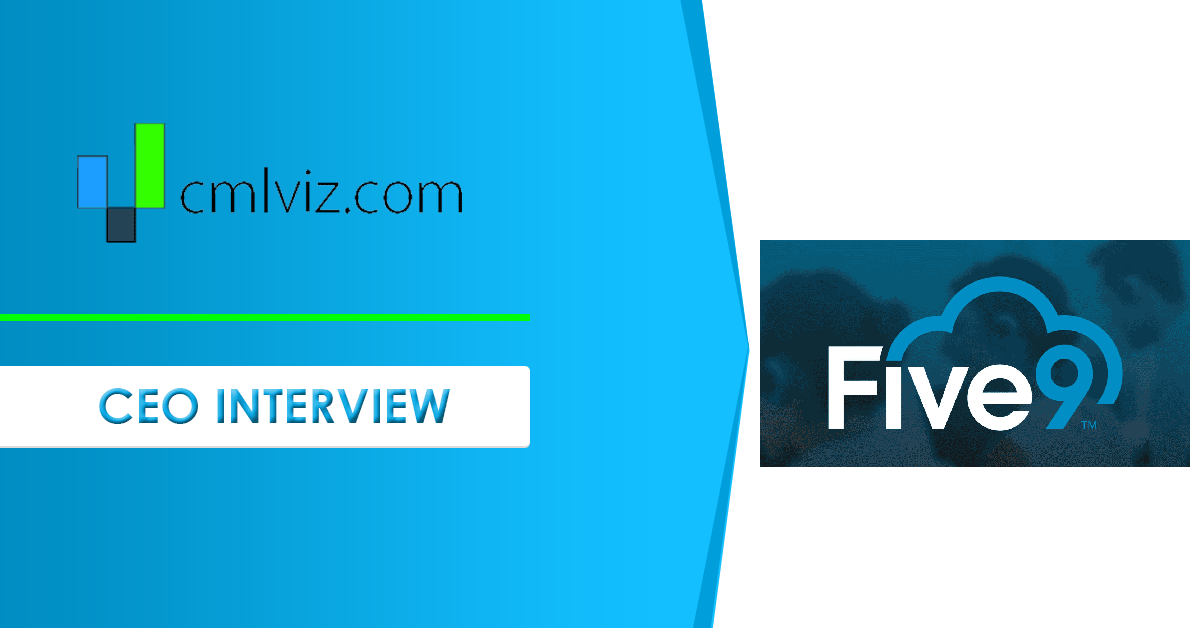 One-on-One with Five9's CEO
Shares of contact center pioneers Five9 (NASDAQ:FIVN) have traded down slightly since the company's better-than-expected Q3 report, but the future looks bright for the company to add to its addressable market, according to chief executive officer Rowan Trollope.
"This could roughly double our TAM [total addressable market]," Trollope told Capital Market Labs in an interview following the report, referring to the company's purchase during the quarter of San Francisco-based Inference Solutions, for $148 million.
Inference solutions makes what is called interactive voice assistants, software that will automate some of the routine conversations in the call center with customers, freeing up reps to do other work.
For years, the technology was flaky and very difficult to implement. The only thing deployed were so-called interactive-voice response, or IVR, agents, with their maddening "press 1 now" interfaces, observes Trollope.
But the IVAs are leveraging voice technologies refined by Amazon's Alexa and Google's Google Assistant. Deep learning forms of AI have made the technology much, much better and easier to implement, maintains Trollope.
"All the innovation that's happening as a result of Alexa, and Google Assistant, is all flowing into their contact centers and their underlying technologies that make these IVAs possible. that make these fluid conversations possible."
The IVA technology is now suddenly needed more than ever, Trollope told CML, because companies have been hit by a barrage of customer calls as commerce goes virtual, and they can't hire reps fast enough to meet the volume of traffic.
"IVA is the efficiency play that has come to the forefront at just the right time," he says. "The technology maturity is hitting right at the time that the market needs it."
Because of the labor saving, Five9 gets an immediate boost to its market size, he says.
"I would just point out that if you were to automate 10% of the calls to customers globally, that's equivalent economically to doubling our TAM. It's a huge, huge number."
The Inference business is pulling Five9's contact center sales into new deals, said Trollope, hence, it should both amplify and enhance the company's business.
Among other topics in the interview, Trollope talked about how many business leaders are signaling that the move to virtual commerce may persist past the pandemic.
"This is one that feels somewhat permanent," Trollope says of the shift to virtual. "I would guess people are going to go back to retail when they can, the question is, will they go back at the same volumes that they were before?"
To recap, Five9 reported revenue in the three months ending in September that rose 34%, year over year, to $112 million, yielding EPS of 27 cents. The Street had been modeling $101 million and 18 cents per share.
Capital Market Labs: As always, thanks once again very much for taking the time, Rowan. As we usually do, I'll throw it out to you first: What things do you want to tell investors are most important in the results and outlook to pay attention to?
Rowan Trollope: I always start out with the market.
There are these dual drivers of cloud and digitization that have been there.
But now you have COVID turbo-charging it. We saw that in our results.
It's obviously a big part of what's driving our business is the overall market acceleration. And I think COVID affected us in two ways.
One, when everybody had to go, that's now going to be a permanent feature, I think, of the landscape going forward.
That really exposed the cracks in the design of on-premise systems to not be able to handle those situations well, whereas for Five9 customers, it's a web browser, you can have a Web browser at home, it's really easy. So that really helped us.
And I think the second thing is the shift to e-commerce has been a huge boon.
We've seen it with our existing customers who were already on our platform who — you know, the anecdote is, if you go to Home Depot to buy a drill, who do you ask about what the right drill is? It's a person in a blue shirt on the aisle.
Who do you talk to if you want to go return that drill later? You go to the customer service desk.
Those two people in retail you're dealing with.
Here comes COVID, what do you do? Who do you talk to if you want to ask a question about the drill? You go to an online chat, or you call in to some number. What do you do if you want to return the drill, it's not right?
You're again hitting a contact center.
So, this is a labor shift from in-person to contact center. And I don't think that's going to go back.
I'm not chomping at the bit to go racing to go out to Home Depot the next chance I get. Even though I did that a lot, pre-COVID, and even though in theory I could have bought stuff on line.
I did less of it, because, I'm sort-of stuck in my ways, and it was a habit.
Well, now, all of a sudden, we've got these new habits and those new habits aren't going to go away soon, either.
So that's actually driving the contact center market as a whole.
So, that's the background, these dual drivers, cloud and digitization and the turbo-charging effect of COVID. And the second one is, how do we execute in that market?
And here's where Five9 really stands out. It's an execution machine. And this quarter was like clockwork.
All the cylinders of our engine fired all at once, where our commercial business, which has two big drivers, net new and installed base sales, both did really well and beat plan; the same thing with our enterprise business.
And then you've got the channel investments that we've been making, so AT&T being a big one there. Our Deloitte partnership on systems integrator front really paying off big.
So, really, really good execution on — these investments — this quarter was baked quite a long time ago. While we did have lots of sales, the sales don't equate to revenue.
The revenue is quarters and quarters ago. So that was really about execution of on-boarding those customers, getting them ramped and stood up and so on.
And then the third area is international. That's been another investment area for us, we've been tip-toeing into it, but I would say about a year ago we brought in some new leadership and we started to make some new investments, and that's starting to pay off as well.
And then, finally, you can't leave out product innovation.
We shipped an amazing product this year, we have 135 new capabilities for our customers.
There's a tremendous demand for innovation, from our product. And we've been able to deliver those capabilities really well.
And so that part of the machine is humming as well.
On that execution side, it was all cylinders firing. And then finally, I guess the third headline would be around Five9's performance, is probably around the acquisition.
We already had a partnership with this company. And I'll go back to one of the drivers of this acquisition.
When COVID hit in March, we saw something very strange.
Minutes on our platform, usage, started going up, but the number of agents did not grow as fast.
And the way that would show up to and end user was long hold times.
What we heard from customers was the solution to this increased demand was not for them to go hire a lot of new headcount. They wanted automation.
And so, we had a partnership with Inference, and we started to see that really take off.
In fact, we started to lead into deals by the automation technology.
So, the one that we mentioned, I think it was the biggest, or second-biggest deal we've ever signed, started as an IVA [interactive voice automation] deal.
So, what you have is this crisis that businesses are facing for demand on their contact center that they cannot solve by hiring more people.
So, they are looking for efficiency plays.
And IVA is the efficiency play that has come to the forefront at just the right time.
The technology maturity is hitting right at the time that the market needs it.
It's a sort of perfect moment in time here where technology maturity meets market demand.
And underneath the covers this is powered by Google and Amazon. It's sort of independent of the underlying provider.
And you're seeing — we are all now getting used to talking to computers. So, all the innovation that's happening as a result of Alexa, and Google Assistant, is all flowing into their contact centers and their underlying technologies that make these IVAs possible.
That make these fluid conversations possible.
So that's the third big thing here, is that this could roughly double our TAM [total addressable market].
As the market — there's a big shift in the market from just hire people to deal with the traffic to, Oh, this is actually a way we can hire fewer people and have a better experience.
And that gives us the ability to potentially double our TAM, if we do that right.
So that's kind-of ready for take-off, if you will. It's also a bit of a Trojan horse for us because this product is independent of the contact center in a way that they partner with our competitors, with Cisco, with Genesys [Telecommunications].
So, they've got customer accounts and they can sell this independent of the contact center platform. Which gives us the opportunity to come in behind it and sell the contact center to those customers.
And so, all that leads to one of my favorite lines from Kevin Kelly, "This is the beginning of the beginning of this market."
It's under fifteen percent penetrated.
Work from home is here to stay.
The contact center is clearly the new front door to business. And that all sets a long-term growth story for Five9.
CML: Kevin Kelly?
RT: Yeah, the editor of Wired.
CML: I want to come back to Inference Solutions, but first starting from the top, do you have specific, when you talk about the front-door of retail shifting, and the people in blue shirts, do you have clear evidence that customers are saying to you, do you have individual anecdotal customer accounts saying, This is what we want to do, we don't know that we're going to be ever back in retail in the same presence, the same footprint, or is that your conjecture?
RT: That's what we've heard. So, and this is anecdotal, we haven't surveyed it.
But customers have said, that, we — we have asked them, do you think this is going to go away? And their answer is, No.
And maybe they're wrong; you know, this is their own conjecture, but they have got more data than we do.
But we've been very sensitive to that because if this part of the increase in our revenue is temporary, then we want to know about that and we would have booked it as such so it wouldn't be measured out as permanent, but that's not what we have seen.
And I've heard that from two customers, personally.
CML: Two individual customers who presumably are meaningful for you financially?
RT: Yeah, one in telemedicine, and one in retail.
CML: Okay. Because obviously you could just be fabulously successful in general with increasing adoption with customers, and you could also be handling a surge for extra activity that's going on over and above any store closings.
RT: Correct.
CML: But you're saying if you net those two things out, anecdotally, it appears to you that there is some permanent shift in work that is going on that accounts for some of signings?
RT: Some of it. And we can't quantify it. We haven't been able to quantify it. It's not something I would say with high confidence, to be honest, it's obviously anecdotal.
But as the CEO of the company, I have to take an imperfect set of information and make decisions.
This is one that feels somewhat permanent.
I would guess people are going to go back to retail when they can.
The question is, will they go back at the same volumes that they were before. Because this was a transition that was already happening.
The logic that I have applied to this is, this was a habit that people had, their behavior was driven by habit and routine.
That habit and routine had been disrupted. Well, now that they've developed a new habit and routine, those things don't change that easily.
They need these outside forcing functions to make them change.
Well, COVID is a forcing function to push e-commerce more.
If there was a forcing function away, like, if hackers had ruined the Internet, maybe we would see everyone racing back to retail stores.
But I don't see that happening.
CML: Of course we don't know, it's possible that there is a kind of greater-than-the-sum-of-parts when every retail store, if it were to re-open tomorrow, if they said, You know, in addition to having retail, we kind-of like this work that we're doing with Five9, there could be a complete return to retail, all staffers back on floors, and at the same time, something remains that you've created with them. Hypothetically.
RT: Hypothetically. I think it's probably — if the traffic went down, we would see a revenue decline.
If they're not taking as many calls from customers, the numbers will go down. And we haven't yet seen it.
CML: In partnerships, I recall you had an AT&T deal, did you not?
RT: We did a few quarters ago, and that continued to do very, very well for us.
That's AT&T Cloud Contact Center. So, they chose Five9 as the exclusive provider of contact center for their base.
And they've white labeled it, calling it AT&T Cloud Contact Center.
And they're introducing us to a lot of their bigger customers.
It's essentially just, we can knock on a lot more doors with AT&T at the front end of that.
CML: And so what stage are you at with that?
Because when we first talked about it, the understanding was that it takes time. Are you now in the thick of actually bringing in signings for that?
RT: We are. They've launched it and I would say it's still, as with any service provider scale engagement, these things take a while.
And so, it's early days, it's the third quarter of this.
My rule of thumb for deals with a service provider like this is that they take anywhere from 12 to 18 months to really get rolling.
So, we haven't gotten into the thick of this one yet.
Early signs of progress and traction, but it's not in the mainstream of their sales motion yet, or anything else.
CML: The reason I ask is, there's a lot that we are seeing around facilities for Cisco and others who are having trouble with big companies.
SAP is having trouble, for example.
Is there any concern about going to big companies through AT&T or going direct, that, they are in tumult?
You know, Cisco saying enterprises are not buying premise data center equipment at the moment. Obviously, they are sending everyone home.
And SAP not selling as much manufacturing software because operations aren't what they were before the pandemic.
Are you seeing any issues with enterprise and does it bear on a partnership with AT&T?
RT: We have seen some issues. Some of our largest customers, like, car sales — car sales cratered.
So, we had to give payment terms, we had to extend nice terms to those customers, and be there for them. Let us know when your business comes back.
In one case they are still struggling. So, certainly we have seen that across various industries.
We weren't heavily indexed on the industries that were more affected. And even the ones that were affected, like retail is a good example, or healthcare.
Their headline numbers came down, but their e-commerce or electronic engagements went up.
So, it was actually a net positive for Five9's business, even though their own headline businesses may have suffered.
We saw that initially with the airlines, for example. Because it was a ton of people changing and canceling.
We get paid on those transactions and that usage, even though the company is not making money, they're taking cancelation requests or re-booking requests, it was a huge volume spike.
Now, that will sort-of work through the system.
So, we weren't big in travel to begin with, and we weren't over-indexed to these industries.
But I would say the big difference between us and the factor that you mentioned for Cisco, you know, a huge part of their business is selling ports for campus networking.
Well, people aren't going into campuses, there's going to be less campus networking.
Not true with the contact center.
We are not tied to a physical campus.
It was actually a benefit. How do we have our people work from home, how do we continue to do business in a virtual world.
A virtual contact center is perfect for that world. So, we actually have been a net — it's been net positive for us. But we are not immune to macro economy stuff.
If there is less economic activity at the macro level, it's going to be less for us.
But we are not so broad and so big like a Cisco where you feel those things.
For us, if that segment is not buying so much, put our sellers onto some other segment.
CML: That's a good segue, because people are inclined to view you as the better investment versus Verizon.
So, what they will say is, Okay, Verizon said last week we don't know where the small and medium businesses are going to go.
Meaning, he and other people in his market are concerned about the commercial market, and their struggles.
And so how much does that segment of the market affect you?
RT: Not much. So, the way we report our business is in two segments, commercial and enterprise. Commercial is sub-fifty seats.
That's what we call small business. Now, I would argue if you are in DC talking about small businesses, you are not talking about companies with 500 employees and fifty call center reps.
You're talking about ten people, five people. We're not in that business.
The people that are in that business, the quote-unquote contact centers that sell to those companies, are typically just embedded with your UC [unified communications] system.
And it's really like an auto-attendant, more than anything else.
When you get into the kind of contact center complexity that we thrive in, that is 20-plus seats, thirty, forty, fifty seats.
Those aren't small businesses. And 80% of our revenue is what we call enterprise.
And the average — we are in the 100s of seats as our bread and butter customers, 200-, 300-, 400-seat customers. Those are pretty big companies.
And increasingly what's been driving the growth, our enterprise subscription revenue, last twelve months, which is what we report, which has popped up to 35% what's driving that is the large enterprise segment, which for us is 5,000-plus seats.
We're talking big companies, financial services, banks, big health care companies, universities, huge shops.
And for them, again, we going where the growth and market is.
And we're still small enough that we can pick off those companies that still have budgets to spend.
The market is still only 15% penetrated.
So, there is — it's a target-rich environment for us to continue to grow. If we were fully penetrated across all segments, then, yeah, we would see
CML: Fifteen percent penetrated, meaning, cloud …
RT: Cloud versus on-prem, yeah.
CML: But for those fifty and under seats, in that segment of your business, you do not see deleterious effects of the general fall-off in budget?
RT: We actually did see a lot more churn in that under-fifty-seat space as a result of COVID. They got hit a lot harder by COVID.
But we had implemented — we had made some changes to our leadership team there, and a new go-to-market strategy there, where we were finding more opportunities for companies for whom the contact center was a more strategic purchase.
And so, we actually did not get hit like I thought we might have. Because we were able to successfully change our strategy.
Again, it's a target-rich environment.
There are a lot of buyers in that space. And we just laser focused on the ones who were going to be powering through this pandemic.
And we've been able to continue to drive growth based on those customers.
So, it's actually worked out really well. And if you look at our dollar-based retention rate as the proxy for this, that went up to 107%.
That's the blended enterprise-commercial rate, but both commercial and enterprise went up.
And commercial went up quite a lot. So that shift that we made to our commercial strategy is working.
CML: This part about Inference Solutions, is the headline here, Inference Solutions is going to destroy jobs?
RT: Absolutely not. Again, going back to the stat that we saw from our usage patterns, we saw usage of contact centers going up, and contact center heads flat to slightly up.
CML: Overloaded, in other words?
RT: Right. So, the customers that have been engaging with us are not scrambling to cut costs, they are scrambling because they have to deal with increased volumes.
And they can't hire people fast enough.
So, IVA is a technology whose time has come. At a time when the world needs it more than ever. That's how I think about it.
That's the initial wave that we have begun to see. And this is an area that, frankly, has been out there for a long time.
The historic place you should think about this is, if you've ever called a call center and ended up in one of those IVR [interactive voice response] trees, where you have to push one for this, and two for this, it's incredibly frustrating.
And that was the only way that businesses had to essentially help customers get some self-service so that their costs didn't go completely out of control, and to properly route that person to the right agent if they couldn't get self-service.
The IVA concept came out years ago, and it was a ton of hype. And then it turned out it was incredibly hard to do.
Companies like Verizon, actually, one very good example, did successfully implement these IVAs.
I think Verizon, the story I read some time ago was, they had 105 people maintaining their IVA. And it's using this legacy Nuance fixed grammar, pre-deep learning.
So, the major scientific breakthrough was deep learning.
That allowed for much more fluid conversations, and that's allowed for now, finally, all the pieces have come together, where an average size company, 20 contact center reps, or thirty, can do this themselves.
You don't need a hundred people. You don't need millions of dollars for professional services and consulting.
So, it's an idea whose time has come. And it came at a really good time. Which is why we moved on this acquisition.
Because we saw the demand in the market. We didn't know it was going to move that quick. And we thought, we want to play in this space, we just want to see how it plays out.
And it flipped very quickly when COVID hit.
And so, we said, here's a great opportunity to get in front of a major market transition. And the market transition is, IVRs are going to be deprecated, and everything is going to go to IVAs, and that IVA will be sold on a per-digital agent or per-digital worker basis, and they will get more and more capable over time, and they will be more and more fluid over time.
And that will help customers deliver the kind of customer service experience that they need to deliver without ballooning their costs.
CML: You say "they" will be more capable and fluid, you're talking about the human or—
RT: The IVAs.
CML: So, what does the human do? Because I know you spent years in the trenches, years as a manager. What does the person do?
RT: Well, the world is complicated. And turns out computers aren't going to be good at everything.
And certainly, they're not good at empathy. They're not good when things get very complex.
So, what these things will be good at is the rote, routine tasks. And that is the work, by the way, that is absolutely soul-crushing work in a contact center.
One of the biggest costs in the contact center is turnover.
And I will directly relate this back to my experience in the call center.
I was in a call center for eight months. I took 8,000 phone calls.
And every week I would take about 100 calls. And about 90 of them were the same call I took the week before.
Ten of them were interesting.
It turns your brain to mush when you do the same thing over and over again.
CML: Like the TSA job.
RT: Right, exactly. If I could have waved a magic wand and said, take those ninety calls that are BS that I've done 100 times before off my hands, I would have waved that magic wand all day long.
It's not that human beings want to do that work, it's that they have to do the work.
And so that's the great innovation here.
It will actually make contact centers over the fullness of time a much more pleasant place to be, because we will put people to work to do the jobs that they are actually really good at.
You know, things that computers will never be good at, empathy being one of those big ones. Or dealing with complex scenarios and so forth.
And I would just point out that if you were to automate 10% of the calls to customers globally, that's equivalent economically to doubling our TAM.
It's a huge, huge number.
Because the labor spend in the contact center is ten times what's spent on technology.
So, there's a big opportunity for technology. It can make the contact centers a more pleasant place to be.
That makes those agents, by the way, when they do deal with customers, live, much more pleasant to talk to, they're not just beat down with all this nonsense that they're not good at. I like to view the positive, as you can tell.
CML: And what were the terms of the deal?
RT: We did share that we spent $148 million.
CML: Was that a good number?
RT: I think it was an unbelievable number. They are the market leader, and we paid to get the market leader.
CML: $148 million is not a lot of money.
RT: I guess, what's a few million between friends?
CML: I think the total in that I saw on FactSet was $12 million for them from the venture side.
So, it was relatively speaking an efficient outfit. Fifteen years old, so they've been around a while.
RT: Yeah, they've been around. It's a great purchase for us.
The one thing I learned from John Chambers when I was at Cisco was, because he was famous about acquisitions, his philosophy is very simple, and it worked for Cisco for a long time, was, watch for market transitions, and when it happens, buy the best.
If you're going to acquire, buy the best technology in that space.
Because you can win. That's when share changes hands.
CML: He invented that.
RT: Absolutely. It's not very complicated. This isn't like we're buying users.
It's a market transition and we're buying the best company out there. And that's how it goes.
CML: Rowan, a pleasure, let's do this again next time.
THE FUTURE
It's understanding technology that gets us an edge to find the "next Apple," or the "next Amazon."
This is what CML Pro does. We are members of Thomson First Call (Refinitiv) -- our research sits side by side with Goldman Sachs, Morgan Stanley and the rest, but we are the anti-institution and break the information asymmetry. We have a third party audited performance track record.
Thanks for reading, friends. The author has no position in Five9 (FIVN) on the date of publication.
Legal
The information contained on this site is provided for general informational purposes, as a convenience to the readers. The materials are not a substitute for obtaining professional advice from a qualified person, firm or corporation. Consult the appropriate professional advisor for more complete and current information. Capital Market Laboratories ("The Company") does not engage in rendering any legal or professional services by placing these general informational materials on this website.
The Company specifically disclaims any liability, whether based in contract, tort, strict liability or otherwise, for any direct, indirect, incidental, consequential, or special damages arising out of or in any way connected with access to or use of the site, even if we have been advised of the possibility of such damages, including liability in connection with mistakes or omissions in, or delays in transmission of, information to or from the user, interruptions in telecommunications connections to the site or viruses.
The Company makes no representations or warranties about the accuracy or completeness of the information contained on this website. Any links provided to other server sites are offered as a matter of convenience and in no way are meant to imply that The Company endorses, sponsors, promotes or is affiliated with the owners of or participants in those sites, or endorse any information contained on those sites, unless expressly stated.