The Largest Drug Pipelines Will Surprise You
Preface

While looking at the current financial and past financial statements of the established biotechnology and pharmaceutical companies can give us an indication of financial health, it's always going to be about the future for these companies. And the future is always about innovation in the realm of new drug pipelines.




Gilead (GILD), Pfizer (NYSE:PFE) and Celgene (NASDAQ:CELG) are the three mega cap companies in the biotechnology and pharmaceutical sector that have the lead in late stage trials. Let's take a look.

LARGEST DRUG PIPELINES
Clinical trials are conducted in a series of steps, called phases - each phase is designed to answer a separate research question.

Phase III trials occur when the drug or treatment is given to large groups of people to confirm its effectiveness, monitor side effects, compare it to commonly used treatments, and collect information that will allow the drug or treatment to be used safely. After these trials companies move to the formal step called New Drug Application (NDA). In this step a drug sponsor takes the results to ask that the FDA to consider approving a new drug for marketing in the United States.

In English, Phase III is where the money comes from. Let's look at all the large cap biotechnology and pharmaceutical companies in the United States and rank them by the number of Phase III trials they have in the works.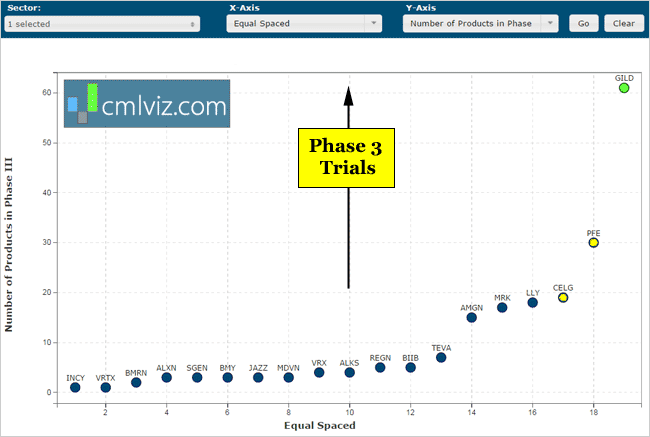 If ever a picture was worth a thousand words, here it is. We can see that Gilead has the most phase III trials, and it's really not even close. While Gilead's stock has been plagued by awful returns on fears that the company has stagnated now that it's two $10 billion franchises seem to have maxed out, a look at Phase III trials shows us another story.

Gilead has a ton of studies in the works, many of which surround their current blockbuster lineup of Hepatitis C and HIV drugs and furthering their usage.

Another oft forgotten mega cap pharmaceutical company is Pfizer. Pfizer comes in second with 30 Phase III trials in progress. Pfizer is almost never seen as a growth stock, but when it gets lumped together with the other mega cap pharmaceutical companies, we can see that a part of the story is getting under told.

Looking to the chart we also note that Celgene comes in third place, ahead of pharmaceutical giants Eli Lilly and Merck. Celgene is famously known for having the single best selling oncology drug in the world. Celgene's management has forecast revenue through 2020 to hit $21 billion -- a tremendous growth form the current value of under $10 billion.

Celgene also has tremendous growth potential due to a number of partnerships, perhaps the one with Juno Therapeutics and its CAR-T therapies is the most exciting.

We can also see where Amgen (AMGN), Biogen (BIIB) and Regeneron (REGN) show up on that chart to round out the "big five" of Biotech.

In a world of confusion and media dissonance, it's nice to see an easy analysis of the mega caps here. Gilead, Pfizer and Celgene are on the move with respect to innovation. Let's see what it brings about in terms of revenue growth and stock appreciation.

WHY THIS MATTERS
We know that the mega caps will innovate, but it's the smaller companies that investors look for. At CML we identify the revolutionary thematic transformations that are coming and then the companies that will benefit most from them to find the "next Apple" or the "next Gilead." Our research sits side-by-side with Goldman Sachs, Morgan Stanley and the rest on professional terminals, but we are the anti-institution. Our purpose is to break the information monopoly held by the top .1%.

Each company in our 'Top Picks' is the single winner in an exploding thematic shift like artificial intelligence, Internet of Things, drones, biotech and more. In fact, here is just one of the trends that will radically affect the future that we are ahead of: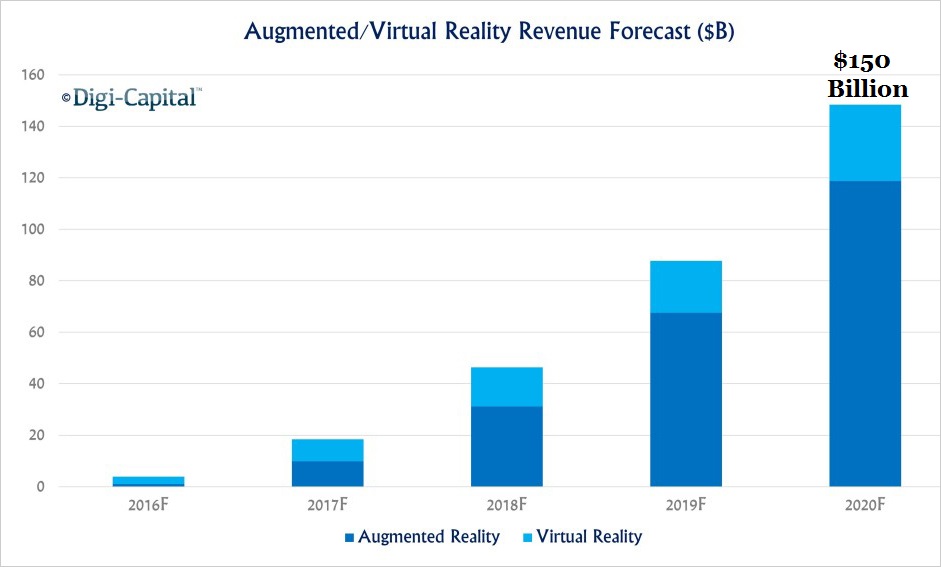 Virtual reality is one of the fundamental shifts coming in the very near future that will change how we live, work, and play. This is a technology whose consumer base looks increasingly like all of humanity. This is the opportunity so many investors say they welcome - that say they search for. The opportunity to find the "Next Apple," or the "next Google." Friends, it's coming right now, and it lies in the depths of technology's core. It's not artificial intelligence, it's artificial super intelligence and there is one company that will rule all of it.

This just one of the themes we have identified and this is just one of the fantastic reports CML Pro members get along with all the visual tools, the precious few thematic top picks for 2016, research dossiers and alerts. For a limited time we are offering CML Pro at a 90% discount for $10/mo. with a lifetime guaranteed rate. Join Us: Get the most advanced premium research delivered to your inbox along with access to visual tools and data that until now has only been made available to the top 1%.