It's Hidden in the Cracks, But: Google is Going After China

Fundamentals

PREFACE
Even though it's locked out of China, Alphabet's Google (NASDAQ:GOOG) continues to grow its massive revenue base at border line alarming rates. In fact, here's the all-time revenue chart for a quick glance:
ALPHABET REVENUE (TTM)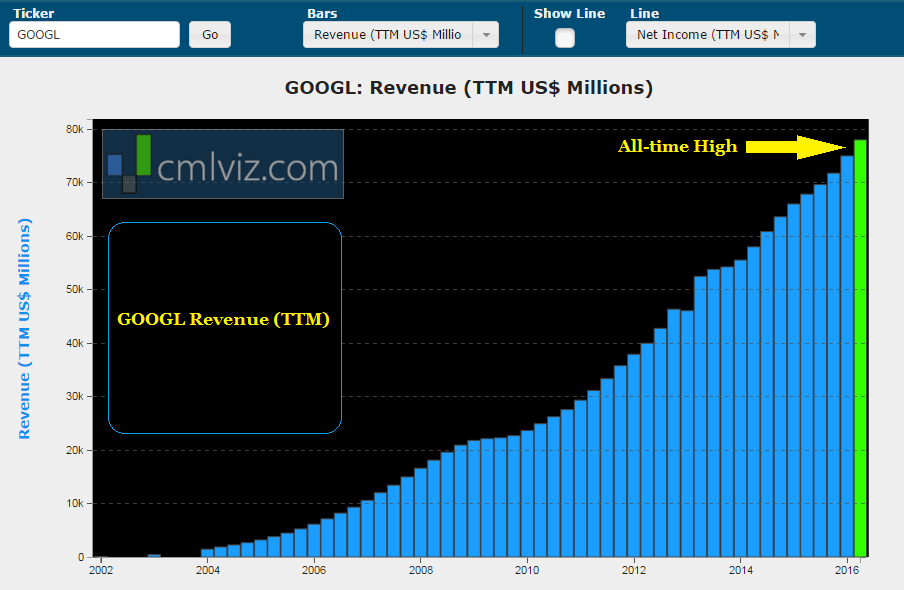 The same could be said for Facebook (NASDAQ:FB). In fact, here is that company's revenue chart:
FACEBOOK REVENUE (TTM)
Amazon (NASDAQ:AMZN) is also locked out of China. The result is home grown mega caps like Baidu (NASDAQ:BIDU), which is China's Google, and Alibaba (NASDAQ:BABA), which is China's Amazon.
While Facebook and Google tear at each others' throats in one of the most aggressive competitive stances we have ever seen in mega cap technology, they actually do share common ground in one very big area.
CHINA
It's almost inconceivable, but unlike Apple (NASDAQ:AAPL) which generates over 50% of its operating income from China, neither Google nor Facebook have any access to the largest country by population and social media users. That's right -- Facebook's 1.65 billion monthly average users (MAUs) and Google's 3.5 billion searches
per day
are accomplished with 1.5 billion people totally locked out of their ecosystems.
But Facebook has been making overtures to China -- Mark Zuckerberg has dedicated himself to learning fluent Mandarin and China even threw Facebook a bone three days ago.
"
Facebook has won a Chinese trademark case against a company that registered the brand name "face book", in a sign that Beijing attitudes are softening towards the world's largest social networking site which is blocked to China's 700m internet users.
"
Source: CNBC
Of course, the trouble with China is censorship and that can render a search engine and a social media essentially useless, or so American companies would say. But if you follow Google's official blog every day, as we do, we saw a quiet but compelling story today. Here are some snippets:
"
Of the 500 million+ people who use Google Translate, more than 9 in 10 live outside the U.S.
We've talked with thousands of you in India, Indonesia, Brazil, and Thailand to learn what works and what doesn't— and today we're rolling out some big improvements.
"
Source: Google Official Blog
You'll notice that China is missing from that list, which is very much the status quo. But then we saw this:
"
Finally, we're adding Word Lens
in Chinese
. It's our 29th language for instant visual translation, and it reads both to and from English, for both Simplified and Traditional Chinese.
With Tap to Translate, improved Offline Mode, and Word Lens in Chinese, we hope you'll find the latest version of Google Translate a helpful companion. These updates are rolling out over the next few days.
"
Source: Google Official Blog
Now, any mention of China from either Facebook or Google is just tea leaf reading. It's so subtle it feels like a throw away. But this is not a throw away. Let's repeat one part of the section above. Here it is: "[Chinese is] our 29th language for instant visual translation."
Now Google didn't just all of a sudden run out of languages and realize, "well, we suppose we could go after the largest country in the world." It's never that unplanned at Google. In fact, the company is marvelously methodical, intelligent and pointed.
This isn't the game changer move -- it isn't an official appeal to China, it's not even in the headlines unless you're a CML Pro member (that's us). But I assure you, this wasn't a random event. Google sees what Facebook sees -- 1.5 billion people, 500 million of whom will be in the middle class by the year 2020 and 700 million Internet users as of today.
While Facebook and Google have wonderful growth trajectories ahead of them -- multiply it by 3-fold if China opens. And while it will take time and be hidden in the little seen acts like this, Google and Facebook are going to make a run for China again. That is a certainty. Today was one of many seeds being planted by the search Giant.
This is a long play, but one with an enormous upside.
SEEING THE FUTURE
There's so much going on with Google we can't cover it all in one report - it spans seven different thematic shifts in technology and it will battle Amazon, Facebook, Netflix and Apple for decades. It's one of our "Top Picks" at CML. But, to find the 'next Google' or 'next Apple,' we have to get ahead of the curve. This is what CML Pro does. Our research sits side-by-side with Goldman Sachs, Morgan Stanley and the rest on professional terminals, but we are the anti-institution and break the information advantage the top .1% have.
Each company in our 'Top Picks' is
the single winner
in an exploding thematic shift like artificial intelligence, Internet of Things, drones, biotech and more. In fact, here are just two of the trends that will radically affect the future that we are ahead of: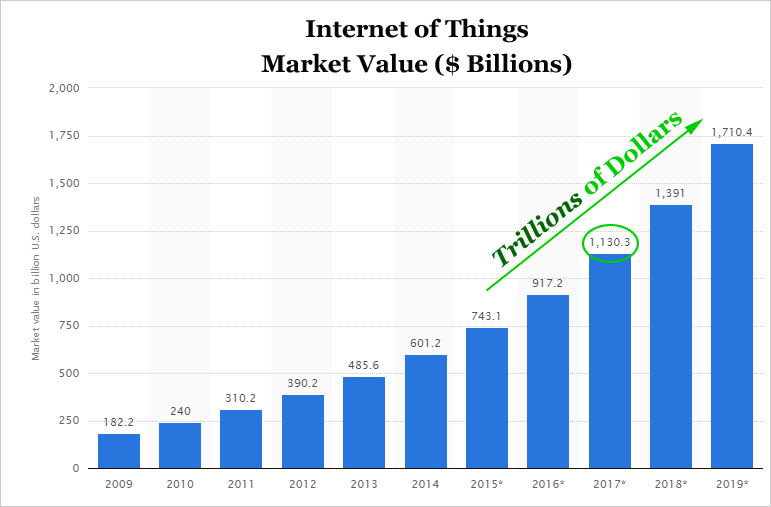 The Internet of Things (IoT) market will be measured in
trillions
of dollars as of next year. CML Pro has named the
top two companies
that will benefit. Then there's cyber security: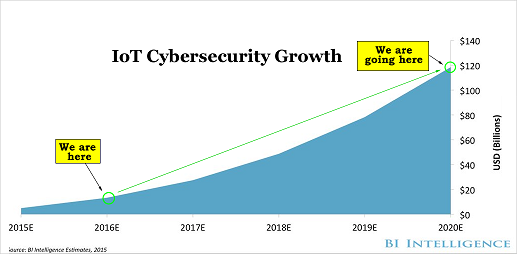 Market correction or not, recession or not, the growth in this area is a near certainty, even if projections come down, this is happening. CML Pro has named
the single best
cyber security stock to benefit from this theme.
These are just two of the themes we have identified and this is just one of the fantastic reports CML Pro members get along with all the visual tools, the precious few
thematic top picks for 2016
, research dossiers and alerts. For a limited time we are offering CML Pro at a 90% discount for $10/mo. with a lifetime guaranteed rate.
Join Us: Get the most advanced premium research delivered to your inbox along with access to visual tools and data that until now has only been made available to the top 1%.
The author is long Apple shares both in his personal account and family owned accounts.
Thanks for reading, friends.
Please read the legal disclaimers below and as always, remember, we are not making a recommendation or soliciting a sale or purchase of any security ever. We are not licensed to do so, and we wouldn't do it even if we were. We're sharing my opinions, and provide you the power to be knowledgeable to make your own decisions.
Legal
The information contained on this site is provided for general informational purposes, as a convenience to the readers. The materials are not a substitute for obtaining professional advice from a qualified person, firm or corporation. Consult the appropriate professional advisor for more complete and current information. Capital Market Laboratories ("The Company") does not engage in rendering any legal or professional services by placing these general informational materials on this website.
The Company specifically disclaims any liability, whether based in contract, tort, strict liability or otherwise, for any direct, indirect, incidental, consequential, or special damages arising out of or in any way connected with access to or use of the site, even if we have been advised of the possibility of such damages, including liability in connection with mistakes or omissions in, or delays in transmission of, information to or from the user, interruptions in telecommunications connections to the site or viruses.
The Company makes no representations or warranties about the accuracy or completeness of the information contained on this website. Any links provided to other server sites are offered as a matter of convenience and in no way are meant to imply that The Company endorses, sponsors, promotes or is affiliated with the owners of or participants in those sites, or endorse any information contained on those sites, unless expressly stated.