Breaking: Google Just Created a Social Network to Attack Facebook



Fundamentals

This was originally published on
news.cmlviz.com
BREAKING
If you follow Google's (NASDAQ:GOOGL) official blog to the point of compulsion, now and again you do find nuggets of gold. What Google very quietly
just
announced at first glance reads like much of their posts -- kind of nothing.
But a first glance is rarely useful at all, and a closer look reveals something unbelievable. Google just created another social network and it's a loaded gun pointed right at Facebook (NASDAQ:FB).
SPACES
Google just announced "Spaces," a new app, and here's what it does, straight from the company:
"
We wanted to build a better group sharing experience, so we made a new app called Spaces that lets people get people together instantly to share around any topic.
With Spaces, it's simple to find and share articles, videos and images without leaving the app, since
Google Search, YouTube, and Chrome come built in
.
"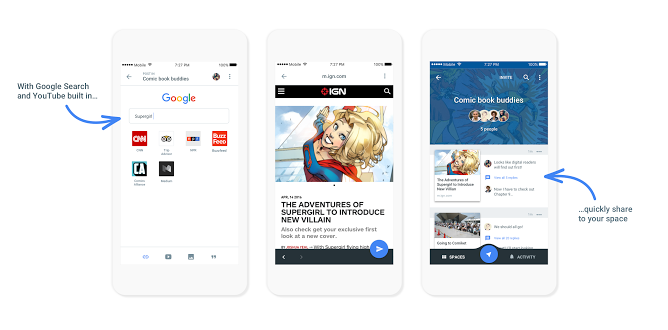 Then Google goes on to write: "When someone shares something new to a space, the conversational view lets you see what the group is talking about without missing a beat."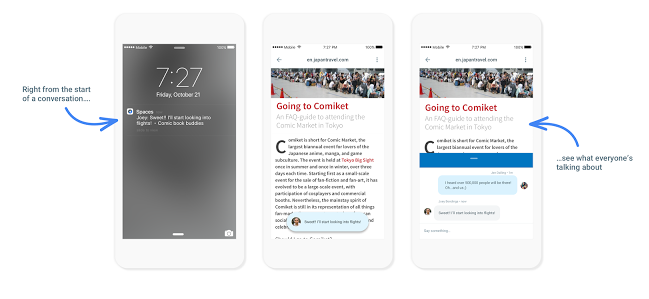 Yes, not only has Google created a new social media, but it wrapped in four properties that already have over one billion users: Google Search, YouTube, Gmail, and Chrome.
Now, that's not a bad start for a social network. And when did this all happen? How about, right now:
"
"Spaces" is rolling out today on Android, iOS, desktop, and mobile web for all Gmail accounts.
"
APPLE IS HERE TOO
CML Pro broke the filings that we uncovered from the United States Patent and Trademark Office (USPTO) that revealed Apple's (NASDAQ:AAPL) ever so cloaked social media that it calls "Groups." Here is a rendering from the patent application:
Apple is
automatically
forming social networks for people with iPhones.
Apple's "real world" network combined with consumer patterns and behaviors could put the company in a position of unprecedented influence. If anyone was wondering if Facebook's hallowed social network ground was safe from competition, the answer is no.
On the other side, Facebook today announced a direct competitor to Google's YouTube, while Apple announced a potential ad blocking proliferation to attack both Facebook and Google.
Not to be out done, Amazon also announced a new video service to compete head-to-head with YouTube while also reporting that it will start selling web advertising surrounding Amazon Prime purchases. That is a frighteningly valuable space for Facebook and Google to compete with.
WHY THIS MATTERS
This is just the surface analysis. There's so much going on with technology it's impossible to cover in one report but Apple, Google Facebook and Amazon are now in an elite group that will compete for markets that will be measured in trillions of dollars. And behind each of these market segments lies a smaller technology, the guts behind the real transformation. To take the analysis a step further and to actually find the 'next Apple' or 'next Google' we have to get ahead of the curve. This is what CML Pro does. Our research sits side-by-side with Goldman Sachs, Morgan Stanley and the rest on professional terminals, but we are the anti-institution and break the information monopoly that the top .1% have.
Each company in our 'Top Picks' is
the single winner
in an exploding thematic shift like artificial intelligence, Internet of Things, drones, biotech and more. In fact, here are just two of the trends that will radically affect the future that we are ahead of: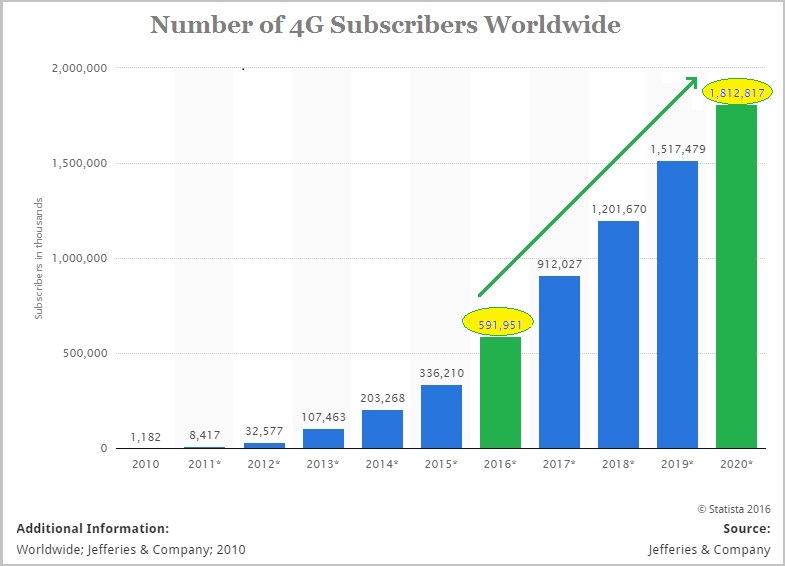 That chart plots the growth in 4G usage worldwide and how it will grow from 330 million people today to nearly 2 billion in five years. This is the lifeblood fueling every IoT and mobile device on the planet and CML Pro has named the single winner that will power this transformation. Then there's cyber security: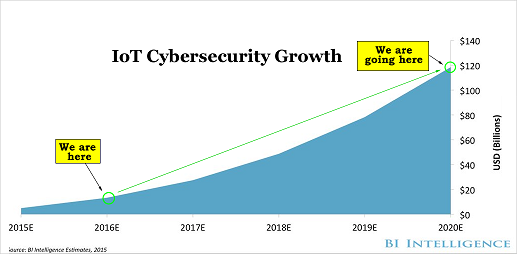 Market correction or not, recession or not, the growth in this area is a near certainty, even if projections come down, this is happening. CML Pro has named
the single best
cyber security stock to benefit from this theme.
These are just two of the themes we have identified and this is just one of the fantastic reports CML Pro members get along with all the visual tools, the precious few
thematic top picks for 2016
, research dossiers and alerts. For a limited time we are offering CML Pro at a 90% discount for $10/mo. with a lifetime guaranteed rate.
Join Us: Get the most advanced premium research delivered to your inbox along with access to visual tools and data that until now has only been made available to the top 1%.
Thanks for reading, friends.