Google and Apple Are Attacking Uber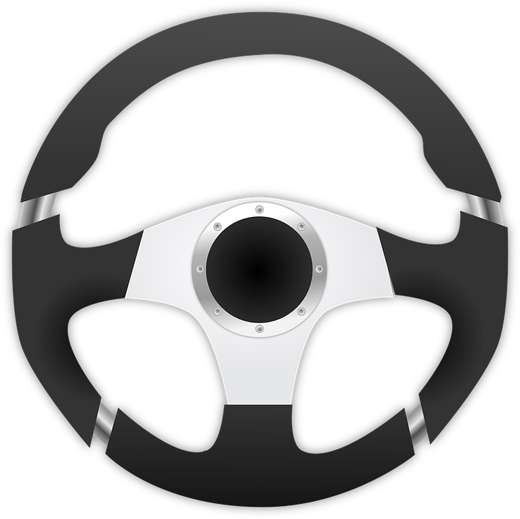 Fundamentals

This was originally published on
news.cmlviz.com
PREFACE
Last week we learned that Apple had invested $1 billion in "China's Uber," called Didi Chuxing. The move was more than investment in a gigantic ride sharing company, but also strategic in nature and one that reminded the entire world that the Apple Car is coming, it will have self-driving features, and it will be the next radical innovation that Apple introduces.
In a tweet, Uber shrugged the investment off. But of course, that's either hubris or saving face. Didi fulfilled one billion rides last year and holds 87% of the country's private ride-hailing market (Tech Crunch). At the same time, Uber announced in February that it was losing over $1 billion a year in China.
Uber can have as large a private valuation as it likes, a $1 billion loss annually in China is gigantic.
But the news today goes further. Google (NASDAQ:GOOGL), which has had close ties with Uber in the past including a $250 million investment in 2013, has decided it's time to take that market down in the United States. Here is the breaking news:
BREAKING
Here's what we learned from Google:
"
Google-owned navigation app Waze is testing a carpooling service for tech company employees to share rides to work, a development that is almost certain to create tension with ride-sharing company Uber, which has usually been ally of Alphabet.
"
While the news will report that Maze is just a carpooling service and no money changes hands unless a carpooler selects to give the driver gas and toll money, it's not at all that innocuous. In fact, it's a poison arrow. Here's what Maze did in Tel-Aviv, Israel:
"
Waze first began testing a similar service in Tel Aviv under the name "RideWith" last year and reportedly took a 15 percent cut of the amount riders paid drivers.
"
Source: San Francisco Business Times
The reality is that Google will be expanding its self-driving data collection process, much like Apple will do in China. And then the next step will be to create a direct competitor to Uber.
Boldly, the competition was really started by Uber. Google developed a prompt in Google Maps to hail an Uber ride, but Uber decided it didn't like that. According to Alphabet's senior vice president for corporate development, David Drummond, Uber is undercutting Google Maps:
"
Uber is developing its own mapping and driverless-car technology, which could compete with Alphabet's efforts to develop a self-driving car.
"
Source: San Francisco Business Times
SELF-DRIVING CARS
While the competition looks like one within ride-sharing, it actually goes much deeper. The self-driving featured automobile will be the fastest growing segment in cars we have seen since Ford introduced its first assembly line created Model T. Here is the growth in the self-driving realm: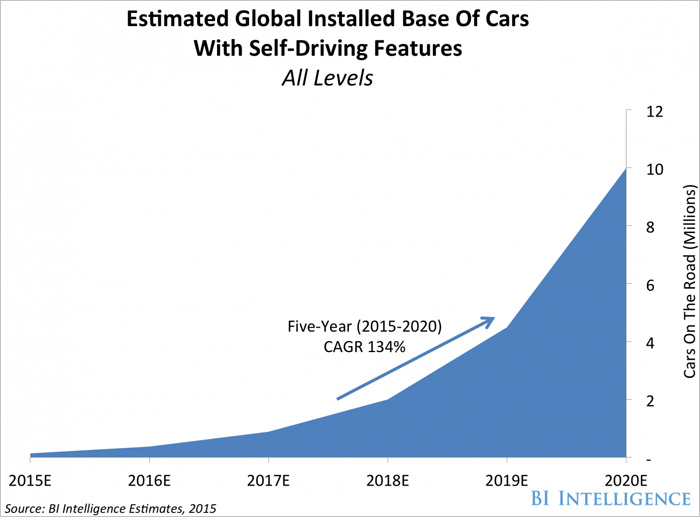 This market has so many entrants we can't even name them all. But, the leader is Tesla (NASDAQ:TSLA) with General Motors (NYSE:GM) and Ford (NYSE:F) already partnering with Lyft and Alphabet, respectively.
Nvidia (NASDAQ:NVDA), the deep learning and artificial intelligence marvel, already has contracts with over 40 automobile manufacturers and a chip with the Tesla name on it. Not to be out done, news broke about a month ago that Amazon was tapped by Germany's luxury car makers for its cloud business, with hints that Amazon (NASDAQ:AMZN) would be making its way into the advanced driver-assistance systems (ADAS) realm.
WHY THIS MATTERS
This is just the surface analysis. There's so much going on with technology it's impossible to cover in one report. But, to take it a step further and to actually find the 'next Apple' or 'next FANG stock' we have to get ahead of the curve. This is what CML Pro does. Our research sits side-by-side with Goldman Sachs, Morgan Stanley and the rest on professional terminals, but we are the anti-institution and break the information monopoly that the top .1% have.
Each company in our 'Top Picks' is
the single winner
in an exploding thematic shift like self-driving cars, artificial intelligence, Internet of Things, drones, biotech and more. In fact, here are just two of the trends that will radically affect the future that we are ahead of: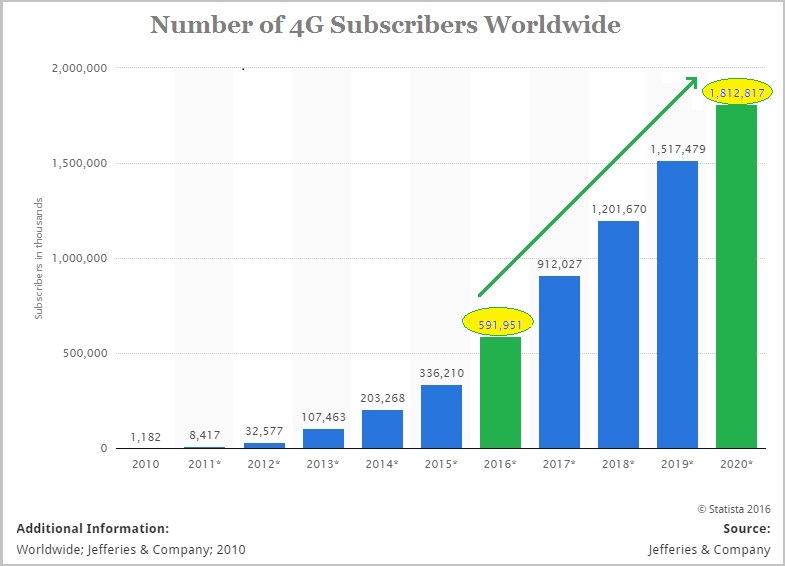 That chart plots the growth in 4G usage worldwide and how it will grow from 330 million people today to nearly 2 billion in five years. This is the lifeblood fueling every IoT and mobile device on the planet and CML Pro has named the single winner that will power this transformation. Then there's cyber security: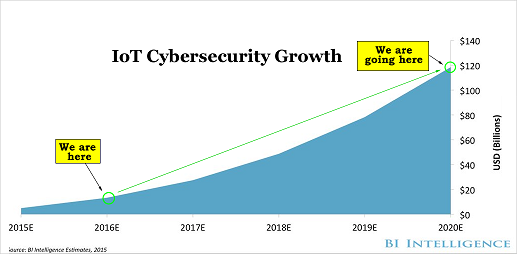 Market correction or not, recession or not, the growth in this area is a near certainty, even if projections come down, this is happening. CML Pro has named
the single best
cyber security stock to benefit from this theme.
These are just two of the themes we have identified and this is just one of the fantastic reports CML Pro members get along with all the visual tools, the precious few
thematic top picks for 2016
, research dossiers and alerts. For a limited time we are offering CML Pro at a 90% discount for $10/mo. with a lifetime guaranteed rate.
Join Us: Get the most advanced premium research delivered to your inbox along with access to visual tools and data that until now has only been made available to the top 1%.
Thanks for reading, friends.