The Secret's Out: This Tech Giant is trying to Crush Apple and Tesla

Fundamentals

PREFACE
The realm of self-driving cars is one of the most transformative and powerful themes in today's technological vernacular. While entirely self-driving vehicles are a ways off, the self-driving featured vehicle is here, right now and the growth forecasts are explosive. Here is the projected growth over the next few years: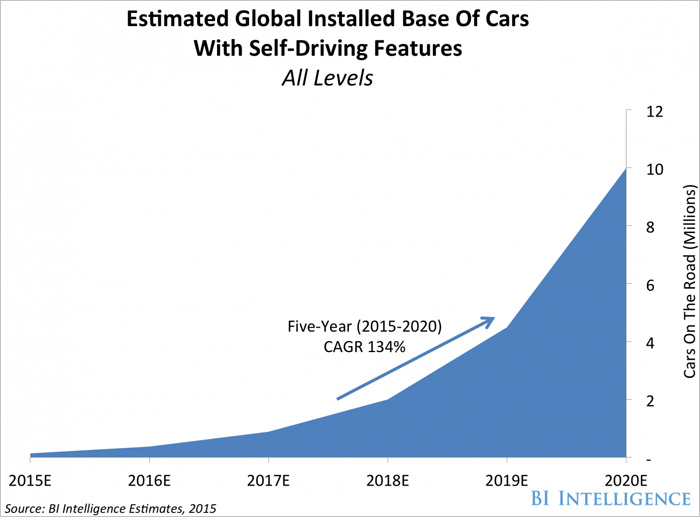 While Tesla Motors, Inc (NASDAQ:TSLA) has been in the lead and CML Pro broke news that the Apple, Inc. (NASDAQ:AAPL) car is well on its way, one mega cap tech company just took a swing at both companies and it's not a joke.
HERE COMES GOOGLE
The annual Google I/O conference was a big success for many reasons, but the critical focus was broadly on the importance and commitment Google was making to artificial intelligence. On the most recent earnings conference call, Google's CEO Sundar Pichai reminded us of this:
"
We've been investing in machine learning and AI for years, but I think we are at an
exceptionally interesting tipping point
where these technologies are really taking off.
"
Source: CNBC
While we all expected Alphabet, Inc. (NASDAQ:GOOGL) (NASDAQ:GOOG) to take the lead in the fully autonomous vehicle, none of that could have prepared us for Google's recent move into the self-driving featured car realm.
GOOGLE WANTS EVERTHING
In a recent report we found that Google doesn't just want the self driving cars of the future, it doesn't want just the self-driving cars of today, the company wants all of it, including vehicles on the road right now that have nothing to do with self-driving.
Alphabet, Inc. (NASDAQ:GOOGL) (NASDAQ:GOOG) Google discussed news on the future of Android Auto integration in cars and it was focused on the news version of Android, for now called Android N.
At the conference the new Android Auto features were on full display on a sporty Maserati Ghibli that had already been modified by Qualcomm. As the Business Insider put it:
"
Basically, it had a very Tesla-like info screen setup. Both the gauge cluster and the center stack were taken over by two massive screens that were running software called Android Auto N.
"
Source: BUSINESS INSIDER
But here's the part that stunned almost everyone.
ANDRIOD N IS TAKING OVER: ANDROID AUTO
While we know that cars that are already set up to run Google's ecosystem on Android N can have their front dash display screens completely taken over by the Google software. That means everything from simple radio functions and air conditioning and more. But that was just a touch of the news. We then learned this:
Google announced its stand-alone product called "Android Auto," an app that can be installed on any other vehicle that has a standard infotainment system. Taking a step back, this means that Google has reached down the line to much older vehicles cars that were not manufactured to work with self-driving features or Android and has now made them fair game. These vehicles can now run Android Auto and all of a sudden, a five year old car has full Android integration and the Google ecosystem proliferates.
THE GOAL
Apple has an ecosystem run on iOS, but in reality, it's an iPhone ecosystem. The iPhone is the connector to everything -- the Apple TV, the Apple Watch, the Apple Car Play service, the actual Apple Car, Apple Pay and everything else.
Google on the other hand is not focused on hardware, but rather its ecosystem of search. Google search has created the second largest company in the world and an advertising company larger than anything mankind has ever seen. Here is the company's revenue chart.
ALPHABET REVENUE (TTM)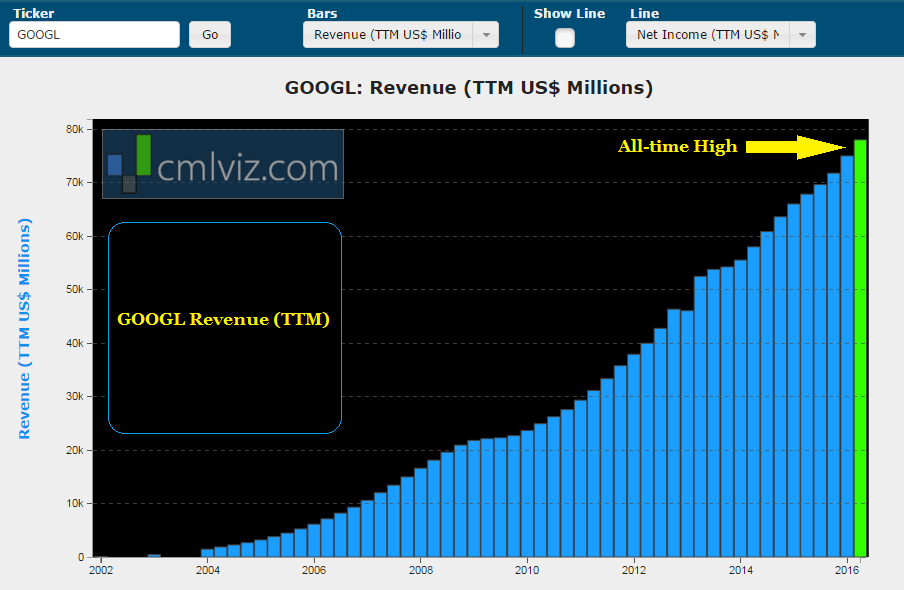 Android Auto looks to take the Google Search ecosystem to new cars, to self-driving feature cars, and now, to older car owners that want the newest technology but not a new car. The "OK Google" functionality is the direct competitor to Apple's Siri and Amazon's Echo, and now potentially hundreds of millions of cars already on the road are ready to be indoctrinated.
This was little reported, but one of the massive takeaways from Alphabet (NASDAQ:GOOGL) (NASDAQ:GOOG) Google's
active
momentum to build revenue in this futuristic realm right now. Tesla Motors, Inc. (NASDAQ:TSLA) and Apple, Inc. (NASDAQ:AAPL) just got a jolt and the winners will be the consumers.
ALITTLE SECRET
While Alphabet, Apple, Tesla and to some degree Amazon.com will battle it out in the self-driving car world, it turns out there is one company that will win no matter which of these tech giants ends up as the market leader. Each of these companies are totally and utterly dependent on the supercomputing speed that powers deep learning and what is now referred to as artificial
super
intelligence.
You can take the long odds of mining for gold and your chance for riches, or you can sell the pick-axe and shovels to the gold miners and find riches several times over. It's this technology company powering the super computers and every critical deep learning platform of the world that stands to benefit the most from the revolution in self-driving cars.
SEEING THE FUTURE
There's so much going on with Google we can't cover it all in one report. It is one of our "Top Picks" at CML. But, to find the 'next Google' or 'next Apple,' we have to get ahead of the curve. This is what CML Pro does. Our research sits side-by-side with Goldman Sachs, Morgan Stanley and the rest on professional terminals, but we are the anti-institution and break the information advantage the top .1% have.
Each company in our 'Top Picks' is
the single winner
in an exploding thematic shift like artificial intelligence, Internet of Things, drones, biotech and more. In fact, here are just two of the trends that will radically affect the future that we are ahead of: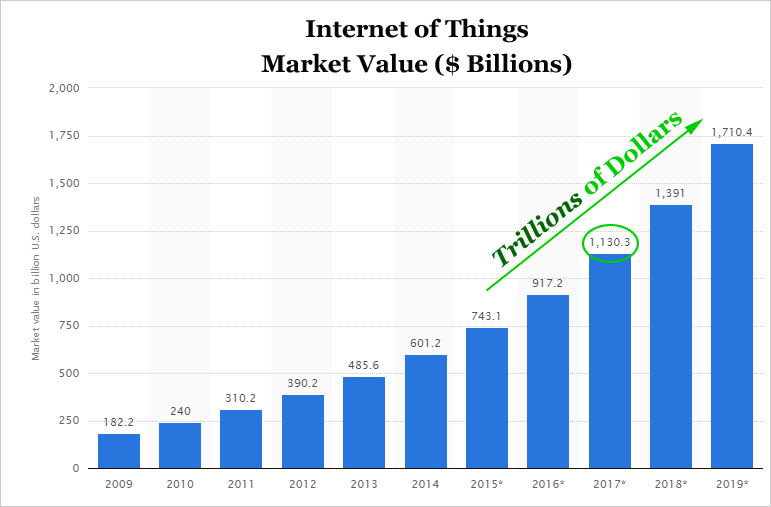 The Internet of Things (IoT) market will be measured in
trillions
of dollars as of next year. CML Pro has named the
top two companies
that will benefit. Then there's cyber security: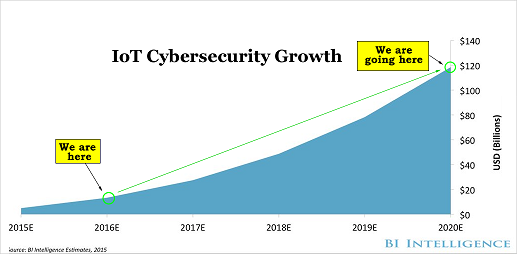 Market correction or not, recession or not, the growth in this area is a near certainty, even if projections come down, this is happening. CML Pro has named
the single best
cyber security stock to benefit from this theme.
These are just two of the themes we have identified and this is just one of the fantastic reports CML Pro members get along with all the visual tools, the precious few
thematic top picks for 2016
, research dossiers and alerts. For a limited time we are offering CML Pro at a 90% discount for $10/mo. with a lifetime guaranteed rate.
Join Us: Get the most advanced premium research delivered to your inbox along with access to visual tools and data that until now has only been made available to the top 1%.
Thanks for reading, friends.