Google Moves to Dominate Another Massive Part of Technology



Alphabet Inc. Fiber
PREFACE
Alphabet Inc. (NASDAQ:GOOGL) dominates the digital advertising landscape driven primarily its Google Search. But the company is pursuing so many other transformational themes it's almost impossible to keep track of. The company has a booming e-commerce business that will soon compete with Amazon.com Inc. (NASDAQ:AMZN). It has announced a new social media network to compete with Facebook Inc. (NASDAQ:FB), it's pushing full throttle on the technology behind artificial super intelligence and self-driving cars. It's pursuing artificial intelligence with Google Dream.
Alphabet is even pursuing a connected home with Google Home and a further push into artificial intelligence with "Tango." It's pushing the envelope with the fastest growing segment of media in the world, which is online video. You Tube has more viewers aged 18-49 on mobile alone than any U.S. broadcast or cable network.
That's an exhausting list, but now we have one more to add. Alphabet aims to be the largest high speed Internet provider in the United States.
We break news every day. Discover the Undiscovered.
Get Our (Free) News Alerts Once a Day.
ALPHABET INC. (NASDAQ:GOOGL): GOOGLE FIBER
Google has its 1 gigabyte per second fiber high speed Internet running in 22 cities in the United States, charging $70 per month for service which can be lower than current cable Internet connections. While it's the story hidden in plain sight, Alphabet is pushing forward to turn the connectivity business into a giant segment of Google in and of itself.
"
Google Fiber is a broadband Internet and cable television network that is slowly growing to a number of locations, but currently is only provided in mid-sized cities.
"
Source: TheStreet.com
We caught news on June 14th that Alphabet is looking to expand Google Fiber to Dallas, Texas. This city, in particular, is out of the ordinary because its Google's first move into a large city where it will compete directly with large cable networks. Of course, this goes beyond a city -- this is the beginning of Google taking Fiber to prime time. After the Dallas expansion, watch for Alphabet to look at Los Angeles and Chicago -- two cities that have been hinted at before by the firm.
By the time Google goes that far, the stock market will notice that there are 281 million Internet users in the United States which marks an 88% penetration. Of those people, over 56 million have a cable Internet connection. Here's the chart from our friends at Statista: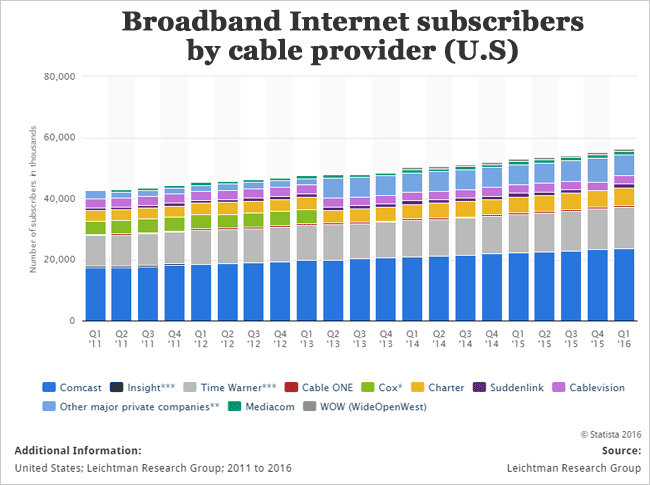 As that number approaches 60 million, the addressable market for Alphabet reaches nearly $50 billion in annual sales. Obviously Google will not own the entire market, but even a piece of that segment is not trivial to Alphabet's total revenue base of $75 billion in the last year.
WHY THIS MATTERS
The kind of growth that creates companies like Apple, and Google comes from fundamental changes in technology and the economy. At Capital Market Labs, we identify these transformations, and the companies that will benefit most from them to find the "next Apple" or the "next Google." Our research sits side-by-side with Goldman Sachs, Morgan Stanley and the rest on professional terminals, but we are the anti-institution. Our purpose is to break the information monopoly held by the top .1%.
Each company in our 'Top Picks' is the single winner in an exploding thematic shift like artificial intelligence, Internet of Things, drones, biotech and more. In fact, here are just two of the trends that will radically affect the future that we are ahead of: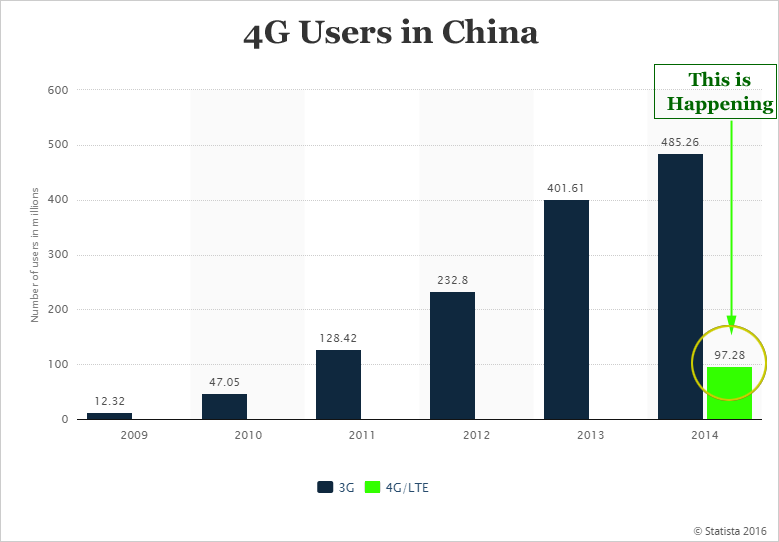 That light green colored bar (4G) is soon going to be larger than the dark colored bar (3G). 4G usage will grow from 330 million people today to nearly 2 billion in five years. CML Pro has named
the single winner
that will power this transformation. Then there's cyber security: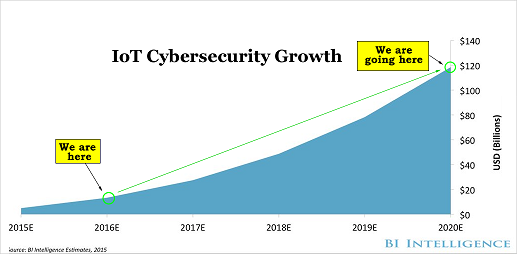 Market correction or not, recession or not, the growth in this area is a near certainty, even if projections come down, this is happening. CML Pro has named
the single best
cyber security stock to benefit from this theme.
These are just two of the themes we have identified and this is just one of the fantastic reports CML Pro members get along with all the visual tools, the precious few
thematic top picks for 2016
, research dossiers and alerts. For a limited time we are offering CML Pro at a 90% discount for $10/mo. with a lifetime guaranteed rate.
Join Us: Get the most advanced premium research delivered to your inbox along with access to visual tools and data that until now has only been made available to the top 1%.