Google and Facebook Still Have a Ton of Growth to Come
Alphabet and Facebook See Huge Mobile Advertising Gains
Preface

Alphabet Inc. (NASDAQ:GOOGL) and Facebook Inc. (NASDAQ:FB) have seen their businesses grow to new heights. At multiple points this year, Alphabet Inc. topped Apple Inc. (NASDAQ:AAPL) as the largest market cap in the world. Similarly, Facebook Inc. rose off of its last earnings results to at one point become the fifth largest company in the world.

While the two may seem as though they have vastly different strategies, in fact, they do not. These companies live and breathe by digital advertising and that appears to be a very good position to be in.

DOMINATING MOBILE ADVERTISING
Alphabet Inc. (NASDAQ:GOOGL) drives about 80% of its revenue from digital advertising. Most of that comes from the Google Search ecosystem and streaming video on demand property YouTube. If Alphabet's revenue reads as undiversified, look at Facebook Inc. (NASDAQ:FB) sees more than 95%of its revenue coming from digital advertising.

Here are the two all-time revenue charts for both companies.



Alphabet Inc. (NASDAQ:GOOGL) Revenue
Facebook Inc. (NASDAQ:FB) Revenue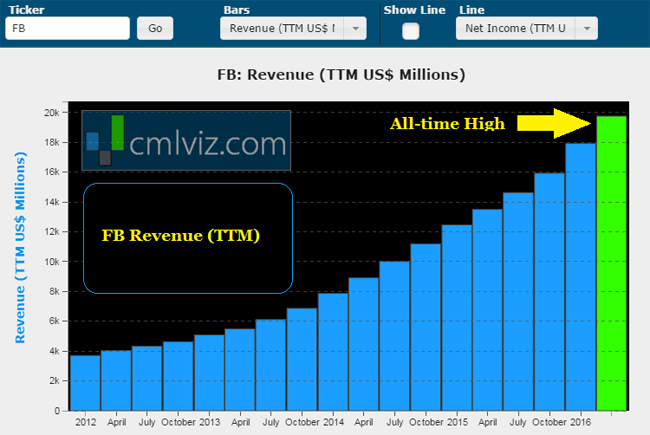 But as impressive as those trends are, it seems the tide has turned yet brighter for these two giants. Here is the breaking news.

IT'S GETTING BETTER
Interestingly, from 2007 and 2011 online ad revenue had all but stopped. The Great Recession aside, that slowed growth came as advertisers were discovering that the online landscape in general was seeing growth taper, but, it was mobile that was leading the way.



"

The single biggest area driving this new surge in online advertising is mobile, and we can expect that to continue for the next handful of years.

Industry research firm eMarketer expects the market to more than double off its 2015 numbers in just three years.

"

Source: Fool.com


Here's a chart of Facebook Inc. mobile monthly average user from our friends at Statista.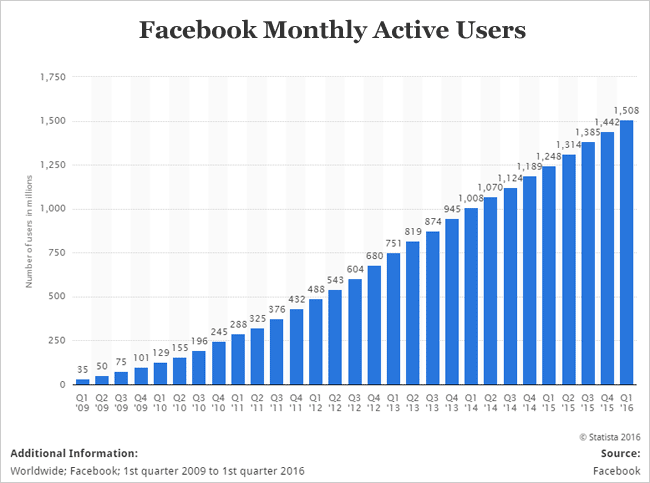 That's just the mobile world living at over 1.5 billion users. Not to be outdone, here is Alphabet Inc. Google's worldwide net mobile advertising revenue numbers.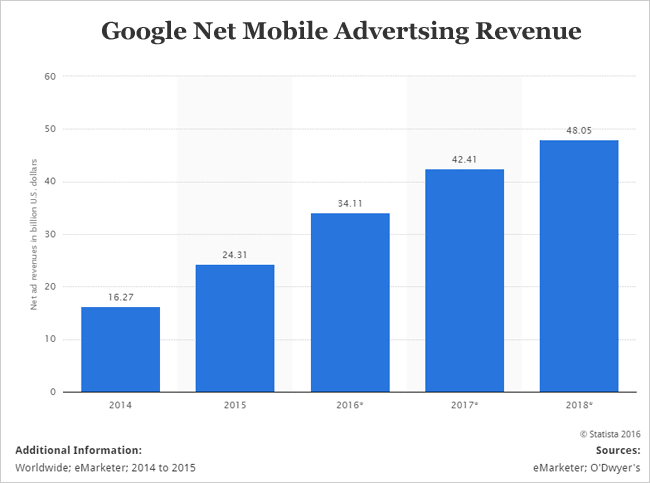 For some context, Facebook's total revenue across all venues in the last year was $19.7 billion. Alphabet will earn 70% more than that on just mobile ads this year. But the news gets yet better.

While Alphabet does not break out mobile revenue from the rest of the businesses, the company did said this on its latest earnings call: "Our very strong revenue of $20.3bn in Q1 [was] up 23% in constant currency versus last year. The primary driver was the use of Mobile Search by consumers, benefiting from our ongoing efforts to enhance the Mobile Search experience."

VIDEO ADVERTISING
With the growth in mobile advertising seen climbing yet higher, the days of stagnant growth from desktops are all but a distant memory. Both Alphabet Inc. and Facebook Inc. are faced with the likelihood of continued digital advertising growth from mobile and continued dominance of that market. Further, the video portion of that advertising element is growing even faster. Soon video advertising on mobile may be the single largest element of digital advertising in the world.

Alphabet's YouTube generates more viewers aged 18-49 than any other broadcast or cable channel in the United States on mobile alone. Facebook sees over 10 billion video views a day across its various properties. Mobile ads have proven to be very effective for advertisers and the slow move to video has turned into a revolution.

A BIGGER WINNER
Alphabet and Facebook will battle for the thrown of top advertiser, especially in video. But smaller competitors will arise, like Twitter Inc. (NYSE:TWTR) and Snapchat, just to name a couple. But there is one company that will power the online video advertising revolution and it doesn't matter if Facebook, Alphabet or Twitter take the lead, because this small cap technology marvel will be the power behind it all.

This is the opportunity so many investors say they welcome -- say they search for. The opportunity to find the "Next Apple," or the "next Google." It's happening right now in online video.

WHY THIS MATTERS
At CML we identify the revolutionary thematic transformations that are coming and then the companies that will benefit most from them to find the "next Apple" or the "next Google." The online video advertising tech company is just one of these precious few companies. Our research sits side-by-side with Goldman Sachs, Morgan Stanley and the rest on professional terminals, but we are the anti-institution. Our purpose is to break the information monopoly held by the top .1%.

Each company in our 'Top Picks' is the single winner in an exploding thematic shift like artificial intelligence, Internet of Things, drones, online video, biotech and more. In fact, here is just another of the trends that will radically affect the future that we are ahead of: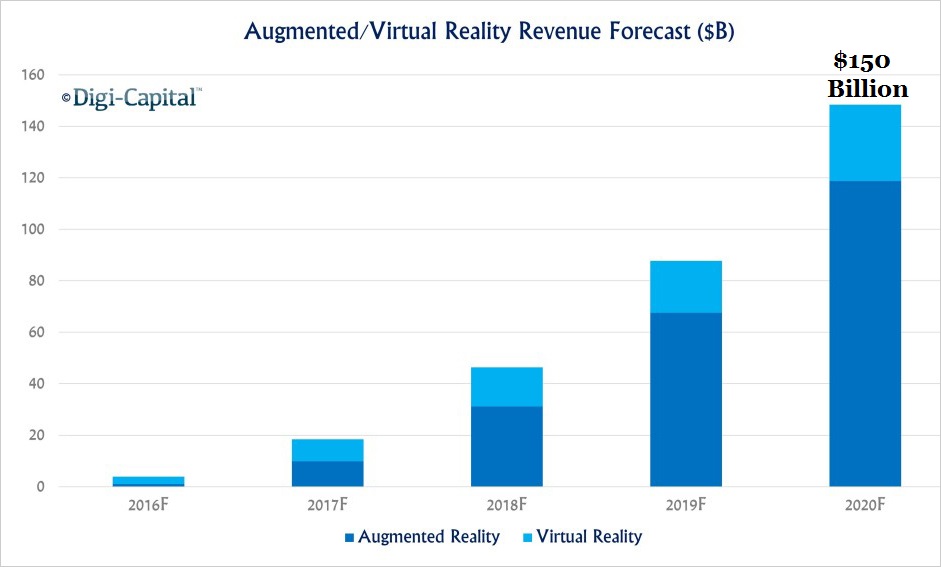 Virtual reality is one of the fundamental shifts coming in the very near future that will change how we live, work, and play. This is a technology whose consumer base looks increasingly like all of humanity. This is also the opportunity so many investors say they welcome – that say they search for. The opportunity to find the "Next Apple," or the "next Google." It lies in the depths of technology's core. It's not artificial intelligence, it's artificial super intelligence and there is one company that will rule all of it.

This just one of the themes we have identified and this is just one of the fantastic reports CML Pro members get along with all the visual tools, the precious few thematic top picks for 2016, research dossiers and alerts. For a limited time we are offering CML Pro at a 90% discount for $10/mo. with a lifetime guaranteed rate. Join Us: Get the most advanced premium research delivered to your inbox along with access to visual tools and data that until now has only been made available to the top 1%.