The Secret Is Out: Alphabet Inc is Going After China
Fundamentals

Preface

Alphabet Inc. (NASDAQ:GOOGL) is famously known for once being in China and then either leaving by choice or getting kicked out, depending on your source. Facebook Inc. (NASDAQ:FB) and Amazon.com Inc. (NASDAQ:AMZN) are also locked out of China and each are making strides to try to crack the largest single market for any company. Apple Inc. (NASDAQ:AAPL) has been the only major technology company to make it into China, and even that is now a precarious situation.

Even though Alphabet has been excluded from China, revenue has nonetheless continued its skyward trajectory.



ALPHABET GOOGL REVENUE (TTM)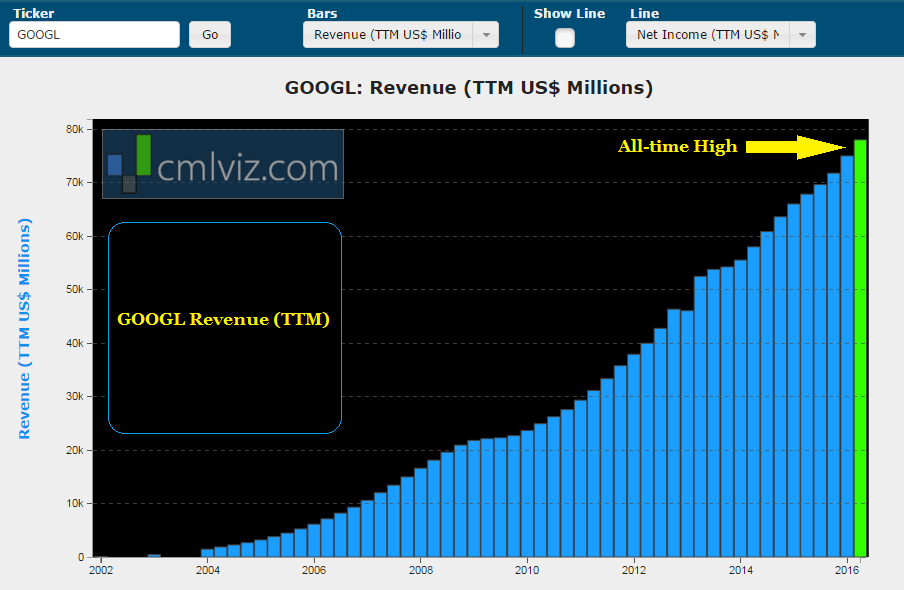 But if we take a step back, the idea that Alphabet Inc. (NASDAQ:GOOGL) Alphabet has grown this quickly, to this size, without the largest single populace of Internet users, smartphone buyers and online shoppers is nothing short of staggering. But the secret is out, Alphabet is going after china.

Here's a chart from our friends at Statista that shows the number of Internet users by country.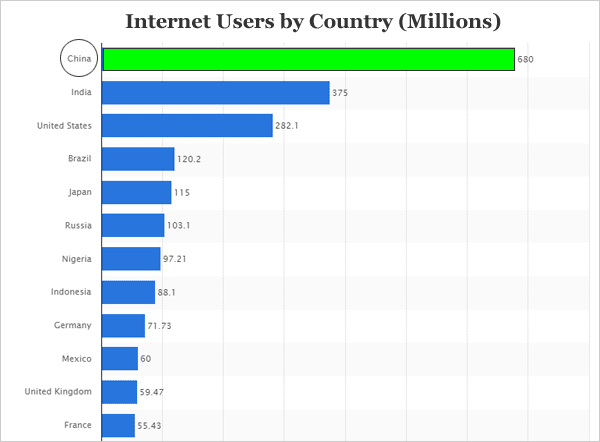 Capital Market Labs (CMLviz) broke news on May 11th, 2016 that Alphabet Inc. Google's official blog posted a rather innocuous story about its Word Lens product, stating that it would be adding Chinese to its instant virtual translation. We penned an article, "It's Hidden in the Cracks, But: Google is Going After China," which was available to CML Pro members. But today, we get the payoff of from that little tidbit.

BREAKING
Forbes reported that Alphabet Google will be opening an experience in center in Shenzhen, but other than that, the rest is shrouded in mystery. Here's how the article reads:



"

There's very little detail about the opening or what exactly the center will do, and western media haven't even carried any reports on the new center.

"

Source: Forbes


It turns out that Chinese national government inspector Liu Ji will attend the event. More than that, we don't know. But that's not true, of course. The mainstream media has stopped there, with a sniff of an entry by Google into China, but the preamble, "the moves before the moves," that point to an entry of Alphabet Google into China entry soon are wrapped up in the original dossier.

GOOGLE IS HUGE FOR CHINA
It's important to put some context into China for Alphabet Inc. (NASDAQ:GOOGL). First, the smartphone market is utterly dominated by Alphabet Google's Android -- we're looking at over 80% market share. But, Alphabet Google's global app store (Google Play) and Google Search are blocked in China.

There are 420 million mobile Internet users in China and just under a billion mobile phone users and the share of mobile phone users that are moving to smartphones is growing rapidly. Here's another chart from our friends at Statista.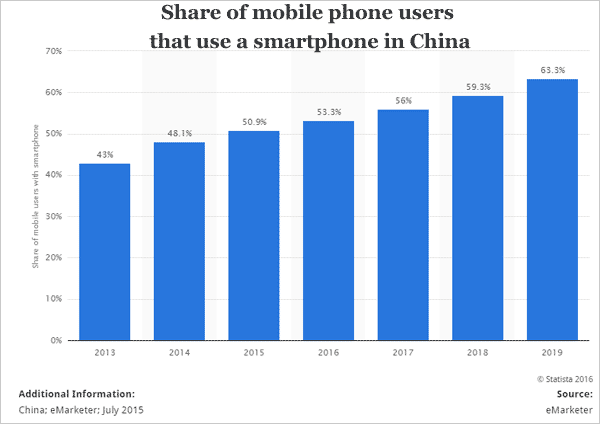 So, what we see here is that this is a two-sided relationship for China and Alphabet Inc. (NASDAQ:GOOGL) Google. China has become infamously nasty to Apple of late, going so far as to block sales of certain iPhone's due to a trademark infringement where China claims its own homegrown manufacturer first assumed ownership of certain elements of the body of the phone. We'll spare the details here, but this is just the most recent in a serious of events where China has kicked Apple in the teeth, so much so that famed investor Carl Icahn actually sold his enormous Apple Inc. (AAPL) stake, explicitly noting the added risk to China's new found aggressiveness to Apple.

The flip side to that is China's unending appetite to push technology further -- to no longer be a country used for cheap labor, but to be used for critical elements of research and development and home grown technology. A partnership with Alphabet Inc. (NASDAQ:GOOGL) means a partnership with Android, and that means an empowering move for every smartphone manufacturer that China has created.

Recall that Chinese smartphone giant Huawei became the first company in China to manufacture Alphabet Google's Nexus phones. Further, the introduction of Alphabet Google's eco system and apps would push development forward for the nationalized Chinese companies. It's a slick way for the government to undermine Apple Inc. (NASDAQ:AAPL) and its closed ecosystem (iOS) while empowering its local companies and Alphabet Google's open source operating system.

ALPHABET AND CHINA: BOTTOM LINE
Google is going to make a run for China again and it's going to be soon. While it's almost impossible to imagine market moving events that can swing GOOGL stock in any serious way other than an earnings release, make no mistake, a successful move into China could absolutely push Alphabet Google stock over one trillion in market cap over the next few years. It's still an "if," but the odds are looking pretty good for Google.

WHY THIS MATTERS
Google's monstrous revenue growth is going to come from the largest disruption in the advertising world since the advent of the television -- online video. There is one firm that is aiming to be "the Google of online video." At Capital Market Laboratories we see these trends – the ones that will create the "next Google" or the "next Facebook." Our research sits side-by-side with Goldman Sachs, Morgan Stanley and the rest on professional terminals, but we are the anti-institution. Our purpose is to break the information monopoly held by the top .1%.

Each company in our 'Top Picks' is the single winner in an exploding thematic shift like artificial intelligence, Internet of Things, drones, biotech and more. In fact, here are just two of the trends that will radically affect the future that we are ahead of: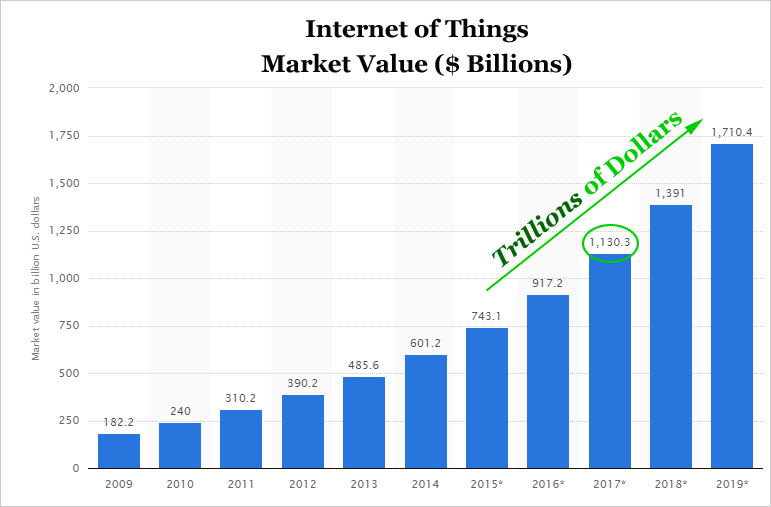 The Internet of Things (IoT) market will be measured in trillions of dollars as of next year. CML Pro has named the top two companies that will benefit. Then there's cyber security: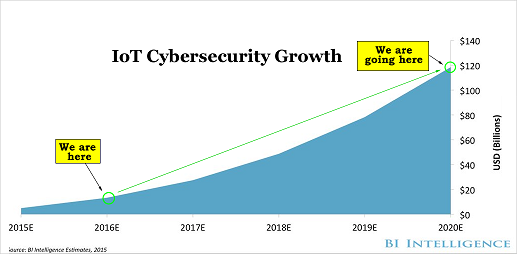 Market correction or not, recession or not, the growth in this area is a near certainty, even if projections come down, this is happening. CML Pro has named the single best cyber security stock to benefit from this theme.

These are just two of the themes we have identified and this is just one of the fantastic reports CML Pro members get along with all the visual tools, the precious few thematic top picks for 2016, research dossiers and alerts. For a limited time we are offering CML Pro at a 90% discount for $10/mo. with a lifetime guaranteed rate. Join Us: Get the most advanced premium research delivered to your inbox along with access to visual tools and data that until now has only been made available to the top 1%.