Alphabet Finally Beats Facebook
Alphabet Finally Beats Facebook
Date Published:
2016-08-24

Preface
New research shows that Alphabet has actually surpassed Facebook in the app-install advertising business, marking one of the only times ever that Google has caught Facebook from behind.

STORY
Venture Beat reported that Google has hit 3 billion app-installs and it has seen its advertising growth from that rip higher. Here is a chart from that article cited above.


Source: Venture Beat



But the story goes further, into the rarest of feats -- Alphabet has actually caught Facebook

IT HAPPENED
BI Intelligence did a great report on this and some of the data we will use comes from that story (linked to above). Here's how it plays out.

Facebook had its "F8" developer conference back in April and it announced 2 billion app installs. According to sources, Google now has 3 billion app installs. What's yet more impressive is that Alphabet was well behind Facebook in this race -- and no one has ever really caught Facebook from behind, until now.

The mobile app advertising revenue world is growing. Here's a chart that shows us the levels for 2013-2015 via Statista.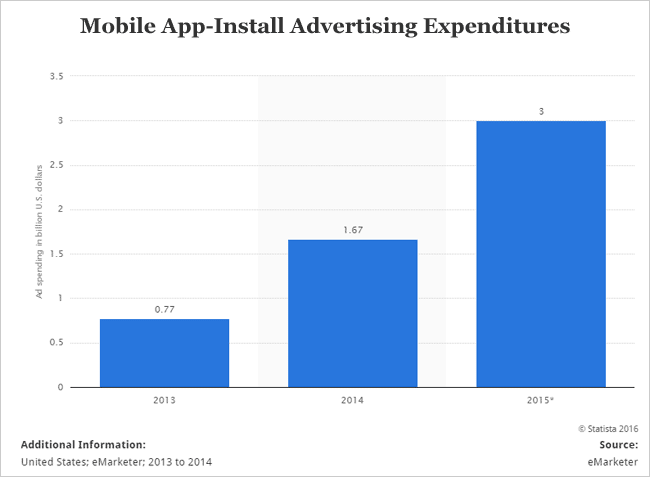 That's $770 million in 2013 up to $3 billion in 2015. BI Intelligence predicts the market will grow to $7 billion by 2019.

While the headlines will have you believing that Facebook is the leader in all things mobile, it turns out that Alphabet is in fact still the leader. But there's problem. Check out this chart, also from Statista:




While Alphabet has the lead, the problem is the direction. Facebook is seeing substantial growth in market share while Google is seeing shrinkage. That's why this news surrounding the app-install numbers and the revenue from it is so critical. This may be the first time ever that Facebook has shown a chink in the armor. Whether it lasts, we are yet to see, but for now, it's the Google chart that looks better than the Facebook chart -- and that deserves a "wow."

The author has no position in Facebook or Alphabet stocks at the time of this writing.

WHY THIS MATTERS
There's so much going on with Apple, Google and Facebook that it's nearly impossible to keep up with. But the real gems are the smaller companies that will power the technological revolutions that these three giants will get behind. These are the companies that win, no matter which of the big three own a market.

It's identifying trends and companies like this this that allows us to find the 'next Apple' or the 'next Google.' This is what CML Pro does. Our research sits side-by-side with Goldman Sachs, Morgan Stanley and the rest on professional terminals, but we are the anti-institution and break the information advantage the top .1% have.

Each company in our 'Top Picks' is the single winner in an exploding thematic shift like artificial intelligence, Internet of Things, drones, biotech and more. In fact, here are just two of the trends that will radically affect the future that we are ahead of: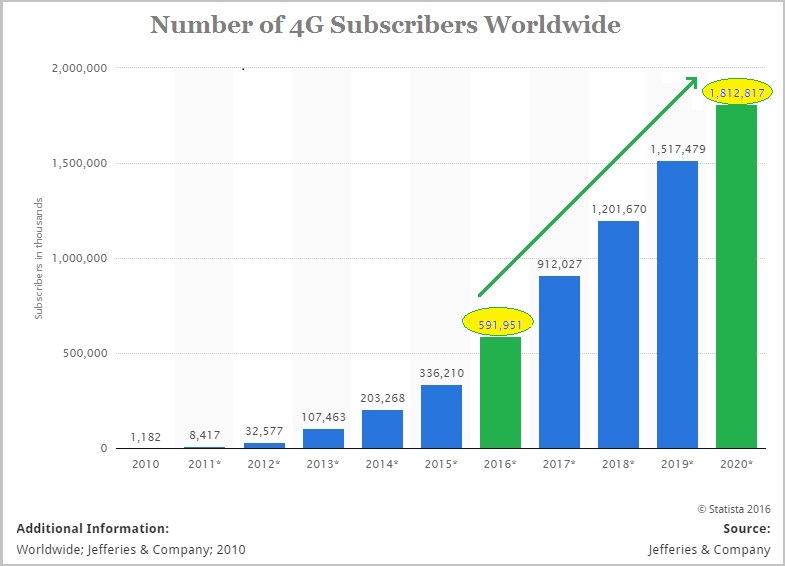 That chart plots the growth in 4G usages worldwide and how it will grow from 330 million people today to nearly 2 billion in five years. This is the lifeblood fueling every IoT and mobile device on the planet and CML Pro has named the single winner that will power this transformation. Then there's cyber security: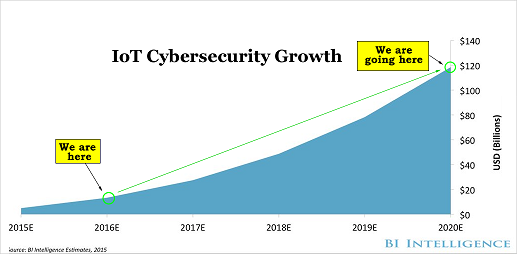 Market correction or not, recession or not, the growth in this area is a near certainty, even if projections come down, this is happening. CML Pro has named the single best cyber security stock to benefit from this theme.

These are just two of the themes we have identified and this is just one of the fantastic reports CML Pro members get along with all the visual tools, the precious few thematic top picks for 2016, research dossiers and alerts. For a limited time we are offering CML Pro at a 90% discount for $10/mo. with a lifetime guaranteed rate. Join Us: Get the most advanced premium research delivered to your inbox along with access to visual tools and data that until now has only been made available to the top 1%.