Alphabet Inc. (NASDAQ:GOOGL) Has A New Secret Weapon
Alphabet Inc. (NASDAQ:GOOGL) Has A New Secret Weapon
Date Published:
2016-10-18
Written by Ophir Gottlieb

Preface
Alphabet Inc. (NASDAQ:GOOGL) has moved into smartphones, and if successful, the company has found a wonderful diversification and perhaps a new secret weapon.

I. ALPHABET INC. (NASDAQ:GOOGL) Google is a Top Pick for CML Pro and is ripping to all-time highs today. I think that Wall Street is way behind a huge trend in Alphabet's product portfolio, and that trend is a smartphone.

First, there is a false narrative equating the smartphone market with the PC market. That is false. That narrative also spins a yarn that smartphones are a shrinking industry segment and that narrative is also false. First, here are two-charts -- the first is the projected growth of smartphones, and the second is the projected growth in personal computers (PCs).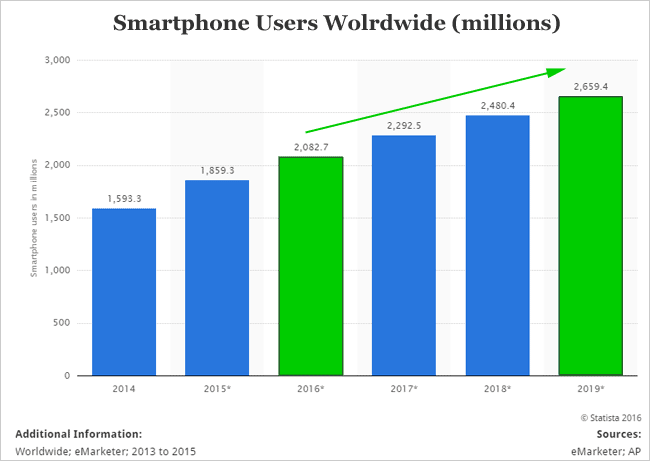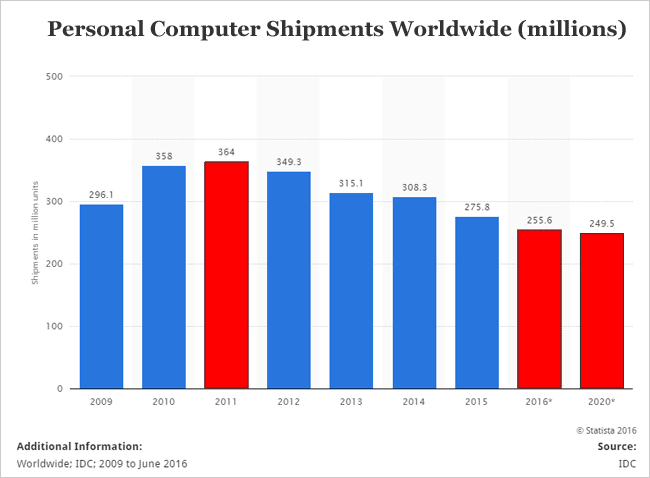 Clearly the PC market is in contraction. For smartphones, while the market is clearly beyond its prime growth days, it will still grow and the idea that the crown jewel for Apple, the iPhone, is in a declining market is false. The smartphone market will grow, the PC market will shrink.

Alphabet Inc. (NASDAQ:GOOGL) Opportunity
But, while those numbers are interesting, it's all really just conversation for Google. The company has essentially zero footprint in the smartphone market with respect to actual hardware, so even if smartphones were shrinking, the opportunity for Google is to go from "zero" to some number greater than zero, and that opportunity is big.

But, the opportunity can't be held in isolation. While the main stream media and Wall Street like to bemoan Apple's dependence on the iPhone, which makes up 65% of its revenue, Alphabet Inc. (NASDAQ:GOOGL) relies on advertising for fully 80% of its revenue. Now, Alphabet has some wonderful developments already out to market surrounding artificial intelligence and a powerful defense of its ecosystem, but adding the smartphone is both a new product line and an extension of that ecosystem with yet more control for Google.

Google's current price is at an all-time high, but if we look 3-10 years, we see a lot of great things happening for this blue-chip.

Alphabet Inc. (NASDAQ:GOOGL) Phone Risk
We must understand that simply launching a smartphone does not mean it will work. Just ask Microsoft. In fact, ask Google about Nexus. In a report from Creative Strategies we get this:

In what should shock absolutely no one, 73% of mainstream consumers in the US and the UK indicated they did not know enough about Google's new smartphone to form an opinion.

When it came to current brands in the market our respondents believed the Pixel would challenge most believed it looked like a challenger to Samsung while only a small percentage thought it looked like a viable alternative to the iPhone.

Most interestingly our study suggests Google has some convincing to do that they have credibility as a smartphone make

Source: Creative Strategies

You can read the full Google Top Pick dossier here: Google Is Turning into a Growth Engine.

CONCLUSION
In all we see some very good news for Alphabet Inc. (NASDAQ:GOOGL) and a wonderful diversification opportunity in an established market.

The author is long shares of Apple and has no position in Alphabet Inc. (NASDAQ:GOOGL).

Thanks for reading, friends.

WHY THIS MATTERS
Our research sits side-by-side with Goldman Sachs, Morgan Stanley and the rest on professional terminals. Of our Top Picks, Nvidia is up 100% since we added it. Ambarella is up 90% since we added it. Relypsa was taken over for a 60% gain and we were early to add Apple, well before the recent run up as well Google, which is now at an all-time high.

To become a CML Pro member it's just $25 a month with no contract. It's that easy -- you cancel at any time, instantly.

Each company in our 'Top Picks' portfolio is the single winner in an exploding thematic shift like self-driving cars, health care tech, artificial intelligence, Internet of Things, drones, biotech and more. For a limited time we are offering CML Pro at a 75% discount for $25/mo. with a lifetime guaranteed rate. Join Us: Get the most advanced premium research delivered to your inbox along with access to visual tools and data that until now has only been made available to the top 1%.