Alphabet Inc (NASDAQ:GOOGL) Android Takes Market Lead in Enterprise
Google's Android Takes Enterprise Lead
Date Published:
2016-12-13
Written by Ophir Gottlieb

Preface
Alphabet Inc (NASDAQ:GOOGL) has taken the lead on mobile devices for enterprise with Android, but the story goes much further.

STORY
Adam Connors (SOFTWARE ENGINEER) and Travis McCoy (PRODUCT MANAGER) posted a note to Google's official blog that highlighted Android's lead in the enterprise mobile world. The post starts simply enough:

Two years ago, we launched Android for Work to help connect organizations and enable their employees to work smarter and more efficiently.

Although the post is certainly self-serving for Alphabet Inc (as it should be), a major point is well delineated: Google's Android has become the most popular operating system on enterprise smartphones shipped globally. Here is an image from IDC: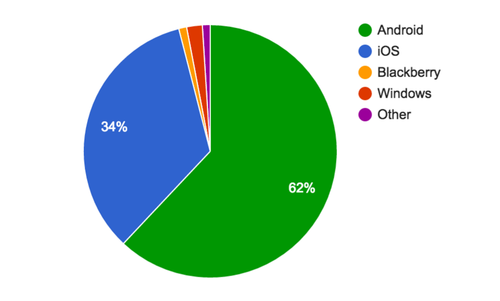 While we're used to seeing Android with 80% of the smartphone operating system market, this does look like a successful foray into enterprise for Google. But, the blog touched on a much larger opportunity for Google's parent Alphabet Inc (NASDAQ:GOOGL).

FORGET ENTERPRISE, IT'S PIXEL
In a note we posted on November 29th, "Google Pixel Has Serious Upside Potential," we discuss the rather large opportunity that Alphabet Inc has with its new smartphone, Pixel.

First, smartphone users are growing worldwide: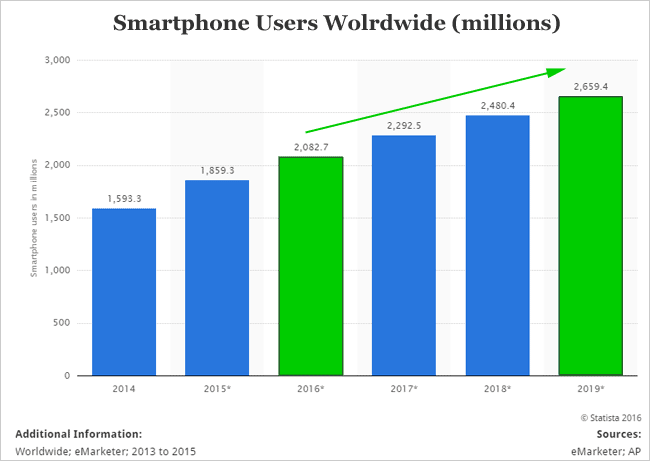 via Statista



But even further, Alphabet Inc has the benefit of having essentially zero footprint in the market, which means it has a path to success, that unlike Apple, doesn't require gigantic sales numbers, but rather just a nice humble piece of the pie.

Kyle Wiggers at Digital Trends noted that "Pixel devices claimed more than 7.5 percent of activations at Verizon stores over the past month, reported Wave7." Estimates have come in that Google may sell 4 million Pixels in the final quarter of 2016, and that could be scratching the surface of a high end market expected to see 450 million smartphone sales in 2017 (those are iPhones and Samsung Galaxy and Note phones).

On October 25th, Google noted that "pre-order demand has exceeded our expectations" when discussing the Pixel. Friends, if Alphabet Inc (NASDAQ:GOOGL) starts making headway into the high end smartphone world, it has created a legitimate diversification play away from digital advertising. Alphabet Inc's $85.6 billion in revenue over the last year could see a rather large jump if the Pixel gets even 5-%10% market share from Samsung -- the other Android high end phone.

While it's too much to cover in this report, we not that Alphabet Inc has made it quite clear that revenue from the Pixel goes well beyond the actual hardware sales, into the furthering of the Google ecosystem, in particular, Google Search.

The author has no position in Alphabet Inc (NASDAQ:GOOGL).

WHY THIS MATTERS
If you enjoyed learning about this future trend in technology and Google, this may be up your alley: Our research sits side-by-side with Goldman Sachs, Morgan Stanley and the rest on professional terminals. Of our Top Picks, Nvidia is up 180% since we added it. Ambarella is up 60% since we added it. Relypsa was taken over for a 60% gain and we are already up on Twitter when we added it to Top Picks for $15.60.

To become a CML Pro member it's just $19 a month with no contract. It's that easy -- you cancel at any time, instantly.

Each company in our 'Top Picks' portfolio is the single winner in an exploding thematic shift like self-driving cars, health care tech, artificial intelligence, Internet of Things, drones, biotech and more. For a limited time we are offering CML Pro for $19/mo. with a lifetime guaranteed rate. Get the most advanced premium research along with access to visual tools and data that until now has only been made available to the top 1%.