Alphabet Inc (NASDAQ:GOOGL) Google Search Makes Mobile Move
Alphabet Inc Google Search and Mobile
Written by Ophir Gottlieb; Date Published:
2017-01-18

Preface
Alphabet Inc (NASDAQ:GOOGL) Google has made a subtle change to Google Search, but the intent is clear: win mobile and beat Facebook Inc (NASDAQ:FB).

STORY
On Google's official blog, the company announced that it has tweaked Google Search to better perform on mobile. Specifically, the company noted that:

"Now on the Google app for Android, even if your search fails, Google will deliver your results as soon as a connection is available-so you can keep searching with a single tap."

The idea is simple enough, Google Search will store the requests and deliver them when possible. The company made it explicitly clear that "this feature won't drain your battery, and [] it minimally impacts data usage."

So does this even matter? Yeah, it really does, and here's why.

WHAT'S REALLY GOING ON
Alphabet Inc (NASDAQ:GOOGL) isn't just playing around with the crown jewel that is Google Search for fun. No, for the first time ever, Alphabet Inc generated more revenue from mobile than desktop. Here's a great chart from eMarketer (United States only):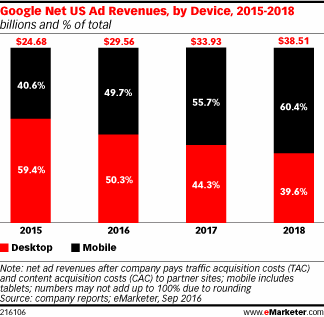 Not only has Google Search turned the corner (and never to look back) on mobile as the leader, but worldwide it's not even close anymore. About 59.5% of Alphabet Inc's net global ad revenues will come from mobile internet ads in 2016 and that's a rise from just under 46% in 2015.

But this goes even further. While Alphabet Inc owns the search world through Google, Facebook Inc (NASDAQ:FB) is the undisputed champion (already) for display ads. And, if you want to see a mobile heavy business, then look no further than Facebook Inc.

FACEBOOK IS MOBILE
In the Facebook Inc (NASDAQ:FB) most recent earnings report, the company noted that mobile now makes up 84% of advertising revenue. Yep, Facebook is a mobile first company, and everything is driven by its suite of apps, namely Facebook Proper, Facebook Messenger, Instagram, and WhatsApp.

Now we can see Alphabet Inc (NASDAQ:GOOGL) focusing the single crown jewel of its existence, Google Search, yet more on mobile. The introduction (and proliferation) of Android was the start for Google. Now it's making quiet, but noteworthy changes to search for mobile optimized performance.

WHAT'S NEXT
Given the radical innovation that is online video, we wouldn't be surprised to see Alphabet Inc make some changes to YouTube for mobile as well -- much like Netflix is trying. Here is the impact of YouTube on Google's revenue: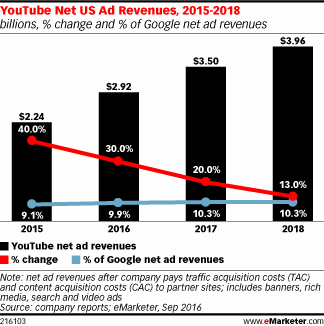 Source:

eMarketer



YouTube is on the verge of being more than 10% of Alphabet Inc's total ad revenue. I'd say, look mobile, and look there soon.

The author has no position in Alphabet Inc (NASDAQ:GOOGL) or Facebook Inc (NASDAQ:FB).

WHY THIS MATTERS
If you enjoyed learning about Google and Facebook but actually being ahead of the curve, this may be up your alley: Our research sits side-by-side with Goldman Sachs, Morgan Stanley and the rest on professional terminals. Of our Top Picks, Nvidia is up 225% since we added it. Ambarella is up 50% since we added it. Relypsa was taken over for a 60% gain and we are already up on Twitter when we added it to Top Picks for $15.60.

To become a CML Pro member it's just $19 a month with no contract. It's that easy -- you cancel at any time, instantly.

Each company in our 'Top Picks' portfolio is the single winner in an exploding thematic shift like self-driving cars, health care tech, artificial intelligence, Internet of Things, drones, biotech and more. For a limited time we are offering CML Pro for $19/mo. with a lifetime guaranteed rate. Get the most advanced premium research along with access to visual tools and data that until now has only been made available to the top 1%.