Alphabet Inc is Coming After Amazon.com and Microsoft in the Cloud
Google is Sharpening Its Teeth for a Bite at The Cloud
Date Published:
2017-02-27
Written by Ophir Gottlieb

Preface
The cloud revolution is coming, and Alphabet Inc (NASDAQ:GOOGL) is openly going after the two leaders: Amazon Inc (NASDAQ:AMZN) and Microsoft Corporation (NASDAQ:MSFT).

STORY
While the cloud has become more like a colloquialism than a name for a technology, the tailwinds to this technological shift are simply unstoppable at this point. There is too much data and too many connected devices even today, not to speak of the absurdity that is to come, to not have a machine learning driven technology to balance the needs of every website, every app, all the data in complete harmony. Enter the cloud.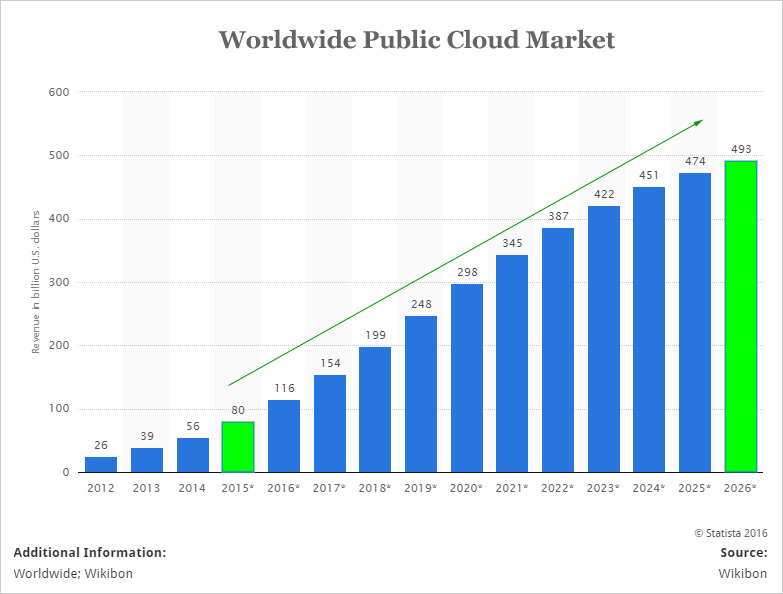 The worldwide public cloud market is forecast to rise from $154 billion this year to nearly half a trillion dollars by 2026. Right now, there are two distinct leaders. Amazon.com Inc (NASDAQ:AMZN) is the undisputed leader and right behind the e-commerce giant is Microsoft Corporation (NASDAQ:MSFT). Here is a market share chart: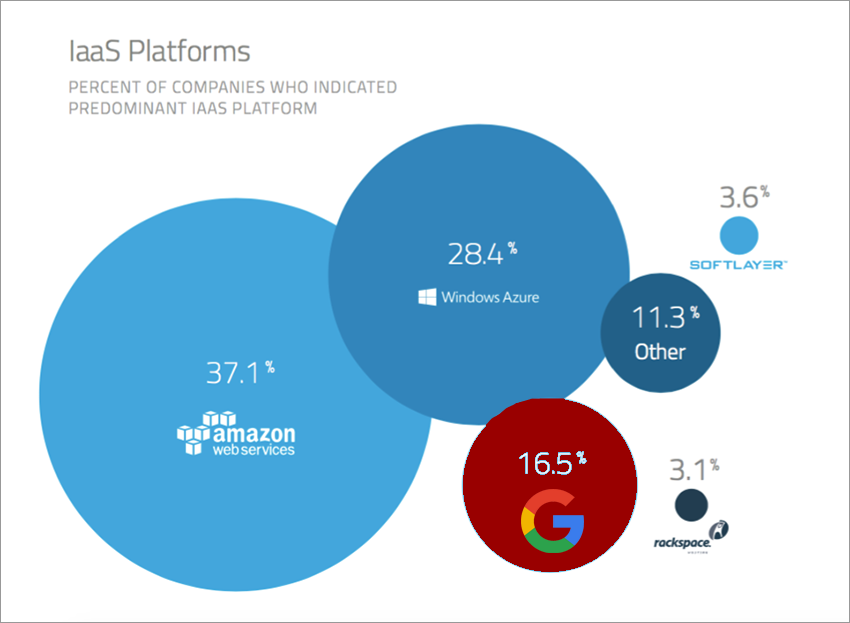 (Source:

SkyHighNetworks.com

)



While the mainstream media will talk about the battle between Amazon.com and Microsoft Corporation, the third place company is none other than Alphabet Inc (NASDAQ:GOOGL), and while trailing, let us never forget that it is the second largest company in the world, it relies heavily on its search advertising business, and it is getting aggressive about diversifying that revenue stream and that could be a serious risk to Amazon.com (NASDAQ:AMZN).

ALPHABET INC
While digital advertising is the kingpin in Google's empire, the segment is finally showing slowing growth as echoed by both Alphabet Inc and Facebook. Even further, Google's search revenue is seeing increased competition from mobile search.

Add to that the very clear intentions of Apple (NASDAQ:AAPL) with its voice activated Siri, and we have the makings of trouble. But, of course, Alphabet Inc is ahead of the curve, not behind it.

Quietly Google has submitted some of the most impressive, if not bizarre, patent filings with respect to data hosting and the cloud. Here is one rendering:




Google may be taking the technology behind cloud computing to the absolute ends of human knowledge. Another under reported story revealed that Apple (NASDAQ:AAPL) moved half a billion dollars of business away from Amazon.com's cloud (AWS) to Google last year in what we assume is the beginning of a competitive stance that Apple will take by entering the cloud business itself.

Now that Alphabet has broken out a segment of the company that is dedicated to the growing needs of the cloud called "The Google Cloud," the company's intentions are rather clear.

ANALYTICS AND MACHINE LEARNING
In 2015, Alphabet Inc (NASDAQ:GOOGL) brought in the co-founder of VMware, Diane Greene, to head its cloud segment. She recently spoke at a Goldman Sachs conference and said this:



The enterprise has to lean into data and that's what Google was built for. With machine learning and data analytics, we're in the sweet spot of where enterprise customers are going.



While Wall Street has bemoaned Alphabet Inc's late entry and their apparent lack of a competitive advantage to AMZN and MSFT, when taken as a holistic entity, we could argue that there is no company better suited to deliver unparalleled analytics and there is certainly an argument that no company has done as much as quickly as Alphabet Inc has done with machine learning and artificial intelligence, save for chip marvel Nvidia.

With Amazon pulling about 60% of its operating income from its cloud business, even though it makes up less than 10% of revenue, the cloud war is going to be a critical one.

A BETTER BET
As the tech titans war over the cloud business, and that includes what feels like an inevitable entry by Apple (NASDAQ:AAPL), there's another way to play this thematic revolution in technology. Behind every cloud, every connected computer, is a routing and switching system. It sounds boring, but this is the business that Cisco has turned into a $150 billion market cap.

But there's a new player -- a young, sparkling technology company that just crossed $1 billion in revenue, and this company is the pick-axe to the cloud computing gold rush. In all the haste to pick a cloud winner, don't forget the company that aims to power every cloud, irrespective of the tech giant that owns it.

The author is long shares of Apple (NASDAQ:AAPL) and has no position in Alphabet Inc (NASDAQ:GOOGL), Amazon.com Inc (NASDAQ:AMZN) or Microsoft Corporation (NASDAQ:MSFT).

WHY THIS MATTERS
If the kind of research we touched on with the cloud grabs your attention, then what we offer may be up your alley: Our research sits side-by-side with Goldman Sachs, Morgan Stanley, Barclays, JP Morgan, and the rest on professional terminals as a part of the famed Thomson First Call group. We do this research several times a week and we also have a list of spotlight companies. We aim to find the companies that will be the "next Apple," or the "next Google" by diving deep into the trends that will shape the future and finding the lesser known companies that will power them.

Each company in our 'Top Picks' portfolio is the winner in an exploding thematic shift like self-driving cars, mobile data and connectivity, health care tech, artificial intelligence, Internet of Things, drones, biotech and more. For a limited time we are offering CML Pro for $19/mo. with a lifetime guaranteed rate and you cancel at anytime with no notice. Get the most advanced premium research along with access to visual tools and data that until now has only been made available to the top 1%.