alphabet, Google, GOOGL, GOOG, FB, AAPL, AMZN, NVDA, growth, year, billion, revenue, company, expenses
Alphabet Inc (NASADQ:GOOGL) Beats, Opportunity Spikes

Alphabet Inc (NASADQ:GOOGL) Beats, Opportunity Spikes
Date Published:
2018-04-27

Written by: Ophir Gottlieb

This is a snippet from the original CML Pro dossier published on 4-24-2018.

LEDE
Spotlight Top Pick Alphabet reported an earnings beat, but the stock is down on concerns of new and rising expenses which the company said would mean lower profitability in the near-term. In our view, the rising expenses are bullish, not bearish, and we see Alphabet in an even stronger position than it once was.

STORY
Let's just start with the earnings results:

Revenue: $31.16 billion versus estimates of $30.36 billion. This is a little inflated because we usually subtract traffic acquisition costs (TAC). With that, the revenue number was $27.76 billion versus estimates of $24.26 billion.

Adjusted EPS: $9.93 versus estimates of $9.28.

Other Revenues: $4.35 billion, up from $3.27 billion in Q1 last year.

TAC as a % of Revenue: 24%

TAC has been creeping up recently and has some analysts spooked. This quarter's number was higher yet again, driven primarily (it is believed) by Apple. But there does seem to be stability.




In general, the quarter was excellent and Alphabet's growth has jumped back to over 20%, after falling to the sub 15% level a few years ago. None of that was the issue -- the issue was that Alphabet alerted the world that it would be increasing expenses in capital expenditures (CapEx) to pursue, what it sees as, great opportunities ahead in the search, YouTube, Cloud, cars, health, and perhaps some 'other bets.'

Think about the alternative to this narrative -- that Alphabet would have reported expenses would drop because it saw no growth opportunities.

We feel like this increase in expense is bullish -- that the diversification away from just ads could make Alphabet perhaps the most diversified mega tech company in the world, which is still singularly focused on artificial intelligence, throughout these opportunities. That is to say, it is directed and consistent growth opportunities.

Even further, we have the circumstantial evidence that increased expenses are creating growth -- just look at the numbers. Below we have charted year-over-year revenue (TTM) growth (which you can get freely from www.cmlviz.com).

Again, this is the year-over-year revenue growth % -- not actual revenue, which has always been climbing.




That dip in late 2015 was quite scary and the resulting up tick has been the evidence that, yes, Alphabet does know where to invest, and yes, it has growth still, even at its colossal scale.

We can also compare it to its tech giant peers. This is a scatter plot of one-year revenue growth for tech companies larger than $250 billion in market cap.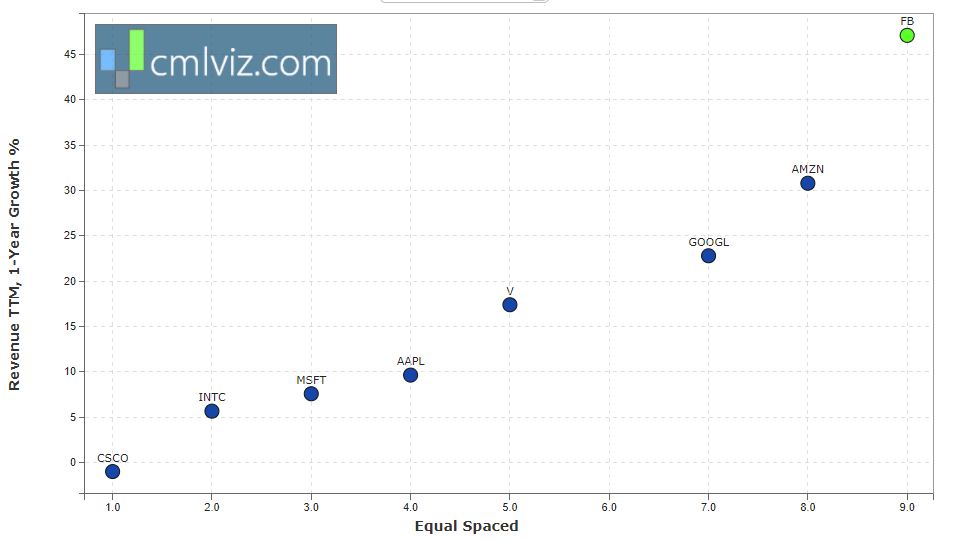 We can see Facebook at the top, but that growth is slowing -- as Facebook has noted rather bluntly and is utterly undiversified -- 99% of revenue comes from ad sales. Next is Amazon, but that number is not organic growth -- Amazon acquired Whole Foods and its $16 billion a year in revenue.

GOOGL stands head and shoulders above AAPL, MSFT, INTC and CSCO -- the remaining mega cap tech peers and now the company is saying, out loud, there is more growth to come.

CFO Ruth Porat said rather bluntly, when addressing rising CapEx (our emphasis is added):



I wouldn't suggest an one-off in terms of the investment we're making. We're really building out to support the growth that we're seeing.

Our commitment to growth is evident in the trend in CapEx investment, almost equally split this quarter between compute capacity and facilities.

We have a clear set of exciting opportunities ahead, and our strong growth enables us to invest in them with confidence.



She went on to say that "the opportunity set ahead of us is quite extraordinary, and we remain focused on investment to support long-term revenue and profit growth."

CEO Sundar Pichai said Google's new hardware unit (Pixel smartphone, Nest, Google Home), which builds smartphones and speakers rivaling Amazon and Apple, is two to three years from "the scale that we want to see."

Google's cloud-computing service will likely generate as much as $2.5 billion in sales this year, according to Forrester Research estimates. Almost all of the increased CapEx went to invest in newer cloud and consumer-device businesses.

Purchases of plant, property and equipment (PPE) more than doubled year-over-year to $7.3 billion -- that sounds like servers and land for the cloud.

We leave everyone to form their own opinion -- we read that as bullish, and we have empirical data to support it.

As for the ad business -- the part of the company that drives most of the company, Alphabet said the number of "paid clicks" on its properties was higher by 8% compared with Q4's level, and rose 59% from a year earlier. While the average price paid declined by 7% from the prior quarter and by 19% from the year-earlier period, that's still massive growth for a company this large.

EARNINGS CALL
Here are the highlights we would like to share from the actual earnings call:

* We delivered ongoing strong revenue growth, up 26% year-on-year and up 23% in constant currency.

* The sustained outstanding performance in sites revenues, in particular, reflects the combined benefits of innovation and secular growth, with mobile search again leading the way.

* Robust growth in network revenues was again led by our programmatic business.

* Other revenues for Google were $4.4 billion, up 36% year-over-year fueled by cloud, hardware and Play.

* [O]ur performance was strong again in all regions.

* Operating expenses were $10.7 billion, up 27% year-over-year, with the biggest increase in R&D expenses reflecting our continued investment in technical talent.

* We ended the quarter with cash and marketable securities of approximately $103 billion.

* At Waymo, we have achieved 5 million miles of driving on city streets, adding the latest million in just 3 months.

* We also announced a long-term partnership with Jaguar Land Rover for their fully electric I-PACE vehicles.

* We're pleased with the continued momentum of our revenue growth again this quarter, reflecting strong underlying trends across our business, which are amplified by our relentless focus on innovation

* Google Home continues to be super popular, and we are making it available in many more countries.

* There's great momentum across our computing platforms, like Android and Chrome.

* YouTube is delivering great results for our advertisers.

* We are also making long-term investments in our offices and data centers around the country.

SEEING THE FUTURE
It's understanding technology that gets us an edge. This is what CML Pro does. We are members of Thomson First Call -- our research sits side by side with Goldman Sachs, Morgan Stanley and the rest, but we are the anti-institution and break the information asymmetry.

The precious few thematic top picks for 2018, research dossiers, and alerts are available for a limited time at a 80% discount for $29/mo. Join Us: Discover the undiscovered companies that will power technology's future.

Thanks for reading, friends.

Legal
The information contained on this site is provided for general informational purposes, as a convenience to the readers. The materials are not a substitute for obtaining professional advice from a qualified person, firm or corporation.
Consult the appropriate professional advisor for more complete and current information. Capital Market Laboratories ("The Company") does not engage in rendering any legal or professional services by placing these general informational materials on this website.
The Company specifically disclaims any liability, whether based in contract, tort, strict liability or otherwise, for any direct, indirect, incidental, consequential, or special damages arising out of or in any way connected with access to or use of the site, even if we have been advised of the possibility of such damages, including liability in connection with mistakes or omissions in, or delays in transmission of, information to or from the user, interruptions in telecommunications connections to the site or viruses.
The Company make no representations or warranties about the accuracy or completeness of the information contained on this website. Any links provided to other server sites are offered as a matter of convenience and in no way are meant to imply that The Company endorses, sponsors, promotes or is affiliated with the owners of or participants in those sites, or endorse any information contained on those sites, unless expressly stated.