The Secret's Out: It's Time to Buy These Biotech Marvels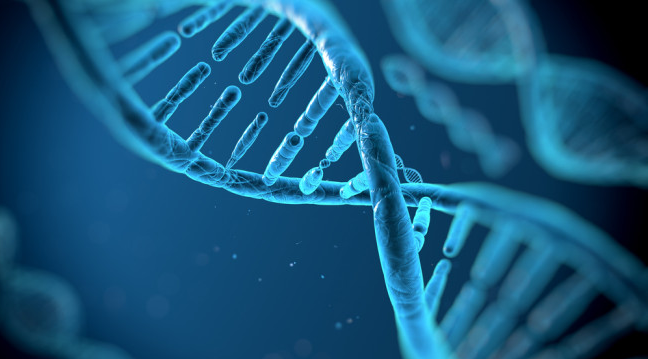 Biotech
Our purpose is to provide institutional research to all investors and break the information monopoly held by the top .1%.
PREFACE
Here's a breathtaking fact: The IBB (Biotech Index) went down 33% from peak to trough during the "Great Recession." The IBB is now down 40% from peak to trough in the last few months, and we haven't even seen a real correction in the broader market. In fact, The Dow Jones Industrial Average is up on the year.
Here is how some of the great companies in this segment have fallen from their highs: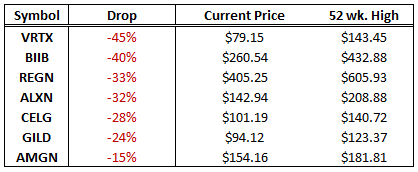 While the rest of the market is seeing slower earnings and revenue growth, and the private equity world is seeing "unicorns" get hammered, biotech is neither of these phenomena. The political landscape is partially a driver but biotech is booming and this recent sell-off may be one of the greatest opportunities in a decade to participate in the radical innovation coming from this industry.
Let's take a look at what's really happening with the top companies.
GILEAD
The stock is down nearly 25% from its highs, but this is what revenue looks like:
Revenue is up 31% year-over-year. Now, there is a deeper story behind Gilead surrounding new competitors to its massive HCV, HIV and hepatitis franchises, but let's not lose the forest for the trees -- Gilead is crushing it. Here's a chart of revenue per employee for all biotechs larger than $15 billion:
Gilead generates over $4 million in revenue per employee and no other biotech in this peer group is even at $1.5 million. Need more data? Try this: This next chart plots the number of phase III trials each firm has that are ongoing. Phase III trials are the final tests prior to FDA approval:
Now, many of these trials are for already existing drugs in an effort to expand their labels for other maladies, but again, let's not lose the forest for the trees. Does getting this stock at a 25% discount feel like a potential investment opportunity?
Discover the undiscovered:
Get Our (Free) News Alerts Once a Day.
CELGENE
The stock is down 28% from its highs, but this is what revenue looks like:
Revenue stands at $9.2 billion and is up 21% in the last year. Even further, Celgene released forecasts all the way out to 2020 and the firm estimates revenue will hit $21 billion in five years. Totally nuts? Well, try this: last year Celgene forecasted revenue for 2020 as well and came out with $20 billion. That means with one year more visibility the company actually
raised
that ridiculous growth number.
This next chart plots the number of phase II trials each firm has that are ongoing. Phase II trials are the second to final tests prior to FDA approval:
Celgene has the single largest pipeline of drugs in Phase II studies than any other biotech, is growing revenue by 20% a year and has forecasts out to more than double total revenue within five years. It has four "blockbuster" drugs generating over $1 billion in sales each to go along with its fantastic pipeline.
OTHER TOP BIOTECHS
We can actually go through this exercise for a handful of other biotech marvels. Revenue is booming, pipelines are rich, stock prices are crushed. Below we just quickly post the revenue charts for several of the other top biotechs.
Of course, further analysis is needed than a few charts, and that's what we do at CML Pro -- get into the guts of how these companies make money. But just a taste from Gilead and Celgene above, and then a smattering of other charts below for the other biotech marvels, and we can see that the focus on selling biotechs has created a wonderful opportunity.
Here are some revenue charts to breeze through:
Amgen (AMGN)
Source:
CML Pro
Biogen (BIIB)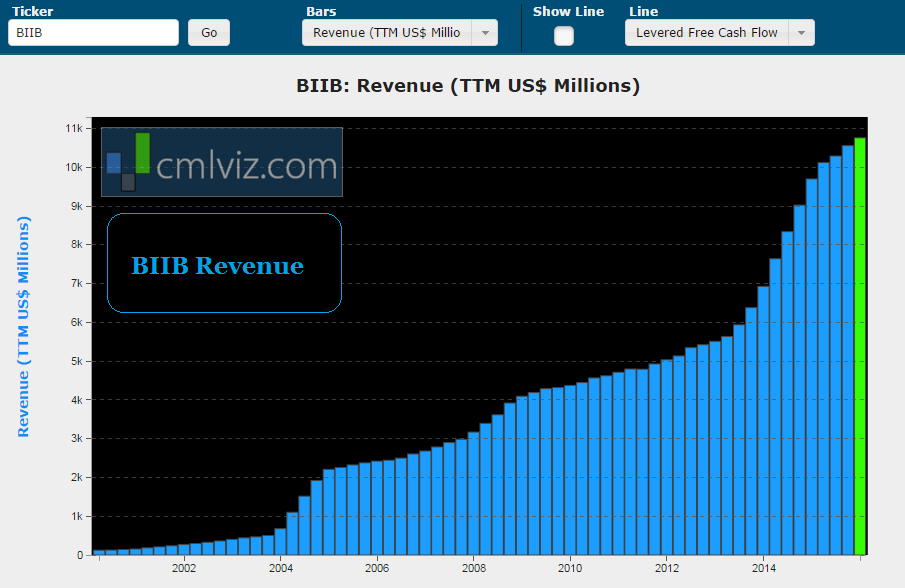 Source:
CML Pro
Regeneron (REGN)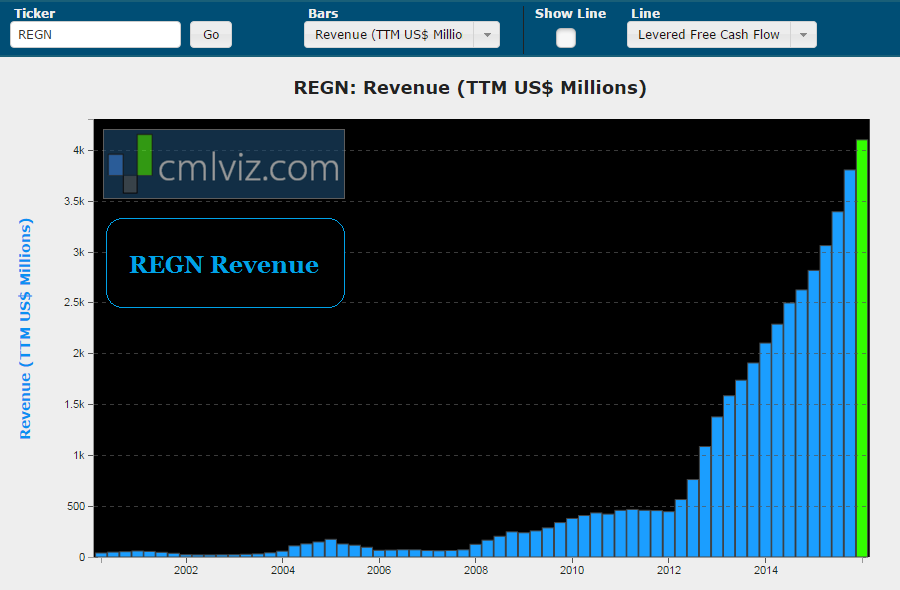 Source:
CML Pro
Taking a more holistic approach: Here are the biotechs growing revenue the fastest over the last year ranked in one chart:
WHY ANY OF THIS MATTERS
To find the best biotech and then to go a step further and broaden our horizons to find the 'next Gilead' or even better yet, the 'next Apple' we have to get ahead of the curve. This is what CML Pro does. Our research sits side-by-side with Goldman Sachs, Morgan Stanley and the rest on professional terminals, but we are the anti-institution and break the information advantage the top .1% have.
There are 16 precious few 'Top Picks' for CML Pro. Each company identified as
the single winner
in an exploding thematic shift like healthcare, artificial intelligence, Internet of Things, drones, biotech and more. In fact, here are just two of the trends that will radically affect the future that we are ahead of: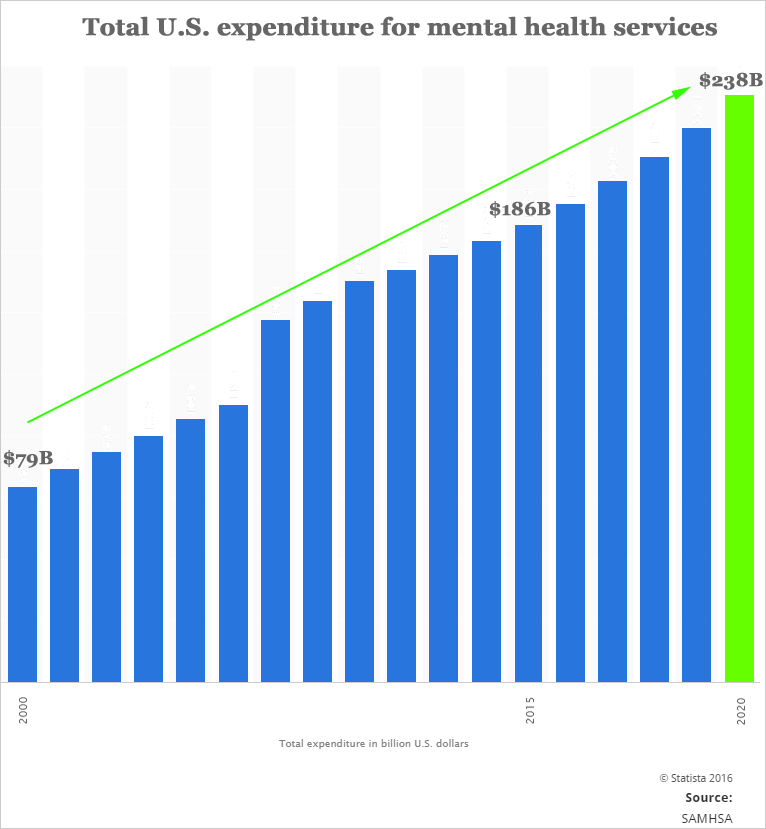 The mental health market will hit nearly a quarter
trillion
dollars within five years. CML Pro has named the
top company
that will benefit. Then there's cyber security.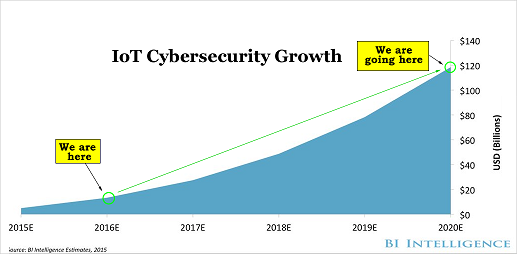 Market correction or not, recession or not, the growth in this area is a near certainty, even if projections come down, this is happening. CML Pro has named
the single best
cyber security stock to benefit from this theme.
These are just two of the themes we have identified and this is just one of the fantastic reports CML Pro members get along with all the visual tools, the precious few
thematic top picks for 2016
, research dossiers and alerts. For a limited time we are offering CML Pro at a 90% discount for $10/mo. with a lifetime guaranteed rate.
Join Us: Get the most advanced premium research delivered to your inbox along with access to visual tools and data that until now has only been made available to the top 1%.
Thanks for reading, friends.