An Interesting Look at Medical Cannabis
An Interesting Look at Medical Cannabis
Date Published:
2016-11-17
Written by Ophir Gottlieb

Preface
The Medical Marijuana industry looks set to see rather large growth in the near future, with projections in sales going from about $4 billion in 2014 to over $11 billion by 2020. But, finding the right stock to invest in is a serious problem. These assets generally trade as penny stocks and no strong history to back them. I found an interesting side-door to investing in the industry that I'd like to share.

INNOVATIVE INDUSTRIAL PROPERTIES
If you go to https://dealroadshow.com, you will see an item for a company called Innovative Industrial properties -- a company set to IPO next week on the NYSE under symbol IIPR. The offering is in fact for a real estate company for the medical-use cannabis industry.

This is an interesting one, because it obviously has exposure to the cannabis trend, but has a more diversified approach by working within the realm of real estate or in English, "to acquire real estate and lease to medical-use cannabis cultivators."

Here are some slides straight from their roadshow deck. First the "idea:"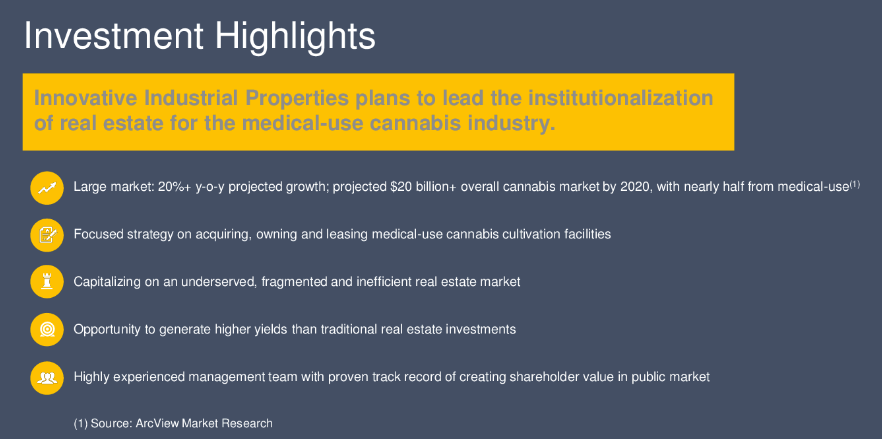 Next we can see the projections for the medical cannabis market -- this is not the market for real estate.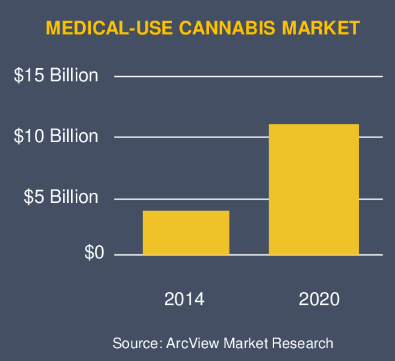 That growth is coming from a pretty simple driver -- medical cannabis is now becoming legalized by the states (more on that later).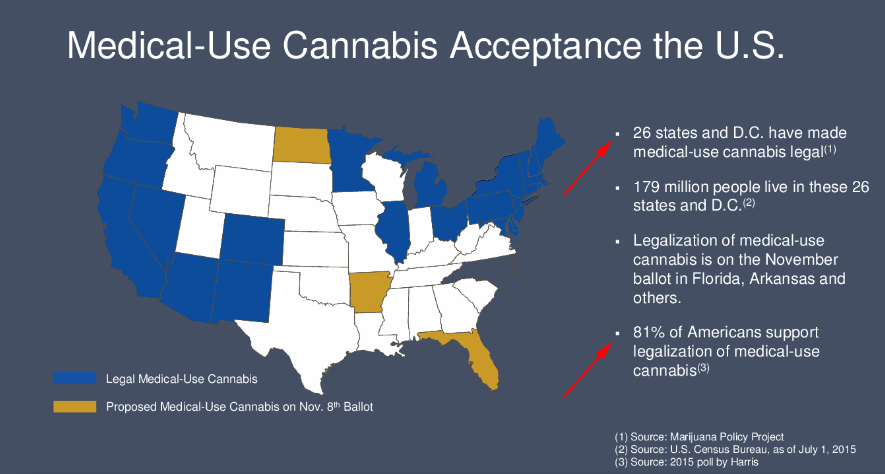 Note that now 26 of 50 states as well as the District of Columbia have made medical cannabis legal. Next we turn to the legalese: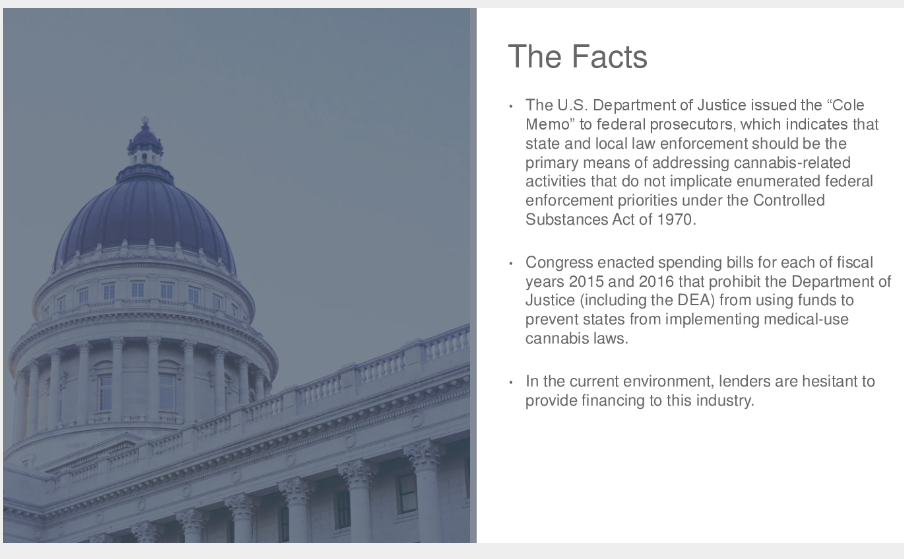 So, we must note, while the federal government has essentially passed on the legalization and put it down to the states, there is a risk that under a new administration that all of a sudden the feds take back control and simply make cannabis for all uses illegal, again. That would destroy this asset as an investment.

Finally, we look at one last slide, where the company discusses its expertise and the uniqueness of its offering: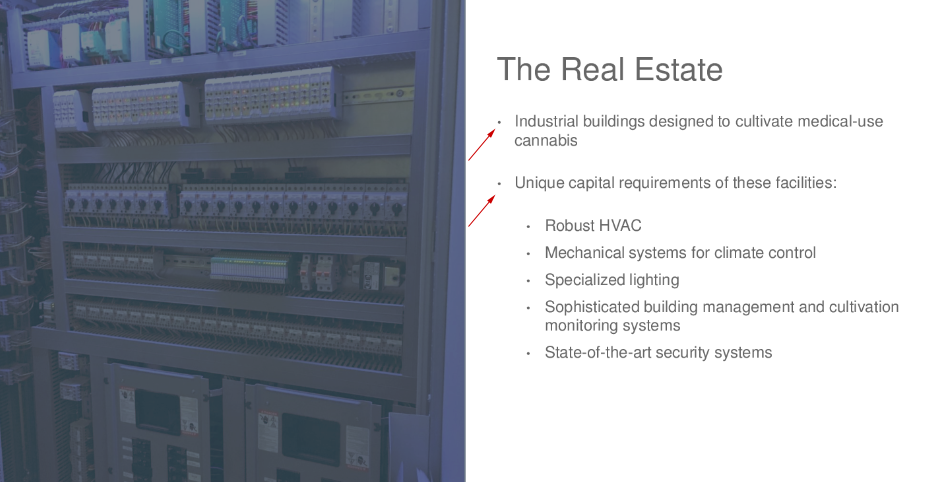 The point here is that these pieces of real estate aren't just buildings, but rather specialized properties which will "cultivate medical-use cannabis." They point out climate control and specialized lighting as well as security as highlights to the real estate.

CONCLUSION
Everything I presented just came straight off of the roadshow slides, which in general are quite bullish. There is a big disclaimer in slide #2 which basically reads, "this could all fail so don't sue us." That's standard for any IPO, cannabis related or otherwise.

I think it's an interesting take on the industry with a goal of delivering, and let's be careful here, hypothetically steady returns well in excess of "traditional real estate investments."

The author has no position in this new offering. This note should not be considered as the solicitation to buy or sell any security. I am not licensed to do so and wouldn't even if I were. There is a lot of risk in this industry, and any IPO for that matter, but I thought it was a pretty neat look into the future.

WHY THIS MATTERS
Our research sits side-by-side with Goldman Sachs, Morgan Stanley and the rest on professional terminals. Of our Top Picks, Nvidia is up 180% since we added it. Ambarella is up 70% since we added it. Relypsa was taken over for a 60% gain and we are already up on Twitter when we added it to Top Picks for $15.60.

To become a CML Pro member it's just $19 a month with no contract. It's that easy -- you cancel at any time, instantly.

Each company in our 'Top Picks' portfolio is the single winner in an exploding thematic shift like self-driving cars, health care tech, artificial intelligence, Internet of Things, drones, biotech and more. For a limited time we are offering CML Pro for $19/mo. with a lifetime guaranteed rate. Get the most advanced premium research along with access to visual tools and data that until now has only been made available to the top 1%.