Wall Street is Dead Wrong: Why It's Time to Buy Illumina


Fundamentals

Written by Ophir Gottlieb April 8th, 2016
. The was originally published to
news.cmlviz.com
.
Some of the information we will cover may feel like a surprise. Our purpose is to provide institutional research to all investors and break the information monopoly held by the top .1%.
PREFACE
Illumina just pre-announced a revenue miss for the upcoming quarter, taking estimates down from $596 million to $572 million on soft hardware sales in Europe. The stock has cratered today and Wall Street has done us all a great favor by over reacting.
The thematic trend in genomics is so wide spread and so large that it will soon span the entirety of several segments of biotechnology. What Illumina has done, beyond stock prices and financials, has, simply said, changed the world. Try this fact:
"
In the 13 years since the conclusion of the Human Genome Project, [Illumina] pushed the cost and time of sequencing a full human genome from $3 billion and 10 years to $1,000 and mere hours.
"
Source:
next BIG FUTURE
Read that again. $3 billion down to $1,000. 10 years, reduced to hours. We could make an argument that Illumina is the single best stock to own to gain exposure to the genomics and sequencing world of the biotechnology sector. The company's stated goal (emphasis added):
At Illumina, our goal is to apply innovative technologies to the analysis of genetic variation and function, making studies possible that were not even imaginable just a few years ago.
THE COMPANY
Francis de Souza, the president, and soon to be CEO, was the one who reminded the world of the company's accomplishments in the cost and timing of sequencing a full human genome. Further, he went to say that Illumina machines now account for more than 90% of all DNA data produced.
Furthering our prior research on ILMN, we note that fully 93% of the stock is held by institutions. And why? Because they know what the main stream media has yet to catch up on. In
wonderfully written piece by Luke Timmerman
from Forbes, he writes:
"Just as Intel became the company that sparked so much of the computer revolution, Illumina has risen to prominence as a driver of the genomics revolution."
That's high praise, and better yet, it's true. While we can try to choose whther Celgene (NASDAQ:CELG), Gilead (NASDAQ:GILD), Amgen (NASDAQ:AMGN), Kite Pharma (NASDAQ:KITE), Biogen (NASDAQ:BIIB) or Juno Therapeutics (NASDAQ:JUNO) will win the war to infectious disease, we can more easily just select the company that will power all fo them.
THE MARVEL
In an
article written by Trey Thoelcke
we get this: "The driving thematic force behind Illumina is that it is the leader in genetic sequencing and array-based solutions and the company is leading in the race toward genetic analysis for personalized medicine."
You can mine for gold hoping to be one of the lucky few to win the gold rush lottery, or you can sell pickaxes and shovels to the gold miners and guarantee you've won the lottery several times over.
This is exactly what Illumina does. While many biotech companies have made incredible breakthroughs to bring drugs to market, with Illumina we skip the ever so treacherous territory of picking a genomics winner, but rather just pick genomics itself as the winner.
Check out this all-time revenue chart rolled up into trailing-twelve-month (TTM) periods.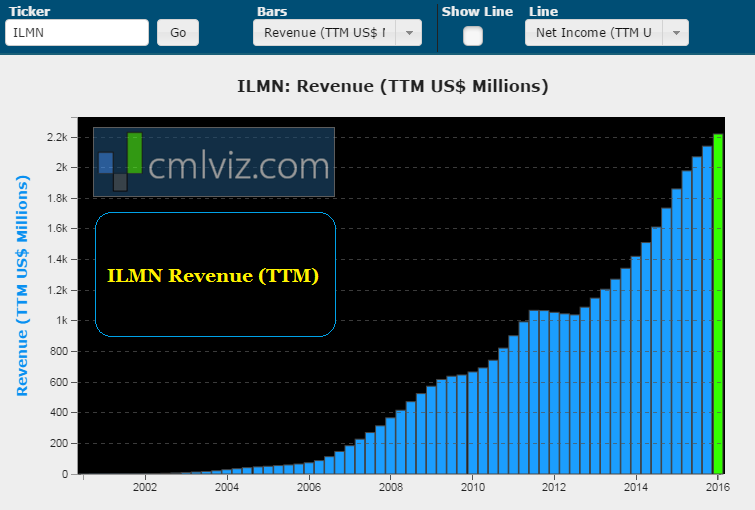 That's actually a real chart, not some made up fantasy of expectations. The green bar represents an all-time high. The company has generated over $2.2 billion in revenue in the last year and has realized 19% growth year-over-year and an astonishing 56% over the last two-years.
For good measure, the company doesn't just produce revenue, it produces profits as well. Here's a history of the company's net income (TTM) (aka after tax profit).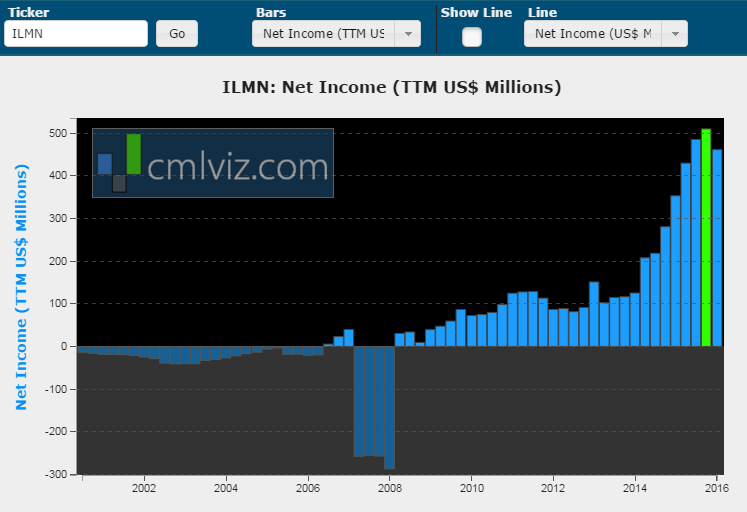 That green bar again represents an all-time high which ILMN has fallen from. ILMN has grown net income by over 30% year-over-year.
NEW PRODUCTS AND PARTNERSHIPS
Illumina has some incredible partnerships already in place and one initiative so big, that that Dr. Richard Klausner, formerly Illumina Chief Medical Officer and NCI Director, said this:
"The holy grail in oncology has been the search for biomarkers that could reliably signal the presence of cancer at an early stage."
The company has entered in FDA trails that span addressable markets with sizes nearing $100 billion - $200 billion. For the real guts behind this company's future, we invite you to the full CML Pro research dossier.
WHY THIS MATTERS
When the rest of the market focuses on a single quarter, it's an opportunity. We can choose to look ahead of the curve and realize, with proper insight, it's really a straight line. This is what institutional research reads like. There are tectonic shifts happening in technology, biotechnology and genomics and the winners are being decided today. But, to find the 'next Celgene' or even better, the 'next Apple,' we have to get ahead of the curve. This is what CML Pro does. Our research sits side-by-side with Goldman Sachs, Morgan Stanley and the rest on professional terminals, but we are the anti-institution and break the information advantage the top .1% have.
Each company in our 'Top Picks' is
the single winner
in an exploding thematic shift like artificial intelligence, Internet of Things, drones, biotech and more. In fact, here are just two of the trends that will radically affect the future that we are ahead of: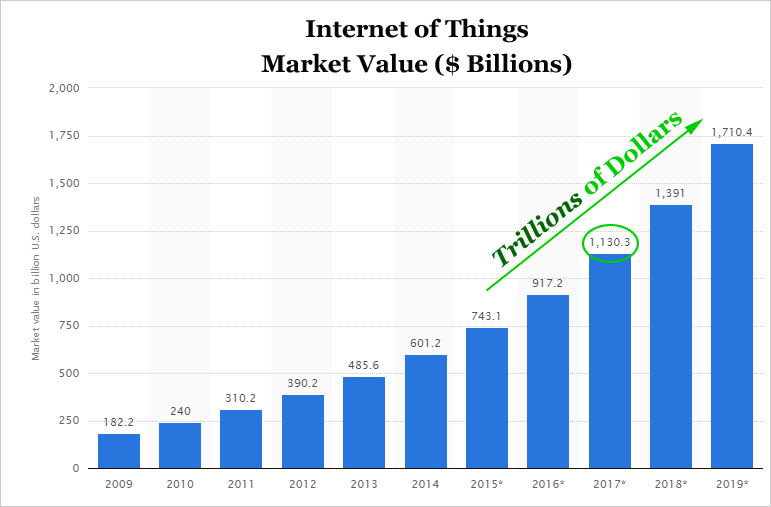 The Internet of Things (IoT) market will be measured in
trillions
of dollars as of next year. CML Pro has named the top two companies that will benefit. Here's cyber security: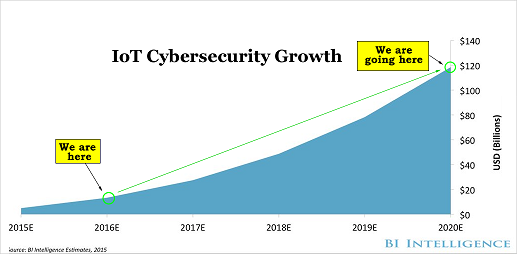 There's just no stopping the growth in the need for cyber security and we are right at the beginning. CML Pro has named the single best cyber security stock to benefit from this theme.
These are just two of the themes we have identified and this is just one of the fantastic reports CML Pro members get along with all the visual tools, the precious few
thematic top picks for 2016
, research dossiers and alerts. For a limited time we are offering CML Pro at a 90% discount for $10/mo. with a lifetime guaranteed rate.
Join Us: Get the most advanced premium research delivered to your inbox along with access to visual tools and data that until now has only been made available to the top 1%.
Thanks for reading, friends. The author bought Illumina shares as of today.
Please read the legal disclaimers below and as always, remember, we are not making a recommendation or soliciting a sale or purchase of any security ever. We are not licensed to do so, and we wouldn't do it even if we were. We're sharing my opinions, and provide you the power to be knowledgeable to make your own decisions.
Legal
The information contained on this site is provided for general informational purposes, as a convenience to the readers. The materials are not a substitute for obtaining professional advice from a qualified person, firm or corporation. Consult the appropriate professional advisor for more complete and current information. Capital Market Laboratories ("The Company") does not engage in rendering any legal or professional services by placing these general informational materials on this website.
The Company specifically disclaims any liability, whether based in contract, tort, strict liability or otherwise, for any direct, indirect, incidental, consequential, or special damages arising out of or in any way connected with access to or use of the site, even if we have been advised of the possibility of such damages, including liability in connection with mistakes or omissions in, or delays in transmission of, information to or from the user, interruptions in telecommunications connections to the site or viruses.
The Company makes no representations or warranties about the accuracy or completeness of the information contained on this website. Any links provided to other server sites are offered as a matter of convenience and in no way are meant to imply that The Company endorses, sponsors, promotes or is affiliated with the owners of or participants in those sites, or endorse any information contained on those sites, unless expressly stated.