Look Who's Spending the Most on Innovation


Research and Development
Written by Ophir Gottlieb, 12-16-2015
Follow @OphirGottlieb
PREFACE
Research and Development (R&D) is the life blood for technology companies. Understanding which firms are investing in the future, gives us a window into how to value their future potential. The largest asset managers and hedge fund managers are using this data before they buy, sell or short stocks. Now it's our turn.
Do you thrive on seeing data that goes way beyond headlines and turns you into an expert?
Try CML Pro. No credit Card. No Payment Info. Just the Power.
STORY
Technology companies generally fall into one of three buckets, or a combination of them.
1. Heavily dependant on one type of technology (see GoPro).
2. Well diversified across multiple technologies (see Apple and Google).
3. A combination of the two.
Here are the largest companies in technology, ranked by the amount they spend on R&D
per dollar of total operating expense
.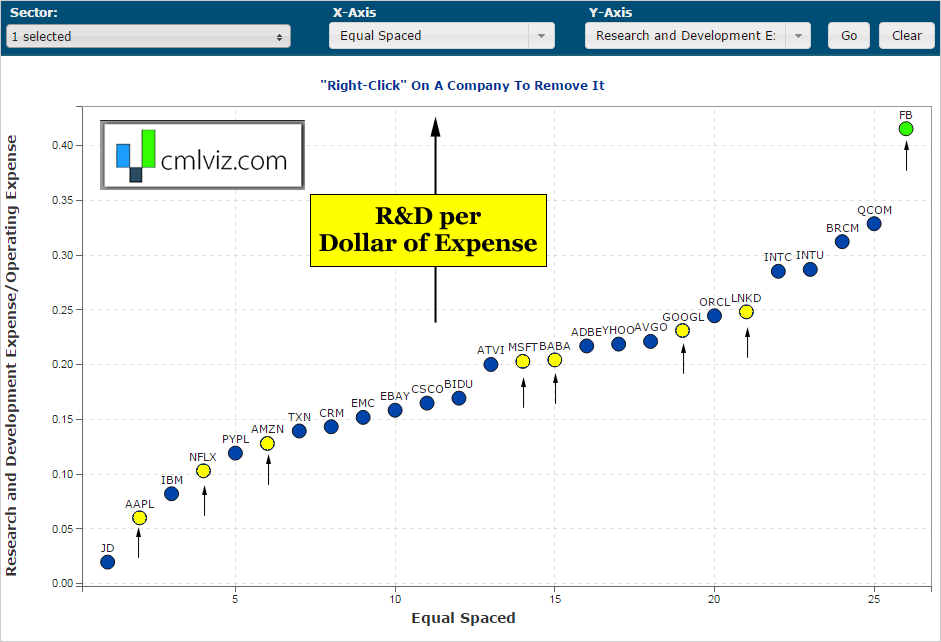 We write one story a day using visuals to break critical news with chart data that to this point has been kept away from the general public.
Join Us: Get Our (Free) News Alerts Once a Day.
We can see that Facebook is in fact spending more on R&D per dollar of operating expense than any other large technology company. The CML Pro premium research report dives deep into the company's radical innovation, and why this may in fact be the most disruptive innovator in the world. Facebook falls into category #3 in the list above.
We also see that Qualcomm (QCOM) is pouring money into R&D relative to peers, in an effort to wiggle out of just the mobile semi-conductor realm and into drones and various other areas. QCOM falls into category #1 in the list above.
We can also see Google and Apple in the chart. I note that while Apple spends less in R&D per dollar of expense than its peers, it's R&D expenditures have increased 90% over the last two-years. Yes, that's right, the largest company in the world has essentially doubled its R&D in two-years. CML Pro articles walk down not only the list of new products (Apple Watch, Car, Pay, TV, Music and A-chips), but also breaks down each portion of the company into atomic units.
Do you enjoy using visualizations to understand what's really going on in a company?
Get Our (Free) News Alerts Twice a Week.
We can do this same ranking visualization without scaling for expense. Just raw R&D expense.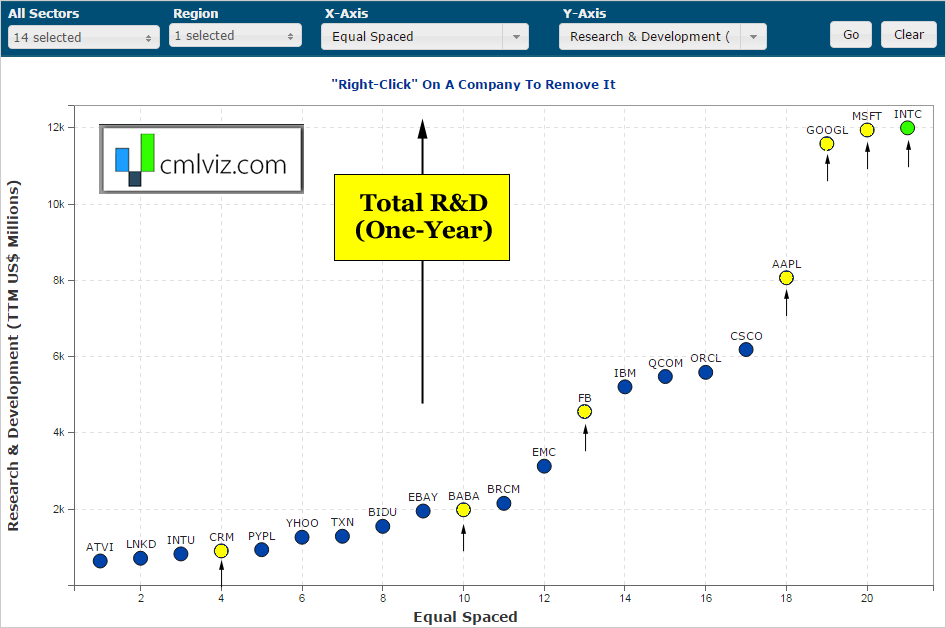 We can see that Intel, Microsoft and Google spend the most in R&D in all of technology, and in fact, all three spend more than any other company in
all
sectors, including biotech and pharma. That data and visualization is available in CML Pro.
The media simply isn't equipped to understand the stock market beyond headlines.
Try CML Pro. No credit Card. No Payment Info. Just the Power.
WHY THIS MATTERS
The top analysts, asset managers and hedge fund managers make investment decisions, and even shorter-term bets based on upcoming innovation. That innovation is born from R&D. If we're not using this data, then we're trading against people that simply have more information then we do. That is a wealth losing strategy.
Data like this but even deeper has, until now, been kept away from retail investors. You can get it for a six-figure data feed or a $2,000 a month Bloomberg terminal. The information asymmetry that exists between pros and non-pros has transferred massive wealth to the top 1% from the rest of us. That information asymmetry is no longer acceptable to us.
This is just one of the fantastic reports CML Pro members get. For a (very) limited time we are offering CML
Pro
at a 90% discount for $10/mo. with a lifetime guaranteed rate.
Join Us: Get the most advanced premium research delivered to your inbox along with access to visual tools and data that until now has only been made available to the top 1%.