The Surprising Reality of Option Trading in Morgan Stanley (NYSE:MS)
Date Published:
2017-04-19
Written by Ophir Gottlieb

LEDE
In a bull market, selling puts or put spreads is generally a good bet -- but with Morgan Stanley (NYSE:MS), it turns that owning options, rather than selling them, has been monster winner over 3-years, 2-years, 1-year and even the last 6-months.

Preface
Morgan Stanley stock has actually been more volatile than you might have expected. For a company that isn't really a takeover candidate, doesn't really face a black swan downside risk and is generally considered a leader in its industry, the stock has not been settled.

Here is the three-year stock chart via Yahoo! Finance: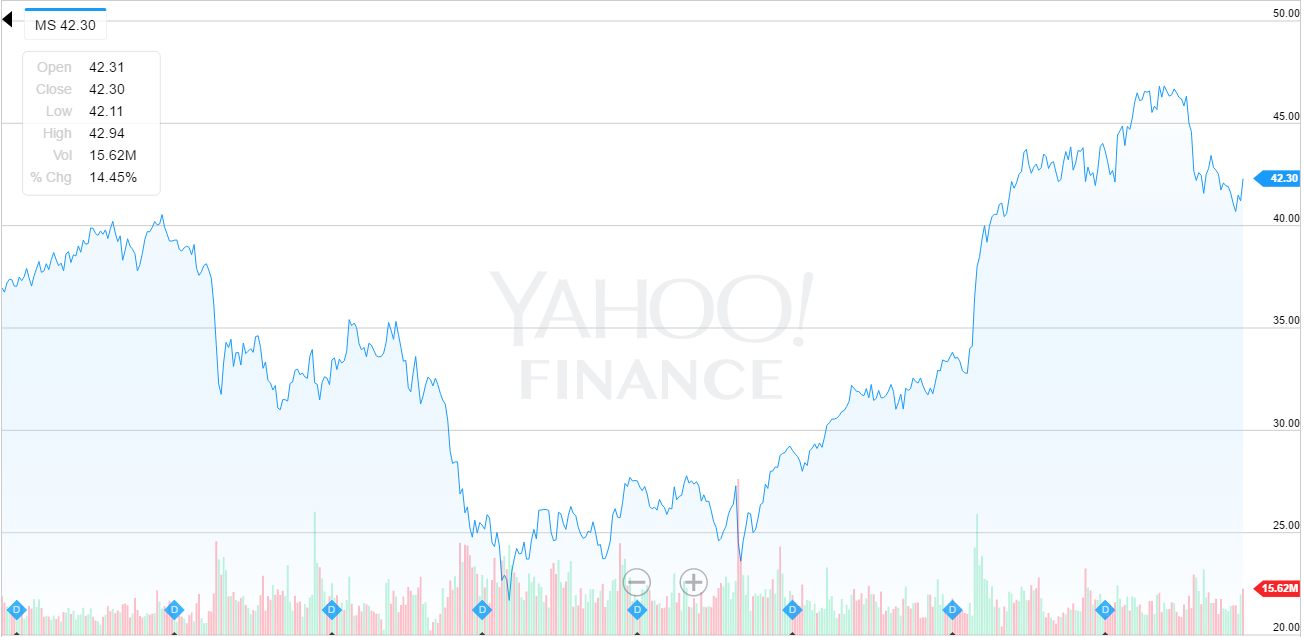 Getting long Morgan Stanley options can take many forms, but perhaps the simplest is a long, out-of-the-money strangle.

STRANGLES
Buying a strangle means buying both a call and a put. Here is how that strategy has done over the last 3-years, trading every month, and always avoiding earnings.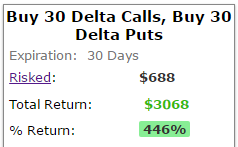 We see a 446% return while the stock was up 40%. But, owning options is also a risky investment in that it is an investment that "something" will happen to the stock. Here is how that option strategy (in red) has done relative to the stock (in gray) over those 3-years.





A chart is wonderful in that it really gets at the point -- while this strategy was a gigantic winner, it was filled with risk. We can see it bobbing up and down through time.

But, as risky as this has been, it has, surprisingly, worked over all time periods. Here are the results over the last 2-years, again, trading monthly and always avoiding earnings.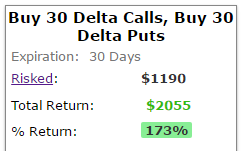 That's a 173% return when the stock rose just 16%. Again, here is the option strategy (in red) compared to the stock (in gray).





Yet again, we can see the risk inherent in the options -- but when it comes down to it, it has been a big winner, returning nearly 10-fold the stock. Next we look at the last year:




That's a 59.6% return while the stock has risen 59%. For the shorter time frame, the stock and options actually performed very similarly.

WHAT JUST HAPPENED
In a time when option portfolios may be leaning short puts and put spreads, it's nice to find an alternative to diversify that overarching short volatility bet in a name that has consistently shown more realized volatility than the options were pricing in.

What an interesting result and an interesting hedge to a short vol option portfolio.

This is how people profit from the option market - it's preparation, not luck.

To see how to do this for any stock, index or ETF and for any strategy, with just the click of a few buttons, we welcome you to watch this 4-minute demonstration video:

Tap Here to See the Tools at Work

Thanks for reading.

Risk Disclosure
You should read the Characteristics and Risks of Standardized Options.

Past performance is not an indication of future results.

Trading futures and options involves the risk of loss. Please consider carefully whether futures or options are appropriate to your financial situation. Only risk capital should be used when trading futures or options. Investors could lose more than their initial investment.

Past results are not necessarily indicative of future results. The risk of loss in trading can be substantial, carefully consider the inherent risks of such an investment in light of your financial condition.

The author has no position in Alibaba Group Holding Ltd (NYSE:BABA) as of this writing.

Back-test link.