Cloud: Microsoft Corporation versus Amazon
How Microsoft's Cloud Compares to Amazon
Date Published:
2016-08-29

Preface
Microsoft Corporation (NASDAQ:MSFT) and Amazon.com Inc. (NASDAQ:AMZN) have emerged as the two tech giants in the cloud wars. Let's take a quick look at the two businesses.

STORY
Both Microsoft and Amazon.com wowed investors with their latest earnings releases when it came to their cloud businesses. Microsoft does not break out its cloud (Azure) business explicitly, but rather lumps it in with other products in its "intelligent cloud" product segment per an article published by Barb Darrow on Fortune.



"

[Microsoft] said on Tuesday that Azure's revenue doubled year over year, without specifying an actual dollar figure.

CEO Satya Nadella asserted that 80% of the major big banks are already Azure customers, but didn't provide further detail.

"


Having said that, it's not hard to find some pretty nailed down estimates for Azure. Here is some analysis delivered by Statista.




For a sense of scale, Facebook's total revenue over the trailing-twelve-months is $22 billion. The company's CEO said this on the latest earnings call, which definitely gives us a clearer picture:



"

With more than $12 billion in Commercial Cloud annualized revenue run rate, we are on track to achieve our goal of $20 billion in fiscal year 2018. Also, nearly 60% of the Fortune 500 companies have at least three of our cloud offerings.

Azure revenue and usage again grew by more than 100% this quarter.

"

Source: Seeking Alpha


Not to be outdone, here are the estimates for Amazon.com's AWS cloud business: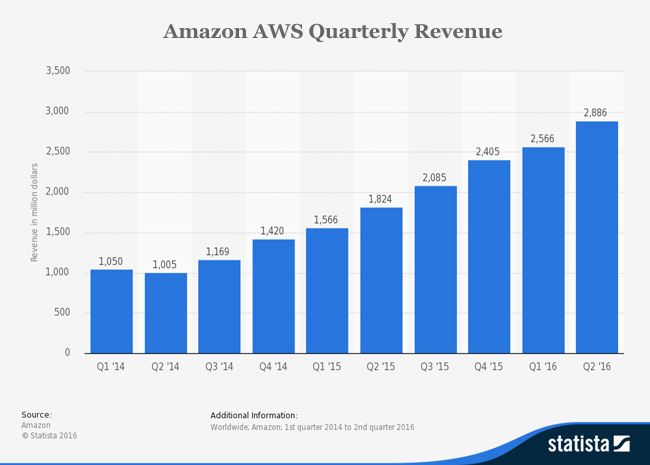 Those are quarterly numbers for Amazon.com, so roll them up to make a year. The last four quarters have delivered just under $10 billion in revenue.

DIFFERENCES: MICROSOFT
Amazon's cloud is the oldest public cloud, debuting in 2006 but Microsoft came around a few years later in earnest. The total public cloud market is shaping up to be a monster. Here's the total trend from Statista: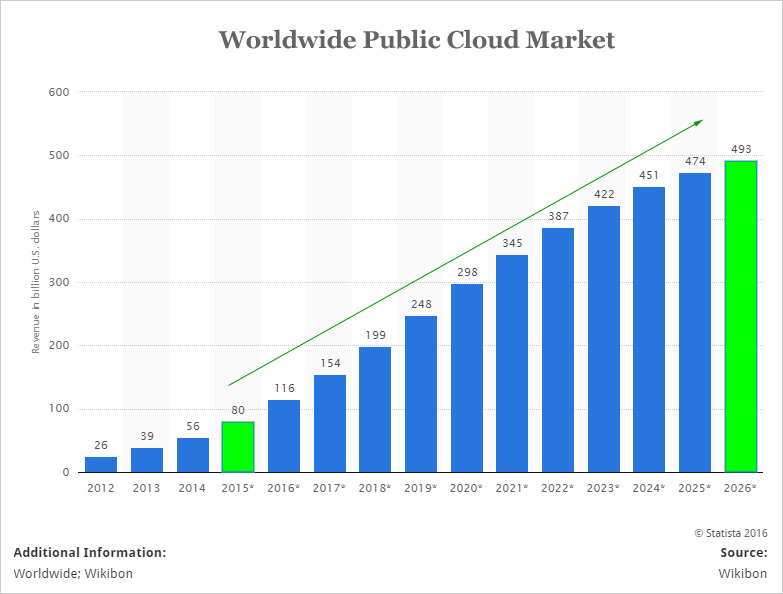 But, Microsoft claims to have an advantage, and it isn't price. Here's what Microsoft's CEO, Satya Nadella said on the latest earnings call, back in July.



"

Multinationals choose us because we are the only hybrid and hyper scale cloud spanning multiple jurisdictions. We cover more countries and regions than any other cloud provider, from North America to Asia to Europe to Latin America. Our cloud respects data sovereignty and makes it possible for an enterprise application to work across these regions and jurisdictions.

We are the only cloud that operates in China under Chinese law, the only cloud that operates in Germany under German law. And these are very critical competitive advantages to us.

"

Source: Seeking Alpha


Nadella went on to highlight the "hybrid" approach that the company allows. Hybrid is code for allowing customer applications to run either in the Azure cloud or to run in customers' data centers. "Rival AWS runs the applications only in its own data center" (Forbes).

In fact, Nadella responded to a question from Goldman Sachs' Heather Bellini, specifically asking him to compare Azure to AWS and Nadella responded with:



"

I believe this hyper scale plus hybrid architecturally helps us a lot with enterprise customers because we meet them where their realities are today and also the digital transformation needs going forward, so that's one massive advantage we have.

"

Source: Seeking Alpha


DIFFERENCES: AMAZON
If it sounds like Amazon is smaller, it isn't. Amazon focuses on Infrastructure as a Service (IaaS) as opposed to Microsoft which does IaaS and Platform as a Service (PaaS) as well as Software as a Service (SaaS). In the IaaS world, Amazon.com dominates.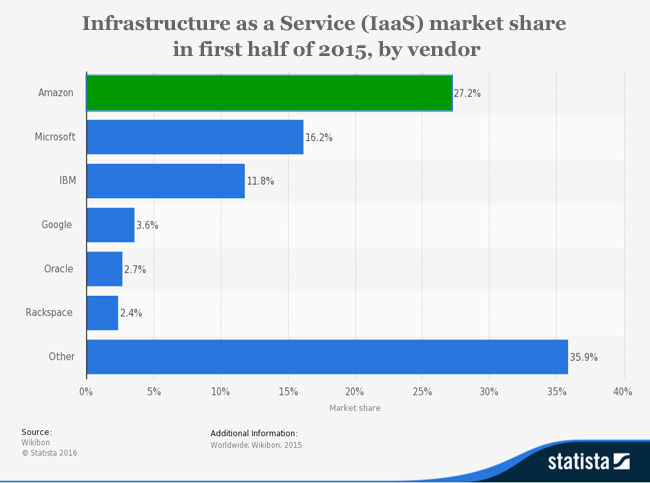 Amazon.com's first mover advantage took it from a platform where developers could test for a low cost, into, what they call the "virtuous cycle," garnering more developers, more revenue, larger expansion, on onward until Amazon now calls Netflix, Comcast and even the CIA customers. This virtuous cycle has pushed Amazon's lead in innovation.



"

Amazon Web Services is [] on track to be around a $50 billion business by 2020. Gartner estimated recently that Amazon Web Services offers as much computing capacity as the next 14 players in the market, combined.

"

Source: Business Insider


In fact, to take the bloom off of Microsoft's rose, Gartner analyst Anderson says said that "A lot of [Microsoft's] growth is because of how well they used [Enterprise Agreements] as a lever and a tool."

So there you have it. The two giants, competing head-to-head in a public cloud market set to hit nearly half a trillion dollars within five years. Google is already in the mix, and we know that Apple will join.

But we just looked at vendors, that's not the secret to this thematic boom. It's the chips.

WHY THIS MATTERS
The cloud has already, and will in the future, revolutionize the way computing and storage are done. But rather than bet on which mega cap tech company will be the winner in the cloud war, why not find the technology gem, one tenth the size, that will power every cloud, regardless of the vendor.

Finding these gems is what CML Pro does. Our research sits side-by-side with Goldman Sachs, Morgan Stanley and the rest on professional terminals, but we are the anti-institution and break the information advantage the top .1% have.

Each company in our 'Top Picks' is the single winner in an exploding thematic shift like artificial intelligence, Internet of Things, drones, biotech and more. For a limited time we are offering CML Pro at a 90% discount for $10/mo. with a lifetime guaranteed rate. Join Us: Get the most advanced premium research delivered to your inbox along with access to visual tools and data that until now has only been made available to the top 1%.