The Secret's Out: This Gem Wants to Be the Next Google


Fundamentals

PREFACE
Google changed the world with its AdWords advertising platform for Google Search. It has made Google the largest, most successful advertiser ever, with a market cap nearing half a trillion dollars and over $55 billion in advertising revenue.
But the next salvo isn't text advertisements, it's video -- one of the most powerful themes driving technology today. And there's one firm whose founders believe it can be the Google of video advertising.
Let's first understand the landscape which has created radical demand for this service, and then we'll look at the company that has its sights set at the highest possible prize.
STREAMING VIDEO ON DEMAND
This wave of technology started with Streaming Video on Demand (SVoD). The champion innovator was, and still is, Netflix. Here's how the SVoD market is shaping up in terms of revenue: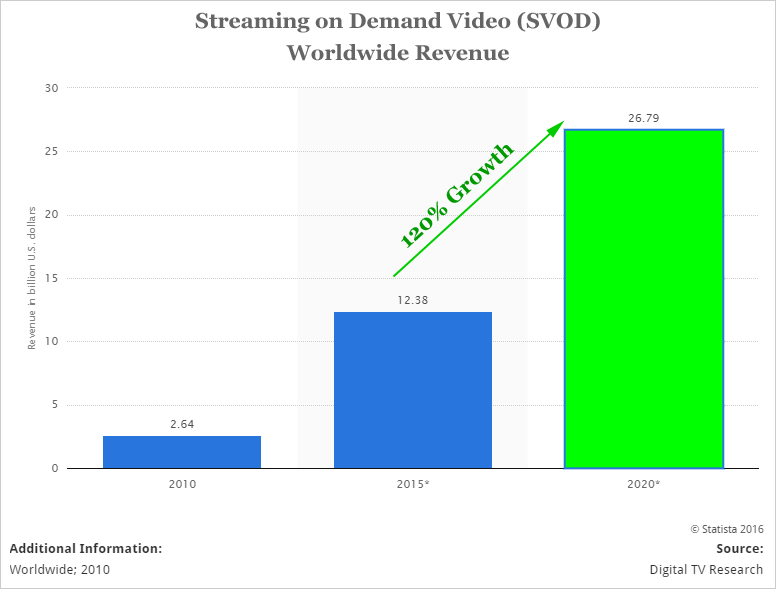 Worldwide revenue from just this segment will grow from $12.4 billion in 2015 to nearly $27 billion within five-years. We can add Amazon to this list as well, with its Prime Service that includes SVoD. Here's how that market shapes up:
48% of US households have access to SVoD and Netflix has over 90% market penetration. Amazon comes in at a strong second place, with approximately 40% market penetration.
It appears to be an inevitable transformation for Netflix, that at some point it will need to become a destination, rather than an app -- and that means it may start to look like a network. That means it needs advertising, and since its business is moving more toward online viewing, it's going to need the technology we are discussing.
Discover the undiscovered:
Get Our (Free) News Alerts Once a Day.
FACEBOOK AND GOOGLE
This is a slam dunk. Facebook gets 80% of its revenue from mobile ads and video is the fastest growing segment. We just learned that there are eight
billion
videos viewed
a day
on Facebook. Now this next chart we're going to look at is absolutely breathtaking: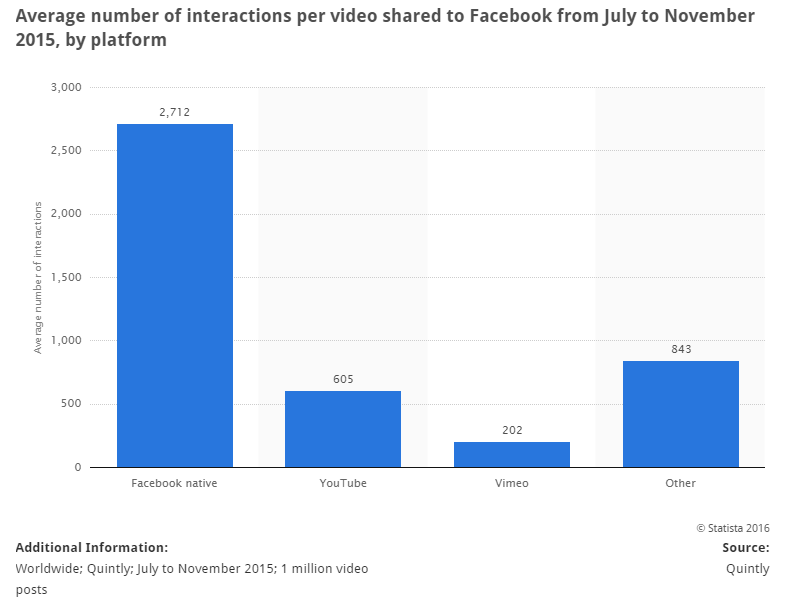 Facebook averages over 2,700 interactions
per video
. Google's YouTube comes in at 605. But don't feel too bad for Google, it is the most popular video property in the United States. Check out this chart from Statista: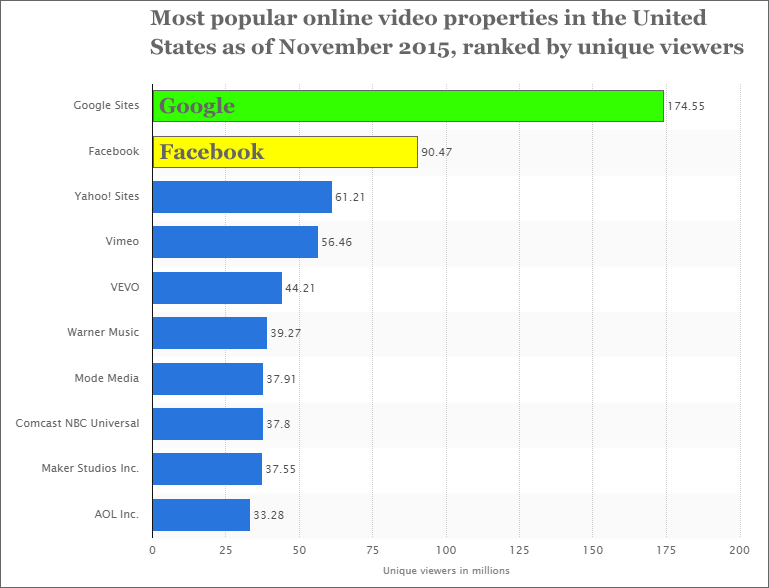 In the earnings report on 7-16-2015, Google disclosed that watch time for YouTube rose 60% in the second quarter and
the video service had more viewers aged 18-49 on mobile alone than any U.S. cable network.
This is the battleground and it will be fierce. But, the fiercer the better for the company trying to become the backbone of the online video ad space.
APPLE
It seems odd to discuss Apple in this context until we realize that the Apple TV is turning into a colossal success. In fact, CML Pro just released a research dossier entitled "Apple's Genius: Kill Cable Then Take All of It."
The Apple TV is more than hardware -- it will turn Apple into the largest cable bundler in the world (details in the CML Pro research dossier). As Apple's iPhone, Watch and iPad continue to proliferate, online video ads will make their way into the Apple ecosystem.
Just to throw in a little bit of pizazz, we note the possibility that Apple may actually see this up and coming technology company as a possible takeover target. Let's remember that Apple was set to take on the advertising world with the release of iOS9, but then quickly stepped back, rather honestly stating that it did not have expertise in advertising in for the time being was not going to participate.
The little gem we're about to talk about is threatening to Google and that means it's appetizing for Apple. Now, without further ado, here is the technology gem:
TUBEMOGUL
TubeMogul (TUBE) provides self-serve software that allows advertisers to plan, buy and measure the effectiveness of video ads. The company website reads:
"TubeMogul's advertising solution is powered by the company's unprecedented data platform that tracks billions of video streams every month from the Internet's top publishers. This unique technology enables TubeMogul to help advertisers find consumers who want to watch their videos – and watch them longer."
We'll take extra color from Wikipedia which goes on further to read, "TubeMogul's programmatic software platform leverages real-time bidding (RTB) technology to help major brands, advertising agencies, trading desks, and publishers advertise to global audiences using online video across multiple devices."
Here is TUBE's all-time revenue chart: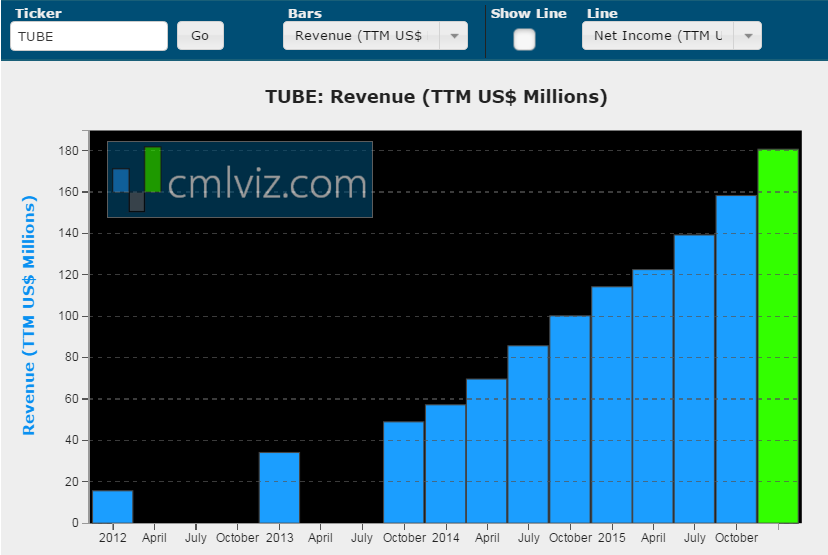 TUBE's revenue is up 58% year-over-year and has more than tripled in the last two-years.
ZACKS
tells us that in the past 30 days, 4 estimates have gone higher for current quarter earnings estimates while none have gone lower in the same time period.
The company is clearly making waves into this technology and its revenue growth is our empirical evidence of its market acceptance.
QUALITY
On Monday March 21st, TUBE reported a new anti-fraud plan: the company is
promising
to issue automatic refunds to any advertiser whose ads were served to non-human traffic, also known as bots.
On November 30th, independent research firm,
Forrester
, named TubeMogul a leader in video advertising demand-side platform evaluation and gave it the highest score in the "Current Offering" category.
Current customers of TUBE include Toyota, Allstate and Lenovo. But if the company is successful, this could be a giant winner.
VICIOUS COMPETITION
Google sees what TUBE is doing and it wants that market too. In fact, in a series of video ads, print ads, and outdoor posters, TubeMogul alleges Google has a "conflict of interest" when it comes to advertising and that it has built up a "walled garden" from the rest of the ad tech industry. Here's what TUBE explained:
There is an alphabet of reasons to love Google. For many years, the company defined openness and innovation. But in advertising, Google has made a conscious decision to wall itself off from the rest of the industry.
Google sees the market TUBE is going after and wants it. And now remember that little tidbit we discussed about Apple. Owning a stock based on a takeover hope is probably the worst investment thesis possible, but, we still have to note, while an unlikely fit, it's not an impossibility here. Google likely can't buy TUBE due to regulations surrounding monopolies and fair competition -- Apple can.
WHY THIS MATTERS
Online video is one of the major thematic trends that will shape the future. Whether or not TUBE will be the center piece of the revolution is unknown but to find the 'next Apple' or 'next Google' we have to get ahead of the curve. This is what CML Pro does. Our research sits side-by-side with Goldman Sachs, Morgan Stanley and the rest on professional terminals, but we are the anti-institution and break the information advantage the top .1% have.
Each company in our 'Top Picks' is
the single winner
in an exploding thematic shift like artificial intelligence, Internet of Things, drones, biotech and more. In fact, here are just two of the trends that will radically affect the future that we are ahead of: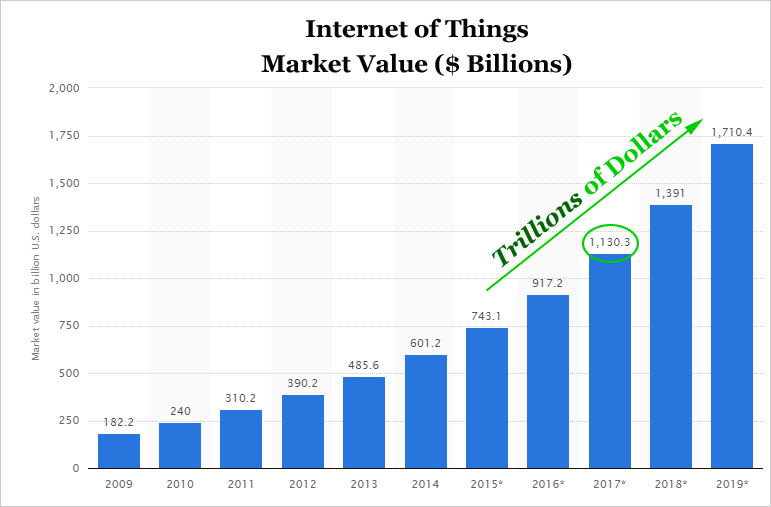 The Internet of Things (IoT) market will be measured in
trillions
of dollars as of next year. CML Pro has named the
top two companies
that will benefit. Then there's cyber security: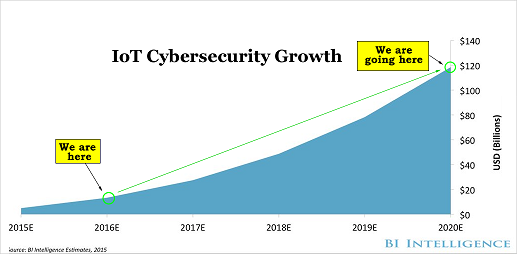 Market correction or not, recession or not, the growth in this area is a near certainty, even if projections come down, this is happening. CML Pro has named
the single best
cyber security stock to benefit from this theme.
These are just two of the themes we have identified and this is just one of the fantastic reports CML Pro members get along with all the visual tools, the precious few
thematic top picks for 2016
, research dossiers and alerts. For a limited time we are offering CML Pro at a 90% discount for $10/mo. with a lifetime guaranteed rate.
Join Us: Get the most advanced premium research delivered to your inbox along with access to visual tools and data that until now has only been made available to the top 1%.
Thanks for reading, friends.