The Brutal Assault on Netflix and its Stunning Response


Fundamentals

If any of the information we just covered feels like a surprise, in many ways it is. Our purpose is to provide institutional research to all investors and break the information monopoly held by the top .1%.
PREFACE
Netflix (NASDAQ:NFLX) yet again faces an existential risk. This time, however, Netflix faces combative responses from worthy competitors -- namely technology companies rather than media companies.
As Netflix stock has fallen after its most recent earnings announcement and then some, we are left with an interesting dilemma to consider: "Is this yet another over reaction from the equity market that will prove to be a remarkable buying opportunity, or is this drop different given the new nature of the competition?"
There is an answer, and here it is:
PRESENT
Netflix is seeing remarkable revenue growth and, for now, it is the undisputed king of the transformative technology theme called streaming video on demand (SVOD). Here are a few charts to consider:
NETFLIX REVENUE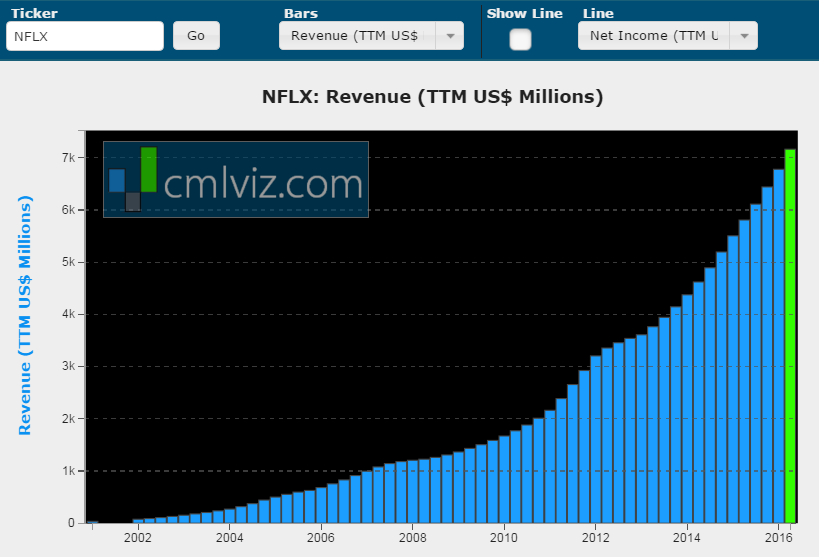 That's over $7.1 billion in revenue in the trailing-twelve-months, up 23% year-over-year. Further, that wall of revenue is expected to rise:
Current First Call estimates forecast revenue of $8.77 billion for 2016 and $11 billion by 2017. That's 29% and 26% growth year-over-year, respectively. That's right, expectations are for revenue growth
acceleration
.
To visualize Netflix's dominance, we can turn to two pretty slick charts. The first is worldwide reach:
NETFLIX WORLDWIDE FOOTPRINT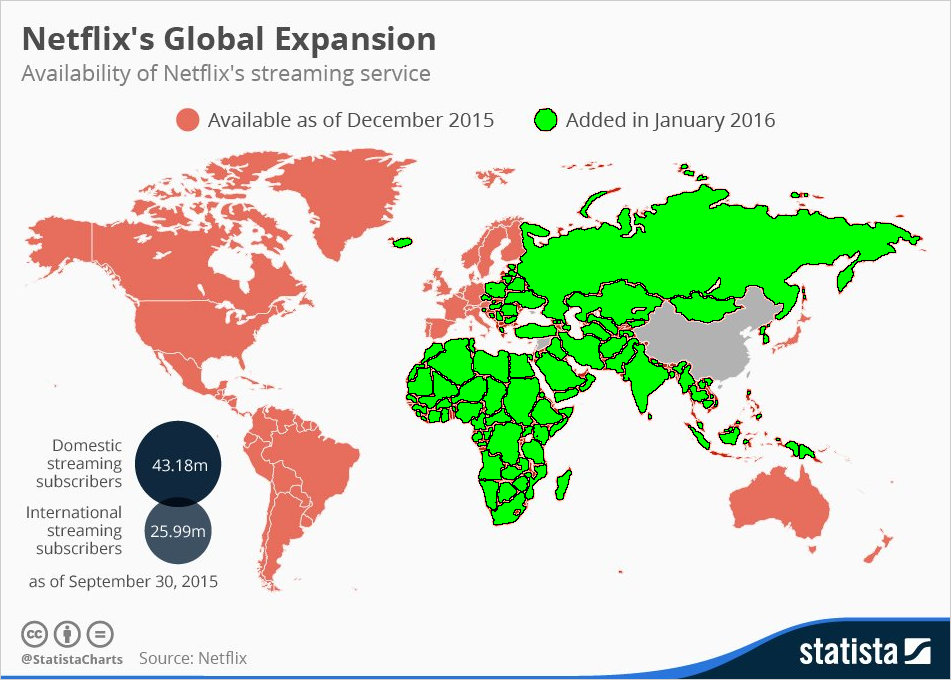 The bright green areas are the newest additions to the Netflix family of nations we learned about at CES this January. That's 130 countries.
The second chart illustrates market dominance:
NETFLIX MARKET PENETRATION
With just 48% of US households having access to streaming video on demand (SVOD), Netflix has over 90% penetration while Amazon is at 40%.
Now the "present" also must include a discussion of rising cash flow losses and the need for more capital via debt. The blue bars chart Netflix's cash from operations, which have tumbled to all-time lows. The orange line charts debt, which has bubbled up to over $2.3 billion and will likely grow by another billion in the near future.
NETFLIX CASH FROM OPERATIONS AND DEBT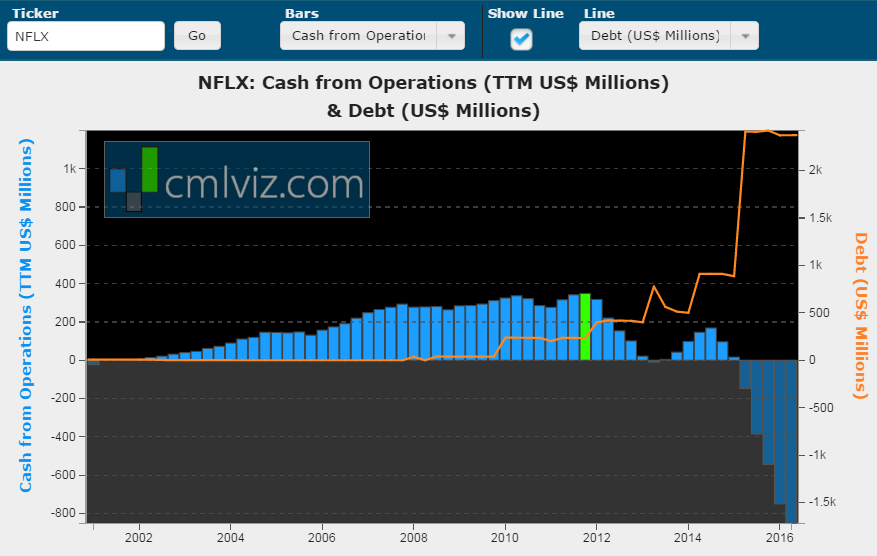 Alright, the present is over, now let's look to the future -- and now we may tumble into the rabbit hole.
FUTURE
The future for Netflix is one that now has a direct competitor from Amazon.com (NASDAQ:AMZN). While SVOD was always available to Amazon Prime members, it's now been unbundled as well as stand-alone product for $8.99. No company in technology wants the words spoken "Amazon is now a competitor," but that's the reality for Netflix. Unfortunately, it's not an even playing field.
Amazon has the advantage here for several reasons and they were uncomfortably and explicitly revealed in Amazon's recent earnings report:
Amazon is going to "significantly increase [its] content spend" on its video offerings because the company is seeing better engagement and conversions from Prime members who use the video service.

In plain English: Prime Video helps Amazon make money in other ways.
Source:
Business Insider
The quote above was from Amazon's CFO, Brian Olsavsky. The Business Insider does a really solid job of extracting the threat here, so I'll just quote them:
Amazon Prime subscribers were found to be 10 times as likely to rent or buy movies from Amazon Instant Video than non-Prime members.

Amazon could theoretically never make a single cent directly off of Prime Video, and still have the project be a resounding success.
Source:
Business Insider
Amazon has threatened so many companies with the fire breathing mantra "earnings don't matter." In this case, earnings do matter, but they don't have to come from the SVOD product.
Yet more competition comes from online video (not SVOD) where Facebook (NASDAQ:FB) revealed that it receives
8 billion video views a day
. For that matter, so does Snapchat. Actually, for that matter, Google's (NASDAQ:GOOGL) YouTube has more viewers aged 18-49 on
mobile alone
than any other cable network in the world.
Throw in Twitter (NASDAQ:TWTR) with its Periscope and NFL deal and then Apple (NASDAQ:AAPL) and its marvel that is Apple TV and its own content, and Netflix is now looking down the barrel of a gun held by the most powerful technology companies in the world.
So is Netflix doomed? Now that we are all the way down the rabbit hole, the answer is right in front of us.
THIS BETTER WORK
Original content is Netflix's secret weapon. With a massive international expansion and a flood of original content, the company reiterated its plan to spend $1 billion in cash and to turn to the debt markets for the capital. In fact, Netflix's Chief Content Officer Ted Sarandos told
The Verge
at CES (emphasis added):
"We're releasing more shows in the next quarter than many networks will in a whole year."
Just digest that quote for a second and then take that with this image:

Netflix earned more golden globe nominations than
any other network
. A content distributor without original content has a tenuous relationship with content providers. On the one hand Netflix has literally saved TV shows that were well on their way off air until binge streaming took hold.
But now that Netflix has created high demand, high quality original content, it has turned into its very own
border-less cable bundler
. And, the more subscribers it gets due to its own content, the greater power it holds over the other content providers -- more eyeballs means more power, period.
This is the bet for Netflix. Here is the forecast for subscriber growth (via Statista):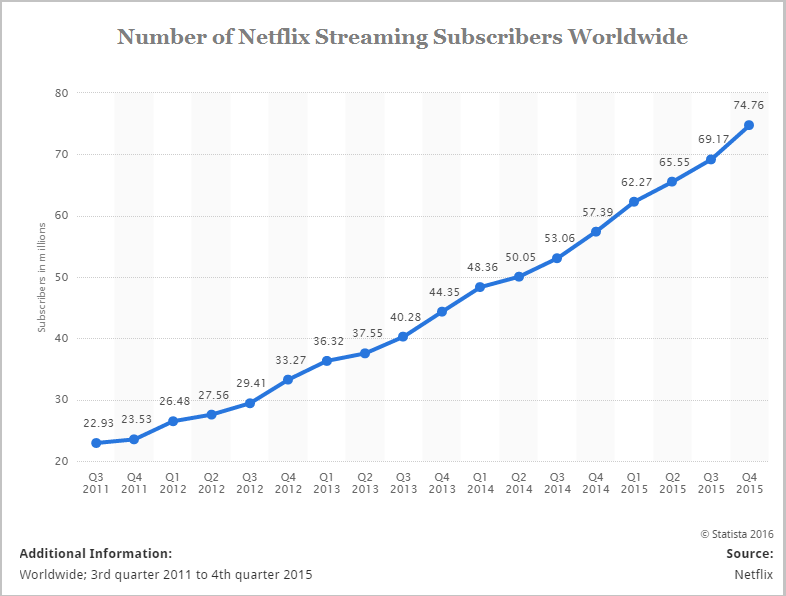 If that growth is realized while prices are rising and international original content is paving the way for immense customer loyalty, then Netflix has done it again. It has taken the best shots from media and now technology, and won.
But, if that content falls short, it's doomed, not to go away, but to be stock in a slow growth, content creation spiral -- hoping for hits, and looking quarter-to-quarter, if not month-to-month at the viewership of its shows just like good old media companies.
If you can answer the question surrounding original content, then you already know if Netflix is a buy trading for $89 (~$38 billion market cap).
SEEING THE FUTURE
This is just the start of the analysis because there's so much going on with Netflix it's impossible to cover in one report. It's a matter of having perspective that allows you to silence the noise of Wall Street's cacophony. Now, in order to find the 'next Netflix' or 'next Apple,' we have to get ahead of the curve. This is what CML Pro does. Our research sits side-by-side with Goldman Sachs, Morgan Stanley and the rest on professional terminals, but we are the anti-institution and break the information advantage the top .1% have.
Each company in our 'Top Picks' is
the single winner
in an exploding thematic shift like artificial intelligence, Internet of Things, drones, biotech and more. In fact, here are just two of the trends that will radically affect the future that we are ahead of: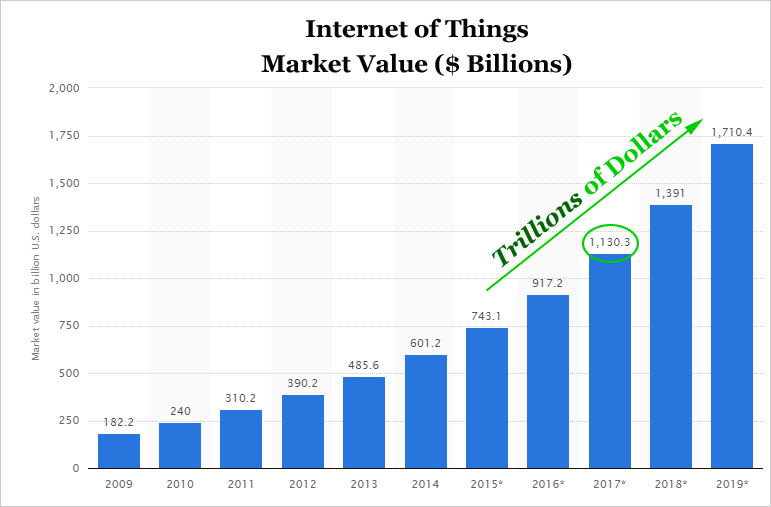 The Internet of Things (IoT) market will be measured in
trillions
of dollars as of next year. CML Pro has named the
top two companies
that will benefit. Then there's cyber security: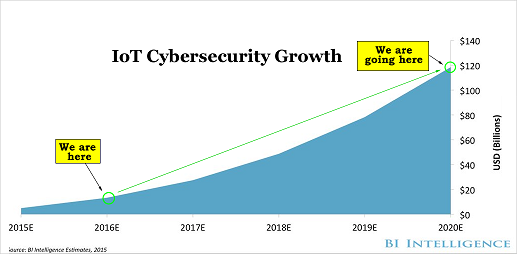 Market correction or not, recession or not, the growth in this area is a near certainty, even if projections come down, this is happening. CML Pro has named
the single best
cyber security stock to benefit from this theme.
These are just two of the themes we have identified and this is just one of the fantastic reports CML Pro members get along with all the visual tools, the precious few
thematic top picks for 2016
, research dossiers and alerts. For a limited time we are offering CML Pro at a 90% discount for $10/mo. with a lifetime guaranteed rate.
Join Us: Get the most advanced premium research delivered to your inbox along with access to visual tools and data that until now has only been made available to the top 1%.
Thanks for reading, friends.