Netflix Inc (NASDAQ:NFLX) Earnings Preview
Netflix Inc (NASDAQ:NFLX) Earnings Preview
Date Published:
7-18-2016

Preface
Netflix Inc (NASDAQ:NFLX) has earnings due out today, after the market closes. Here's a quick preview.

STORY
Netflix Inc (NASDAQ:NFLX) was the best performing stock in the S&P 500 in both 20143 and 2015, but 2016 has been less kind. The stock has been a laggard. The company has stretched itself to the ends of the Earth, adding 130 countries to its roster in January of 2016. Here's a great image showing the Netflix reach.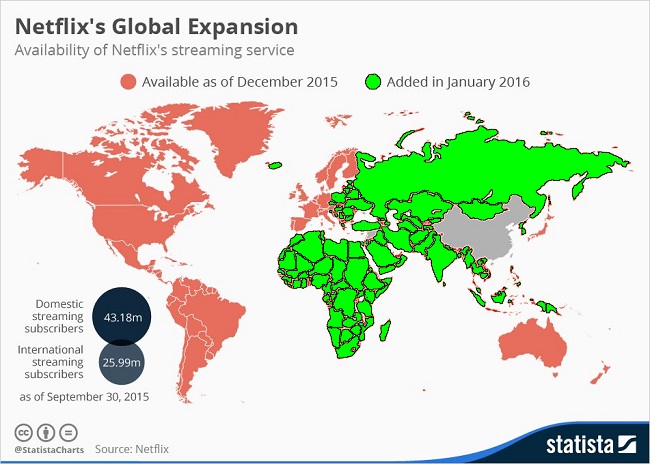 But, there is a price for that growth.

GROWTH
The multi country expansion for Netflix has successfully picked revenue growth back up. While the company had seen stagnating growth in the United States, worldwide growth has turned the slowing growth narrative around. Here is an all-time revenue chart for Netflix.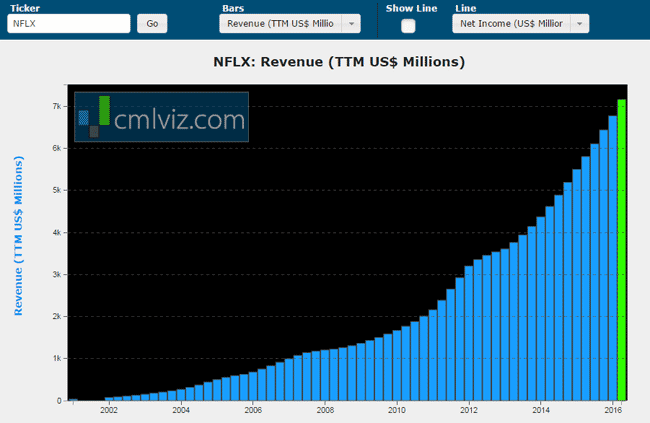 The revenue estimates for this quarter's earnings report come in at $2.17 billion. For the same quarter last year Netflix Inc (NASDAQ:NFLX) reported $1.64 billion, so the growth is there. But, here's the cost to that growth.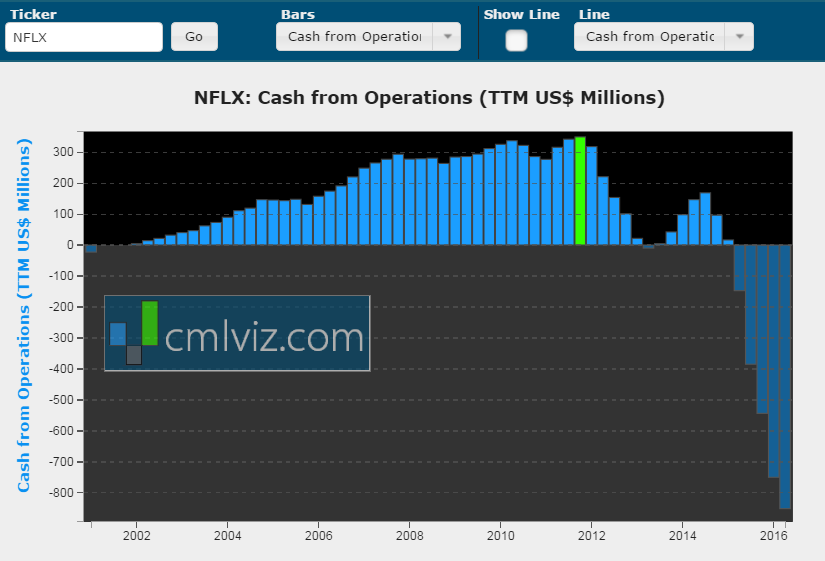 Cash from operations is tumbling down, nearing a $1 billion deficit. The earnings per share estimate for Netflix this quarter comes in at $0.02.

SUBSCRIBERS
The revenue and EPS estimates for Netflix come straight from subscribers. Wall Street estimates put growth with in the United States at 530,000 new subscribers and over 2.1 million international. Here is a chart of Netflix Inc (NASDAQ:NFLX) subscribers via Statista.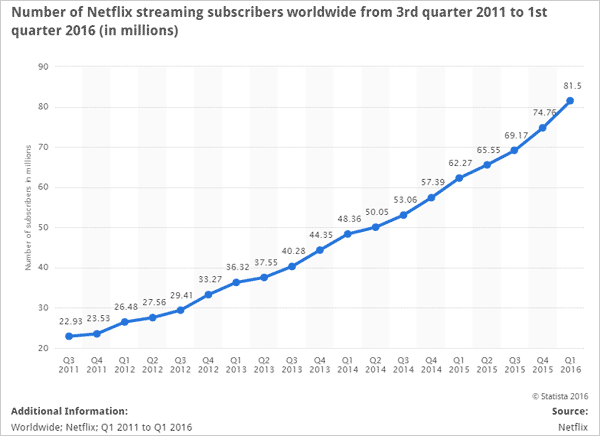 THE BIGGER STORY
The bigger story for Netflix, however, is how the firm has transitioned from a distributor of other companies' content, to the creator of its own. The firm has astonished critics with its original series including a breathtaking 54 Emmy nominations this year. It's this reality, together with its powerful ability to revive TV shows that makes Netflix both friend and foe to the major broadcasters.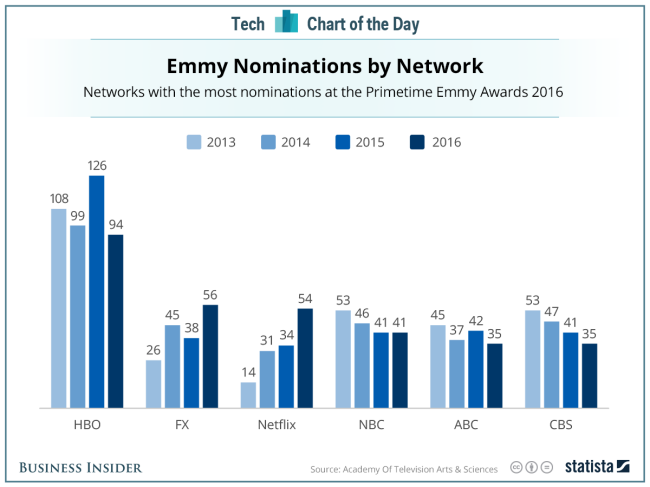 Incredibly, Netflix has more Emmy nominations than all of the major networks.

On one hand, the networks can't live without the Netflix redistribution for streaming video on demand. On the other, they are getting beaten to the punch by Netflix's original content.

Even more powerful has been the unbelievable acceptance of Netflix in the international scope. Mark Mahaney with RBC Capital wrote that in his research in France and Germany he found a willingness to pay for streaming content rising materially: 37%/32% of French/ German respondents "Extremely" or "Very" likely to pay for content vs. 21%/20% in December. Further he found rising penetration rates and extremely high (87%) customer satisfaction.

There is endless data to support the thesis that Netflix Inc (NASDAQ:NFLX) is seeing broad based acceptance internationally. That circumstantial evidence will be challenged today when Netflix reports the actual growth.

WHY THIS MATTERS
The seismic disruption that will come streaming video on demand also brings with it a total revolution for advertising. One not seen since the advent the television itself. It's identifying trends like this that allows us to find the 'next Apple' or the 'next Google.' This is what CML Pro does. Our research sits side-by-side with Goldman Sachs, Morgan Stanley and the rest on professional terminals, but we are the anti-institution and break the information advantage the top .1% have.

Each company in our 'Top Picks' is the single winner in an exploding thematic shift like artificial intelligence, Internet of Things, drones, biotech and more. In fact, here are just two of the trends that will radically affect the future that we are ahead of: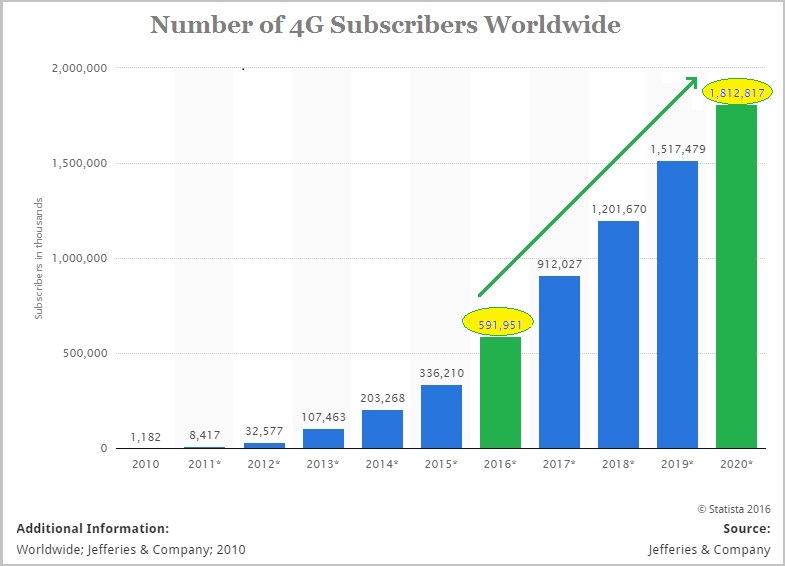 That chart plots the growth in 4G usages worldwide and how it will grow from 330 million people today to nearly 2 billion in five years. This is the lifeblood fueling every IoT and mobile device on the planet and CML Pro has named the single winner that will power this transformation. Then there's cyber security: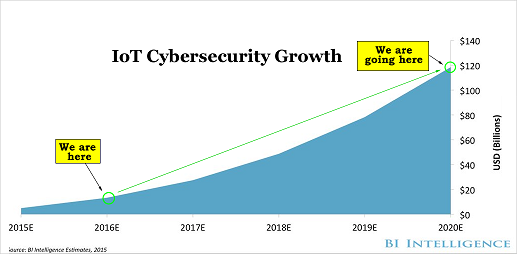 Market correction or not, recession or not, the growth in this area is a near certainty, even if projections come down, this is happening. CML Pro has named the single best cyber security stock to benefit from this theme.

These are just two of the themes we have identified and this is just one of the fantastic reports CML Pro members get along with all the visual tools, the precious few thematic top picks for 2016, research dossiers and alerts. For a limited time we are offering CML Pro at a 90% discount for $10/mo. with a lifetime guaranteed rate. Join Us: Get the most advanced premium research delivered to your inbox along with access to visual tools and data that until now has only been made available to the top 1%.