Will Netflix's International Business Boom?
Netflix
Ophir Gottlieb, 2016-08-24
Preface

In a press release from Business Wire, IHS Markit forecasts Netflix international subscriber growth will boom to 75 million by 2020 and overtake the United States by 2018.

STORY
At the start of 2016, Netflix announced a massive international expansion adding 130 countries to its footprint. Here is a chart of that expansion from Statista: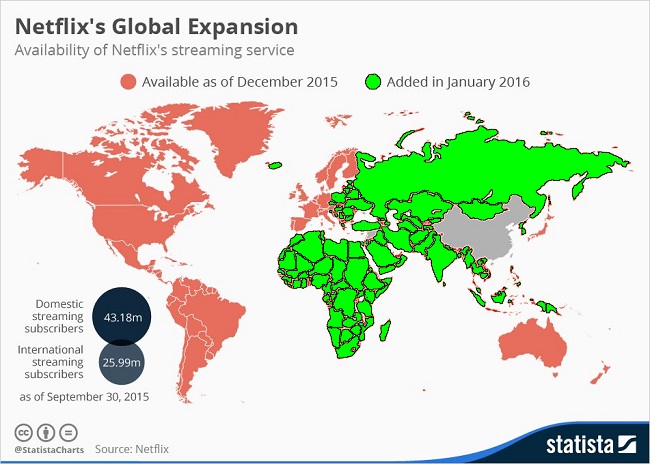 The hypothesis that Netflix will see growth coming from the international markets is reasonable given the expansion and rather large investment in original content. What is different about this IHS Markit report, is how bullish it is for Netflix's future.

Remember, last quarterly earnings Netflix missed estimates for growth and even took guidance down. The company was supposed to hit 2.5 million new subscribers worldwide and actually came in at 1.7 million. The domestic numbers were anemic, with 170,000 new subscribers as opposed to the forecast for 500,000. International grew at 1.52 million new subscribers, but still well below the 2 million projections.

IHS Markit Ltd is not dissuaded. Here the take from Irina Kornilova, senior analyst at IHS Technology"



"

At the moment, Netflix has 79.9 million total paying subscribers. By 2018, international subscribers will overtake the number of subscribers in the US for the first time, and by 2020, Netflix will have 75 million international subscribers.

"

Source: Business Wire


IHS Markit Ltd went further to write:

"By 2018, Netflix will break the 100 million-subscriber mark. The number of Netflix International paying subscribers will grow 38 percent in 2016, with more than 2.8 million of these new paying subscribers coming from the new markets that Netflix launched in at the beginning of this year."

Here is a chart of Netflix subscribers through time.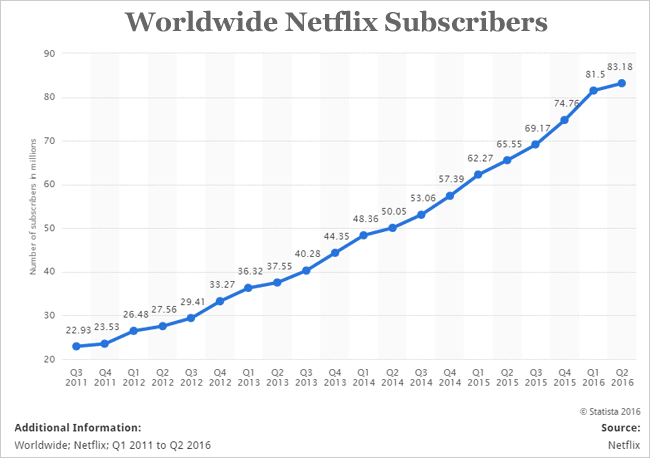 Source: Statista



IHS numbers came in at 79.9 million subscribers, which is actually less than what the company has provided, but hitting the 100 million level doesn't feel impossible. However, that 75 million international subscriber level by 2020 is big.

IHS sees $13 billion in revenue for Netflix by 2020, with 53% coming from the International markets. One thing Netflix has consistently delivered is revenue growth. Here is an all-time revenue chart: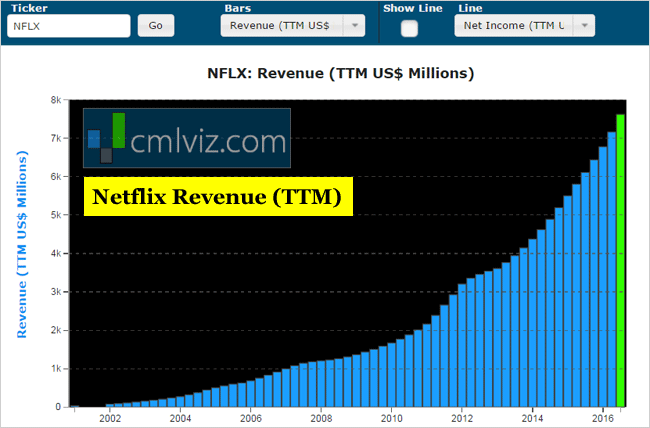 Source: CMLviz



You get that same chart, or any chart, for any company here: Financial Charts.

The author has no position in Netflix stock.

WHY THIS MATTERS
The theme that is streaming video on demand called, SVOD, is the tip of the iceberg when it comes to the total revolution that is coming to the Internet and mobile and there is so much more to it. It's identifying trends and companies like this this that allows us to find the 'next Apple' or the 'next Google.' This is what CML Pro does. Our research sits side-by-side with Goldman Sachs, Morgan Stanley and the rest on professional terminals, but we are the anti-institution and break the information advantage the top .1% have.

Each company in our 'Top Picks' is the single winner in an exploding thematic shift like artificial intelligence, Internet of Things, drones, biotech and more. In fact, here are just two of the trends that will radically affect the future that we are ahead of: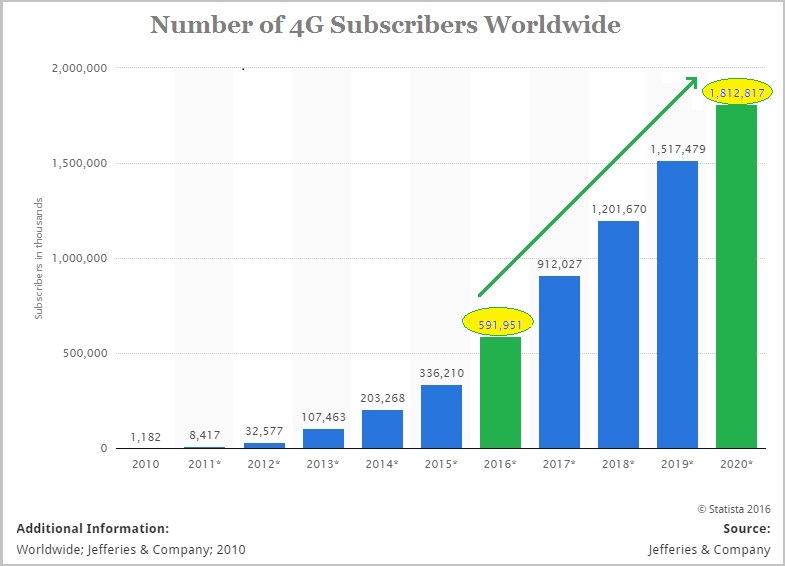 That chart plots the growth in 4G usages worldwide and how it will grow from 330 million people today to nearly 2 billion in five years. This is the lifeblood fueling every IoT and mobile device on the planet and CML Pro has named the single winner that will power this transformation. Then there's cyber security: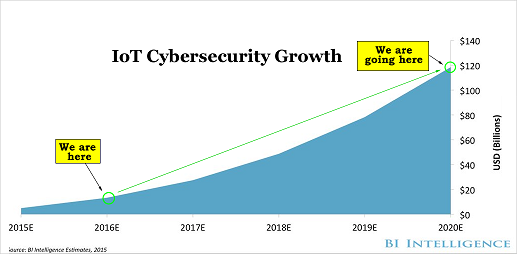 Market correction or not, recession or not, the growth in this area is a near certainty, even if projections come down, this is happening. CML Pro has named the single best cyber security stock to benefit from this theme.

These are just two of the themes we have identified and this is just one of the fantastic reports CML Pro members get along with all the visual tools, the precious few thematic top picks for 2016, research dossiers and alerts. For a limited time we are offering CML Pro at a 90% discount for $10/mo. with a lifetime guaranteed rate. Join Us: Get the most advanced premium research delivered to your inbox along with access to visual tools and data that until now has only been made available to the top 1%.